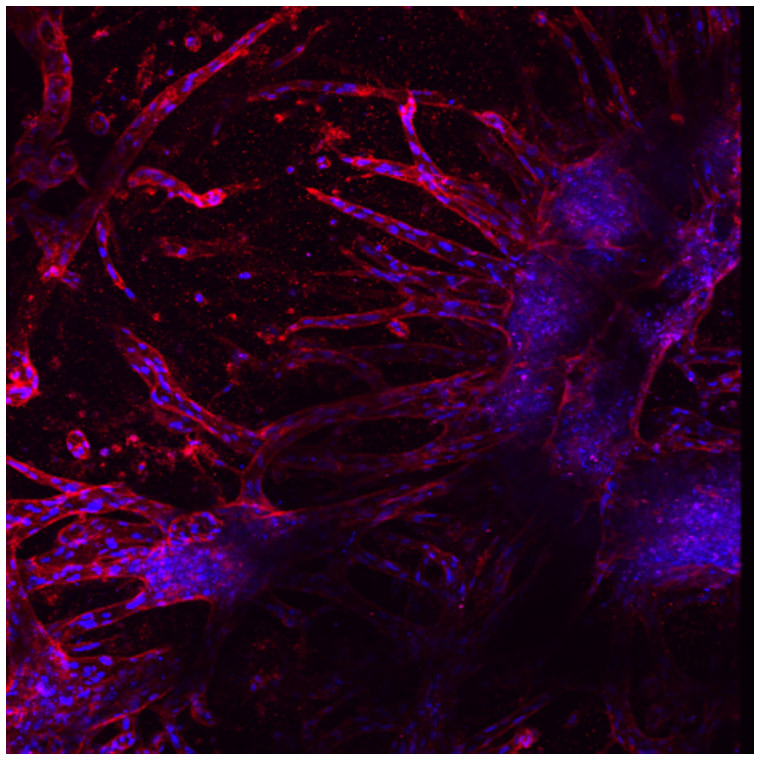 This image, courtesy of Diane Dalecki, shows ultrasound-fabricated vascular networks formed in three-dimensional collagen hydrogels.
Crossing Elmwood: Using ultrasound for tissue engineering
Tissue engineering has resulted in some remarkable achievements: skin substitutes, cartilage replacements, artificial bladders, urethral segments, blood vessels, bronchial tubes and corneal tissue substitutes.

But these advances have been confined primarily to fairly simple organs comprised of thin structures, Denise Hocking, Associate Professor of Pharmacology and Physiology, noted at last week's presentation in the Crossing Elmwood seminar series.

Attempts to fabricate larger, more complex organs have been stymied by two challenges:

1. The need for patterning technologies that can reconstruct more complex tissue organizations.

2. Maintaining cell viability with a sufficient vasculature of veins and arteries to supply oxygen and nutrients, and carry off waste products. "In thin tissues you can get away with this because oxygen and nutrients can diffuse across a few hundred microns; in larger tissues you're limited by lack of blood supply and lack of oxygen," Hocking noted.

Hocking and Diane Dalecki, Professor of Biomedical Engineering and Director of the Rochester Center for Biomedical Ultrasound, believe that ultrasound -- the same technology that images fetuses in the womb, and breaks up kidney stones -- can help surmount those challenges.

For example, their research collaboration has demonstrated that when an ultrasound standing wave field is developed within a solution containing cells, those cells will move to the equally spaced pressure nodes in the field, forming cell layers. By changing the frequency, the space between those layers can be adjusted; by changing intensity, the density of cells within those layers can be changed, all in three dimensions.

These changes can be locked in by using a collagen solution, which can be polymerized with heat.

Moreover, when this is done using endothelial cells as precursors for blood vessels, micro-vessels begin "sprouting" within one day, Dalecki noted. Furthermore, by changing the frequency and intensity of the standing wave field during the initial exposure to ultrasound, the actual structure and arrangement of the resulting vessels can be affected (see image above).

Initial testing suggests this can also be done with endothelial cells for the lymphatic system. Dalecki and Hocking also have demonstrated progress in using ultrasound not only to assist in fabricating engineered tissue and its scaffolding, but to image the tissue before and after implantation to monitor its quality and performance.

"Ultrasound has some beautiful advantages in this field," Dalecki explained. "It is noninvasive, nondestructive, inexpensive; we can control our sound fields very nicely to tailor them; we can find optimized exposure conditions; and this can be easily incorporated into a tissue engineering environment in terms of sterility or bioreactors. Also, we can translate these techniques into the clinic because the ultrasound can propagate through tissue as a focused beam."

The Dalecki-Hocking collaboration, she added, has not only produced some exciting research, but provided a "really wonderful multidisciplinary environment for training our graduate students in our labs."


Do you have an interesting photo or other image that helps illustrate your research? We would like to showcase it. Send a high resolution jpg or other version, along with a description of what it shows, to bmarcotte@ur.rochester.edu.
---
Book explores "awkward humor" in documentaries
In a memorable scene from Roger and Me, Michael Moore's 1989 documentary about the impact of GM's Flint, Mich., auto plant closings, the director approaches a woman who sells rabbits as "pets or meat."

In keeping with his comedic approach through much of this film, notes Jason Middleton, Director of UR's Film and Media Studies Program, Moore at first treats Rhonda Britton as someone who is clearly "crossing a path" in a culture that cringes at equating pets with meat. Moore positions her as an object of humor -- albeit awkward humor.

However, Moore then turns the table on us. We learn that Britton does this in order to keep food on her table.

This deliberate use of "awkward humor" in documentaries and other contemporary media is the subject of a newly released book by Middleton, who is also an Assistant Profess of English. Documentary's Awkward Turn: Cringe Comedy and Media Spectatorship is published by Routledge as part of its Research in Cultural and Media Studies series.

The "pets or meat" scene is effective, Middleton noted in an interview, because "Moore makes us realize that we as middle class viewers may think what she is doing is bizarre, but there is an economic reality behind this. And that is the target of his satire -- not any given individual's response but the economics of globalization itself."

Other uses of awkward humor discussed in Middleton's book, however, are much more problematic. For example, prank "reaction videos" have gone viral, showing people reacting to horrifying online videos (which are not revealed to the viewers of the reaction videos). Some even involve children, and these usually elicit one of two responses, Middleton notes; "This is child abuse" or "This is the funniest thing I have ever seen."

"My sense is that in order to not have the ethical response, you, on some level, are not perceiving this as having real-world consequences," Middleton says. "In this larger media sphere, it is reduced to clickable entertainment."

And so, "the question I pose in every chapter is to what extent is the viewer implicated in the consequences of this kind of representation or insulated from the consequences." (Other chapters examine portrait films, comedies that rely on entirely fabricated scenes, and the American and British productions of The Office.)

In his book Middleton also establishes a historical context for the emergence of awkward humor in contemporary documentary filmmaking -- especially the inspiration that Moore and his followers derived from This is Spinal Tap (1984), in which Rob Reiner and Christopher Guest parody not only an aging metal rock band, but the very conventions of documentary filmmaking.

"What is so interesting, is that this comic style that was meant to be a parody of documentary authority and form, is now reincorporated into actual documentary filmmaking," Middleton says.

This historical context is necessary if we are to engage with a now dominant documentary form "in smarter, more reflective ways," Middleton explains.

"I also hope, through an understanding of how awkward humor works, to explore the ethics of how real people are treated and represented in these films -- and the degree to which we as viewers experience things as real or not real in the contemporary context of digital media."

---
CTSI takes on two new missions
The provision of health care is one thing; the actual health of a given population is something else.

"A lot of people will never see a doctor this year, will not be in a hospital or engage the health care system," Karl Kieburtz, Director of the Clinical and Translational Science Institute, noted at a CTSI town hall meeting last week. "Yet the number of accidents they have, and whether they are overweight or not, is part of the measure of the health of the population."

Getting a handle on the health of the Rochester region's population, and assessing how it is, or isn't, impacted by the way health care is provided, is one of two new missions CTSI is embarking on here, Kieburtz explained.

The other is to increase the efficiency and reach of clinical trials through technology (e.g. Skype, telemedicine) and potential novel methodologies (e.g. adaptive clinical trial designs, pharmacometric modeling and simulations).

Combining these with CTSI's ongoing focus on connecting researchers, and providing them with funding, research space and education, results in "six pillars" or organizational components that group CTSI's programs and new initiatives into logical categories.

"We are the biggest and only academic medical center in this region, and we're the biggest employer, so we are in a very unique place to actually influence the health of the population by what we do," Keiburtz noted. He cautioned however that, "you might have more efficient, higher quality health care and find that it doesn't do anything to the health of the population. That would be disappointing to learn, but it would important to learn because there may be other, more potent drivers of a population's health, like social policies, education policies, and economic policies."

"URMC is committed to this community mission and we at the CTSI are particularly interested in helping to coalesce the researchers as well as the resources that are necessary to get at this question of how healthy is our population and just what exactly do we mean by the population of interest here."

(Next: The challenge of forging collaborations)

---
Strategies to curb healthcare-associated infections
When Ghinwa Dumyati went in for a relatively straightforward, "clean" surgical procedure recently, she insisted that she NOT be administered the standard pre-operative dose of antibiotic.

It was a personal affirmation by the Associate Professor of Medicine and Director of UR's Communicable Diseases Surveillance and Prevention Program of a message she wants to get out to health care providers and patients alike: Fundamental changes must be made in our attitude toward antibiotics and in the use of catheters and other intrusive devices in order to curb the infections patients acquire in hospitals and other health care facilities.

The scope of the problem was first documented in a report based on 2002 data showing that infections acquired in U.S. hospitals cause an estimated 99,000 deaths a year and an extra $28.5 to $40 billion in direct costs to hospitals. The report also showed that an estimated 1.7 million Americans -- or 1 in 20 patients -- will develop a healthcare-associated infection (HAI) each year during hospitalization. Updated national figures will be out later this month, Dumyati said during a recent Public Health Grand Rounds lecture sponsored by the Department of Public Health Sciences and the Center for Community Health. But a local point prevalence survey of 23 hospitals in the Western N.Y. region during 2011 produced similar findings: 1 in 20 patients in those hospitals had an HAI on the day of the survey.

Dumyati emphasized two key strategies:

1. "We have to think of antibiotics like chemotherapy" -- capable of producing great good, but also capable of causing great harm if used inappropriately. Dumyati said. Research shows that, on average, 50 percent of all patients in a hospital are on antibiotics. Overuse of antibiotics not only contributes to antibiotic-resistant strains of bacteria, but upsets the natural "flora" of beneficial bacteria in our gut, paving the way for infection by C. difficile, which is estimated to cause 14,000 deaths a year.

2. Health care providers need to standardize their procedures to minimize infection, much like airline pilots going through their checklists before takeoff. "Many of these infections occur because we break the natural barriers of the skin or mucous membrane, when we put in IVs, when we put tubes in lungs and catheters in bladders, when we break the skin at a surgical site," Dumyati noted. She cited the pioneering work of Peter Pronovost, the Johns Hopkins professor who devised a simple 5-item ICU checklist for ensuring a sterile environment when inserting a central venous catheter; this is estimated to have saved 1,500 lives and $100 million in the state of Michigan in 18 months. Checklists of this kind can "help prevent the breakdowns in process that lead to human error," Dumyati said.

Non-hospital dialysis units, ambulatory care facilities, and long-term care facilities are also sites where patients can acquire infection, Dumyati noted. And with the push to reduce length of hospital stays, infections acquired there may not be manifested until patients return to their homes or to long-term care facilities. Hence the need for coordination of efforts within a healthcare system, "across the continuum of care, regionally and nationally."

"The hospital cannot be a silo anymore," Dumyati said.

(Next: Lessons from a Rochester effort to control healthcare-associated infections.)

---
Advice for conducting archival research overseas
Sarah Fuchs Sampson, a Ph.D. student in musicology at the Eastman School, did her homework before arriving in Paris last summer for a three-month archival research project.

She perused published guides, online finding aids, and footnotes in the literature to prepare a nearly 20-page list of the materials she planned to examine. She talked to Eastman faculty about their own archival experiences and contacts in Paris. All of this proved incredibly useful. And yet . . . Once she arrived in Paris she quickly realized that her list "only skimmed the surface" of available documents she needed to examine. The days she had scheduled to devote to a particular area of research "turned into weeks." The "careful reading" of documents she had planned on instead became "skimming and photographing."

Hence, her most important lesson from the summer: Be flexible. Embrace the unplanned opportunities to make new discoveries and connections "as part of the process of working with archival sources. The new questions that emerged as I worked with the sources gradually changed my initial plan for the dissertation so much so that the focus of nearly every chapter has shifted."

Her second recommendation: Consider using DevonThink, a research management software that was "the single most important tool that I used over the summer to organize my findings."

It helped her plan her trip. It stored 20,000 photos taken during the summer. Best of all, "you can create Smart Groups based around a word and then DevonThink will collect all the items in your database for you that contain that word, a feature that has enabled me to make a number of unexpected connections between documents and sources," Fuchs Sampson notes. "Although the database has a little bit of a steep learning curve, I cannot recommend it highly enough for those who want to build a digital collection of sources for a project."


Worth pondering
One of the joys of historical research is discovering that things now taken for granted were once quite new -- and even astounding! Consider this 1878 description of Edison's newly invented phonograph that Fuchs Sampson came across during her research:

"What does Mr. Edison do with his phonograph? He captures, inscribes, prints on tin foil something incomprehensible, impalpable, invisible, known as the sound wave, which we launch into space when we speak, shout, or sing, and once inscribed, it can thus repeat this vocal writing, make heard that which seemed lost forever!!!!"

---
Congratulations to . . .
James Longenbach, the Joseph Henry Gilmore Professor of English, for being awarded an Arts and Letters Award from the American Academy of Arts and Letters.

---
Research in the news
A research team headed by Cynthia Ebinger, Professor of Earth and Environmental Sciences, is providing a better picture of the subterranean plumbing system that feeds the Galápagos volcanoes, as well as a major difference with another Pacific Island chain -- the Hawaiian Islands. The findings have been published in the Journal of Geophysical Research: Solid Earth.

A study involving Medical Center researchers has yielded the first accurate blood test that can predict who is at risk for developing Alzheimer's disease. The discovery -- which was reported in the journal Nature Medicine -- could be the key to unlocking a new generation of treatments that seek to head off the disease before neurological damage becomes irreversible.

A simple online tool may allow health care professionals to flag surgery patients at high risk of readmission and alter care to reduce expensive trips back to the hospital, according to a study funded by UR's Department of Anesthesiology and published in JAMA Surgery.

---
Mark your calendar
Tomorrow: Deadline to apply for Bioinformatics Pilot Awards. Click here to find the RFA.

March 18: "Progress toward noninvasive vision correction," featuring Wayne Knox, Professor of Optics and of Physics and the Center for Visual Science, and Krystel Huxlin, Professor of Ophthalmology, Neurobiology & Anatomy, Brain/Cognitive Sciences and the Center for Visual Science. CTSI Crossing Elmwood seminar series. 12:15 to 1:15 p.m., Helen Wood Hall Auditorium (1w 304).

March 21-22: The 59th annual Rochester Ophthalmology Conference aims to help ophthalmologists, optometrists, and allied health care professionals update their practices by incorporating evidence-based therapies, surgical techniques, and scientific insights. Flaum Atrium at the School of Medicine and Dentistry. Registration and more information is available online.

March 25: "Listening through noise: Search for Autism biomarkers," featuring Anne Luebke, Associate Professor of Biomedical Engineering, of Neurobiology & Anatomy, and the Center for Navigation and Communication Sciences, and Loisa Bennetto, Chair and Associate Professor in the Department of Clinical & Social Sciences in Psychology. CTSI Crossing Elmwood seminar series. 12:15 to 1:15 p.m., Helen Wood Hall Auditorium (1w 304).

April 1: "When erythrocyte biology and mechanics collide," featuring Richard Waugh, Chair and Professor of Biomedical Engineering, Professor of Biochemistry & Biophysics, of Pharmacology & Physiology, and of the Rochester Center for Biomedical Ultrasound, and James Palis, Professor of Hematology and Oncology in the Department of Pediatrics. CTSI Crossing Elmwood seminar series. 12:15 to 1:15 p.m., Helen Wood Hall Auditorium (1w 304).

April 7-8: Grant Winners Workshop, sponsored by AS&E Dean's office, featuring Robert Porter, national leader in research development. Four sessions: Writing successful grants, writing the NSF career proposal, grants in the humanities and social sciences, and strategies for success in sponsored research. Click here to register by March 24 for individual sessions or the entire workshop.

April 8: "Mobile phone-based asthma self-management aid for adolescents," featuring James Allen, Professor of Computer Science, and Hyekrun Rhee, Associate Professor in the School of Nursing. CTSI Crossing Elmwood seminar series. 12:15 to 1:15 p.m., Helen Wood Hall Auditorium (1w 304).

April 10: 14th Annual Technology Showcase, sponsored by the Center for Emerging and Innovative Sciences, 1 to 5:30 p.m., Eastman Business Park's Theater on the Ridge. An opportunity for University researchers to present their work to industry, other researchers and organizations. Click here to register by March 21.

---
Please send suggestions and comments to Bob Marcotte.. To see back issues, click here.