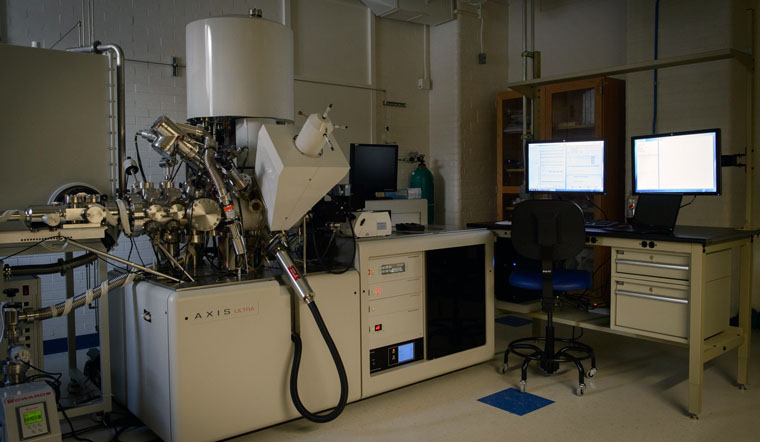 X-ray photon spectrometer "fills a major instrumentation gap"
This high resolution imaging X-ray photoelectron spectrometer (XPS), acquired with funding from the National Science Foundation, is now available to University of Rochester researchers 24 hours a day, seven days a week. It fills a major instrumentation gap at the UR and surrounding academia and industry by providing researchers with 1) a highly sensitive quantitative tool to measure elemental composition and chemical and electronic states of diverse inorganic and organic thin films and solids and 2) a parallel imaging capability of chemical patterns and structured films with sub 3 µM lateral resolution. This permits highly accurate and non-destructive characterization of inorganic semiconductors and insulators, organic and polymeric thin films, bio-inorganic interfaces, organic self-assembled monolayers, multilayered thin film devices and air/moisture sensitive samples.

The XPS instrument enables such multidisciplinary research projects as: 1) investigation of thermodynamic parameters of immobilized ligand-substrate pairs, 2) XPS and ultraviolet photoelectron spectroscopy (UPS) study of the model organic photovoltaic (OPV) interfaces, 3) surface characterization of semiconductor quantum dots, 4) science and preservation of the daguerreotype, and many others. To learn more, contact Alexander Shestopalov, Assistant Professor of Chemical Engineering.


Do you have an interesting photo or other image that helps illustrate your research? We would like to showcase it. Send a high resolution jpg or other version, along with a description of what it shows, to bmarcotte@ur.rochester.edu.
---
Informed consent involves a host of quandaries
Last week's 2014 CTSI Symposium "Ethics in Research: Consent Quandaries" was aptly named. At first glance "informed consent" seems a relatively straightforward proposition: People who volunteer to participate as subjects in research experiments ought to be properly informed about what they're getting into. And yet, the process of actually doing that is fraught with pitfalls and complexities.

Indeed, "the quandary-free informed consent is rare," said keynote speaker Nicholas Steneck, Director of the Research Ethics and Integrity Program at the Michigan Institute for Clinical and Health Research, and Professor Emeritus of History at the University of Michigan.

Here are some of the issues that were raised at the conference:

Consent forms are generally acknowledged to be too long and too complex. Some research participants have acknowledged they don't even bother to read them. How can the forms be made more comprehensible, and still be comprehensive? And still satisfy federal and institutional standards?

A research subject says, "My wife read the forms for me," or "My doctor says I should do this and I trust his judgment." What should a responsible research team member charged with obtaining consent do?

What people think they understand, and what they actually understand can be two entirely different things. Is it the responsibility of a research team to test how well their volunteer research subjects have comprehended the contents of a consent form and other information about the experiment, to make sure they really do understand what they're getting into?

And if so, how should that be done, given that some of the standard tests of comprehension are themselves difficult for some people to comprehend?

In dealing with research subjects who are in dire economic straits, at what point does a cash incentive to participate become "coercive"?

How should the informed consent process be modified to accommodate people from language and cultural minorities? For example, deaf people may lack not only basic reading skills but even fluency in sign language. That's not a minor consideration in Rochester, which is believed to have one of the largest per capita populations of deaf people in the world.

In upcoming editions we'll look what the speakers had to say about some of these issues, starting with the consent form itself.

---
Festschrift honors Caroline Breese Hall
A Festschrift to honor the late Caroline Breese Hall, a Professor of Pediatrics and an expert in Pediatric Infectious Diseases, will be held from 8:30 a.m. to 4 p.m. April 25 in the Class of '62 Auditorium. Join international experts in infectious diseases and vaccine development -- including featured speaker Stanley Plotkin, Emeritus Professor, University of Pennsylvania, Former Medical and Scientific Director of Pasteur-Mérieux-Connaught, and Principal of Vaxconsult, LLC -- for a full day of scientific talks and discussions. Click here for a schedule of events.

---
Susan B. Anthony grant applications due April 2
The Susan B. Anthony Institute for Gender and Women's Studies offers grants to University of Rochester undergraduate students, graduate students and associated faculty members to support research in gender and women's studies.

The Grants Committee's policy traditionally has been to award money to as many eligible applicants as possible. Typical grant amounts range from $100 -- $1000, however larger requests will be considered. Proposals may be for such items as publication subventions, research materials, travel for research, and travel to professional conferences in cases where the applicant is on the program; research grant funding may not be used to pay for participant incentives.

Grant recipients are encouraged to present their material in SBAI seminars and conferences and are asked to acknowledge the support in publications. Apply here.

---
Institute for Innovative Education accepting proposals
The Institute for Innovative Education is awarding up to four grants of up to $5,000 each to support interprofessional research projects that examine how electronic health records can be used to improve access to information and foster and improve humanistic patient interactions. The grants can be used for any of the services available through the URMC Center for Experiential Learning or the e-Learning Team at the Edward G. Miner Library. In addition, the institute will provide mentorship to help connect the educational initiatives across programs and resources. Click here for complete details. Proposals are due by May 1.

---
The quest to curb healthcare-associated infections
(Last week Ghinwa Dumyati, Associate Professor of Medicine and Director of UR's Communicable Diseases Surveillance and Prevention Program, described two key strategies to curb the incidence of infections acquired by patients during their stay in hospitals and other health care facilities: reducing the use of antibiotics, and implementing standardized procedures to minimize infection, much as airline pilots go through their checklists before takeoff. Today, a look at lessons learned by a Rochester collaborative.)

"The tasks of medical science fall into three buckets. One is understanding disease biology. One is finding effective therapies. And one is ensuring those therapies are delivered effectively. That third bucket has been almost totally ignored by research funders, government, and academia. It's viewed as the art of medicine. That's a mistake, a huge mistake." -- Peter Pronovost

Pronovost, a Johns Hopkins professor, devised a simple ICU checklist to ensure that central venous catheters are inserted in a sterile fashion to reduce infections acquired during hospitalization. It saved an estimated 1,500 lives in Michigan during an 18-month period, and is now used nationwide.

The Rochester Central Line Associated Blood Stream Infection (CLABSI) Prevention Program took Pronovost's checklist a step further, working with nurses in six Rochester-area hospitals to adopt a similar protocol to properly maintain catheter lines after insertion, in non-intensive care units as well.

During a recent Public Health Grand Rounds lecture, Ghinwa Dumyati, Associate Professor of Medicine and one of the co-directors of the collaborative, said the project more than halved the rate of central line related bloodstream infections in the participating units.

More importantly, it illustrated the importance of obtaining "buy-in" from nurses already hard-pressed to address multiple other priorities, Dumyati said. This was achieved by:

1. Obtaining support of the hospital leadership.

2. Documenting to nurses that infections were even more prevalent in non-intensive care units.

3. Showing them how the infection rate had been reduced in other units with a similar protocol.

4. Reviewing each instance of infection with the entire staff, to heighten awareness that "an infection is not a number, it's a patient."

5. Identifying individual nurses who could act as "champions" within their units to help implement the protocol.

"What we learned is, you can provide tools to people, you can educate them, you can audit them, you can do whatever you want, but nothing will happen until you change the culture," Dumyati said.

---
A CTSI pillar: Forging research collaborations
Of the six broad goals, or pillars, that define the mission of UR's Clinical and Translational Science Institute, the most difficult, by far, is connecting researchers with like-minded colleagues for purposes of collaboration, CTSI Director Karl Kieburtz noted at a recent town hall meeting.

The challenge is at least twofold.

For example, "I've been here for 33 years," Kieburtz said. "People come up to me who still don't know what I do. I continue to meet people who I've known or seen in the hall for over a decade and I'm just learning what they do. That's just how universities are; they're not organized like businesses."

Kieburtz uses an analogy to illustrate the other challenge: "I come up to a concierge in a hotel and say 'I want to either eat or go to a show.' Any concierge would look at you and say, 'well, you've got to tell me which one.' And even if I say I want to eat they will ask 'what kind of food do you want?' And I say 'I don't know; I've never eaten before.' That's where a lot of people are when they are starting out in research. They don't actually know exactly what they need, or what they want to do, and it's very hard to get them connected. We're working very hard at that by having people at the Research Help desk and at the interpersonal level who can help."

Click here to learn more about CTSI services for researchers.

(Research Connections will take a look at the other CTSI pillars in upcoming issues.)

---
Congratulations to . . .
Joan Shelley Rubin, Professor of American Cultural History, who is the inaugural holder of the Dexter Perkins Professorship in History. The endowed position was established through gifts from Robert Kirkwood '56 (PhD), Francis Grebe '54, and other donors in honor of the late Dexter Perkins, a prominent American diplomatic historian.

---
Mark your calendar
Today: Center for Integrated Research Computing (CIRC) symposium. Ryan Michaels, Assistant Professor of Economics, will describe results of a model that combines firm-level dynamics with debt and equity financing. Srdjan Prodanovic, a PhD student in Mechanical Engineering, will give a talk on simulations of flow patterns around inner hair cells. 11:30 a.m. to 1 p.m., 209 Computer Studies Building (CSB 209). Pizza and soda will be served during the event.

Today: "Assessing Health Indicators among Monroe County Adults (1997-2012)," by Ann Dozier, Professor of Public Health Sciences and Division Chief of Social and Behavioral Sciences. Public Health Grand Rounds. Noon-1:00 p.m., Helen Wood Hall Auditorium (1w304). Assorted wraps will be available. Please bring your own beverage.

Today and tomorrow: The 59th annual Rochester Ophthalmology Conference aims to help ophthalmologists, optometrists, and allied health care professionals update their practices by incorporating evidence-based therapies, surgical techniques, and scientific insights. Flaum Atrium at the School of Medicine and Dentistry. Read more online.

March 25: "Listening through noise: Search for Autism biomarkers," featuring Anne Luebke, Associate Professor of Biomedical Engineering, of Neurobiology & Anatomy, and the Center for Navigation and Communication Sciences, and Loisa Bennetto, Chair and Associate Professor in the Department of Clinical & Social Sciences in Psychology. CTSI Crossing Elmwood seminar series. 12:15 to 1:15 p.m., Helen Wood Hall Auditorium (1w 304).

April 1: "When erythrocyte biology and mechanics collide," featuring Richard Waugh, Chair and Professor of Biomedical Engineering, Professor of Biochemistry & Biophysics, of Pharmacology & Physiology, and of the Rochester Center for Biomedical Ultrasound, and James Palis, Professor of Hematology and Oncology in the Department of Pediatrics. CTSI Crossing Elmwood seminar series. 12:15 to 1:15 p.m., Helen Wood Hall Auditorium (1w 304).

April 7-8: Grant Winners Workshop, sponsored by AS&E Dean's office, featuring Robert Porter, national leader in research development. Four sessions: Writing successful grants, writing the NSF career proposal, grants in the humanities and social sciences, and strategies for success in sponsored research. Click here to register by March 24 for individual sessions or the entire workshop.

April 8: "Mobile phone-based asthma self-management aid for adolescents," featuring James Allen, Professor of Computer Science, and Hyekrun Rhee, Associate Professor in the School of Nursing. CTSI Crossing Elmwood seminar series. 12:15 to 1:15 p.m., Helen Wood Hall Auditorium (1w 304).

April 10: 14th Annual Technology Showcase, sponsored by the Center for Emerging and Innovative Sciences, 1 to 5:30 p.m., Eastman Business Park's Theater on the Ridge. An opportunity for University researchers to present their work to industry, other researchers and organizations. NOTE: Today is the last day to register.

April 25: International experts in infectious diseases and vaccine development gather to honor their colleague and collaborator, Caroline Breese Hall. Join the Department of Pediatrics for a Festschrift involving a full day of scientific talks and discussions. See Schedule of Events.

---
Please send suggestions and comments to Bob Marcotte.. To see back issues, click here.