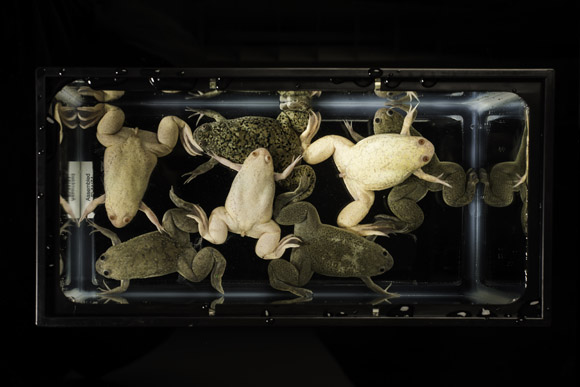 About 2,000 adult
Xenopus laevis
frogs, and 2,000 to 3,000 tadpoles are maintained in the Xenopus Research Resource that Prof. Jacques Robert oversees at the University.
X. laevis
is one of the clawed frog species most widely used by researchers. (Photo by J. Adam Fenster/University of Rochester.)
Xenopus frogs can tell us a lot about our own health
In
Jacques Robert's lab
, it is relatively easy to watch a tumor "take hold" in a living creature and, in a matter of days, begin to form the blood vessels that will sustain that tumor at the expense of its host.
Why?
The host is a Xenopus laevis tadpole, whose transparent skin offers an unobstructed window for high-powered imaging
, in minute detail, of the biological processes unfolding within. These African clawed frogs make ideal research subjects for other reasons as well. For example, they are relatively inexpensive to grow and maintain in large numbers compared to mice and other mammalian laboratory animals.
Most importantly, despite all the obvious — and not so obvious — differences between frogs and humans, there are also some striking similarities. Thanks to convergence — when unrelated animals and plants evolve similar characteristics under similar environmental conditions —
Xenopus frogs share some of the same immune system responses with humans, for example, and are excellent models for tumor formation studies
that have applications to humans. (See story at the
Research@URMC blog
for a discussion of Robert's research into tumor formation using
Xenopus
tadpoles.)
"We have often learned far more things (about human health) when the (animal) models are different," says Robert, Professor of Microbiology and Immunology. Research involving
Xenopus
models has "significantly improved our understanding of human disease genes and their mechanisms of action" in such areas as congenital heart disease, colon cancer, epilepsy, and tissue regeneration, according to the 2014 Xenopus Community
White Paper
. The National Institutes of Health provided $112 million in FY 2013 for 334 grants involving
Xenopus
models.
The Xenopus Research Resource that Robert oversees at the University is the
world's largest repository
of clones, inbred strains, transgenic lines defective for specific immune genes or with specific immune cells fluorescently labeled, cell lines, and monoclonal antibodies derived from
X. laevis
, one of the clawed frog species most widely used by researchers.
About 2,000 X. laevis adult frogs and 2,000-3,000 tadpoles are maintained on a diet of dried fish pellets
in aquariums in four rooms. NIH provides funding for the center. Thirty-nine researchers from other institutions across the U.S. and in seven other countries participate.
In addition, Robert has received NSF funding and Morris Foundation awards for research examining the role of viruses and environmental pollutants in the recent alarming decline in amphibian populations worldwide.
He also is co-PI with
Paige Lawrence
, Professor of Environmental Medicine, on a University Research Award to test the hypothesis that
exposure to water contaminated with chemicals derived from hydrofracking impairs the development and function of the immune system
.
Previous experiments have shown, for example, that tadpoles exposed to doses of the herbicide atrazine "at levels ten times below what you drink in water, later develop alarming long term defects in their immune responses that subsist even in adults after metamorphosis," Robert said.
Other recent University collaborators with Robert have included
Edward Brown
,
Minsoo Kim
,
Sanjay Maggirwar
, and
Brian Ward
.
Robert's fascination with insects, amphibians, snakes and other "funny" creatures is long standing.
As a boy growing up in Switzerland, he would collect and bring home various specimens.
"My mom was always upset," he says.
His first passion was spiders and their remarkable ability to construct intricate webs. He collected spiders and insects in Asia, Indonesia, and Papua New Guinea while working for a natural history museum in Geneva — including
a new beetle species from Sumatra that was named Baeocera roberti in his honor
. His doctoral and post doctoral work, also in Switzerland, was under the mentorship of two of the pioneers of
Xenopus
-based research,
Louis du Pasquier
and
Hans Rudi Kobel
.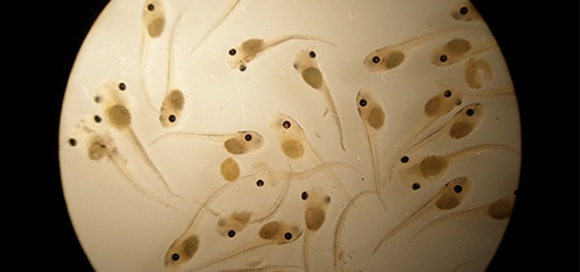 The transparent skin of
X. laevis
tadpoles (2-3 cm in size) offer an 'unobstructed window' for high-power imaging of the biological processes unfolding within.
Do you have an interesting photo or other image that helps illustrate your research? We would like to showcase it. Send a high resolution jpg or other version, along with a description of what it shows, to bmarcotte@ur.rochester.edu.
---
UR faculty members contribute to Cambridge Companion to Slavery in American Literature
The
Cambridge Companion to Slavery in American Literature
, which will be published next month, was edited by
Ezra Tawil
, Associate Professor of English, and includes essays by
Jeffrey Tucker
, Associate Professor of English, and
Sharon Willis
, Professor of Art and Art History and Visual and Cultural Studies.
The cultural impact of slavery is one of the most important topics for students and teachers of American studies. Yet
to date, there is no collection of essays that provide an overview of its significance in American literature for classroom use
. Tawil came up with the idea in 2012 while preparing to teach a course about slavery in literature.
"Most of us are familiar with novels like
Uncle Tom's Cabin
, but
not many people are aware of how Harriet Beecher Stowe's book was countered by novels like Aunt Phillis's Cabin
, and the emergence of pro-slavery plantation literature," said Tawil. "
It's important for students to realize that there are artists who used literature to argue against as well as to defend slavery.
"
Tawil solicited 16 articles from different contributors to demonstrate to readers the persistence of slavery as a theme in literary art, not only in slave narratives and novels, but also in a wide range of genres that include poetry, public performance, and music.
For example, he points to
Tucker's essay on the theme of enslavement in recent science fiction and fantasy
and to
Willis' essay on slavery in American cinema
as indicators of how the topic continues to resurface in different areas in the arts.
"Throughout American history, artists have continued to revisit the history of slavery in their works because people need to confront it, understand it," said Tawil. "Art provides an arena where people can do this. That's how it can be so effective. You think you're just watching a film, but the film is a way of working through history."
---
Chest shielding during phototherapy may protect premature infants from the effects of a symptomatic PDA
Phototherapy is the most common treatment for reducing high bilirubin levels that cause jaundice in a newborn. However,
phototherapy can be problematic for infants who also suffer from patent ductus arteriosus
(PDA), an opening between two major blood vessels in the heart. Phototherapy can
cause an open PDA to grow even larger and further reduce the chance it will eventually close
.
With support from a Gerber Foundation Grant,
Javed Mannan
, a second year neonatology fellow, is
looking at chest shielding as a way to prevent this
from happening during phototherapy.
Openings caused by PDA do not close in nearly 70-80 percent of premature babies. While a small PDA may never cause problems, a large PDA can lead to poor feeding and growth, difficulty breathing, rapid heart rate and weakening of the heart muscle. The only treatment options for PDA closure — the use of IV medication indomethacin, and surgery — both entail significant risks.
Phototherapy causes photorelaxation, or the dilation of blood vessels, which can exacerbate an opening caused by PDA
. Mannan and his mentor,
Sanjiv Amin
, Associate Professor of Pediatrics (Neonatology), hypothesize that
blocking the light with a chest shield of aluminum foil will keep the blood from flowing to the PDA, preventing growth and causing it to close faster
. This intervention may decrease complications and diminish the risk of developing an enlarged PDA, promoting earlier feedings, shortened hospital stays, and improved long-term outcomes.
Mannan has devised a double blind randomized study to assess this causal relation between phototherapy and PDA, focusing on infants up to 29 weeks of gestational age. The study's primary outcome will be the incidence of symptomatic PDA, with the secondary outcome being the magnitude or size of the PDA verified by echocardiography.
The goal is to either apply to the NIH or expand to a neonatal research network to perform a larger multicenter study. If the findings are consistent,
Mannan's ultimate goal would be for all preterm babies undergoing phototherapy to receive a chest shield, just as they already recieve eye shielding.
You can read more about Mannan's project and the work of other pediatric fellows at the winter edition of the Department of Pediatrics
Fellowship Newsletter
.
---
Neurologist urges patient registry for Pompe disease
Thanks to establishment of a cystic fibrosis (CF) registry, patients are living much longer with this rare genetic disease than they would have 15 years ago.
Jennifer Kwon
, Associate Professor of Neurology, is
urging creation of a similar registry for Pompe disease
, another rare genetic disorder that causes progressive weakening of muscles and damage to other organs starting in infancy or between late childhood and early adulthood. It is a particular focus of a University-sponsored, international conference she organized in St. Louis this week.
Patient registries compile information on patients' health that is shared among doctors across the United States, allowing them to see which treatments are working. This aids them in the design of clinical trials to test new treatments.
"My goal is to make sure that the care of children identified by newborn mandatory screening is optimal and reasonable," says Kwon.
"If we are going to have a mandatory newborn screening program, then we really need to pay attention to how identified patients are cared for."
Cystic fibrosis is univerally screened for at birth across the U.S.; Kwon credits the CF registry program with ensuring "very consistent care, and very tight control of care." Pompe disease is screened for in a handful of states and has been recommended for nationwide newborn screening. While there are national efforts to develop a newborn screening clinical follow-up registry for Pompe, they are still in the early stages.
Pompe care after diagnosis is variable even in those states that screen for Pompe at birth.
Kwon believes that developing a national registry for Pompe and other rare diseases would give patients and their medical providers the opportunity to compare and improve their medical care. Though registries are expensive to set up and maintain, she believes they "are the best way to help us understand what happens to these children over their lives."
Read more . . .
---
Projects receive awards from Technology Development Fund
Four teams, which presented their projects to the Technololgy Develpment Fund Executive Committee, have received the latest round of awards from the University's Technology Development Fund, reports the
UR Ventures Technology Review
.
Lynne Maquat
, Professor of Biochemistry and Biophysics, and
Rudi Fasan
, Associate Professor of Chemistry, hope to
design, develop, and test inhibitor compounds that will permeate and silence breast cancer cells
.
John Howell
, Professor of Physics & Astronomy, and
Curtis Broadbent
hope to
refine and further develop their 3-D volumetric display
. A small award from the TDF previously allowed them to enlarge their device from a one-inch cube to an eight-inch cylinder. This round of funding will enable the development of a portable prototype using more stable gases. (Broadbent helped to develop this technology as a post-doc in the Howell Lab. He is now a licensing manager with UR Ventures).
Luis Martinez-Sobrido
, Associate Professor of Microbiology and Immunology, and
Colin Parrish
, Professor of Veterinary Medicine at Cornell University, hope
to develop a Live Attenuated Influenza Vaccine effective against both strains of the Dog Flu (H3N8 and H3N2)
.
Frank Ebetino
, Research Professor of Chemistry;
Robert Boeckman, Jr.
, Professor of Chemistry;
Lianping Xing
, Professor of Pathology and Laboratory Medicine, and
Brendan Boyce
, Professor of Pathology and Laboratory Medicine, seek
to engineer a tissue-selective extension of known therapeutic compounds in order to cause effective drugs to adhere to human bones
. TDF funding will allow proof-of-concept experimentation and pre-clinical studies.
About the Technology Development Fund
Often, research efforts yield scientific breakthroughs that are not yet ready to be translated to real-world situations. UR Ventures, the technology transfer office at the University of Rochester, created the
Technology Development Fund
(TDF)
to help University researchers get to the first stages of commercialization more quickly
.
Any faculty member, postdoctoral fellow, graduate student, or other employee of the University of Rochester is eligible to apply for
funding of $40,000 to $100,000
from the TDF, provided that they submit an invention disclosure and short-form TDF application to UR Ventures.
Candidates chosen to submit full proposals must give 15-minute oral presentations to a TDF screening committee, along with a more detailed research plan and budget.
For approved projects, agreed-upon milestones will serve as key decision points for determining project progress. A project may be terminated if significant technical milestones are not met.
Anyone interested in learning more about the projects mentioned above, or the TDF in general, should contact
Omar Bakht
.
---
Congratulations to . . .
LaRon E. Nelson
, the Dean's Endowed Fellow in Health Disparities and an Assistant Professor at the School of Nursing, who is
among a select group of researchers, program directors and community leaders participating in a White House conference
on Translating Research to Action: Reducing HIV Stigma to Optimize HIV Outcomes. Nelson and other scientists and stakeholders in the fight against HIV/AIDS from around the world gathered this week to discuss
best practices for measuring and monitoring HIV stigma, as well as methods of intervention focused on reducing stigma in order to improve HIV outcomes
. Nelson's domestic work in HIV prevention has focused primarily on groups whose prevention needs are complicated by their socially marginalized status in their communities, with particular emphasis on black men who have sex with men (MSM). Nelson believes that stigma is a major factor contributing to the escalating HIV disparity in this group.
Read more . . .
---
PhD dissertation defenses
Rahul Chandrasekhar
, Pharmacology, "Unique Regulatory Properties of Heterotetrameric Inositol 1,4,5-trisphosphate Receptors Revealed by Studying Concatenated Receptor Constructs." 12:30 p.m., March 10, 2016, Adolph Aud, 1-7619. Advisor: David Yule.
Mary Gantz Marker
, Pharmacology, "Cell-type and Stimulus-specific Regulation of JUN and BIM by EGLN3 in Multiple Models of Neuronal Death." 1 p.m., March 11, 2016, Adolph Aud, 1-7619. Advisor: Robert Freeman.
Alison Gaylo
, Microbiology and Immunology, "Mechanisms of CD4+ T cell motility in the inflamed dermal interstitium." 10 a.m., March 16, 2016, K-6408 (K307). Advisor: Deborah Fowell
Thomas Hilimire
, Biophysics, "Strategies for Targeting the Frameshift Stimulatory RNA of HIV-1 with Synthetic Molecules." 2 p.m., March 16, 2016, Neuman Room (1-6823). Advisor: Benjamin Miller
Jonathon Baker
, Microbiology & Immunology, "Acid and Oxidative Stress Responses in Streptococcus mutans." 1:30 p.m., March 21, 2016. K307 (3-6408). Advisor: Robert Quivey.
---
Mark your calendar
Today:
Population Health Engineering, presented by Solomon Abiola, Health and Technology Research Associate, Center for Human Experimental Therapeutics. Noon to 1:00 p.m., Helen Wood Hall Auditorium (1w-304). Public Health Grand Rounds.
March 7:
Engaging Students with Online Tools. 11:30 a.m. to 1 p.m., Natapow (1-9545). A Technology in Health Professions Education Workshop. To register, email
karen_grabowski@urmc.rochester.edu
.
March 8:
Data Management. Part of the OHSP Achieving High Quality Clinical Research seminar series. Noon to 1 p.m., Helen Wood Hall Auditorium (1w-304).
March 9:
Free public showing of
Nickel City Smiler
, a documentary film chronicling a refugee's fight for survival and hope in America. 7:45 p.m. LeChase Hall (Genrich-Rusling Room). Offered through the Warner School of Education. A panel discussion will follow the film, delving deeper into the themes and issues raised in
Nickel City Smiler
.
Read more . . .
March 10:
Utilizing URMC Laboratory Resources for Clinical Research, presented by Kris Kuryla. Noon to 1 p.m., Saunders Research Building 1.416. SCORE meeting.
March 10:
Engaging Students with Online Tools. 11:30 a.m. to 1 p.m., LeChase Hall, Genrich Rusling Room. Online Learning Workshop.
March 15:
Network Capacity, presented by Karl Kieburtz, Co-Director, Clinical and Translational Science Institute; Karen Rabinowitz, Center for Human Experimental Therapeutics; and Carrie Dykes, Research Engagement Specialist, Clinical and Translational Science Institute. Noon to 1 p.m., Helen Wood Hall Auditorium (1w-304). Part of CTSI Seminar Series.
March 18:
Social Supports and Health, presented by Ann Marie White, Associate Professor of Psychiatry. Noon to 1 p.m., Helen Wood Hall Auditorium (1w-304). Public Health Grand Rounds.
---
Please send suggestions and comments to Bob Marcotte. You can see back issues of Research Connections, an index of people and departments linked to those issues, and a chronological listing of PhD dissertation defenses since April 2014, by discipline.