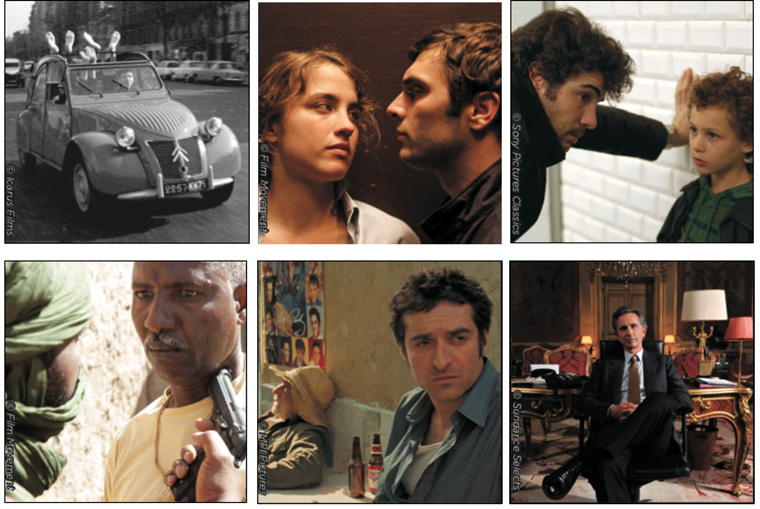 Images from films to be featured at French and Francophone Cinema: Global Perspectives. From left to right, top to bottom: Le joli mai, Aliyah, Le Passé, Un homme qui crie, Americano, and Quai d'Orsay.
French film festival 'through a global lens with a political filter'
Six French films on campus this month will provide University students and Rochester cinéphiles "a great basis to engage with, and research, contemporary French film," says Julie Papaioannou, Senior Lecturer for French & Francophone Studies in the Department of Modern Languages and Cultures.

The theme of the Tournées Film Festival, to be held March 18-20 and 25-27, is "French and Francophone Cinema, Global Perspectives." The selections "highlight French film production in connection with the cinematic world at large," Papaioannou explains. "Their main themes of personal inner struggles, familial ties and disruptions, and political life are brought to focus through a global lens with a political filter."

The films, which will be shown at Hoyt Auditorium, are:

1. Le joli mai (The Lovely Month of May), 1963 — 6:30 p.m., March 18: This landmark documentary was filmed just after the passage of the Évian Accords, which officially ended the Algerian War. During this "first springtime of peace" — the first time in 23 years that France was not involved in any war —the filmmakers interviewed a random assortment of people on the streets of Paris. Read more . . .
2. Aliyah, 2012 — 6:30 p.m., March 19: Elie Wajeman's striking first film refers to the immigration of Jews to Israel where hashish dealer Alex Raphaelson, currently living in a gritty section of Paris, hopes to start over by helping a cousin open up a restaurant in Tel Aviv. Read more . . .
3. Le Passé (The Past), 2013 — 3 p.m., March 20: Iranian director Asghar Farhadi's film is set in a working-class suburb of Paris where Marie (Bérénice Bejo) lives in a cramped house with three children, her two daughters and the young son of her boyfriend, Samir (Tahar Rahim), whom she hopes to marry. But first Marie must finalize her divorce from her estranged husband, Ahmad (Ali Mousaffa), who flies to Paris from Tehran for the court procedure. Read more . . .
Both Aliyah and Le Passé "question family ties and belonging in a connect-disconnect mode with oneself, and one's own living environment and understanding of the world," Papaioannou says.

4. Un homme qui crie (A Screaming Man), 2010 — 6:30 p.m., March 25: Working on a scale both intimate (a father's wounded ego) and epic (a nation torn apart by civil war), writer-director Mahamat-Saleh Haroun creates a remarkable portrait of present-day Chad. Read more . . .
5. Americano, 2011 — 6:30 p.m., March 26: Directing debut of Mathieu Demy, who plays Martin, a Parisian real estate agent in his late 30s. After he receives news of his mother's death, he flies to Los Angeles, her home for the past several decades, to settle her affairs. Read more . . .
Both of these films focus on the main characters' struggles to "reconnect with oneself by coming to terms with guilt," Papaioannou says. "On a metaphorical level, both filmmakers — Mahamat-Saleh Haroun and Mathieu Demy — find a cinematic voice by rendering homage to a native land, and a familial tradition of filmmaking, respectively."

6. Quai d'Orsay (The French Minister), 2013 — 3 p.m. March 27: In this razor-sharp satire, Raphaël Personnaz plays Arthur, recently hired by the imperiously named, high-ranking diplomat Alexandre Taillard de Worms (Thierry Lhermitte), a man who speaks in orotund outbursts. Read more . . .
"The use of political language brings to focus the major connection-disconnection one may have with the world through the use of language in general," Papaioannou says.

The Tournées Festival is sponsored by the Department of Modern Languages and Cultures, the Film and Media Studies program, and FACE Tournées Film Festival. Tournées Festival was made possible with the support of the Cultural Services of the French Embassy in the US, the Centre National de la Cinématographie et de l'Image Animée, and the Franco-American Cultural Fund, as well as the Florence Gould Foundation, Campus France USA, and Highbrow Entertainment.


Do you have an interesting photo or other image that helps illustrate your research? We would like to showcase it. Send a high resolution jpg or other version, along with a description of what it shows, to bmarcotte@ur.rochester.edu.
---
University research examines health effects of ultrafine airborne particles
Rochester researchers have been leaders in studying the health effects of ultrafine particles. Ultrafine particles may be particularly toxic, for several reasons, explained David Rich, Associate Professor of Public Health Sciences and Environmental Medicine, and Mark Utell, Professor of Medicine and Environmental Medicine, at a recent seminar sponsored by the Center for Energy and the Environment.

When ultrafine particles are inhaled, they can elude macrophages — white blood cells that engulf and digest larger particles — and therefore end up being deposited in the lungs. They also have a high surface area, and may enter the lung interstitium and blood directly due in part to their small size.

University of Rochester researchers, in clinical studies, have examined whether ultrafine particles are associated with various cardiorespiratory outcomes and biomarkers (e.g. reduced lung function, increased blood pressure, vascular dysfunction, etc.) Researchers suspect that the ultrafine particles either enter the bloodstream directly or trigger a response in the lungs that then spills over into the rest of the body, which both may lead to health impacts outside the lungs. Documenting how this occurs, and by what mechanistic pathways, is a top priority, Rich said.

University researchers use a combination of clinical, epidemiological, animal and cellular experiments to explore the health impacts of airborne particulates.

For example, they:

1. recently monitored 76 patients undergoing cardiac rehabilitation, by testing various biomarkers such as heart rate, blood pressure, and heart rate variability as they exercised at the cardiac rehabilitation center (using treadmill, cycling or rowing exercises) twice a week for 10 weeks. They found decreases in heart rate variability within six hours of increases in air particulate readings, and increases in systemic inflammation 24 to 47 hours later. These are factors associated with increased risk of cardiovascular death and morbidity.
2. are collaborating with Clarkson University to evaluate the health impacts of wood smoke, now that wood fuel is getting increased attention as a sustainable alternative for home heating. The project includes using a specially equipped van to take air pollution readings at various locations around Monroe County. This will enable researchers to model the spatial/temporal patterns of air pollutants across Monroe County, and to study associations between concentrations of these different air pollutants/ mixtures (e.g. traffic pollution, wood smoke, secondary sulfates), and myocardial infarctions and cardiorespiratory biomarkers.
3. have submitted grant applications to support studies to determine whether use of air filters/air cleaning devices in homes of patients can reduce the percentage who are later readmitted after being hospitalized for chronic obstructive pulmonary disease (COPD) exacerbation.

---
Basics of IP: Confidential disclosure agreements
(This is one in a series of articles about the importance of intellectual property and its commercialization to the University and its researchers. It is based on a current UR Ventures lecture series, "Intellectual Property and Commercializing Technology" being offered by the office of the AS&E Dean for Research. The next presentation, "Risk Assessment for Technology Investments," will be at noon, March 17, in the Gowen Room of Wilson Commons. Lunch provided. RSVP to Kelly Smith at kelly.smith@rochester.edu)

When University faculty and researchers engage with companies and other third parties (including other universities), they are often asked to sign confidential disclosure agreements (CDAs), also known as non-disclosure agreements (NDAs).

Just say no — until you've had a chance to have the agreement reviewed, advises Reid Cunningham, IP attorney for UR Ventures. For one thing, you need proper university authorization. For another, you may inadvertently jeopardize your rights to conduct further research in a particular field — even to publish your findings — if you're not careful about what you sign.

A carefully negotiated CDA can:

1. Make it easier for researchers involved in a project to freely share information among themselves.
2. Help ensure that details of a marketable invention will remain private. This helps ensure that the invention will remain "novel," thereby enhancing the chances of obtaining a patent.
3. Ensure your rights to eventually publish the results of the research you conducted, and continue to do more research in this area.

The key is crafting agreements that, among other things, clearly spell out exactly what kinds of material will be considered confidential, how long it will remain confidential, and what steps will be required to ensure it remains confidential.

Best practices for a faculty member or researcher:

1. Don't sign a CDA without proper authorization.
2. Once a CDA is in place, be a diligent "gatekeeper." Keep a log of all the "confidential" information you receive or send, including exactly what you received or sent, who you received it from or sent it to, and when.
3. If you are not sure that "confidential" information you've received actually falls within the agreement, return it until you can verify if it is valid.

Questions? Contact Cunningham at Reid_Cunningham@URMC.Rochester.edu Click here to view videos and slide decks of earlier lectures in the series.

---
UR researchers help develop app for Parkinson's patients
A new iPhone mobile app that allows patients with Parkinson's disease to track their symptoms in real time and share the information with researchers was developed by Sage Bionetworks in partnership with Ray Dorsey and Karl Kieburtz, University Professors of Neurology, and Max Little, a mathematician at Ashton University in the United Kingdom.

The app was announced this week at Apple's semi-annual product launch.

"To have a dedicated Parkinson's disease app backed by research that will allow patients to engage with their care and receive feedback on their condition is amazing. To make that data in the aggregate available for research is heartening," Dorsey said. "Five years ago this would have been inconceivable." Read more . . .

---
Historian Ayers here to discuss 'The Shape of the American Civil War'
"The Shape of the American Civil War" — a digital exploration of America's most deadly conflict — features a keynote address by Edward Ayers, the eminent Civil War historian, author and pioneering digital humanist, from 4:30 to 6 p.m., Wednesday, March 18, at the Interfaith Chapel.

Ayers, this year's Distinguished Visiting Humanist, will also:

1. discuss "Worrying about the Civil War" with undergraduates from 2-3:30 p.m. Tuesday, March 17 in the Gamble Room of Rush Rhees Library. Interested students should contact Caleb Rood in the Department of History for information and a copy of Ayer' book, What Caused the Civil War.
2. participate in a panel discussion, "Digital Media and the Future of the Humanities," from 5 to 6:30 p.m., Tuesday, March 17 in Gavett 202.
3. participate in a panel discussion, "Evaluating Scholarship in the Digital Humanities," from 10:15 to 11:45 a.m., Wednesday, March 18, in the Gamble Room.

Read more . . .

---
Seward Project celebrated with keynote address, student stories
Beth Luey, Past President of the Association for Documentary Editing, will be keynote speaker at a celebration of the Seward Project from 3 to 5 p.m. Wednesday, April 15, in the Digital Humanities Center.

The project is digitizing the Seward Family Archive, which includes photographs, diaries, letters, and other papers from the family of William Henry Seward, a noted trial attorney, governor of New York, U.S. Senator, and secretary of state under presidents Lincoln and Johnson. The project will create a user-friendly online archive as a free public website for research and educational use.

In addition to the keynote address, students will tell their own stories, some about their research projects for the digital humanities, others about ongoing projects they have or something that has seized their imagination from the letters. There will be food and a dinner afterwards.

---
Medical Scientist Research Symposium features lecture on stem cells
The 4th annual Medical Scientist Research Symposium on April 10 will feature keynote speaker Elaine Fuchs of Rockefeller University, along with a student poster session and oral presentations.

Fuchs, Professor of Mammalian Cell Biology and Development, will speak on "Stem Cells in Silence, Action and Cancer" from 1-2 p.m. in the Class of '62 Auditorium.

After a poster session from 2 to 3:30 p.m. in Flaum Atrium, students will give oral presentations in the auditorium from 3:30 to 4:30 p.m. The symposium is presented by the Medical Scientist Training Program and the Dr. Thomas A. and Joyce E. Pearson Endowed Lectureship Fund.

Fuchs is also the keynote speaker for the Whipple Lecture from noon to 1 p.m. April 9 in the Class of '62 Auditorium, speaking on "Skin Stem Cells: Their Biology and Promise for Medicine." The lecture is sponsored by the Department of Pathology and Laboratory Medicine.

---
Wing lecturer to discuss the hidden geometry in modern (big) data analysis
As data sets get bigger, more complex and higher dimensional, the geometry becomes both more interesting and more subtle. In the first of three lectures here, Jesse Johnson, a mathematician and software engineer at Google and author of The Shape of Data blog, will explore the geometry hidden in data, and introduce some ideas from geometry that can help one understand the structure of large, complex, high-dimensional data sets.

The lecture, part of the G. Milton Wing Lecture Series sponsored by the Department of Mathematics, will be from 4:50 to 6 p.m., March 25, in Lattimore 201.

Johnson will give two other lectures:

1. From Discrete to Continuous: Inferring Scale and Topology, 2-3:15 p.m., March 26, Georgen 108.
2. Applying Geometric Intuition to Data Analysis, 1-2 p.m., March 27, Goergen 108.

---
Grant will help strengthen librarians' competencies in digital humanities
Advances in scholarly practices in the humanities and social sciences require a new caliber of skill sets to support the research process.

The University of Rochester River Campus Libraries has been awarded a $100,672 grant from the Andrew W. Mellon Foundation to fund a pilot program designed to strengthen librarians' competencies in digital scholarship. "21st Century Skills: Digital Humanities Institute for Mid-Career Librarians" will launch during the summer of 2015 at the University of Rochester.

"We are very grateful to the Mellon Foundation for its support of this project," said Mary Ann Mavrinac, Vice Provost and Andrew H. and Janet Dayton Neilly Dean of River Campus Libraries. "The University of Rochester is well-positioned to design and deliver a successful institute, as much of the scholarly activity around digital humanities is centered in the Rush Rhees Library."

The pilot institute will provide a three-day residential immersion experience and a yearlong online component for 20 mid-career librarians. Participants will develop proficiency in three core competencies — project management, copyright and fair use, and metadata literacy — while enhancing their technology tool kits and exploring diverse areas of digital humanities scholarship. University faculty, River Campus Libraries staff, UR Mellon fellows in digital humanities, and CLIR (Council on Library and Information Resources) postdoctoral fellows will serve as instructors. Interested mid-career librarians from across the United States and Canada are invited to apply to the institute through a competitive process.

"This is absolutely the right time for the River Campus Libraries to step into this role stewarding the next generation of digital scholarship librarians," said Nora Dimmock, Assistant Dean for IT, Research, and Digital Scholarship at the River Campus Libraries. "We will take full advantage of the expertise we have developed and the outstanding facilities in Rush Rhees Library, Rettner Hall for Media Arts and Innovation, and the VISTA Collaboratory." Read more . . .

---
Introducing a new faculty member
Steven Piantadosi has joined the Department of Brain and Cognitive Sciences as an assistant professor and principal investigator of the Computation and Language Lab. He is interested in understanding the computational mechanisms supporting human language learning and use. He received his Ph.D. from MIT in 2011 and spent three years as a postdoc at Rochester with Prof. Richard Aslin before becoming a faculty member here.

---
Congratulations to:
Allan Greenleaf, Professor of Mathematics, who has been awarded a 2015-16 Fellowship from the Simons Foundation. By extending a one-semester leave from the University to a full year, the Fellowship will allow Greenleaf to pursue his research in harmonic analysis, microlocal analysis, inverse problems and transformation optics.

Barbara H. Iglewski, Professor Emeritus in the Department of Microbiology and Immunology, who will be inducted into the National Women's Hall of Fame later this year. Iglewski was selected for her research on how bacteria cause infections. Her laboratory was the first to discover that bacteria use a communication system — a type of chemical language — to coordinate attacks on human cells and initiate disease. Read more . . .

Govind Agrawal, the James C. Wyant Professor of Optics, who has been named recipient of this year's Esther Hoffman Beller Medal by The Optical Society (OSA) "for inspiring and educating a generation of scientists and engineers involved with fiber-optic communications and other photonics technologies through your seminal textbooks and high-impact scientific articles."

Roman Sobolewski, Professor of Electrical and Computer Engineering and of Physics, who has been recognized as a distinguished fellow of the Kosciuszko Foundation Collegium of Eminent Scientists for his outstanding achievements and for his contributions to the Polish scientific community.

---
Mark your calendar
March 17: "Risk Assessment for Technology Investments." UR Ventures lecture series. Noon, Gowen Room of Wilson Commons. Lunch provided. RSVP to Kelly Smith at kelly.smith@rochester.edu

March 17-18: "The Shape of the Civil War," a digital exploration of the contours, dimensions, and consequences of America's most deadly war with Edward Ayers, the eminent Civil War historian and pioneering digital humanist. Keynote address, student discussion, panel discussions. Read more . . .

March 20: Center for Integrated Research Computing Symposium: "Using Computing Clusters to Estimate Dynamic Models of Firm Behavior," Toni Whited, Professor of Business Administration and of Finance, and "Neuroimaging Biomarkers in Multiple Sclerosis," Nicole Zizzi, Department of Imaging Sciences. 11:30 a.m., Computer Studies Building 209.

March 25-27: Wing Lecture Series, sponsored by Department of Mathematics, featuring Jesse Johnson, Google mathematician and software engineer. "Hidden Geometry in Modern (Big) Data Analysis," 4:50 to 6 p.m., March 25, Lattimore 201. "From Discrete to Continuous: Inferring Scale and Topology," 2-3:15 p.m., March 26, Georgen 108. "Applying Geometric Intuition to Data Analysis," 1-2 p.m., March 27, Goergen 108.

April 9: Whipple Lecture: "Skin Stem Cells: Their Biology and Promise for Medicine," presented by Elaine Fuchs, Rockefeller University. Noon to 1 p.m., Class of '62 Auditorium.

April 10: 4th Annual Medical Scientist Research Symposium. "Stem Cells in Silence, Action and Cancer," keynote address by Elaine Fuchs, Rockefeller University at 1 p.m, Class of '62 Auditorium. Student poster session and oral presentations, 2-4:30 p.m., Flaum Atrium and Class of '62 Auditorium.

April 15: Celebration of the Seward Project, 3 to 5 p.m. in the Digital Humanities Center. Keynote address by Beth Luey, Past President of the Association for Documentary Editing, and presentations by students involved in the project. Read more . . .

April 20: AS&E workshop on applying for the NSF Faculty Early Career Development (CAREER) Program. 9 to 11 a.m., Gamble Room of Rush Rhees Library. RSVP by April 14, 2015. For additional information please contact assistant deans Debra Haring or Cindy Gary.

April 26: Deadline to apply for Falling Walls Lab competition, to be held May 19 at Sloan Auditorium. Any grad student, post-doc, scientist or early career faculty member, born on or after Nov. 8, 1980, is eligible. Apply here. Questions? Contact fallingwallsrochester@rochester.edu.

---
Please send suggestions and comments to Bob Marcotte. You can see back issues of Research Connections, an index of people and departments linked to those issues, and a chronological listing of PhD dissertation defenses since April 2014, by discipline.