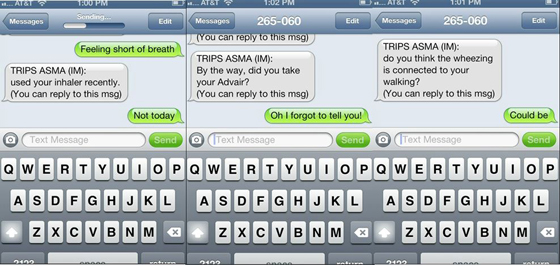 The Mobile Phone-Based Self-Management Aid for Adolescents (mASMAA) was developed by Assoc. Prof. Hyekyun Rhee of Nursing with Prof. James Allen of Computer Science to help teens better manage their asthma.
Rhee helps teens realize 'they are not alone' in battling asthma
A teenager with asthma could be coughing, wheezing and feeling short of breath, but be too engrossed in texting with friends to even notice.
After more than a decade of working with asthmatic teens,
Hyekyun Rhee
, Associate Professor and recently appointed Chair of Nursing Science at the School of Nursing, knows this scenario is all too typical. But she also knows that within this scenario lies not only the challenge but also several possible solutions to helping these teens better manage their condition.
For example:
1.
Since young people are glued to their mobile phones all day, what if a smart, interactive text messaging system could be devised
that would a) understand teens' texting language, b) communicate daily with the teens by asking a few open-ended questions about their asthma and medications, much as might occur in conversations with their friends, and c) include their parents as partners to the teens' asthma daily management? Rhee enlisted the help of
James Allen
, Professor of Computer Science, to devise the Mobile Phone-Based Self-Management Aid for Adolescents (mASMAA) that is designed to understand texting lingo, and words that would indicate symptoms, activities or medications. In a pilot study, teens and parents who used it in a two-week trial reported better asthma self-management by teens and a better teen-parent partnership in managing the asthma. Rhee and her team plan to conduct a large clinical trial to see whether mASMAA use would ultimately improve asthma outcomes.
2.
Since it is easy to actually hear an asthma "event" with the naked ear, could a mobile device be created and worn by asthmatic teens that could record their symptoms for them
, so they could gauge their symptoms more accurately and objectively? Rhee worked with
Mark Bocko
, Distinguished Professor and Chair of Electrical and Computer Engineering, on the Automated Device for Asthma Monitoring (ADAM), which continuously monitors coughs 24 hours a day in conjunction with activity levels using a built-in accelerometer. The data can then be downloaded to an iPod, smartphone or computer to see daily, weekly or even monthly patterns of symptoms and adjust medication or behavior. The award-winning device is now patented and has been licensed to Health Care Originals, a start up company that has further developed it into a wearable device.
3. Teens often do not have enough knowledge and skills to manage their asthma effectively, yet opportunities for teens to learn about their asthma and its management are rare.
Teens are more likely to listen to and learn from their peers than adults when they face trouble with asthma
. So, what if they could
attend interactive asthma training camps, where trained teen leaders who also have asthma could discuss the condition and ways to manage it
, and follow up with them afterwards? Rhee has received a $3 million grant from NIH to lead a randomized, controlled study to test the Peer-led Asthma Self-Management for Adolescents (PLASMA) Program in Buffalo, Baltimore and Memphis.
"At such a critical time in their lives, teens need to know they are not alone in this battle to control their asthma," Rhee says. "This program will give them the confidence to talk and learn about their disease and its management within a trusted peer environment and enable them to better manage their asthma."
Rhee's work shows the importance of:
1.
Understanding the patient, not just the patient's symptoms
, so that solutions can be devised that have a realistic chance of working.
2.
Recognizing the value of collaboration
, when highly specialized expertise is needed from University colleagues like Allen and Bocko.
"Drs. Allen and Bocko are internationally-renowned scientists in their respective fields," Rhee says. "They have played key roles in transforming innovative ideas into actual products that would provide teens with practical help in managing their asthma. Their contributions to my research cannot be underestimated."
Do you have an interesting photo or other image that helps illustrate your research? We would like to showcase it. Send a high resolution jpg or other version, along with a description of what it shows, to bmarcotte@ur.rochester.edu.
---
Toxicology student sweeps awards at Three Minute Thesis competition
"When you can't breathe, nothing else matters," said
Jennifer Judge
at the end her presentation, which won over both the panel and audience at the
University's first "Three Minute Thesis" competition
on Wednesday.
Judge, a toxicology PhD student,
took both the $1,000 first place prize awarded by a panel of five judges, and the $500 People's Choice award
from ballots marked by a large audience in the Class of '62 Auditorium. Her presentation, "How lung scarring impairs gas exchange," described her efforts to
better understand the role of myofibroblasts in producing the scar tissue associated with pulmonary fibrosis
.
"Our ultimate goal is to develop a therapy where we can target these myofibroblasts and inhibit scar formation," she said. "We desperately need new therapies."
Judge was one of eight finalists who were
each allowed only a single power point slide and three minutes to describe their projects
. The contest was developed by the University of Queensland in 2008, and is now conducted at universities worldwide to help students' hone their ability to explain their research to nonspecialists.
"I think that really shows some presentation skills, that (Judge) was able to win both from the standpoint of very defined judges' criteria and from general presentation skills," said
Laura Shum
, a PhD student in Translational Biomedical Science, who organized the contest with assistance from the SMD Center for Professional Development, the AS&E Graduate Studies Office, the Graduate Students Society and the Graduate Students Association. "I thought everybody out there did a really fantastic job."
The other finalists were:
Anas Zainul Abidin
, Biomedical Engineering, "A novel computer aided diagnosis framework for detecting neuro-degeneration in the human brain."
Martina Anto-Ocrah
, Epidemiology, "Sexual Dysfunction after mild Traumatic Brain Injury in Women."
Michael-John Beltejar
, Genetics, "Contributions of Material-Level Properties to Bone Strength."
Zachary Murphy
, Pathology, "The Embryo: Unlocking Secrets to Signaling During the Making of Red Blood Cells."
Sara Nowacki
, Biomedical Engineering, "Improving Cartilage Repair."
Evan Ranken
, Physics and Astronomy, "Dancing with Particles: Why is Nature Still Doing the Disco?"
Jannai Shields
, Philosophy, "I'll Level With You: Ontological Levels and Their Generation Conditions."
---
PI Oversight: Learn to love a checklist
(This is part of a monthly series to help principal investigators understand their role in ensuring that human subject protection requirements are met in their studies.)
What's one of the simplest ways to improve the conduct of your research?
Implement a checklist or a series of them. This can
help to ensure that a specific process or series of procedures are not only completed, but completed correctly
.
Checklists can be implemented at several points throughout the lifecycle of a study and can range in complexity. Checklists used in the conduct of day-to-day study activities typically focus on subject eligibility and study visit procedures. However, from an oversight standpoint, a PI might consider implementing a checklist for any of the following:
• Study team member onboarding and/or training
• Study team meetings
• Informed consent process documentation
• Data and safety monitoring activities
• Quality assurance processes (e.g., routine review of informed consent documentation, subject files or regulatory documentation for completeness)
• Corrective and/or preventative action plan implementation after an incident of non-compliance
• Mentoring non-faculty investigators (e.g., students, residents, fellows)
In developing a checklist, keep in mind that it
should be reviewed for consistency
with the study protocol and any applicable federal regulations, institutional policies, and/or standard operating procedures. Additional best practices include
having study team members review newly developed checklists for completeness
, training on the use of a checklist, and updating checklists accordingly as amendments to the study are made.
Not sure where to start? As reviewed in our previous PI Oversight Tip of the Month, the Office for Human Subject Protection's Division of Quality Improvement's (OHSP-QI)
Study Start-Up Consultation service is available for study teams initiating IRB-approved research
. The goal of this free service is to set study teams on the road to achieving compliance by providing guidance on best practices for meeting regulatory responsibilities, which might just include a checklist or two! Contact OHSP-QI for questions and/or more information at
ohspqi@urmc.rochester.edu
.
---
Discovery offers a 'game-changer' for photonics applications
Work by an internationally acclaimed Rochester professor may offer
an alternative to the way in which researchers have approached some photonics applications
.
Photonics applications rely greatly on what physicists call nonlinear optics – the different way in which materials behave depending on the intensity of light that passes through them.
The greater the nonlinearity, the more promising the material for real-life applications.
Now a team led by
Robert W. Boyd
, Professor of Optics and Physics here and the Canada Excellence Research Chair in Quantum Nonlinear Optics at the University of Ottawa, has demonstrated that the transparent, electrical conductor
indium tin oxide can result in up to 100 times greater nonlinearity than other known materials
.
"This result is a game-changer for photonics applications," said Boyd. "It rests on the core of what I've worked on for over 30 years at Rochester. I find it very rewarding that even after all this time there are still fundamental questions to be answered in the field of nonlinear optics."
The result was published online by the journal
Science
. Read more
here
.
---
Collaborative pilot awards offered in Health Data Analytics
The purpose of this initial Pilot Award Program by the Goergen Institute for Data Science is to
promote new cross campus, multidisciplinary collaborations that use data to predict and improve health outcomes
.
Preference will be given to proposals that are
highly innovative, interdisciplinary and have a high potential for follow-on funding
, particularly proposals from faculty who participated in the Health Data Retreat.
Applications are due by May 31
. Click
here
to read the full RFA.
---
Call for posters for SCORE half-day seminar
Research study coordinators and project nurses are invited to register and submit posters for the
8th Annual Study Coordinators Organization for Research and Education (SCORE) Half-Day Seminar
on June 7.
Study team members interested in presenting a research-related poster
must submit their entry by 4 p.m., today, May 6
.
The SCORE Half-Day Seminar, sponsored by CTSI, offers learning and professional development for research personnel.
Researchers, study coordinators, and project nurses are encouraged to participate
in discussions about autonomous motivation, "mindfulness" and supporting psychological needs in the workplace, reducing risk and preventing adverse events, and better understanding how to plan, implement, and maintain a "standard operating procedure." Click
here
to learn more in the
CTSI Stories Blog
.
---
Physics institute launches 'Federal Science Budget Tracker'
American Institute for Physics (AIP) is introducing
a new web-based resource to help track federal budgets and appropriations relevant to the physical sciences
. The
Federal Science Budget Tracker
will help the physical sciences community stay up-to-date with the latest budget proposals and outcomes for selected federal agencies, offices, and programs that are important for the physical sciences.
---
University research in the news
A new paper co-authored by
Adam Frank
, Professor of Physics and Astronomy, shows that it is
possible to assign a new empirically valid probability to whether any other advanced technological civilizations have ever existed
. And it shows that unless the odds of advanced life evolving on a habitable planet are astonishingly low, then human kind is not the universe's first technological, or advanced, civilization. The paper, published in
Astrobiology
, also shows for the first time just what "pessimism" or "optimism" mean when it comes to estimating the likelihood of advanced extraterrestrial life. Read more
here
.
A study led by
Maiken Nedergaard
, Co-director of the Center for Translational Neuromedicine, shows that
a simple shift in the balance of chemicals found in the fluid that bathes and surrounds brain cells can alter the state of consciousness of animals
. The study, which focuses on a collection of ions that reside in the cerebral spinal fluid (CSF), found that not only do these changes play a key role in stimulating or dampening the activity of nerve cells, but
they also appear to alter cell volume causing brain cells to shrink while we sleep, a process that facilitates the removal of waste
. "Understanding what drives arousal is essential to deciphering consciousness and the lack thereof during sleep," said Nedergaard, lead author of the study, which appears in
Science
. "We found that the transition from wakefulness to sleep is accompanied by a marked and sustained change in the concentration of key extracellular ions and the volume of the extracellular space." Read more
here
.
A new study by
Chawnshang Chang
, the George Hoyt Whipple Distinguished Professor of Pathology, Urology, and Radiation Oncology,
confirms that androgen deprivation therapy
, which initially shrinks aggressive prostate tumors, is a double-edged sword that
ultimately might fuel the spread of cancer
. Chang's latest study in
Cancer Letters
suggests a new mechanism through which ADT inadvertently spreads cancer, by boosting the stem cell population associated with prostate tumors. As Chang's research in this area has gained momentum over the years, other investigators across the country have begun reporting similar results about androgen deprivation therapy (ADT). A recent review in
Cancer Letters
calls for a fundamental shift in the way advanced prostate cancer is treated
. "It's the right time in history for this, and I'm very happy that other major research groups are confirming our initial observations that ADT actually promotes metastasis," Chang said. Read more
here
.
---
Congratulations to . . .
Three students who were recognized for the outstanding scientific merit and visual quality of their posters at the recent
Rochester Global Health Symposium
hosted by the Clinical and Translational Science Institute.
1. Scientific Award:
Claire E. McCarthy
, "Dung Biomass Smoke Exposure Attenuates Immune Responses to Toll-like Receptor Ligands in Airway Epithelial Cells in Mice."
2. Visual Award:
Karen C. Chong
, "Relationship Between Age and ASQ-3 Scores Per Screening Interval in Peruvian Infants."
3. Poster Presentation Award:
Zhishen Pan
, "Towards Understanding How News Coverage Affects Public Perception during Epidemic Outbreak."
Symposium participants discussed current global health issues, such as the spread of the Zika virus, global cancer prevention and control, addressing global health disparities using new approaches and technologies, and more. Click
here
for a full video of the symposium.
---
PhD dissertation defenses
Micah Segelman
, Health Services Research & Policy, "The Impact of Home and Community Based Services Spending on Nursing Home." 2 p.m., May 9, 2016. SRB 1.416. Advisor: Helena Temkin-Greener.
Amanda Croasdell
, Toxicology, "Specialized Pro-resolving Mediators Act on the Innate Immune System to Attenuate Pulmonary Inflammation." 1 p.m., May 10, 2016. K-207 Auditorium (2-6408). Advisor: Richard Phipps.
Andrew Shubin
, Biomedical Engineering, "Poly(ethylene glycol) Hydrogels for Salivary Gland Regeneration." 2 p.m., May 10, 2016. K 307. Advisor: Danielle Benoit.
Young Chol Song
, Computer Science, "Fine-grained Activity Recognition Using Multimodal Datasets." Noon, May 10, 2016. CSB 703. Advisor: Henry Kautz.
Jiayu Zhang
, Mechanical Engineering, "Numerical Investigation of Two Plasmon Decay Instability with Zakharov Model." 2 p.m., May 10, 2016. Hopeman 224. Advisor: Jason Myatt.
Hannah Stoveken
, Pharmacology, "Activation of Adhesion G Protein-coupled Receptors by a Tethered Agonist: Mechanism of Action and Pharmacological Modulation." 9:30 a.m., May 26, 2016. K-207 (2-6408). Advisor: Gregory Tall.
---
Mark your calendar
Today:
Poster entries due for 8th Annual Study Coordinators Organization for Research and Education (SCORE) Half-Day Seminar. Click
here
to learn more.
Today:
Humanities Proposal Writing Workshop, to help faculty, postdocs, and graduate students (and staff who assist them) prepare compelling proposals to non-federal funders interested in advancing the Humanities and Humanistic or Interpretive Social Sciences. 9 a.m. to 4 p.m., Hawkins Carlson Room, Rush Rhees Library. Sponsored by the AS&E Dean for Research Office, under the umbrella of the University's Humanities Center.
Today:
Preproposals due for the University Technology Development fund, which awards winning applications from faculty, staff, or students up to $100,000 to develop their technology to a commercial endpoint. For more information or to submit preproposals, contact
Omar Bakht
.
May 9:
"Zika in Focus," presented by Esper Kallas, an infectious diseases specialist and Professor of Medicine at the University of Sao Paulo, Brazil. Hospital-wide grand rounds, 4 p.m., Whipple Auditorium. The entire University community is invited to attend. Also, public talk and panel discussion at 7:30 p.m. at Rochester Museum and Science Center. Read more
here
.
May 12:
SCORE Open Discussion meeting, noon, SRB 1.416. Amanda Davin of Academic IT and David Pinto, CTSI Clinical Research Informaticist, will facilitate discussions on using REDCap and eRecord to meet research study goals in feasibility, recruitment and trial management.
May 31:
Applications due for Goergen Institute for Data Science pilot awards in Health Data Analytics. Click
here
to read the full RFA.
June 7:
SCORE Half-day Seminar for research personnel. Click
here
to learn more.
---
Please send suggestions and comments to Bob Marcotte. You can see back issues of Research Connections, an index of people and departments linked to those issues, and a chronological listing of PhD dissertation defenses since April 2014, by discipline.