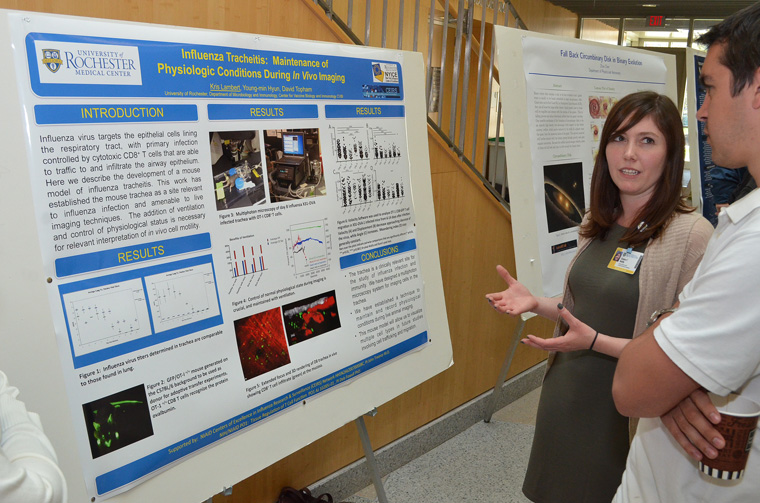 At the recent annual CIRC poster session, postdoctoral associate Emma Reilly described a study of CD8 T cells moving through inflamed tissue during influenza virus infections.
Computational prowess on display
The power of CIRC — the Center for Integrated Research Computing — was clearly demonstrated last week at its annual poster session. For example:

CIRC allows Melissa Trayhan, a programmer analyst with the newly formed Rochester Center for Health Informatics, to use Mathematica — a Matlab-like statistical programming language — to quickly analyze tens of thousands of patient files from the Medical Center.

Her goal: To track patients who end up in Intensive Care a second time during a hospital stay, match them to various diagnostic measurements, and develop a model that might flag vulnerable patients in advance.

CIRC provides postdoctoral associate Emma Reilly and technical associate Kris Lambert plenty of storage space for the multitude of time-lapse multi-photon images they've taken of CD8 T cells moving through the trachea of live mice infected with influenza virus. They will also be able to view large sets of these images simultaneously at the VISTA Collaboratory.

Their goal: To better understand requirements for CD8 T cell migration through inflamed tissue during influenza virus infection.

CIRC supports faculty-led research projects involving more than 900 researchers from more than 40 departments and centers across the Medical Center and River Campus. That supports extends beyond CIRC's 420 teraFLOPS of high performance computing systems (including the University's flagship IBM Blue Gene/Q system). The support includes:

1. Monthly symposiums where faculty and students showcase their research to the University community, learn about the application of computing technology to research problems, and participate in discussions that lead to collaborative opportunities.
2. A six-week training session each July, known as the "CIRC Summer School," which teaches various operating systems, programming languages, computational programs and libraries, and data analytics tools for the research community.
3. A multi-week CIRC Winter Boot Camp where beginners — be they students, postdocs, research staff, or faculty — can learn new programming languages and sharpen their computing and data analytics skills. The classes cover basic topics, providing enough direction for participants to move on to self-learning tutorials or other more advanced coursework.

Click here to learn more.


Do you have an interesting photo or other image that helps illustrate your research? We would like to showcase it. Send a high resolution jpg or other version, along with a description of what it shows, to bmarcotte@ur.rochester.edu.
---
Global health symposium examines care in low-resource settings
The University's first annual Global Health Symposium on June 15 will bring researchers from across the U.S. and abroad to discuss how to conduct, share, and translate innovative health promotion in low-resource settings.

Speakers will cover topics as varied as their on-the-ground experience with the Ebola epidemic, telehealth for eye care in global settings, HPV and cervical cancer, and technology assisted behavior change.

The symposium, which will also include panel discussions and a poster session, will be held from 8 a.m. to 5 p.m. in the Saunders Research Building Atrium. Click here for the list of speakers, registration and other information.

---
Thirty-three University researchers to pitch their ideas
Smartphone apps to monitor the spread of disease . . . Blood tests that use in vivo imaging rather than needle and syringe . . . An acrylic box that could cheaply use sunlight to purify water in Third World countries . . .

How would 33 of our University's brightest young researchers, scientists and scholars like to change the world?

These are just a few of their ideas that will be highlighted on May 19 when they give three-minute presentations of their potentially ground-breaking ideas, discoveries or innovations before a panel of judges in Sloan Auditorium at Goergen Hall. Participants register at 1:30 p.m.; the program begins at 2:15 p.m.

The winner will earn an all-expenses paid trip to the annual international Falling Walls Conference in Berlin this fall. The conference commemorates the fall of the Berlin Wall by giving young entrepreneurs and inventors the opportunity to express ideas that will "break down the walls" and remove barriers to progress in science and society.

The Rochester competition is open to the public. It will offer an opportunity to hear about some of the best and most creative ideas coming out of the University, such as a platform to pair native speakers with those trying to learn their language, mobile apps and telemedicine to alleviate overuse injuries among professional musicians, 3D printing of bone grafts inlaid with growth factors and drugs to treat bacterial infections, and more.

---
The secret lives of teenagers
How do teenagers decide what to tell — or not tell — their parents about everyday activities? Conversely, how do parents stay informed about their adolescents' lives? And how much do most parents really want to know about their teenagers' lives?

Judith Smetana, Professor of Psychology in the Department of Clinical and Social Sciences in Psychology, has conducted extensive research over the last 30 years, exploring young children's acquisition of moral and social knowledge, as well as parenting and adolescent-parent relationships, including adolescent-parent conflict and parents' and adolescents' beliefs about areas of legitimate parental authority. In the last decade or so, she and her team have also focused on studying parents' knowledge and monitoring of adolescents' activities and adolescents' disclosure and secrecy with parents.

Rather than being viewed as problematic behaviors, some non-disclosure (for instance, not telling parents all the details about their activities) can be seen as healthy aspects of autonomy formation. "It's important for parents to know that this is a normal part of growing up," says Smetana. However, some ways of managing information — for instance, lying about one's whereabouts, activities, or friends, or completely avoiding discussion of issues — is not.

Smetana has used a variety of methods, including longitudinal, daily diary, and narrative studies. In addition to questionnaires, she asks adolescents to tell stories about situations where they disclosed or concealed information from their parent to better understand how they make meaning of these situations.

She and her team have studied disclosure and secrecy in multi-ethnic youth in the United States, adolescent-parent conflict and beliefs about parental authority in middle-class, African-American families, as well as Iraqi, Syrian, and Palestinian refugee youth in Jordan. By partnering with researchers in the United States, Japan, Hong Kong, and other places, her team has been able to mine a rich cross-section of adolescent-parent relationships in their attempt to elucidate normative developmental processes as they occur in different cultural contexts.

Read more at the Arts, Sciences and Engineering Research page . . .

---
Characterizing non-linear mechanical properties of tissue with ultrasound
Stephen McAleavey, Associate Professor of Biomedical Engineering, has been awarded a University PumpPrimer II grant for his research project "Towards Diagnostic Ultrasonic Imaging of Tissue Non-Linearity: Strain Dependence of Shear Wave Velocity in Liver and Breast Tissue."

This project is a first step towards characterizing non-linear mechanical properties of tissues non-invasively and in vivo with ultrasound, with applications to clinical disease monitoring as well as basic research.

Current tissue elastography systems characterize tissue under the assumption that it is a linear elastic material. Real tissues are viscoelastic and non-linear, and their apparent stiffness is dependent on the degree to which they are deformed. The McAleavey lab has developed significant improvements in methods for quantifying the viscoelastic characteristics of tissue.

This could improve the differentiation of malignant and benign lesions of the breast noninvasively, without having to resort to biopsies; similarly, it could improve the ability of elastography to distinguish early stages of liver fibrosis.

Read more . . .

---
Thwarting the chain reaction that occurs after cardiac arrest
A $1.7 million grant from the National Institute of Neurological Disorders and Stroke (NINDS) will bring together a team of University researchers to study — and ultimately thwart — the chain reaction that occurs in the body after cardiac arrest and that can ultimately lead to brain damage and death.

"While the biological sequence of events is triggered by cardiac arrest, the death and disability associated with this event is the result of a broader systemic injury caused by the initial loss of blood flow and subsequent tissue inflammation once blood circulation is restored," says Marc Halterman, Associate Professor of Neurology and the principal investigator of the study. "In fact, it is the cumulative effect of this systemic injury on the brain — and not the heart — that ultimately leads to mortality in the disorder."

Within minutes of resuscitation, a complex sequence of events unfolds throughout the body involving the cardiovascular, immune, and respiratory systems. The tissue damage caused by the cessation and restoration of blood flow combined with pro-inflammatory factors released from the gastrointestinal tract triggers a robust systemic inflammatory response.

These molecular cues in turn activate circulating neutrophils, which serve as the immune system's "first responders," channeling them to sites of injury where they inadvertently cause further damage. Scientists speculate that this chain of events causes the immune system to go into overdrive, and immune cells, including neutrophils, eventually work their way into the central nervous system where they attack and kill brain cells.

The attack on the brain is delayed and peaks days after arrest; consequently, scientists speculate that by focusing on the early steps in this response they may be able to head neutrophils off at the pass, preventing their activation and mobilization into tissue that is attempting to recover from the initial effects of the loss of blood flow. The new research will focus primarily on the lungs as a potential site of therapeutic intervention.

The research team will include Michael O'Reilly, Professor of Pediatrics; Arshad Rahman, Associate Professor of Pediatrics, and Minsoo Kim, Associate Professor of Microbiology and Immunology. Additional support will be provided through a recent fellowship from the NINDS awarded to Nguyen Mai, an M.D./Ph.D. student in Halterman's lab, who played a key role in collecting the preliminary data required for the grant applications. Read more . . .

---
Introducing a new faculty member
Nishaben Patel has joined the Department of Pediatrics, Gastroenterology/Nutrition as an assistant professor. Her primary research interests include pediatric inflammatory bowel disease (IBD) as well as quality and outcomes research. She received her MD from the St. George's University School of Medicine in Grenada in 2008, and completed a Fellowship in Pediatric Gastroenterology at Cleveland Clinic Foundation in 2014.

---
UR research in the news
Jeffrey Bazarian, Professor of Emergency Medicine, has joined the largest sports concussion research project ever, a $30 million NCAA- U.S. Department of Defense Grand Alliance. The research protocol aims to study the natural history of concussion and recovery among more than 25,000 NCAA male and female student-athletes at approximately 30 campuses. All participants will receive a comprehensive preseason evaluation and will be monitored if an injury occurs. The alliance also supports an educational challenge to change important concussion safety behaviors and the culture of concussion reporting and management.

---
Mark your calendar
Today: Collaboration to Overcome Lead Poisoning: 2015 Upstate New York Lead Conference. 10 a.m. to 3 p.m., School of Nursing Auditorium, Helen Wood Hall. Agenda, registration and more information here.

May 19: Falling Walls competition, 1:30 p.m., Sloan Auditorium (Goergen Hall). Thirty-three University researchers give three-minute presentations of their ideas and innovations, with the winner earning an expenses paid trip to the Falling Walls competition and conference in Berlin this fall.

May 19: Annual meeting of the Upstate New York Pharmacology Society, with theme of G-Protein Coupled Receptor Signaling Systems in Health and Disease. Keynote and guest speakers, oral presentations by students and early career scientists, poster sessions. Click here to learn more about fees and registration.

May 28: "Hitting the Accelerator: Health Research Innovation through Data Science," sponsored by the UNYTE Translational Research Network. 11 a.m. to 3:15 p.m. in the Helen Wood Hall Auditorium (1W-304). Details and registration are available here.

June 1: Applications due for Cancer Research Program Grants of up to $100,000 for one year. Click here to read the full request for proposals. Applications should be submitted electronically to Pam Iadarola, who can also be contacted for more information.

June 4-5: 2015 Symposium on Immune Modeling in the Big Data Era. Registration ends today.

June 10: 7th Annual Study Coordinators Organization for Research and Education (SCORE) Half-Day Seminar, focusing on promoting and improving the clinical research experience for those who actively coordinate health research. 7:30 a.m. to 12:30 p.m., Helen Wood Hall Auditorium, 1W304. To register on-line, click here by June 3. Questions? Contact SCORE@urmc.rochester.edu.

June 15: 1st Annual Rochester Global Health Symposium, 8 a.m. to 5 p.m., Saunders Research Building Atrium. Convenes researchers, students, and practitioners from all sectors of global health to exchange ideas about how to conduct, share, and translate innovative health promotion in low-resource settings. Click here for agenda and registration.

---
Please send suggestions and comments to Bob Marcotte. You can see back issues of Research Connections, an index of people and departments linked to those issues, and a chronological listing of PhD dissertation defenses since April 2014, by discipline.