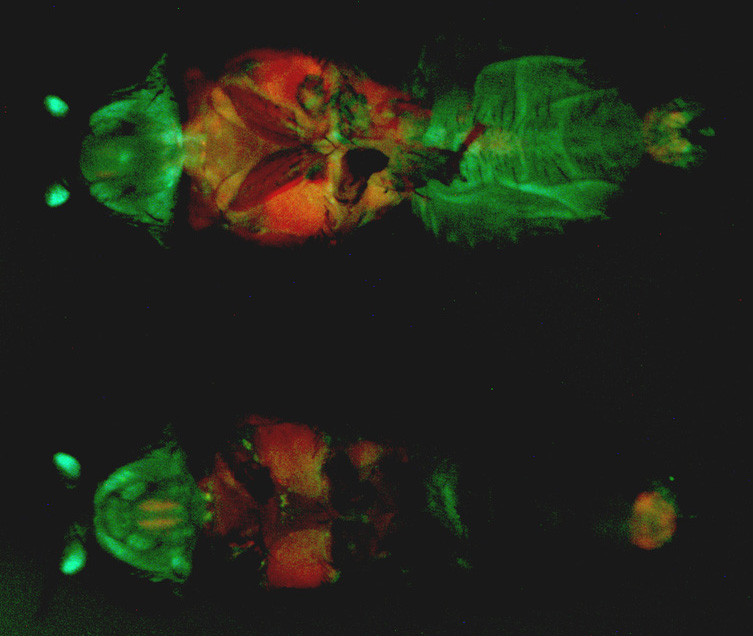 Images of research
Oxidative stress in cells and tissues can cause or exacerbate many diseases, including the "big killers": cancer, cardiovascular disease, and neuro degeneration. Oxidative damage is also a major driver of aging. Oxidative stress arises, for example, after exposure to toxins or pollutants, or in certain pathological conditions such as inflammation or infection. Most organisms have biochemical systems that combat such oxidative stress. The lab of Dirk Bohmann, Professor of Biomedical Genetics, studies these systems and their beneficial effects during aging and disease. As insects and humans rely on very similar strategies for oxidative stress protection, Bohmann lab members use the fruit fly Drosophila as a model for their research. This image shows two adult flies in which the activity of two of these conserved protective mechanisms can be visualized by fluorescence microscopy. The animal on the top is exposed to acute oxidative stress. The red color indicates the function of JNK (Jun N-terminal Kinase) while the green indicates Nrf2, both components that trigger defenses against or repair of oxidative damage. Ongoing studies in the Bohmann lab investigate how the beneficial effects of Nrf2 and JNK might be harnessed to combat disease or delay the aging process.
Do you have an interesting photo or other image that helps illustrate your research? We would like to showcase it. Send a high resolution jpg or other version, along with a description of what it shows, to bmarcotte@ur.rochester.edu.
---
Did you know
The National Institutes of Health (NIH) have launched a new Common Fund program to "Illuminate the Druggable Genome (IDG)." One objective is to develop a public knowledge base that can be used to identify gaps in our knowledge of the Druggable Genome and prioritize where to subsequently invest resources. Another objective is to adapt and scale technologies to rapidly illuminate the underlying biology and potential role in disease of prioritized genes. RFAs for two funding opportunities have been posted; a webinar will be held at 1 p.m. today for one of them. Click here for more information.

---
Translating our research
Increasingly, funding provided by government agencies has focused more and more on the need to "translate" discoveries in the basic sciences and engineering to services and products that benefit society. The FDA has launched a number of Regulatory Science initiatives to enhance the translation of research into products that benefit patients and that improve the success rate of safe and effective products. And increasingly, with uncertainty over federal funding, collaboration with the private sector is becoming an important avenue for that translation to occur. Here are some upcoming events that elaborate on these themes:

Nov. 4: Larry Lesko, Director of the Center for Pharmacometrics and Systems Pharmacology at the University of Florida, and former Director of the Office of Clinical Pharmacology, Center for Drug Evaluation and Research at the FDA, will present "Model-Based Drug Development: A Biomedical Process for Clinical and Translational Science" from 11:30 a.m.-12:30 p.m., in Helen Wood Hall Auditorium (1W-304). Read more here.

Nov. 20: "My Medical Device Journey: Failures, Startup Challenges, and Lessons Learned," Edward (Ted) F. Ruppel, Jr., '88 (B.S. Mechanical Engineering) Executive Vice President, Chief Financial Officer, and Corporate Compliance Officer, Vascular Dynamics, Inc. Center for Entrepreneurship Lecture Series, 4:45-5:45 p.m., 318/418 Gleason Hall. RSVP at (585) 276-3500, at cfe@rochester.edu or http://www.rochester.edu/entrepreneurship/registration.html.

Nov. 20: New York Academy of Science (NAS) Future Energy Event, one in a series of startup-investor pitch events that connects entrepreneurs, researchers, and private investors in the energy and clean-tech industries to develop and commercialize radical solutions to the world's energy challenges. 6:30-8:30 p.m., NYU-Stern, New York City. Read more.

---
Here to help
The Genomics Research Center recently acquired an Illumina MiSeq instrument that can be used for amplicon sequencing and small genome sequencing. Information on pricing and additional applications can be obtained by contacting URgenomics@urmc.rochester.edu. Funding for the instrument was supported by the Department of Microbiology and Immunology, the Center for AIDS Research, and the School of Medicine and Dentistry.

---
The quest for an NSF-GRFP: Proofread and send!
(One in a series of weekly tips leading up to the deadline to apply.)

With application deadlines for the National Science Foundation Graduate Research Fellowship just days away, it's time to go over your application with a fine-tooth comb, and then submit.

When proofreading:

1. Print out a hard copy, change the font size -- anything to help you see your application from a fresh perspective.

2. Bad spelling can doom an otherwise stellar application. Double check spellings with a dictionary; don't rely on spellcheck.

3. Be sure you've clearly flagged passages that support the two key criteria: intellectual impact and broader impact.

4. Make sure you follow the essay formatting instructions regarding page limits, font type and size, margins, and line spacing TO THE LETTER.

After uploading your application material to Fastlane

1. Be sure the material is there.

2. Be sure it is the right version.

3. Save pdfs of the material you submitted to Fastlane for your own records.

Remember, deadlines are looming. Applications must be filed by 8 p.m. Eastern Standard Time on:

Monday, Nov. 4: Engineering; Computer and Information Science and Engineering; Materials Research

Tuesday, Nov. 5: Mathematical Sciences; Chemistry; Physics and Astronomy

Thursday, Nov. 7: Social Sciences; Psychology; STEM Education and Learning Research

Next Friday, Nov. 8: Life Sciences; Geosciences

Click here for more tips on applying.

---
Introducing a new faculty member
Douglas Kelley, who joins the Department of Mechanical Engineering as an assistant professor, studies the space- and time-dynamics of flows and the materials being mixed in them. In one project, his lab is studying the role of mixing in performance of liquid metal batteries. Liquid metal batteries may soon provide large-scale energy storage on electrical grids. Another project considers oceanic mixing of marine phytoplankton blooms. Phytoplankton naturally provide more carbon sequestration than any other reservoir on the planet, so climate models depend on accurate growth predictions. Kelley, who has a PhD in physics from the University of Maryland, comes to Rochester from MIT. He did a year of postdoctoral work there under Donald R. Sadoway, focusing on the measurement, simulation and control of mixing in liquid metal batteries.

---
Congratulations to ...
Govind Agrawal, who was installed earlier this week as the inaugural Dr. James C. Wyant Professor in Optics.

The Systems Research Group in the Department of Computer Science for receiving four National Science Foundation grants this fall. Given the current funding climate, that's not bad at all for a research group with five core faculty members!

---
UR research in the news
A $1.2 million grant from the New York State Empire Clinical Research Investigator Program will support new research teams in the departments of surgery, neurology, and medicine. The project will provide training in clinical research and seek to address variations in adherence to care guidelines that can significantly impact outcomes.

The Medical Center is recruiting 1,500 smokers attending community colleges throughout New York state to participate in a new research study funded by the National Cancer Institute. Read more ...

---
Mark your calendar
Today: Applications due for Wilmot Cancer Center Pilot and Collaborative Studies funding. Please contact Pam Iadarola with questions.

Nov. 7: 20th Annual Rochester Cardiopulmonary Symposium. 7:30 a.m.-4 p.m., Rochester Riverside Convention Center. Read more.

Nov. 12: "What engages people? Self-determination theory research on motivation in learning, health care, virtual worlds, and other domains'" presented by Richard Ryan, Professor, Department of Clinical and Social Sciences in Psychology. CTSI Seminar series, 12:15-1:15 p.m., Helen Wood Hall Auditorium, 1W-304.

Nov. 14: James P. Wilmot Cancer Center 18th Annual Scientific Symposium, 9 a.m. to 4 p.m., Class of 62 Auditorium and the Flaum Atrium. The purpose of the symposium is to bring together scientists working in basic, translational and clinical cancer research. Activities will include oral presentations and a poster session. Learn more.

Nov. 14: "Research Ethics: Concepts, Hot Topics and Help with Tough Decisions," presented by Carl D'Angio, Professor, Department of Medical Humanities and Bioethics. SCORE meeting, 12-1:30 p.m., Saunders Research Building 1.416. Feel free to bring your lunch.

---
Make a reservation for NSF workshop
The National Science Foundation, the Rochester Institute of Technology, and the University of Rochester will hold a one-day workshop on Nov. 8. The workshop will include an overview of the Foundation, its mission, priorities, and budget, and cover the NSF proposal and merit review process and NSF programs that cut across disciplines. Representatives from the seven NSF directorates and the Office of International and Integrative Activities will make presentations on their programs and be available informally and in breakout sessions for discussions of potential research proposals. The workshop will be held at the RIT Inn and Conference Center, 5257 West Henrietta Road. Registration is $30; deadline to register is today.

---
Please send suggestions and comments to Bob Marcotte.. To see back issues, click here.