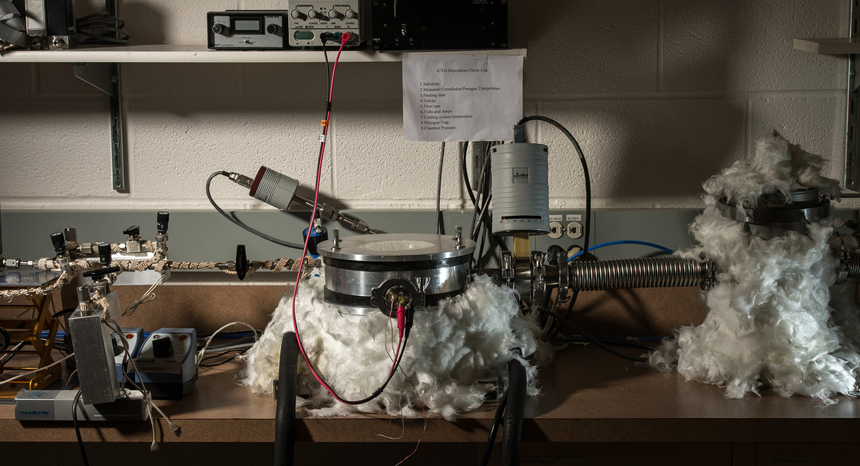 Images of research
This is an initiated chemical vapor deposition (ICVD) system that Mitchell Anthamatten, an Associate Professor of Chemical Engineering, and graduate student Ran Tao, have developed to grow highly customizable coatings of foam-like polymers from a mixture of gases. "As a result, it will be easier to put foam polymers in hard-to-get-at places, or even on curved surfaces," Anthamatten explains. Foam polymers are used in a variety of ways, including the delivery of drugs in the body, as a framework for body tissues and implants, and as layers in laser targets for fusion research, so there is the potential for multiple applications from this research. (Photo by J. Adam Fenster/University of Rochester)
Do you have an interesting photo or other image that helps illustrate your research? We would like to showcase it. Send a high resolution jpg or other version, along with a description of what it shows, to bmarcotte@ur.rochester.edu.
---
Need research volunteers? Post your studies here
Kelly-Jo Koch knows all about the difficulties of finding human subjects who meet the specific criteria of a study. But she has a new ally: The recently revamped, relaunched UR Health Research website, where coordinators can post their studies, and where members of the public can view them and indicate their interest in participating. "It's been very valuable," said Koch, who is serving as coordinator for Prof. Laurel Carney's study on 'Hearing Sounds in Noise.' I'm very pleased with the response."

As a result of posting the study to the site, Koch said, she was able to successfully recruit five subjects within a fairly short time. Compared to putting up posters all around the Med Center, "it is certainly less labor intensive," she noted.

Coordinators for any study in need of human subjects, whether based at the Medical Center or River Campus, are invited to take advantage of the site, says Ann Dozier, Associate Professor of Public Health Sciences, and Connie Bottoni, Technical Associate, who administer the site. It can also be accessed by clinicians interested in referring patients to appropriate studies.

The website allows members of the public to view the study's requirements, and some studies allow individuals to "prescreen" themselves before contacting the coordinator, Dozier noted. The URMC call center provides another access point for individuals who do not own a computer or have easy access to the internet. A volunteer registry is being compiled, and a Facebook page to post general information about studies is in the works.

"Our broader purpose is to raise awareness in the community about our research efforts and how individuals can make a positive difference through their participation as research volunteers," Dozier said.

Coordinators and PIs can go online to post a study or for instructions on how to do so. They can also contact RecuitmentHelp@urmc.rochester.edu for assistance or to learn about monthly work sessions where coordinators can receive instruction in person.

"We really want to get the word out about this," Bottoni noted. "It's one more recruitment method for our study coordinators, and it doesn't cost them a cent."


New web page summarizes policies, guidelines for human research protection
The Office for Human Subject Protection (OHSP) announced a new web page that brings together all policies and guidelines pertaining to the University's human research protection program. Please visit the new page and take a look. OHSP will continue to add new and updated documents over time. The home page for the Research Subjects Review Board contains a link to the new policies and guidelines page and features other new information as well.

---
Drug Discovery Pilot Award accepting applications
The Drug Discovery Pilot Award Program, jointly funded by the Medical Center and the Moulder Center for Drug Discovery Research at Temple University, is accepting applications through Nov. 30 for the next round of grant funding. The program is designed to help Rochester scientists combine their knowledge of disease biology with the knowledge of medicinal chemists and pharmacologists at the Moulder Center to identify and refine compounds suitable for medical research and eventual use in humans. For more information about submission criteria and guidelines, visit www.ddpa.urmc.edu.

---
Global Innovation Initiative seeks proposals
The Global Innovation Initiative plans to award approximately 10 grants, ranging from $150,000 to $250,000 for two years, to support cutting-edge, multinational, interdisciplinary research and institutional partnerships in these priority areas:

1. Energy, climate change and the environment.

2. Agriculture, food security and water.

3. Public health and wellbeing.

4. Urbanization.

Projects must be at least trilateral, including one institution from the U.S., one from the U.K., and one from India, Indonesia, China or Brazil. The program, administered by the Institute of International Education, will hold an informational webinar at 2 p.m., Friday, Nov. 15; click here to register. The application deadline is Dec. 16; per University policy, the Office of Research and Project Administration (ORPA) must receive an electronic proposal five days earlier with a completed and signed University sign-off form. For assistance in seeking international partnerships with the mentioned countries, contact Todd St. Vrain, Manager for International Initiatives.

---
The quest for an NSF-GRFP: Check on letter writers
(One in a series of weekly tips leading up to the deadline to apply.)

You've done your part. You've submitted your application for a National Science Foundation Graduate Research Fellowship. (The deadline for students applying in life sciences and geosciences is 8 p.m. today.)

There's one, last, all-important step: Check to be sure the people you asked to write letters of reference are doing their part as well. You can check to see if they have been filed, by going to your status page in the FastLane application module.

If they haven't, remind your letter writers they must do so by Thursday, Nov. 14.

You must have three letters of reference for your application to be considered. NSF clearly states that "No late letters will be accepted under any circumstances."

Letter writers can click here for general tips and here to review the Intellectual Merit and Broader Impacts criteria that they should address.

---
Worth pondering ...
It can be intimidating for a young researcher just starting out in a field already populated with renowned experts and big ideas. Here's some advice that guest lecturer Timothy Blackwell, the Ralph and Lulu Owen Chair in Medicine at Vanderbilt University, gave at a UR Medical Center career roundtable earlier this fall: "Don't compare yourself at the beginning to the whole spectrum of that research world. You have to say to yourself: 'Am I making progress every day, am I doing what I think is important, am I doing something that I like, and am I getting advice on how to do things as close to the state of the art as I possibly can? If you do that, then you will gradually build up the expertise and data and knowledge base to be successful. It's too intimidating to compare yourself every day. You have to say 'I'm going to be in this for x amount of time and then see where I am in comparison. When people compare themselves too much to what the guy next door is doing, it turns out to be counterproductive and it reduces your ability to be creative."

---
Introducing a new faculty member
Dinesh Thakur joins the Department of Mathematics as a Professor. Dinesh works in several areas of number theory, in particular the arithmetic properties of function fields. Thakur received his Ph.D. in 1987 from Harvard, where he was a student of John Tate, and comes to Rochester from the University of Arizona, where he was a faculty member for 20 years and was instrumental in the founding and ongoing management of the Southwest Center for Arithmetic Geometry and its famed Arizona Winter School in Number Theory.

---
Congratulations to ...
Richard Eisenberg, the Tracy H. Harris Professor of Chemistry, who has received the 2013 Oesper Award from the Cincinnati Section of the American Chemical Society and the University of Cincinnati Chemistry Department. The award recognizes a lifetime of significant accomplishments in the field of chemistry.

Alex Iosevich, Professor of Mathematics, who has been named a Fellow of the American Mathematical Society (AMS). The AMS fellowships recognize "members who have made outstanding contributions to the creation, exposition, advancement, communication, and utilization of mathematics."

Steven Laitz, Professor of Music Theory at the Eastman School, who has been named director of the Gail Boyd de Stwolinski Center for Music Theory Pedagogy at the University of Oklahoma. He will continue to serve on the faculty at Eastman. The Stwolinski center serves as an international clearinghouse for information on the teaching and learning of music theory, and fosters research through its journal, website, and seminars and institutes.

---
UR research in the news
Lynda Powell, Professor of Political Science, was a guest blogger earlier this week for the Washington Post, discussing "How money talks in state legislatures."

A $1.2 million grant from the New York State Empire Clinical Research Investigator Program will support new research teams in the Departments of Surgery, Neurology, and Medicine. The project will provide training in clinical research and seek to address variations in adherence to care guidelines that can significantly impact outcomes.

The Medical Center is recruiting 1,500 smokers attending community colleges throughout New York state to participate in a new research study funded by the National Cancer Institute. Read more ...

---
Mark your calendar
Today: The National Science Foundation workshop at RIT will include an overview of the Foundation, its mission, priorities, and budget, and cover the NSF proposal and merit review process and NSF programs that cut across disciplines. RIT Inn and Conference Center, 5257 West Henrietta Road.

Nov. 12: "What engages people? Self-determination theory research on motivation in learning, health care, virtual worlds, and other domains'" presented by Richard Ryan, Professor, Department of Clinical and Social Sciences in Psychology. CTSI Seminar series, 12:15-1:15 p.m., Helen Wood Hall Auditorium, 1W-304.

Nov. 12: "FDA Engineers' Roles in Regulatory Science and the Development of Standards", Mitchell Shein, Chief, Implantable Electrophysiological Devices Branch, FDA Division of Cardiovascular Devices. BME Seminar Series, 8:30-9:30 a.m., 101 Goergen Hall (Sloan Auditorium). Overview of the standards development process, followed by an open discussion on engineer's roles in Regulatory Science as well as the development of device standards at the Center for Devices and Radiological Health in the U.S. Food and Drug Administration.

Nov. 14: James P. Wilmot Cancer Center 18th Annual Scientific Symposium, 9 a.m. to 4 p.m., Class of 62 Auditorium and the Flaum Atrium. The purpose of the symposium is to bring together scientists working in basic, translational and clinical cancer research. Activities will include oral presentations and a poster session. Learn more.

Nov. 14: "Research Ethics: Concepts, Hot Topics and Help with Tough Decisions," presented by Carl D'Angio, Professor, Department of Medical Humanities and Bioethics. SCORE meeting, 12-1:30 p.m., Saunders Research Building 1.416. Feel free to bring your lunch.

Nov. 15: Center for Integrated Research Computing (CIRC) symposium, 11:30 a.m. to 1 p.m., Goergen 108. Paul Slattery, Professor of Physics, will describe how computation is involved in the measurement of the mass of the top quark. Dejun Lin, Graduate Student in the Department of Biochemistry and Biophysics, will discuss results from coarse-grained molecular dynamics simulations. Pizza and soda will be served.

Nov. 20: "My Medical Device Journey: Failures, Startup Challenges, and Lessons Learned," Edward (Ted) F. Ruppel, Jr., '88 (B.S. Mechanical Engineering) Executive Vice President, Chief Financial Officer, and Corporate Compliance Officer, Vascular Dynamics, Inc. Center for Entrepreneurship Lecture Series, 4:45-5:45 p.m., 318/418 Gleason Hall. RSVP at (585) 276-3500, at cfe@rochester.edu or http://www.rochester.edu/entrepreneurship/registration.html.

Nov. 20: New York Academy of Science (NAS) Future Energy Event, one in a series of startup-investor pitch events that connects entrepreneurs, researchers, and private investors in the energy and clean-tech industries to develop and commercialize radical solutions to the world's energy challenges. 6:30-8:30 p.m., NYU-Stern, New York City. Read more.

Nov. 27: Deadline to register and submit poster abstracts for the 2013 World AIDS Day Scientific Poster Session, sponsored by the Center for AIDS Research, to be held Dec. 3. Cash prizes will be awarded for graduate student and post-doctoral posters. Contact Jennifer_lynch@urmc.rochester.edu.

---
Please send suggestions and comments to Bob Marcotte.. To see back issues, click here.