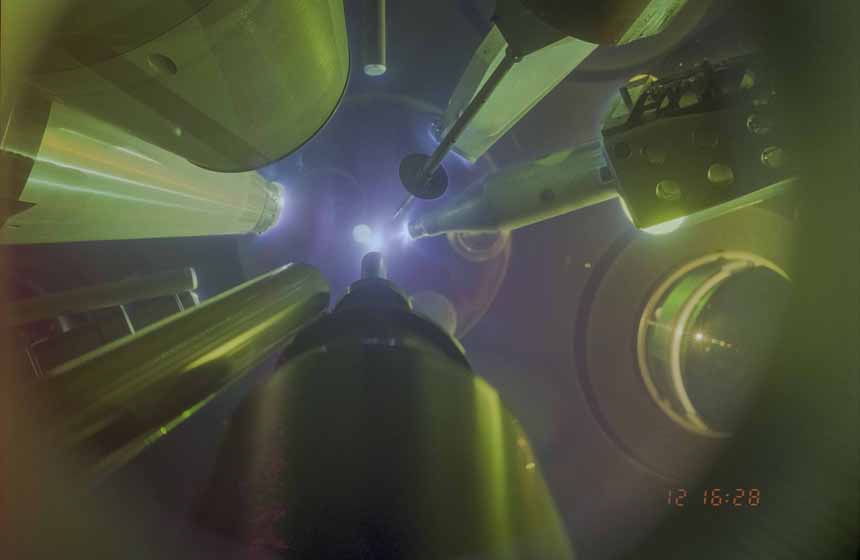 Images of research
This was a view of the target chamber at the OMEGA Laser Facility at the University of Rochester's Laboratory for Laser Energetics when it recently conducted its 25,000th experiment to create and study extreme states of matter. The National Nuclear Security Administration heralded the milestone by noting: "The Omega Laser Facility is used for high energy density physics research, spanning from fundamental science experiments exploring the birth and death of stars, the hearts of planets, and the mysteries of magnetic reconnection, to inertial confinement fusion ignition, laser-plasma interactions and nuclear weapons research. The 25,000th target shot was a science experiment to study the properties of liquid deuterium at high pressure, which will help scientists figure out how to make fusion work in the laboratory and what is happening in the interior of giant planets like Jupiter and Saturn. The Omega Laser Facility produces the most target shots out of NNSA's large high energy density facilities, answering vital physics questions and supporting the development of diagnostics and experimental platforms for the National Ignition Facility at Lawrence Livermore National Laboratory (LLNL) in Livermore, Calif."
Do you have an interesting photo or other image that helps illustrate your research? We would like to showcase it. Send a high resolution jpg or other version, along with a description of what it shows, to bmarcotte@ur.rochester.edu.
---
Help available for data management plans
Most major funders, including the National Science Foundation, National Institutes of Health, and National Endowment for the Humanities, now require that proposals include a data management plan (DMP), which outlines how both physical and digital data will be handled over the course of the research project and beyond.

Researchers should consider how they will ensure that their data is preserved and, when appropriate, shared with others to ensure the highest possible return on investment of a grant. The DMPTool is an interactive tool for writing data management plans that meet the requirements of different funders, including NSF and NIH.

The University of Rochester has resources for additional help as researchers write their data management plans and carry out research. Contact Kathleen Fear, Data Librarian at River Campus Libraries or Donna Berryman and Linda Hasman, Librarians at Miner Library.

---
New tool matches research coordinators with projects
UR Connected is a new web-based application that connects research coordinators with research projects.

Brought to you by the Clinical and Translational Science Institute, UR Connected has features for research coordinators and hiring managers. Coordinators may search for available positions, create their own profiles in the system, and control how much of their information is available for searching. Hiring managers may post open positions (full-time or part-time, permanent or short-term), link to position descriptions in HRMS, and search for coordinators with the qualifications they need.

Click here to enter the system or contact ResearchHelp@urmc.rochester.edu for more information.

---
University Research Fund seeks applications
A Request for Proposal and simplified application for the 2014 University Research Awards (formerly, Provost's Multidisciplinary Award) are now available for faculty members. Applicants may request up to $37,500 as a match to equal funds committed by the applicant's home school for a total project cost of a maximum of $75,000. Projects may cover any disciplinary areas represented within the University.

Proposals will be rated by a review committee based on these criteria:

1. Does the project promise to solve a problem of intellectual or scientific importance?

2. Is the project well-designed and feasible, given the resources already available and the budget and time requested?

3. Are the applicants qualified to see the project to a successful conclusion?

4. Does the project provide opportunity for the involvement of students?

5. Is the budget request appropriate?

6. Does the project clearly show how outcomes should lead to external funding?

The deadline to apply is Feb. 3, 2014.

---
Grant unites humanities, digital technology
A $1 million grant from the Andrew W. Mellon Foundation will fund a new program to train UR humanities students to integrate digital technologies into innovative research programs. The grant will provide select Ph.D. students in the humanities with two years of support to study and learn to use the new technology. Students from any of Rochester's four humanities Ph.D. programs -- English, history, philosophy, and visual and cultural studies -- will be eligible to apply for admission to the fellowship. Graduate fellows will study the theory and practice of digital humanities to discover new avenues of inquiry within their own fields, and to serve as apprentices and mentors to communities of undergraduates and faculty members who are collaborating on research projects.

---
The quest for an NSF-GRFP: Here's another fellowship to consider
(Last in a series of weekly tips.)

If you are a senior or graduate student who just applied for a National Science Foundation Graduate Research Fellowship, there's a good chance you're also eligible to apply for a National Defense Science and Engineering Graduate Fellowship (NDSEG).

Go for it! By already applying for the NSF-GRFP, you've accumulated most of the information you need for a NDSEG and done most of the hard leg work. And you've still got plenty of time to make the Dec. 20 deadline.

These fellowships -- which, by the way, carry no obligation to serve in the U.S. military -- are also prestigious, apply to many of the same scientific and engineering disciplines, and are just as attractive as the NSF fellowships for their portability, independent research, and generous funding. They provide a yearly stipend that builds from $30,500 to $31,500 over three years -- plus full coverage of tuition costs and fees and up to $1,000 a year for medical insurance.

Wendi Heinzelman, AS&E Dean of Graduate Studies, cites a UR student who applied for both. He didn't get the NSF, but did get an honorable mention, "which is great for your resume." He did get the NDSEG. So clearly there's nothing to lose -- and potentially much to gain -- by applying for both.

Click here for application instructions.

---
Introducing a new faculty member
Mark Platt joins the Department of Microbiology and Immunology as an assistant professor, and also as the director of the URMC Proteomics Resource Laboratory, which provides state-of-the-art instrumentation and technical expertise in the areas of protein identification and mass spectrometry (MS)-based small molecule assay development. Platt received his Ph.D. in Analytical Biochemistry from the University of Virginia, where he focused on the use of MS to identify proteins within biological systems, specifically in the areas of proteomics, protein phosphorylation, and differential analysis. Following his graduate work, Platt was a senior research fellow at the University of Melbourne in Melbourne, Australia, where he established and managed a proteomics laboratory and applied this technology to the elucidation of protein expression and signaling pathways in model plant systems. He comes to the UR from Rensselaer Polytechnic Institute where he served as an assistant professor.

---
Congratulations to ...
Vera Gorbunova, Professor of Biology, recipient of the Longevity Research Award for her work to better understand the mechanisms of aging. The award is sponsored by the Associations de Prevoyance Sante and Allianz Group.

Richard Aslin, the William R. Kenan Professor of Brain and Cognitive Sciences, selected for the Distinguished Scientific Contribution Award from the American Psychological Association. The honor "recognizes distinguished theoretical or empirical contributions to basic research in psychology." Aslin's theory of "statistical learning" has helped to revolutionize the field of cognitive science.

---
UR researchers in the news
A study by senior authorJeffrey Bazarian, Associate Professor of Emergency Medicine, and coauthor Kathleen Hoeger, Professor of Obstetrics and Gynecology, shows that women suffering a concussion during the two weeks leading up to their period (the premenstrual phase) had a slower recovery and poorer health one month after injury compared to women injured during the two weeks directly after their period or women taking birth control pills. If confirmed in subsequent research, the findings could alter the treatment and prognosis of women who suffer head injuries from sports, falls, car accidents or combat.

Wakenda Tyler, Assistant Professor of Orthopaedics, is featured in the Democrat and Chronicle's Women to Watch series. Tyler's research centers around the treatment of bone and soft tissue tumors and conditions that lead to osteolysis (bone destruction as a result of implant wear and loosening or presence of tumor).

Sheree Toth, Executive Director of the Mt. Hope Family Center, is lead author of a new study showing that screening and short-term, relationship-focused therapy through weekly home visits can relieve depression among minority mothers, even in the face of poverty and personal histories of abuse or violence.

The Wall Street Journal's "Market Watch" is featuring a three-part series by Nate Vernon, a senior majoring in financial economics (and a member of the UR basketball team), describing his research on the risks of moving-average strategies.

---
Mark your calendar
Today: Center for Integrated Research Computing (CIRC) symposium, 11:30 a.m. to 1 p.m., Goergen 108. Paul Slattery, Professor of Physics, will describe how computation is involved in the measurement of the mass of the top quark. Dejun Lin, Graduate Student in the Department of Biochemistry and Biophysics, will discuss results from coarse-grained molecular dynamics simulations. Pizza and soda will be served.

Nov. 20: "My Medical Device Journey: Failures, Startup Challenges, and Lessons Learned," Edward (Ted) F. Ruppel, Jr., '88 (B.S. Mechanical Engineering) Executive Vice President, Chief Financial Officer, and Corporate Compliance Officer, Vascular Dynamics, Inc. Center for Entrepreneurship Lecture Series, 4:45-5:45 p.m., 318/418 Gleason Hall. RSVP at (585) 276-3500, at cfe@rochester.edu or http://www.rochester.edu/entrepreneurship/registration.html.

Nov. 20: New York Academy of Science (NAS) Future Energy Event, one in a series of startup-investor pitch events that connects entrepreneurs, researchers, and private investors in the energy and clean-tech industries to develop and commercialize radical solutions to the world's energy challenges. 6:30-8:30 p.m., NYU-Stern, New York City. Read more.

Nov. 27: Deadline to register and submit poster abstracts for the 2013 World AIDS Day Scientific Poster Session, sponsored by the Center for AIDS Research, to be held Dec. 3. Cash prizes will be awarded for graduate student and post-doctoral posters. Contact Jennifer_lynch@urmc.rochester.edu.

Nov. 30: Deadline to apply for next round of funding through the Drug Discovery Pilot Award Program, jointly funded by the Medical Center and the Moulder Center for Drug Discovery Research at Temple University. The program is designed to help Rochester scientists combine their knowledge of disease biology with the knowledge of medicinal chemists and pharmacologists at the Moulder Center to identify and refine compounds suitable for medical research and eventual use in humans. For more information about submission criteria and guidelines, visit www.ddpa.urmc.edu.

Dec. 16: Deadline to apply for Global Innovation Initiative grants. NOTE: The UR Office of Research and Project Administration (ORPA) must receive an electronic proposal five days earlier with a completed and signed University sign-off form. For assistance in seeking international partnerships with the mentioned countries, contact Todd St. Vrain, Manager for International Initiatives.

---
Please send suggestions and comments to Bob Marcotte.. To see back issues, click here.