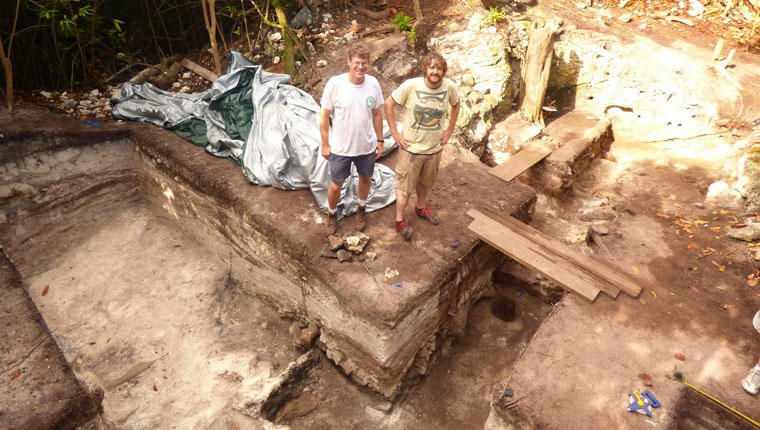 Michael Jarvis, Associate Professor of History, and history graduate student James Rankine stand at the Oven Site excavation on Smiths Island in Bermuda this summer as part of an ongoing project to document the arrival of Englishmen and Africans during the early 1600s and how they adapted.
First the digging, then the analysis
When Michael Jarvis, Associate Professor of History, opened up his Smiths Island field school in archaeology to non-University of Rochester students this summer, he reaped a bonanza. He nearly doubled -- to 12 -- the number of young people eager to dig into the Bermudian soil in search of history.

"A team of twelve is a force to reckoned with," Jarvis wrote on the blog that he and his students have maintained each summer. "They hit the site like a hurricane, or manic ants..."

All of this enthusiasm was carefully channeled, of course. "Archaeology is the one profession where you destroy (the context of) the very thing you study," Jarvis said. "Your ability to analyze after the fact is only as good as your notes."

So students are taught the proper way to document that context -- with photos, elevation data, standardized written descriptions and soil color identification.

In other words, there's a real "science" to this kind of historical research. And it paid off this summer. Jarvis brought back 3,000 high-resolution photos -- and reams of other documentation.

What happens next? "For every hour spent in the field archaeologists devote four to artifact processing, analysis, record digitization, GIS input, writing reports, etc.," Jarvis explained.

It sounds daunting. However, thanks to a University conference he attended last fall, Jarvis has an added incentive to dive into this part of his work.

(Next: Digital technology brings a new "dimension" to archaeological research.)

Undergraduate students interested in helping Jarvis excavate on Smiths Island next year, starting in May, can apply now by downloading an overview and application from his history department website.


Do you have an interesting photo or other image that helps illustrate your research? We would like to showcase it. Send a high resolution jpg or other version, along with a description of what it shows, to bmarcotte@ur.rochester.edu.
---
Basics of IP: Patents advance our knowledge
(This is one in a series of articles about the importance of intellectual property and its commercialization to the University and its researchers. It is based on a current UR Ventures lecture series, "Intellectual Property and Commercializing Technology" being offered by the office of the AS&E Dean for Research. The next presentation, "Technology Commercialization at the University of Rochester," will be at noon Nov. 11 in the Gowen Room at Wilson Commons, lunch provided.)

"Patents slow our technology down; they're just a barrier."

Reid Cunningham hears comments like these from time to time.

"But it's actually the exact opposite," argues Cunningham, the intellectual property (IP) attorney for UR Ventures, the office that helps University researchers apply for patents and license their innovations.

Yes, patents confer on the holder the right to exclude others from using the patented material for up to 20 years. However, in exchange for that exclusivity, the patent holder has to disclose the technology in a very detailed way.

"That actually advances our knowledge," Cunningham notes. "Moreover, the vast majority of patents actually lapse before their entire term. They were interesting technology; they may have been useful for a short period; they offered an alternative." But in the meantime at least they were available "for all of us to understand and learn from."

Did you know:

1. A patent gives you the right to exclude others from using your technology. But a patent does not automatically give you the right to practice your invention. The radial tire, for example, was a new idea that received a patent by a first company, but it was applied to tubeless tires, which had already been patented by a second company. Therefore, even though the first company had a patent on a radial tire, it infringed the patent of the second company by making a tubeless tire. Only by cross licensing these two technologies were both companies able to make radial tires.

2. Multiple patents can be obtained for different inventive aspects of the same idea. You might invent a new light bulb, but also come up with a new method for producing it, a new chemical composition for the filament, even a new way to sell it -- all of which could be individually patented as well.

3. Patents cannot be obtained for abstract ideas or for discovering laws of nature or other naturally occurring phenomenon; there must be some kind of enablement or application. You cannot patent the "idea" of going to the moon, for example; you can, however, patent a novel way to get there, for example by a rocket.

4. But you don't have to actually go to the moon -- or, in the case of the light bulb, actually make your new version -- as long as you can explain it clearly enough in your patent to enable someone else to do it.

(Next: There's more than meets the eye to a three-legged stool.)

---
Role of Community Advisory Council expands
The role of the Community Advisory Council will be increasing, explains Nancy Bennett, Co-director of the University's Clinical and Translational Science Institute and Director of the Center for Community Health. The CAC was established to assist the Medical Center and the Center for Community Health in involving the community in establishing health research priorities that best meet the needs of the community.

"It is likely that a subset of the CAC will meet regularly with CTSI leadership, providing advice and input similar to that provided by the national members of the CTSI External Advisory Committee," Bennett tells Sean Dobbin in an interview at the CTSI Stories blog. "In addition . . . we hope that investigators throughout the UR will make use of the community input in developing and implementing their research. These meaningful relationships will likely improve the quality and relevance of UR research." Read more . . .

---
Grant funds study of HIV pre-exposure prophylaxis
James McMahon, Associate Professor at the School of Nursing and Co-Director of the Clinical and Translational Sciences Core of the Center for AIDS Research, has received a $500,000 award from the National Institute of Mental Health (NIMH) to support a formative study in reducing the risk of HIV/AIDS transmission among heterosexual couples through pre-exposure prophylaxis (PrEP).

There are an estimated 200,000 HIV-serodiscordant heterosexual couples in the U.S. -- in which one partner is infected by HIV and the other is not -- and the majority of the more than 12,000 heterosexually acquired HIV infections each year can be attributed to transmission within these couples.

The FDA has approved daily oral intake of Truvada, an HIV pre-exposure prophylaxis (PrEP), as an efficacious and promising new approach to reduce the spread of sexually acquired HIV among serodiscordant couples. Yet, this group has not been included in prior PrEP clinical trials or demonstration projects and many critical questions remain unanswered regarding the levels and determinants of PrEP acceptability, medication adherence, health effects, clinical monitoring, changes in sexual behavior, and retention in care.

"This fundamental gap in knowledge represents a significant barrier to realizing the public health benefits of PrEP," Mahon notes in the grant abstract. He will supervise a mixed-methods prospective open-label demonstration project of daily oral Truvada/PrEP among HIV-serodiscordant heterosexual couples in high-prevalence communities in New York City (NYC).

"This provides an historic opportunity to study the implementation process across clinical sites and identify factors at multiple levels (provider, couple, individual) associated with PrEP outcomes," McMahon writes. Read more about the project here.

---
Study explores effect of ultra-fine air particles on neurological development
When Joshua Allen, Research Assistant Professor of Environmental Medicine, exposed neonatal mice to enriched air containing approximately 200,000 ultra fine particles per cubic centimeter -- or about the same amount present in the air around an active expressway -- he found that males failed to improve their accuracy, as normal developing mice would, on tests measuring their neurological development.

Ultimately, both males and females did show some neurological damage after exposure, but males were significantly more sensitive to the UFP-enriched air.

"We think the protection in females is probably related to differences in microglia colonization, and it might be a testosterone-mediated mechanism," said Allen.

Allen is now following up on several other studies that have shown that certain types of air pollution, such as diesel exhaust particles, can affect males and females differently. Read more here.

(Allen presented his research as part of the CTSI seminar series, which is focusing on women's health this semester. Click here for the schedule of upcoming presentations.)

---
Deadline for Teaching-As-Research Fellowship is Dec. 1
For the second year, the University is offering the CIRTL@UR (TAR) Fellows Program for graduate and post-doctoral students in STEM fields who would like to explore a specific aspect of teaching through a research-based project. CIRTL@UR TAR Fellows will spend the spring semester learning about teaching-as-research and developing their projects and the subsequent fall semester implementing the project and analyzing the results. The positions come with a $1000 stipend for the year.

More information about the program and a link to the application can be found here. Any questions about the program can be directed to Jenny Hadingham.

---
Students urged to participate in regulatory science competition
UR Students are invited to participate in the second annual America's Got Regulatory Science Talent competition, which promotes student interest in the science of developing new tools, standards and approaches to assess the safety, efficacy, quality and performance of FDA-regulated products.

Teams of one to four students develop and present a proposed solution to a current need identified in the FDA's Strategic Plan for Regulatory Science.

Presentations, which can be verbal or use AV materials, must be five minutes in duration or less. Creativity is strongly encouraged. The local competition will be held Tuesday, Feb 10, 2015. The winning team(s) will travel to the DC/MD region to meet with the FDA and winners from the University of Maryland-Center of Excellence in Regulatory Science and Innovation, and present their proposal(s).

Completed Information Sheets are due to the Office of Government and Academic Research Alliances by Friday, Jan. 30, 2015 at 5 p.m. Questions? Email Scott.Steele@rochester.edu

---
Drug Discovery Symposium will highlight investigators' experiences
The Rochester Drug Discovery Symposium, to be held from 9 a.m. to 1 p.m. Nov. 14 at the UR, is designed to promote sharing and collaboration among the various UR laboratories currently engaged in -- or contemplating -- drug discovery and development.

Talks will highlight investigators' experiences in drug development from pilot experiments, small molecule screening, and early-stage commercialization. The event will include poster presentations, the sharing of ideas and best practices, and information about available resources and support.

Refreshments will be served. Click here to register.

---
Introducing a new faculty member
Teri Senn joins the School of Nursing as an associate professor of clinical nursing this month. Her primary research interests are in sexual health and HIV/STD prevention and intervention. She has worked on several NIH grants to develop and evaluate sexual risk reduction interventions. She is also interested in how exposure to violence affects sexual behavior. She received her PhD in applied psychology from Southern Illinois University.

---
Congratulations to . . .
Susan McDaniel, the Dr. Laurie Sands Distinguished Professor of Families & Health, who has been elected 2016 president of the American Psychological Association. She will serve as APA's president-elect in 2015. Her research interests include the many philosophical, theoretical, and clinical commonalities between family therapy and family medicine and their integration into the practice of biopsychosocial medicine. Her special interests are in the family in family medicine and collaboration between mental health specialists and primary care practitioners. During her presidency, McDaniel is expected to focus on the integration of psychology into comprehensive health care and how best to prepare psychologists as leaders in team science, inter-professional practice, interdisciplinary education and advocacy to increase diversity and reduce health disparities. Read more . . .

UR Medical student Kyle Rodenbach, who has been selected to participate in this year's prestigious Kidney STARS Program, part of the American Society of Nephrology Kidney Week 2014 in Philadelphia, Nov. 11-16. Rodenbach will participate in the program's "clinical nephrology track," learning more about clinical aspects of nephrology, hot topics in clinical research and career opportunities. The Kidney STARS (Students and Residents) Program provides interested medical students and residents an opportunity to learn more about all aspects of nephrology with "Meet the Experts" sessions, a guided tour of innovative research abstracts, and a number of networking events. Rodenbach, selected into this year's CTSI Year Out program, is working with George Schwartz, Professor of Pediatric Nephrology, on a funded project, "Cystatin-C-based renal reserve in children with history of hemolytic uremic syndrome-associated acute kidney injury."

Eastman Institute for Oral Health professor Gerald Graser, who has been named the 2015 recipient of the American Prosthodontics Society's highest honor, the Golden Medallion Award. The award especially recognizes leadership, service to the profession and the APS, teaching and research at academic and continuing education levels, and promotion of excellence in prosthodontics at a national and international level. Graser has published and lectured extensively about overdentures, dental materials and osseointegrated dental implants. Read more . . .

---
UR research in the news
Infants with congenital herpes infections are more likely to score lower on a 12-month mental development test, according to a new Medical Center study published in the journal Pediatrics. "It's not a lot. They were all within the normal range," said Mary Caserta, Professor of Pediatrics and Infectious Disease and the study's lead researcher. "But it's similar to what you see with exposure to other toxins. Will that difference go away as they get older? Maybe. Will it get worse as they get older? Maybe. It's worth looking into." Read more...

---
PhD Dissertation defense
Shanshan Shi, Pathology, "Deletion of Tak1 in Fibroblast-Specific 1 Positive Cells Reduces Tendon Adhesion Formation Via Reduced Myofibroblast Activation." 9:30 a.m., Nov. 11, K-207 (2-6408). Advisor: Regis James O'Keefe.

---
Deadline for "super pilot" incubator award now Nov. 17
The deadline for the submission of letters of intent for the SAC "super pilot" incubator award has been extended to Nov. 17. This award is sponsored by the SMD Scientific Advisory Committee (SAC) with a maximum funding level of $125,000 per year for each of two years. More information is available here.

---
Mark your calendar
Nov. 10: Noon deadline to apply for a Center for Community Health mini-grant. Grant funding of up to $1000 is made on a quarterly basis. The application and instructions are available here.

Nov. 11: Technology Commercialization at the University of Rochester. Patrick Emmerling, Licensing Manager, UR Ventures. Noon to 1 p.m., Gowen Room, WIlson Commons. RSVP to Melissa.napolitano@rochester.edu

Nov. 13: "The Co-Evolution of Humans and Machines." Lecture by Paul Horn '72 (MA) '74 (PhD), Senior Vice Provost and Senior Vice Dean for Strategic Initiatives and Entrepreneurship, Polytechnic School of Engineering, New York University. 5 p.m., Hawkins-Carlson Room, Rush Rhees Library. Register at ase.events@rochester.edu or with Meghan Barnhardt at (585) 275-1490.

Nov. 13: Annual Wilmot Cancer Institute Scientific Symposium, 9 a.m. to 4 p.m., Class of '62 Auditorium and Flaum Atrium. Click here for more information.

Nov. 14: Disability Studies Cluster Symposium: "Complicating Normalcy: Disability, Technology, and Society in the Twenty-First Century." 8:30 a.m. to 4:15 p.m., School of Nursing. Organized around the documentary film FIXED -- The Science/Fiction of Human Enhancement, which explores the meanings of "disability" and "normalcy" in contemporary times through the examination of technological and pharmacological advances designed to "fix or enhance the human body," and the bioethical implications and social tensions that arise from these scientific advances. Register here.

Nov. 17: Deadline for initial abstracts for SMD Scientific Advisory Committee (SAC) "superpilot" awards. Click here to read the full RFA.

Nov. 19: 2014 Regional Proteomics Symposium, 9 a.m. to 5 p.m., Class of '62 Auditorium and the Flaum Atrium. Speakers from a variety of Western New York universities and institutions, and a poster session highlighting protein identification work at the University of Rochester. Register here. For more information, contact Mark D. Platt, MSRL Director at mark_platt@urmc.rochester.edu or at (585) 276-6804.

Dec. 9: How to Find Inventions, What Makes a Good Invention, and How to Find Prior Art. Reid Cunningham, IP attorney, UR Ventures. Noon to 1 p.m., Gowen Room, Wilson Commons. RSVP to Melissa.napolitano@rochester.edu

Dec. 10: Celebration of Authorship, featuring printed and electronic books, edited volumes and texts, as well as published compositions and recordings produced by University faculty and staff from all fields. 3:30 to 5:30 p.m., Hawkins Carlson Room in Rush Rhees Library. Click here for more information.

---
Please send suggestions and comments to Bob Marcotte. To see back issues, click here.