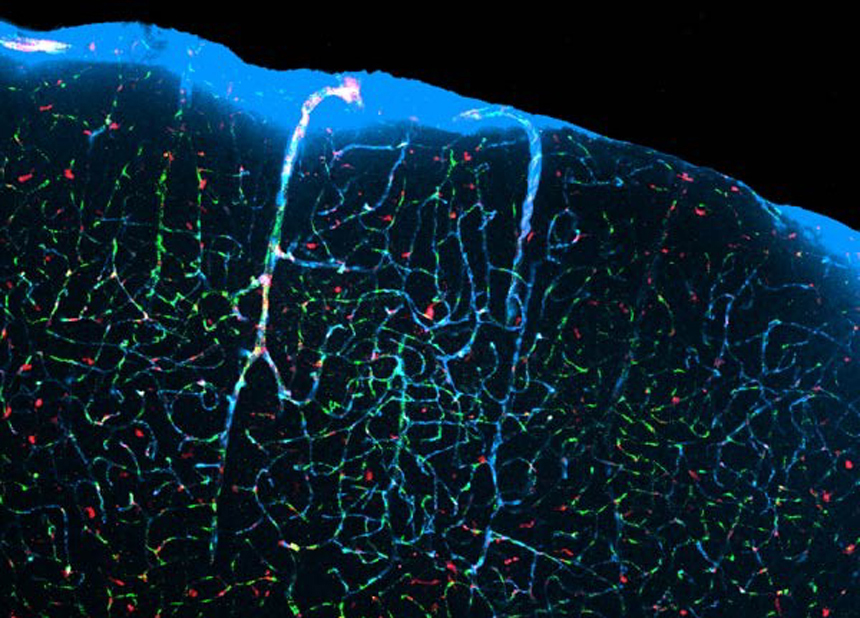 Images of research
This image, from the lab of Maiken Nedergaard, the Frank P. Smith Professor of Neurosurgery, and co-director of the Center for Translational Neuromedicine, shows cerebral spinal fluid (in blue) entering the brain via a "plumbing system" that piggybacks on the brain's blood vessels. Nedergaard is lead author of a new study, published in Science, showing that this recently discovered system, which flushes waste from the brain, is primarily active during sleep. "The restorative nature of sleep appears to be the result of the active clearance of the by-products of neural activity that accumulate during wakefulness," Nedergaard explains. These findings could transform our understanding of the biological purpose of sleep and point to new ways to treat neurological disorders. They have also been reported in just about every major media outlet.
Do you have an interesting photo or other image that helps illustrate your research? We would like to showcase it. Send a high resolution jpg or other version, along with a description of what it shows, to bmarcotte@ur.rochester.edu.
---
UR Ventures: Bridging the 'Valley of Death'
"We're open for business," Scott Catlin, Associate Vice President, Technology Ventures, announced Monday at the official unveiling of UR Ventures, which gives not only a new name and brand, but new focus to the University's tech transfer program.

Key to the effort will be a more proactive project management approach to helping UR researchers bridge the so-called "Valley of Death" -- the chasm that occurs when nascent university discoveries fall short of the necessary clinical trials and other "proof of concept" to interest corporations and venture capitalists.

"Having a patent on a piece of paper is not good enough," Catlin said. "Investors want to see something more. If we don't take an active role in moving our technology forward, (tech transfer) just doesn't happen."

"There's a bit of bridge building that has to happen," Catlin added. "We probably have to build a first step or two on our side of the chasm -- so that corporations and venture capitalists can better see where we're going and will hopefully start building on the other side."

Catlin pledged a more transparent "road map" for University faculty and researchers, "so that we're explaining better how things are moving forward, and why, and what the steps are. There's a lot more work to be done about how we engage faculty and students. If you look at places like Stanford and MIT, students are big drivers for their technology, and that's something we need to start building ourselves."

"The best opportunities are the ones where faculty remain engaged and work with us," Catlin noted.

Read more at the new UR Ventures website.

---
A big day for Big Data
An additional $50 million commitment to data science, including an institute, a building to house it, and up to 20 new faculty members with expertise in the field, will be "the top priority of the 2013-2018 University strategic plan," President Joel Seligman announced Friday. The announcement kicked off the University of Rochester Big Data Forum 2013, which featured presentations by 16 experts in areas of machine learning and Big Data applications in government, and the life, physical and social sciences. University of Rochester presenters included Aran Garcia-Bellido, Assistant Professor, Department of Physics & Astronomy; M. Ehsan Hoque, Assistant Professor, Department of Computer Science; John Kessler, Associate Professor, Earth and Environmental Sciences; Alex Paciorkowski, Assistant Professor of Neurology, and Marc Scheiber, Professor of Neurology.


In case you missed it
With all the interest surrounding this year's Nobel Prize to two of the discoverers of the the Higgs Boson, Garcia-Bellido's presentation was especially timely, describing in depth the process by which the particle was documented at CERN, the European Organization for Nuclear Research. Bellido is a member of the CMS experiment at CERN's Large Hadron Collider in Geneva, Switzerland.

The livestreamed presentations, arranged in four segments, can be seen here. Bellido's presentation, for example, begins 26 minutes into segment 4.


The 'astronomical' dimensions of Big Data
Eric Gawiser, Associate Professor of Physics and Astronomy at Rutgers, like many of the presenters, illustrated the Big Data challenges in his field with some jaw-dropping projections of raw data expected to be generated in the next few years.

For example, the $600 million Large Synoptic Survey Telescope, projected to become operational in 2022, will produce a 6.4-gigabyte image every 17 seconds, creating about 15 terabytes of raw images nightly, during a 10-year survey of over 20,000 square degrees of the southern sky. Each patch of sky will be visited about 1000 times, generating a total of 60 petabytes of raw data (one PB equals 1,000,000,000,000,000 bytes, or 1,000 terabytes). A final catalogue will include as many as 40 billion observed objects, including 25 billion galaxies and 15 billion stars.

The massive data generated by LSST -- and by other cutting-edge tools, such as high bandwidth radio correlators -- will be "extraordinarily challenging" to manage, Gawiser noted. But the possible payoffs are tantalizing:

1. Identification of earth-killing asteroids

2. Finding more Plutos in our solar system

3. Mapping the structure of the Milky Way's " billions and billions" of stars

4. Using "billions and billions of galaxies" to determine the nature of dark matter and dark energy

Even if some of these prospects do not pan out, Gawiser added, "one of the fascinating things in the history of astronomy is that our surprises have been even more exciting than our promised discoveries. And that's a trend that I can predict, with confidence, will continue."

---
The shutdown's aftermath: Check funding agency websites
Be sure to check each federal funding agency's website for advisories on how the recently ended shutdown affected deadlines and/or target dates for grants and fellowship opportunities.

For example, the National Science Foundation (NSF) has an overview of its resumption of operations; a program-specific list of revised deadlines, and an FAQ section.

Be aware that some initial advisories may have been updated since you last checked. For example, the National Institutes of Health (NIH) has issued a revised guide notice with more detailed information on how it is resuming operations after the government shutdown.

---
The quest for an NSF-GRFP: Pass your essays around
(One in a series of weekly tips leading up to the deadline to apply.)

By now, seniors and graduate students applying for a National Science Foundation Graduate Research Fellowship hopefully will have at least rough drafts of the personal statement and research proposal they will submit.

Pass them around for feedback!

Professors and advisors within your specific area of research, especially ones who have served on NSF review panels, will provide some of the best suggestions.

However, since not all reviewers will be familiar with your specific area, seek out professors who can provide feedback from that perspective as well. Work with a writing fellow, through AS&E's Writing, Speaking and Argument Program, or a grant or fellowship officer. Even without a scientific background, they can provide excellent tips to help make your essays concise and readable.

Once your essays take shape, share them with the people you've asked to write letters of reference. They may have feedback as well; even if they don't, this will help them with their letters -- and remind them that time is running short!

Reminder: Deadlines to apply fall Nov. 4-8 depending on the discipline. Click here for more tips on applying.

---
Calls for posters
Prizes of $100 will be awarded to the best posters in each of four categories -- Molecular and Cell Biology/Immunology, Experimental Hematology/Hematological Cancer, Solid Tumor Biology and Therapy, Cancer Control/Epidemiology -- with an additional grand prize of $500 at the James P. Wilmot Cancer Center 18th Annual Scientific Symposium, to be held Nov. 14 from 9 a.m. to 4 p.m. in the Class of 62 Auditorium and the Flaum Atrium. All members of the University community are invited to present posters. The deadline is Nov. 7. Click here for a link to the poster registration form.

Would you like to share your clinical and translational research poster with the URMC community? The Clinical and Translational Science Institute will display faculty and student research posters on a rotating basis in the lobby of the Saunders Research Building. To submit your poster, please contact Megan Mack.

---
Introducing a new faculty member
Jaewoo Kim, who joins the Simon School as an assistant professor of Business Administration, received his doctoral degree from the University of Iowa. In his dissertation "Asymmetric Timely Loss Recognition, Private Debt Markets, and Underinvestment," Kim studies the collapse of the junk bond market and finds the firms that were timelier in loss recognition had better access to debt markets. He is also researching merger-related transitory growth, CEO career concerns, and counterparty responses to CEO overconfidence.

---
UR research in the news
According to a study by researchers at the Warner School and several other institutions, a majority of middle school math teachers say the new Common Core math standards and teacher evaluations associated with the standards will ultimately drive their classroom practices. The study was reported by Scientific Daily. "This is a challenging time for teachers, given the changes the Common Core Standards represent for most states in terms of the mathematical content, the incorporation of the Common Core Standards in state assessments, and the use of student test scores in teacher evaluations," says Jeffrey Choppin, Associate Professor of Mathematics Education at theWarner School, who serves as the study's principal investigator. "In order to better support and ease the transition for teachers -- and their students -- as schools continue to adopt and implement the new standards, it's important that we understand the emerging issues and concerns related to the new standards."

Research@URMC reports that Jeffrey J. Bazarian, an Associate Professor of Emergency Medicine, believes he's the first to show that measuring a combination of two proteins released into the bloodstream after a head injury might be the best way to diagnose a mild traumatic brain injury. The protein S100B is already routinely used as screening tool in several countries in Europe and Asia. But when researchers analyzed blood samples from 787 head injury patients (and compared them to 467 controls) at six upstate New York hospitals, including Strong Memorial, they discovered that a second protein called apoA-1 helps to most accurately classify the injury.

---
Mark your calendar
Today: Symposium on Multidisciplinary Care in Cancer, 9 a.m. to 1:30 p.m., Helen Wood Hall/Evarts Lounge, coordinated by Center for Experiential Learning. The symposium will bring together a diverse group of stakeholders with a shared interest in improving quality of cancer care. These include national and international experts on cancer care, community advocates, health insurance administrators, family care givers and cancer patients themselves. Learn more.

Today: Applications due for the KL2 Mentored Career Development Program, for slots that begin July 1, 2014. The program supports the career development of new faculty who wish to pursue research careers in multidisciplinary clinical and translational science.

Oct. 29: E-MOMS of Rochester Study, CTSI Seminar Series, 12:15-1:15 p.m., Helen Wood Hall Auditorium. Diana Fernandez, Associate Professor of Public Health Sciences, and Susan Groth, Associate Professor of Nursing, discuss web and cell phone-based interventions designed to promote healthy behavior for pregnant and postpartum women.

Nov. 1: Applications due for Wilmot Cancer Center Pilot and Collaborative Studies funding. Please contact Pam Iadarola with questions.

Nov. 7: 20th Annual Rochester Cardiopulmonary Symposium. 7:30 a.m.-4 p.m., Rochester Riverside Convention Center. Read more.

Nov. 12: "What engages people? Self-determination theory research on motivation in learning, health care, virtual worlds, and other domains'" presented by Richard Ryan, Professor, Department of Clinical and Social Sciences in Psychology. CTSI Seminar series, 12:15-1:15 p.m., Helen Wood Hall Auditorium, 1W-304.

Nov. 14: James P. Wilmot Cancer Center 18th Annual Scientific Symposium, 9 a.m. to 4 p.m., Class of 62 Auditorium and the Flaum Atrium. The purpose of the symposium is to bring together scientists working in basic, translational and clinical cancer research. Activities will include oral presentations and a poster session. Learn more.

Nov. 14: "Research Ethics: Concepts, Hot Topics and Help with Tough Decisions," presented by Carl D'Angio, Professor, Department of Medical Humanities and Bioethics. SCORE meeting, 12-1:30 p.m., Saunders Research Building 1.416. Feel free to bring your lunch.

---
Make a reservation for NSF workshop
The National Science Foundation, the Rochester Institute of Technology, and the University of Rochester will hold a one-day workshop on Nov. 8. The workshop will include an overview of the Foundation, its mission, priorities, and budget, and cover the NSF proposal and merit review process and NSF programs that cut across disciplines. Representatives from the seven NSF directorates and the Office of International and Integrative Activities will make presentations on their programs and be available informally and in breakout sessions for discussions of potential research proposals. The workshop will be held at the RIT Inn and Conference Center, 5257 West Henrietta Road. Registration is $30; deadline to register is Nov. 1.

---
Please send suggestions and comments to Bob Marcotte.. To see back issues, click here.