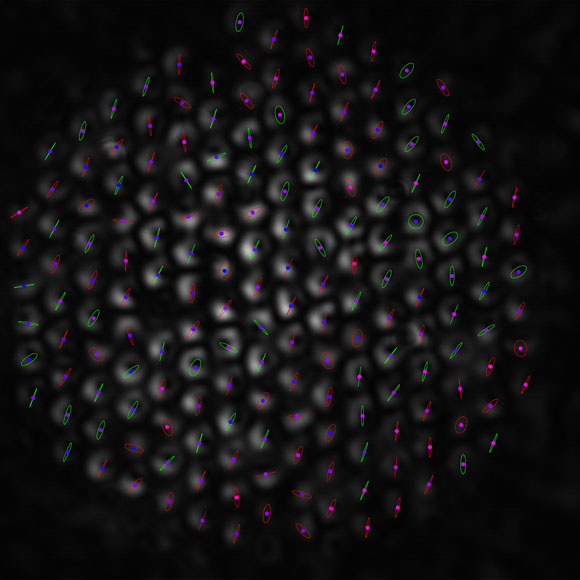 This image by Miguel Alonso, associate professor of optics, and collaborators at the Fresnel Institute in Marseille, shows the polarization of light emitting from each of 180 cores of an optical fiber, as measured by a device created in collaboration with Thomas Brown, professor of optics, and researchers at two universities in France.
100th Optical Society meeting a showcase for research
Multicore optical fibers — capable of transmitting hundreds of independent laser beams at the same time — will be more feasible thanks to University researchers who have found a simple, inexpensive way to measure the polarization states of each of those beams simultaneously.
Doing so will make it easier to produce next-generation endoscopes to diagnose cancer and high-power laser amplifiers for communications.
The research — by Associate Professor
Miguel Alonso
and Professor
Thomas Brown
of the Institute of Optics and collaborators at two universities in France — is an example of
more than 60 University research projects that will be showcased at Frontiers in Optics (FiO) 2016
. The 100th annual meeting of the Optical Society (OSA), which will bring together optical researchers, engineers, and industry leaders from across the United States and more than 40 countries, is being held in Rochester October 17 to 21
for the 25th time
.
And appropriately so. Rochester's optical industry, the OSA, and the University's Institute of Optics have been
closely intertwined throughout the past century
. (See below.)
The annual meeting will be an opportunity for University researchers from the Institute of Optics, the Laboratory for Laser Energetics, and from the Departments of Physics, Biomedical Engineering, Electrical and Computer Engineering, Mechanical Engineering, Neuroscience, and Ophthalmology to showcase their expertise in such areas as
freeform optics, medical imaging, quantum optics, and terahertz imaging
. There also will be a
special symposium in honor of the late Stephen Jacobs
, an Institute of Optics faculty member who passed away last year.
Measurement and control is everything
"There's a saying in a variety of different fields, but especially in optics, that
if you can't measure it, you can't make it
," says Brown. "Being able to do good measurements is always a prerequisite to being able to do precise design and precise manufacturing."
Especially when trying to send beams of light with identical properties through multiple optical fiber cores at once
. The quality of what comes out the other end depends on being able to measure and control the polarization states — the orientation and elliptical properties of the "wiggle" in the electric field — in each of those beams. Otherwise, when the beams are combined at the end, "you're going to get all kinds of random effects associated with the focal spot," Brown says.
For example,
lens-less endoscopes and high-power laser amplifiers using multi-core fibers require that the multiple beams have identical properties
in order to generate highly intense, localized beams.
Alonso, Brown, and their collaborators have come up with a relatively inexpensive device to capture the polarization states of laser beams as they are emitted from each of multiple cores. The device converts those polarization states into spatial shapes — or "polarization signatures" — that can be recorded on camera, then quantitatively analyzed. Called a
stress engineered optical element (SEO)
, the device consists of a cylindrical glass window and an optical filter similar to those used in 3-D movies, placed between a fiber bundle and a camera. The researchers say it that can be integrated into any imaging system.
"To the best of our knowledge,
this technique provides the first and fastest measurement
of the polarization state of light traversing
more than 100 independent fiber cores in a multicore fiber bundle
," Alonso says. "Meanwhile, this method allowed us to characterize how polarization is scrambled by the fibers, especially when the fibers are twisted or distorted. We found that the polarization state of light is surprisingly robust to manipulation of the fibers."
By measuring the polarization states of multiple beams at once, the device
opens the door to creating a feedback loop to adjust polarization at the input
, so that all the beams will be identical at output. "You could do real-time corrections," Brown said.
Read more
here
about their project, "Single-Shot Polarimetry Imaging of Multicore Fibers."
OSA and Rochester
When World War I demonstrated America's over-reliance on German optical instruments and expertise, members of the growing optical industry in Rochester formed what they hoped would be the first local section of a national society to promote optics in this country.
OSA formed the following year.
OSA founders were part of the advisory committee that led to the creation of the Institute of Optics as the nation's first academic program in optics
. The Institute has granted nearly half of all optics degrees in the United States, and many of its faculty and alumni have played key leadership roles in OSA.
Of OSA's 81 presidents, 20 have been current or former Institute faculty members and/or alumni.
Two others were University physics alumni.
An exhibition,
City of Light: Rochester and the History of Optics
, is on view through December 31 in the Department of Rare Books and Special Collections.
Do you have an interesting photo or other image that helps illustrate your research? We would like to showcase it. Send a high resolution jpg or other version, along with a description of what it shows, to Bob Marcotte .
---
Researchers find key link that separates cancer cells from normal cells
Medical Center scientists have pinpointed a key source of the
shrewd metabolic reprograming
that has been observed
in virtually all types of cancer but not in normal cells
, which could lead to new treatment opportunities. In an article published by
Cell Reports
, the laboratories of
Joshua Munger
, associate professor of biochemistry and biophysics, and
Hucky Land
, the Robert and Dorothy Markin Professor and Chair of Biomedical Genetics and director of research at the Wilmot Cancer Institute,
show for the first time how cancer-causing mutations control and alter the way cancer cells biosynthesize and replicate
.
It's been known for decades that
cancer cells siphon glucose from the bloodstream at alarming rates
. But cancer's sugar addiction is only one part of the story, Land explained.
While sugar is the primary source of energy and fuel for biosynthesis of normal cells, in cancer cells sugar is metabolized differently.
Cancer cells switch from burning to fermenting sugar
, a process that the Land and Munger labs found is driven by cancer-causing mutations. Furthermore, they discovered that in cancer cells,
sugar fermentation facilitates the consumption of glutamine, another nutrient source
. Glutamine is abundantly available in the bloodstream, and cancer cells take in large amounts of it to support cell division.
"Our paper demonstrates that
cancer cells, but not normal cells, depend on this link between sugar fermentation and glutamine consumption
," Land said. "This suggests a novel way that we might be able to intervene with treatment." Read more
here
.
---
RNA similarities in infant nose and lung cells could lead to more precise respiratory diagnoses
Cells from an infant's nose are remarkably similar to those found in the lungs, a discovery that could lead to much more precise diagnosis of respiratory syncytial virus (RSV) and other infant lung diseases, according to Medical Center researchers.
Their study, published in
Scientific Reports
, provides a potential avenue for diagnosis that has challenged physicians for years, as
infants with respiratory disease are usually so fragile that attempting to obtain lung samples is unsafe
. Nasal cells, however, can be
captured through a simple swab of the nostril
, and their similarity to lung cells on an RNA level would allow physicians to get an accurate representation of how the lung is responding during disease states, without the need for more invasive tests.
"An infant with RSV could potentially have their nasal cells tested to determine if
they are among the small group that will develop a severe response that might require hospitalization
," said lead author
Thomas Mariani
, professor of pediatrics. "Additionally, we could potentially use this method to examine other at-risk infants, such as
those born prematurely who face a greater risk for lung disease
throughout life — and identify
which of those children should be treated more aggressively
."
The research also carries tremendous promise for future studies. While scientists have made significant progress over the past several decades to better understand adult lung diseases — such as chronic obstructive pulmonary disease and lung fibrosis — discovery has not been nearly as robust for infant diseases, due to the risks involved in securing lung tissue. Read more
here
.
---
Award supports research on stem-cell based therapy for Huntington's disease
The lab of
Steve Goldman
, co-director of the Center for Translational Neuromedicine,
hopes to slow the progression of Huntington's disease
by developing a stem cell-based therapy that
swaps sick brain cells for healthy ones
. The project is being funded by a CHDI Foundation award anticipated to
total more than $10.5 million over next five years
.
Huntington's is a
hereditary neurodegenerative disease
that causes involuntary movements, problems with coordination, and cognitive decline, depression, and often psychosis. There is currently no way to slow or modify this fatal disease.
The new award will support research that builds upon findings published by Goldman earlier this year in the journal
Nature Communications
showing that researchers were able to slow the progression of the disease in mice by
transplanting healthy human support cells, called glial progenitor cells, into the animals' brains
. During the study, Goldman and his Medical Center colleagues, including
Abdellatif Benraiss
, research associate professor of neurology, and
Maiken Nedergaard
, co-director of the Center for Translational Neuromedicine, transplanted glial progenitor cells they had derived from human stem cells into the brains of transgenic mice with Huntington's disease.
They observed that
the new glial cells took over for the sick ones and were able to stabilize and even rescue neurons that were being lost to the disease
, slowing its progression and allowing the animals to live longer. These findings demonstrated that glial cell dysfunction is a major part of Huntington's and provided researchers and clinicians with a completely new approach to potentially treat the disease. Read more
here
.
---
Introducing a new faculty member . . .
Mauricio Ibanez-Mejia
has joined the Department of Earth and Environmental Sciences as an assistant professor. Ibanez-Mejia is
interested in the geologic history of the solid Earth and its chemical evolution
. His research primarily focuses on
studying the processes responsible for the growth and modification of Earth's lithosphere
, using a combination of field observations and laboratory geochemical analyses. A central theme of his research is the
application of isotope geochemistry to determine crystallization and cooling ages of rocks and minerals
. The information allows him to place temporal constraints on rock-forming processes to
reconstruct the tectonic history of continents and the development of magmatic systems and to study mountain-building events in deep geologic time
. Ibanez-Mejia joins the University after a two-year appointment as a W. O. Crosby Postdoctoral Fellow in the Department of Earth, Atmospheric and Planetary Sciences at the Massachusetts Institute of Technology. He received his PhD from the University of Arizona.
---
PhD dissertation defense
Arian Shoari
, Electrical Engineering, "Localization of a Non-Cooperative Target with Distributed Binary Observations." 9:30 a.m., Oct. 14, 2016. 426 Computer Studies Building. Advisor: Mark Bocko.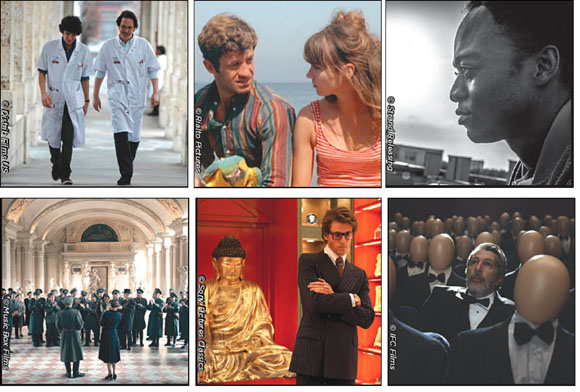 Images from movies featured in this fall's Tournées Film Festival, "ABCDs in Contemporary French and Francophone Cinema: Action, Biopic, Comedy, Documentary, & Drama," running October 19 through November 3 in Hoyt Auditorium.
Festival an opportunity for students to study French films
The
Tournées Film Festival
at the University from October 19 to November 3 is an opportunity for students to
research and engage with contemporary French films
as a learning experience outside of the classroom.
This fall's theme is "ABCDs in Contemporary French and Francophone Cinema: Action, Biopic, Comedy, Documentary, & Drama," reflecting a combination of contemporary films and genres that have been selected by students in French classes. For example:
1. Jean-Luc Godard's
Pierrot le Fou
(Oct. 19), arguably the masterpiece of the director's glorious first period, is a
nouvelle vague
(new wave) action/love story film, known for its boldness in narrative structure.
2. Bertrand Bonello's
Saint Laurent
(Oct. 20) is a lushly executed, unorthodox biopic of superstar couturier Yves Saint Laurent, focusing on the "dark years" from 1967 to 1976, when Saint Laurent was at the peak of his powers but growing increasingly isolated through his manic work habits and equally obsessive hedonistic pursuits.
3. Quentin Dupieux's unconventional humor in
Réalité
(Oct. 26) and in Thomas Lilti's
Hippocrate
(Oct. 27) have been voted by students involved in the selection of films as the most daring and engaging for their raw questioning and depiction of reality. In
Réalité
, for example, a French filmmaker in California finds a movie-house that is already screening the film he is in the process of writing, a little girl tries to watch a big blue videotape she found inside a hog's stomach, and a cooking show host endangers his livelihood by constantly scratching at a full-body rash that no one else can see.
Hippocrate
combines the human drama that surrounds medical emergencies with a hard-hitting look at beleaguered French hospitals.
4. Alexander Sokurov's
Francofonia
(Nov. 2) is the Russian filmmaker's heroically ambitious meditation on European culture and history as seen through the story of the Louvre museum in Paris, with a particular focus on its fortunes during World War II. It will engage students in French, Russian, and German programs, as well as history, and art and art history.
5. Abd Al Malik's
Qu'Allah bénisse la France!
(May Allah Bless France!) (Nov. 3), is the first feature by acclaimed French rapper and novelist Abd Al Malik, a coming-of-age story and redemption tale based on the writer-director's own youth in the beleaguered projects of Strasbourg. Along with
Francofonia
, it raises topics of history, and current personal histories during challenging times for France and the rest of Europe.
All screenings begin at 6:45 p.m. in Hoyt Auditorium.
The film festival is
free and open
to the University community, as well as cinéphiles and francophiles in the Rochester community at large.
---
Mark your calendar
Oct. 17:
Preproposals due for Technology Development Fund awards. Click
here
for details.
Oct. 19:
"Dramas of Otherness: 'First Contact' Tourism in New Guinea," by Rupert Stasch, University of Cambridge. Lewis Henry Morgan Lecture. 7 p.m., Lander Auditorium, Hutchison Hall. Sponsored by Department of Anthropology and cosponsored by the Humanities Project. For more information, call (585) 275-8614 or email
c.fishgold@rochester.edu
.
Oct. 20-21:
Donald R. Sadoway of MIT discusses his work on liquid metal batteries, a new technology for storing large amounts of energy on electrical grids. Presentation for general audience at 7 p.m., Oct. 20, Goergen 101. Scientific talk at 1:30 p.m., Oct. 21, in Hopeman 224. All are welcome. For more information about either talk, contact
Jennifer Steward
. Hosted by Center for Energy & Environment.
Oct. 21:
Center for Integrated Research Computing (CIRC) symposium. Martin Zand from the Department of Medicine will demonstrate the application of network construction algorithms to mapping patient flow and outcomes of hospital care. Vincent Martinson from the Department of Biology will discuss analysis of gut microbiota in Drosophila. 11:30 a.m. to 1 p.m. in URMC 3-6408 (K-307 Auditorium).
Oct. 21:
5 p.m. deadline to apply for Program of Excellence Awards of up to $50,000 each from the Center for AIDS Research for collaborative projects involving co-PIs from the School of Nursing and from the School of Medicine and Dentistry. Click here for the
full pilot announcement
.
Oct. 24:
"Pathways Discovery Resource High-Throughput Screening Mini-Symposium," sponsored by the Center for AIDS Research. Guest speaker Sara Cherry, University of Pennsylvania School of Medicine. 1 to 3:30 p.m., CEL 2-7536. View the flyer at the Center for AIDS Research
Events page
for more information.
Oct. 27:
CTSI town hall meeting on new federal requirements for clinical trials. Hosted by Carrie Dykes. Noon to 1 p.m. Class of '62 Auditorium (Medical Center, G-9425).
Oct. 31:
Applications due for awards from Health Sciences Center for Computational Innovation. Awards are for short-term, early-phase work by lab staff to allow investigators to translate their ideas into computer code or models, and to get new biocomputational and health-related scientific projects up and running. Click
here
to view the full RFA.
Nov. 1:
Deadline to apply for a CTSI Population Health Research Postdoctoral Fellowship. Click
here
for more information and application instructions.
Nov. 3:
Phelps Colloquium: Alexander Pena, instructor with Eastman Community Music School and director of ROCmusic, presents "Transforming our At-Risk Community through the Power of Music." 4 p.m., Max of Eastman Place. For more information or to RSVP, contact Adele Coelho at 273-2571 or at
adele.coelho@rochester.edu
.
Nov. 14:
Initial abstracts due for Incubator Program awards of up to $125,000 per year for each of two years to foster interdisciplinary research collaborations in biomedical research, through the Scientific Advisory Commmittee of the School of Medicine and Dentistry. Click
here
for more details. Contact
Anne Reed
for more information.
Please send suggestions and comments to Bob Marcotte. You can see back issues of Research Connections, an index of people and departments linked to those issues, and a chronological listing of PhD dissertation defenses since April 2014, by discipline.