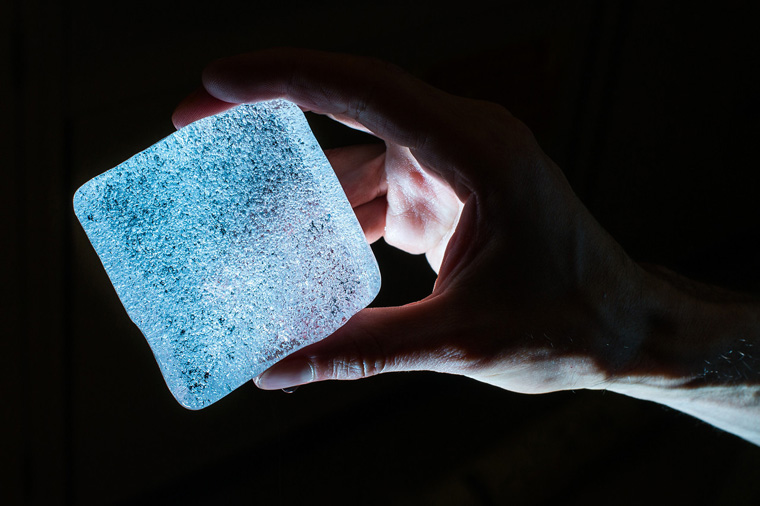 Images of research
This is a 50,000 year-old sample of ice from Taylor glacier in Antarctica, held by Vasilii Petrenko, assistant professor of earth and environmental sciences. It will be melted in a special device in his Hutchison Hall lab that allows Petrenko to study the gases trapped inside the samples and analyze Earth's ancient climates. Here's a video about Petrenko's research, and you can see and read more at his website. And the Boston Globe has written a profile about Avery Palardy '15 who hopes to join Petrenko's team when it visits the glacier again in November. .
Do you have an interesting photo or other image that helps illustrate your research? We would like to showcase it. Send a high res jpg or other version, along with a description of what it shows, to bmarcotte@ur.rochester.edu.
---
Workshops offer tips on applying for fellowships
AS&E will hold its annual Fellowships Workshop at 10 a.m., Monday Sept. 16, in the Hawkins-Carlson Room of Rush Rhees Library. It will provide graduate students and postdocs with insights into the logistics of applying for fellowships as well as tips on how to be successful. A panel of graduate students who have been successful in winning fellowships will also share advice. Please RSVP by Sept. 12 to Janice Van Opdorp. Breakfast will be served!

Another AS&E workshop from 5:30 to 7 p.m., Thursday, Sept. 19 in 1-101 Dewey, is specifically targeted at the NSF Graduate Research Fellowship Program (GRFP). Procedures for applying will be discussed, and there will be a panel of faculty who have reviewed NSF fellowship applications as well as students who have received the NSF Fellowship, providing tips on how best to answer the specific questions (intellectual merit and broader impact) that NSF requires, as well as ways to be successful in your application. Please RSVP by Sept. 17 to Janice Van Opdorp. Dinner will be served!

---
Here to help you
Check out AS&E's in-house fellowships database, which has information about a large number of fellowship opportunities.

---
A welcome donation
The Integrated Nanosystems Center (URnano) has added to its unique set of tools an infrared microscope and spectrometer donated from Johnson and Johnson. "It should be a nice addition to the chemical imaging capability in the lab," said Brian McIntyre, URnano's director of operations. "This is another distinguishing characteristic separating URnano from the other fabrication facilities." McIntyre hopes to have the donated equipment set up for use in a few weeks.

---
Introducing a new faculty member
Ted Goldman joins the Eastman School of Music as an Assistant Professor of Music Theory. Goldman is a composer, music theorist, performer, educator, and inter-disciplinary collaborator. He began his undergraduate studies in physics and graduated summa cum laude with honors in music from Columbia University. He received his MM and DMA in composition from The Juilliard School. At Juilliard, Goldman was a member of the Music and Medicine Initiative, a collaboration between Juilliard and Cornell University, in which he was a moderator for inter-institutional discussions on subjects intersecting music and medicine.

---
Points of pride
The University of Rochester has been one of the most productive research institutions in the nation with almost $2 billion in total research funding over the past five years, the majority of which comes from federally sponsored research agencies such as the National Institutes of Health (NIH), the National Science Foundation (NSF), the Department of Energy and the Department of Defense.

---
Congratulations to ...
Elizabeth R. McAnarney, professor and chair ermerita in the Department of Pediatrics, chosen by D&C columnist Jim Memmott for his list of Remarkable Rochesterians along with George Goler, Rochester's pioneering health officer of the early 1900s. McAnarney "began her career at a time when female physicians were in a decided minority, and she has been a role model for the women who have followed her into the profession. She's known here and beyond for her work with pregnant teenagers, for her instruction of medical students, and for her leadership in expanding services at what is now Golisano Children's Hospital," Memmott writes. ... Eva K. Pressman, selected as Henry A. Thiede Professor and Chair of the Department of Obstetrics and Gynecology, pending approval from the University Board of Trustees. Pressman is the first women to chair the department.

---
Researchers in the news
John Osburg, assistant professor of Anthropology and author of Anxious Wealth: Money and Morality among China's New Rich, explains in a Boston Globe interview how he gained rare insights into the networking of Chinese business tycoons.

Warner School researchers, including Associate Professor Jeffrey Choppin, are quoted in a Rochester Business Journal article analyzing the Rochester City School District's poor performance on statewide math and English tests.

CNN, Reuters, Time, USAToday, Fox News, the Huffington Post and the Baltimore Sun are among the news organizations that have reported on a URMC study showing that yoga helps cancer survivors sleep better and enjoy a better quality of life. The lead investigator is Karen Mustian, assistant professor of Radiation Oncology and Community and Preventive Medicine at the Wilmot Cancer Center.

---
Mark your calendar
Sept. 18: 3rd Annual Center for Musculoskeletal Research Symposium, 10 a.m. to 5 p.m., Flaum Atrium and Class of '62 Auditorium. Keynote speaker is Johnny Huard, chair of orthopaedic surgery research and director of the Stem Cell Research Center at the University of Pittsburgh.

Sept. 18: Genomics Research Center and Life Technologies information seminar on whole exome sequencing, targeted RNA0seq, and qRT-PCR, Northeastern Room (1-9525 and 1-9535) at the Medical Center. Different sessions are planned for 9:45, 10:45, and 11:45 a.m. RSVP to John Ashton at John.Ashton@urmc.rochester.edu. Direct questions to Ashton or Luanne.Lavender@lifetech.com.

Sept. 20: The Center for Integrated Research Computing (CIRC) hosts its first symposium of the semester from 11:30 a.m. to 1 p.m. in Goergen 108. Professor Jiebo Luo from the Department of Computer Science will describe how social multimedia work as sensors. Dalia Ghoneim from the Center for Neural Development and Disease will focus on finding pathogenic variants in whole exome sequencing data. Pizza and soda will be served.

Sept. 23: Proposals due for Research Development Fund (RDF), an annual competitive fund exclusive to partner institutions in the Worldwide Universities Network (WUN), of which the University of Rochester is a member. The RDF aims to bring together researchers to undertake innovative, high quality, sustainable research that addresses global challenges. Read more.

Sept. 27: Letters of intent are due for the KL2 Mentored Career Development Program, for slots that begin July 1, 2014. The program supports the career development of new faculty who wish to pursue research careers in multidisciplinary clinical and translational science. The RFA is available here.

Oct. 8: Center for AIDS Research Clinical and Translational Sciences Core Symposium, 9 a.m., School of Nursing Auditorium. Learn about the Center, the Clinical and Translational Sciences Core, and connect with fellow researchers across HIV/AIDS translational sciences. Lunch will be served. Contact Jennifer Lynch with questions.

Oct. 15: Initial abstracts of proposals due for UR Incubator Program projects through the Scientific Advisory Council (SAC) and the University of Rochester Clinical and Translational Science Institute (CTSI). Incubator projects are two-year "super-pilots," intended to accelerate innovative scientific discovery in the life sciences and public health, leading to new independently-funded research programs. Each award will be funded at a maximum level of $125,000 per year for each of two years. Faculty from all UR schools are eligible to apply. Read the new RFA for details.

---
Make a reservation to attend Big Data Forum
Registration is now open for the University of Rochester Big Data Forum 2013, which will bring together renowned researchers in data science for a day of interdiscplinary talks and discussions starting at 8:30 a.m., Oct. 18, in the Hawkins-Carlson Room, Rush Rhees Library. Limited seating. Topics include machine learning, network science, cognitive science, and applications in the health, social, and physical sciences. Reception to follow at Staybridge Suites.

---
Please send suggestions and comments to Bob Marcotte..