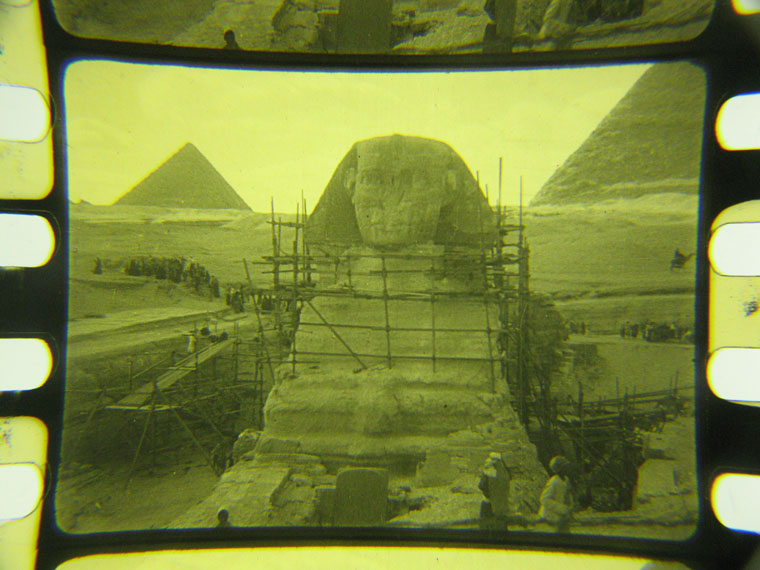 Images of research
This intriguing image is a frame from the silent Italian travelogue film "Verso L'Altopiano Eritreo" (Towards the Eritrean Plateau) that Heather Harkins uncovered during her work identifying unlabeled films in the nitrate film vaults of the George Eastman House. Heather is a graduate student pursuing a degree in film preservation, offered by the university in partnership with the George Eastman House. "This frame, which has a sunny yellow tint, is part of a reel from the Roberto Pallme Collection, a rare and exceedingly valuable collection of film prints given to GEH by the Pallme family in 1999. Some of the material in this collection is unique and would have been lost forever without the intervention of Mr.Pallme," Heather notes. A poster about Heather's research won a prize at the first Graduate Research Showcase event sponsored by the Graduate Organizing Group and has since been accepted for display at the Association of Moving Image Archivists annual conference in Richmond, VA, this November. Read more about Heather's research.
Do you have an interesting photo or other image that helps illustrate your research? We would like to showcase it. Send a high res jpg or other version, along with a description of what it shows, to bmarcotte@ur.rochester.edu.
---
Applying for a fellowship can have far-reaching benefits
There are several reasons to apply for fellowships, graduate students learned at an AS&E workshop earlier this week, including an intangible benefit that might be even more valuable than any funding they receive.

"It is an opportunity to organize your thoughts, which is something I think all graduate students struggle with a little bit," said Celeste Kidd of Brain and Cognitive Sciences, who is transitioning from grad student to assistant professor (starting July 2014). "There's a lot going on: You are constantly having new ideas that you need to get feedback on." Think of applying for a fellowship as an opportunity to organize a set of ideas that will be a guide for "what you want to be doing the next few years," Kidd suggested.

Michael Brown, a Ph.D. candidate in the History Department, added: "What you're doing is refining your own thinking about your project in the crucible of having to explain that project to someone who may be biased against it. You have to develop an economy of language -- a convincing use of language -- to explain to these audiences why your project is important. In the process of doing that, you may realize yourself why it's important." In doing so, you also create material that can be used in other ways, as a dissertation abstract, or language that you will have "ready in your head" when you talk to people in the course of a job search, added Brown, who has been awarded three fellowships. "The text you formulate and progressively refine over the course of several fellowship applications becomes text that is really useful to you for these other purposes."

The AS&E Graduate Studies office and Dean Wendi Heinzelman sponsor the event annually (this was the 4th year), which typically includes a fellowship recipient panel from varying disciplines and presentations from Dean Heinzelman, Debra Haring, assistant dean for grants and contracts, and the staff from the College Writing, Speaking, and Argument Program. Click here for some useful tips and strategies to help with applying for fellowships.

---
Reminder...
The GENIUS/SMARTS/SPIN system for searching for fellowships and other funding opporunities will no longer be available to the University community as of Sept. 30. It has been replaced with a new product named PIVOT that is licensed from Community of Science. PIVOT was rolled out in February of this year, and the two products have been available concurrently until the University's yearly GENIUS/SMARTS/SPIN subscription ended. Users are encouraged to sign up for PIVOT if they wish to continue to receive funding opportunities alerts. More information on PIVOT is available on the Office of Research and Project Administration website and at the AS&E research website.

---
Did you know ...
There's more than meets the eye when it comes to obtaining informed consent from subjects who enroll in research projects. It's important to know the rules, and carefully document every step. But it's equally important to use common sense and courtesy, Kelly Unsworth, a Human Subject Protection Specialist in the Office for Human Subject Protection, stressed to study coordinators at a SCORE (Study Coordinators Organization for Research and Education) seminar last week. For example:

Anticipate in advance whether a study is going pose challenges to the consent process based on the study design and population. Do you have routine access to subjects? Are there factors, such as pain levels or medication use, that could impair the subject's comprehension and decision-making?

Once potential subjects indicate their willingness, give them ample time to review the consent form and consider their participation. How much time? That's a judgment call determined in part by how complicated the study is, but a couple of days may be needed.

Don't let eagerness to gather enough subjects override the bigger issue of whether someone is actually a good "fit" for a given study, she added. "If your gut is telling you something is not right, follow your gut. Everyone gets excited when they've got an eligible research subject, and yes, we need the numbers, but you also need to think about what's right for the subject."

Treat people with respect and courtesy. "We wouldn't be anywhere without our research subjects," Unsworth noted. Moreover, "you're not just representing your study team; you're representing the entire university."

See Unsworth's slides from her presentation here and learn more about informed consent at the Research Subjects Review Board website.

---
Introducing a new faculty member
Garrett Johnson joins the Simon School faculty as an Assistant Professor of Business Administration after completing his doctoral studies in economics at Northwestern University. His research examines the economics of the Internet. His dissertation focused on the online display advertising industry, examining the impact of privacy policy restricting user tracking on the market for online display advertising. His work suggests that a tracking ban would substantially decrease the profits of online advertisers and publishers in online ad auctions. His dissertation also measured display ad effectiveness using large-scale field experiments at Yahoo!. Johnson will be teaching courses on marketing channels and Internet marketing. He holds a B.A. in Economics from the University of British Columbia, Vancouver.

---
Congratulations to ...
Xi-Cheng Zhang, director of The Institute of Optics, who has been selected to receive the 2014 Kenneth J. Button prize for outstanding contributions to the science of the electromagnetic spectrum, by the International Society of Infrared, Millimeter, and Terahertz Waves. Nature Photonics has just posted an interview with Zhang on the future of terahertz optics. ... M. Ehsan Hoque, assistant professor in Computer Science, who won a best paper award at the 2013 ACM International Joint Conference on Pervasive and Ubiquitous Computing (UbiComp 2013) for a computer system designed to help people practice social interactions.

---
UR research in the news
Hansjorg Wyss, a Swiss entrepreneur and philanthropist, has given $2 million to support clinical and research work related to geriatric fracture care being led by Stephen I. Kates in the Department of Orthopaedics and the Center for Musculoskeletal Research at the Medical Center.

Henry Kautz, Chair of the Department of Computer Science, has received a three-year, $482,000 grant from NSF to further develop his studies of online tweets as a way to identify, track and analyze disease outbreaks. This grant will address remaining technical challenges in data collection and analysis. It also will provide for planning for clinic-based evaluations of subjects identified by their social media postings, and for outreach to medical professionals.

The Medical Center's Infectious Disease Division will head up local trial sites for an international study evaluating the safety and effectiveness of an investigational vaccine aimed at blocking Clostridium difficile infections, which wreak havoc with patients undergoing a course of antibiotics -- especially older patients -- by disrupting the gut's normal bacterial flora, allowing C. diff to multiply furiously and leak toxins that ravage a patient's intestinal lining.

Tobacco smoke can harm circadian rhythms by changing gene expression patterns in lung tissue, according to a study led by Irfan Rahman, Professor of Environmental Medicine. The study, published online by The FASEB Journal, showed for the first time that chronic exposure to cigarette smoke caused mice to act sluggish for up to 30 days even after the exposure stopped.

Archibald S. Perkins and Yi "Stanley" Zhang in the Department of Pathology and Laboratory Medicine report discovery of a gene that could provide a new target for therapy for infants suffering from 11q23 infant leukemia, which has a poor survival rate and requires intensive treatment with life-threatening side effects.

---
Mark your calendar
Sept. 23: Proposals due for Research Development Fund (RDF), an annual competitive fund exclusive to partner institutions in the Worldwide Universities Network (WUN), of which the University of Rochester is a member. The RDF aims to bring together researchers to undertake innovative, high quality, sustainable research that addresses global challenges. Read more.

Sept. 27: Letters of intent are due for the KL2 Mentored Career Development Program, for slots that begin July 1, 2014. The program supports the career development of new faculty who wish to pursue research careers in multidisciplinary clinical and translational science. The RFA is available here.

Oct. 8: Center for AIDS Research Clinical and Translational Sciences Core Symposium, 9 a.m., School of Nursing Auditorium. Learn about the Center, the Clinical and Translational Sciences Core, and connect with fellow researchers across HIV/AIDS translational sciences. Lunch will be served. Contact Jennifer Lynch with questions.

Oct. 15: Initial abstracts of proposals due for UR Incubator Program projects through the Scientific Advisory Council (SAC) and the University of Rochester Clinical and Translational Science Institute (CTSI). Incubator projects are two-year "super-pilots," intended to accelerate innovative scientific discovery in the life sciences and public health, leading to new independently-funded research programs. Each award will be funded at a maximum level of $125,000 per year for each of two years. Faculty from all UR schools are eligible to apply. Read the new RFA for details.

---
Make a reservation to attend Big Data Forum
Registration is now open for the University of Rochester Big Data Forum 2013, which will bring together renowned researchers in data science for a day of interdiscplinary talks and discussions starting at 8:30 a.m., Oct. 18, in the Hawkins-Carlson Room, Rush Rhees Library. Limited seating. Topics include machine learning, network science, cognitive science, and applications in the health, social, and physical sciences. Reception to follow at Staybridge Suites.

---
Please send suggestions and comments to Bob Marcotte..