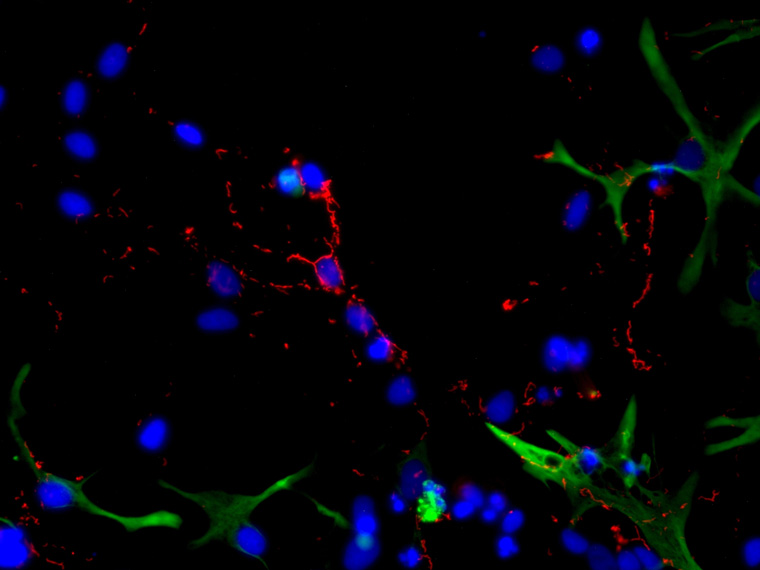 Images of research
This image, from the laboratory of Christoph Proschel, Assistant Professor of Genetics in the Department of Biomedical Genetics, shows key components of the human nervous system. Glial precursor cells are stained red, and some of their progeny -- astrocytes -- are stained green. Astrocytes are the main support cell of the central nervous system and are believed to play a critical role in repair of brain and spinal cord damage. Proschel's lab has discovered that mutations in Glial precursor cells can impair their ability to generate mature astrocytes, in a condition known as Vanishing White Matter leukodystrophy. The ability to study astrocyte development in both normal and pathological conditions provides a unique opportunity to test the utility of glial precursor cells and their astrocytic progeny for cell transplantation therapy. You can read more about Proschel's research here.
Do you have an interesting photo or other image that helps illustrate your research? We would like to showcase it. Send a high res jpg or other version, along with a description of what it shows, to bmarcotte@ur.rochester.edu.
---
Posters reflect growth of Center for Musculoskeletal Research
The 76 poster presentations that filled Flaum Atrium last week during the 3rd annual Center for Musculoskeletal Research (CMSR) Symposium was a 50 percent increase from last year, and reflects "an uptick in new trainees coming into the center," noted Mike Zuscik, Associate Professor of Orthopaedics and a center member who moderated the symposium. Critical to the center's success is an infusion of programmatic federal funding, he said, including renewal of an NIH Centers of Research Translation (CORT) P50 grant in 2012 directed by Regis O'Keefe, awarding of a P30 Core Center grant in 2011 led by Edward Schwarz, and renewal of a T32 grant in 2011 directed by Zuscik that was expanded to support a total of 8 pre- and post-doctoral trainees. The CMSR, in fact, is ranked No. 1 in its field in federal research funding. Traditionally "very skeletal but not so muscular," the center has recently expanded into the muscle field with the recruitment of a new faculty member Joe Chakkalakal, setting the stage for strengthening links with Wellstone Muscular Dystrophy Cooperative Research Center led by Richard Moxley here at URMC, Zuscik noted. Gazing out over the posters, Zuscik added: "When you look at the number of people at all levels of training involved in this, from undergraduate trainees, through postdoctoral fellows, to scientists and clinical faculty, this doesn't exist anywhere else. I would not be surprised if this annual symposium represents the biggest formal gathering of institution-specific musculoskeletal scientists in the country."


Congratulations to ...
Three students who were awarded $1,000 trainee travel awards after their posters were selected the best by a panel of faculty judges at the Center for Musculoskeletal Research Symposium last week. Youssef Farhat, an M.D.-Ph.D. student in the lab of Hani Awad, Professor of Biomedical Engineering and Orthopaedics, won for his work related to developing therapies to reduce scar tissue in tendon injuries. Julianne Smith, a Ph.D. student in the lab of Laura Calvi, Professor of Medicine, Neurosurgery, and Pharmacology and Physiology, won for her work aimed at understanding how parathyroid hormone causes an expansion of hematopoietic stem cells in the bone marrow microenvironment. The work has implications for expanding the stem cell pool in patients who undergo bone marrow ablation therapy to treat leukemia and other cancers. Lin Gao, a post-doctoral fellow in the lab of Regis O'Keefe, Chair and Marjorie Strong Wehle Professor in Orthopaedics and Associate Dean for Clinical Affairs, won for her work on TGF-beta regulation of the SOX9 gene, which induces cartilage formation in skeletal development and growth. The work has implications for the development of therapies for osteoarthritis.

Andrew Elliot, Professor of Psychology, who has been awarded the 2013 Diener Award for outstanding contributions to the field of personality psychology.

---
It's time to get serious about NSF Graduate Research Fellowships
Nearly 100 students heard this message last week at an AS&E workshop sponsored by Wendi Heinzelman, Dean of Graduate Studies: National Science Foundation Graduate Research Fellowships are definitely worth applying for, but if you're going to go for one, get started NOW! Though deadlines vary by discipline, all fall within Nov. 4-8.

Some background: Early-career U.S. graduate students in science or engineering and selected social sciences, and seniors who plan to attend graduate school in those disciplines starting next school year, are eligible to apply. These five-year awards include a $32,000 stipend for each of three years, along with $12,000 tuition support that can help pay for things like health insurance. These fellowships are particularly advantageous -- and not only for the prestige and funding they confer.

1. They offer more freedom to pursue individual research interests, because recipients are individually funded through the NSF, not through a research grant that an advisor or PI has received, and has specific goals and requirements.

2. They are "portable." They'll follow you if you decide to attend another university.

3. Even an "honorable mention" if you don't succeed will look good on your resume!

More good news: NSF plans to fund 2,700 fellows next year, up from an average of 2,000 in recent years. The first step is to familiarize yourself with the program and application process by going to www.nsfgrfp.org/ and www.nsf.gov/funding/pgm_summ.jsp?pims_id=6201 Students applying for the second or third time should especially note the changes that have gone into effect this year, including two rather than three essays, and changes in emphasis.

To further assist students, this newsletter will offer tips each week leading up to the deadline. Let the countdown begin!

---
The quest for an NSF-GRFP: Line up those letter writers!
You will need a minimum of three letters of reference from faculty members or other persons to vouch for your academic/research skills and leadership capabilities. This will involve submitting to NSF the names of five letter writers -- three you prefer, and two others whose letters can be used if any of the first three fail to write. The letter writers will be provided a confidential link to upload their letters. It is important to notify these people now, so

1. They will have ample time to prepare a persuasive letter on your behalf by their Nov. 14 deadline.

2. They will know they'll be getting an email from NSF, and won't simply discard it as spam!

Who should you ask to write letters? Your advisor or other faculty members in your department who are familiar with your work (especially ones who have actually served on a panel judging NSF applications) are primary choices. Don't be shy about reminding them of classroom or lab accomplishments you would like them to mention. Remember -- and remind your letter writers as well -- that applications are judged on their intellectual merit and their potential for broader impact. If you can document leadership skills -- even in off-campus activities or areas that have little to do with science -- it will help build your case that you are someone who can have a broad impact. Letter writers and applicants can click here for more information about these criteria.

---
Introducing a new faculty member
Wyatt Tenhaeff, joins the faculty of Chemical Engineering as an assistant professor, after working as staff scientist at Oak Ridge National Laboratory since 2009. Tenhaeff earned his PhD in chemical engineering at MIT. His research interests include lithium ion batteries, and he is working with a former colleague at Oak Ridge on an ARPA-E-funded project to design a safe, impact-resistant electrolyte for these batteries in electric and hybrid vehicles.

---
UR research in the news
Maiken Nedergaard, the Frank P. Smith Professor of Neurosurgery, Professor of Neurology, and of Neurobiology and Anatomy, "startled the field" of neurology, according to Bioscience Technology, when she, Steven Goldman, the Edward and Alma Vollertsen Rykenboer Professor of Neurology, Chief of the Department's Division of Cell and Gene Therapy, and Co-Director of Rochester's Center for Translational Neuromedicine, and other UR researchers demonstrated that mice could learn more quickly after human glial cells were transplanted in their brains. Nedergaard is quoted in an article along with other pioneers in glial research urging that the Obama administration include glia as a primary focus of its Brain Initiative.

In a first-ever study of air trapped in the deep snowpack of Greenland, Vasilii Petrenko, Assistant Professor of Earth and Environmental Sciences shows that atmospheric levels of carbon monoxide (CO) in the 1950s were actually slightly higher than what we have today. This is a surprise because current computer models predict much higher CO concentrations over Greenland today than in 1950.

---
Mark your calendar
Today: Letters of intent are due for the KL2 Mentored Career Development Program, for slots that begin July 1, 2014. The program supports the career development of new faculty who wish to pursue research careers in multidisciplinary clinical and translational science. The RFA is available here.

Oct. 4: "With a Little Help from My Friends?" -- distinguishing the effect of peer influence on smoking initiation from smoking cessation. Public Health Grand Rounds with Steven Haas, Associate Professor of Sociology and Demography, Pennsylvania State University, noon to 1 p.m., Helen Wood Hall Auditorium.

Oct. 8: Center for AIDS Research Clinical and Translational Sciences Core Symposium, 9 a.m., School of Nursing Auditorium. Learn about the Center, the Clinical and Translational Sciences Core, and connect with fellow researchers across HIV/AIDS translational sciences. Lunch will be served. Contact Jennifer Lynch with questions.

Oct. 9: Mentoring Conference, noon to 3 p.m., Class of '62 Auditorium. A CTSI and Office of Faculty Development and Diversity interactive session for faculty, trainees and students from across the University on launching research and academic careers. Register for part or all of the afternoon. The first half of the conference will focus on the role of mentoring in launching an academic career and the second half will focus on launching research and scholarly careers. To RSVP, contact Jenni Oliver. Click here for the detailed agenda.

Oct. 15: Initial abstracts of proposals due for UR Incubator Program projects through the Scientific Advisory Council (SAC) and the University of Rochester Clinical and Translational Science Institute (CTSI). Incubator projects are two-year "super-pilots," intended to accelerate innovative scientific discovery in the life sciences and public health, leading to new independently-funded research programs. Each award will be funded at a maximum level of $125,000 per year for each of two years. Faculty from all UR schools are eligible to apply. Read the new RFA for details.

Oct. 18: University of Rochester Big Data Forum 2013, starting at 8:30 a.m., Hawkins-Carlson Room, Rush Rhees Library. Renowned researchers in data science discuss machine learning, network science, cognitive science, and applications in the health, social, and physical sciences. Limited seating. Reception to follow at Staybridge Suites. Registration is now open.

---
Make a reservation for NSF workshop
The National Science Foundation, the Rochester Institute of Technology, and the University of Rochester will hold a one-day workshop on Nov. 8. The workshop will include an overview of the Foundation, its mission, priorities, and budget, and cover the NSF proposal and merit review process and NSF programs that cut across disciplines. Representatives from the seven NSF directorates and the Office of International and Integrative Activities will make presentations on their programs and be available informally and in breakout sessions for discussions of potential research proposals. The workshop will be held at the RIT Inn and Conference Center, 5257 West Henrietta Road. Registration is $30; deadline to register is Nov. 1.

---
Please send suggestions and comments to Bob Marcotte..