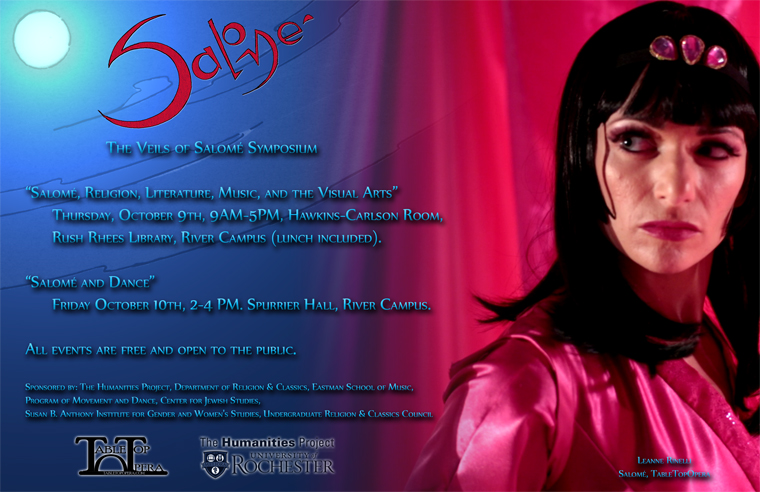 Salomé conference takes multidisciplinary look at legendary seductress
Was Salomé a naïve young girl doing the bidding of her mother when she asked for the head of John the Baptist? Or a vengeful femme fatale? Veils of Salomé, a Humanities Project conference Oct. 8-10, will explore how the depictions of this legendary figure have evolved.

The first biblical references are to an unnamed "daughter of Herodias." By the late 19th and early 20th centuries, Salomé has become the wrathful seductress in Oscar Wilde's play and Richard Strauss' opera. More recently, she is treated as a more tragic figure in comic-book artist Craig Russell's 2004 graphic novel.

Few genres have blossomed more over the past decades than the comic book as a vehicle for telling classic tales, including animated online motion comics. Images from Russell's 2004 graphic novel, Salomé, will serve as the backdrop for another evolving artistic medium at the Veils of Salomé conference with two Table Top Opera productions of the Strauss opera. Table Top Opera replaces elaborate sets and costumes and costly stage productions with a screen, a projector, a computer, a sound system and a small band of musicians to redefine the experience of opera and make it more accessible to new audiences.

The conference, which is free and open to the public, also will feature a distinguished group of scholars and performers presenting and analyzing Salomé from multiple perspectives, including religion, society, literature, the visual arts, dance, music, and women and gender studies, said Emil Homerin, Professor of Religion and lead organizer. "It gives us a lot of interaction between the Eastman School and the River Campus," he added.

The conference will include:

1. symposium presentations by UR faculty from the Eastman School and River Campus, and by invited scholars, starting 9 a.m. Oct. 9 in the Hawkins-Carlson Room of Rush Rhees Library;

2. a dance workshop centered around Salomé's Dance of the Seven Veils as one of the premiere roles in dance history, 2-4 p.m. Oct. 10 at Spurrier Hall;

3. an exhibition of Salomé' images in Rare Books and Special Collections, and

4. the two Table Top Opera performances of the Strauss opera, using Russell's graphic novel as the backdrop, at 8 p.m., Oct. 8 at Kodak Hall, Eastman Theatre and at 8 p.m., Oct. 10 at Interfaith Chapel.

At one time, Salomé was a widely known figure; for many of today's students, the conference will be an opportunity to get acquainted with her. Homerin said.

"She really is the classic femme fatale," he added. "This is all about love and religion -- and how women have been treated in religion and art. We have brought together an all-star cast of scholars and performers. I think it will be quite extraordinary."


Do you have an interesting photo or other image that helps illustrate your research? We would like to showcase it. Send a high resolution jpg or other version, along with a description of what it shows, to bmarcotte@ur.rochester.edu.
---
AAAS offers leadership seminar in science and technology policy
The 2014 Leadership Seminar in Science and Technology Policy, hosted Nov. 17-21 by the American Association for the Advancement of Science, is a condensed version of the widely-hailed orientation program for AAAS S&T Policy Fellows. It will include a wide range of sessions taught by leading personalities in science and technology policy.

Topics will include federal budgeting for R&D, and how scientists can be effective in interacting with Congress.

The seminar, which will be held at AAAS headquarters in downtown Washington, D.C., is designed for anyone who needs or wants to know how S&T policy is made -- scientists and engineers, managers and administrators in all sectors, association officials, government agency program managers, embassy science diplomats, and others.

The registration deadline is October 10. Visit the Leadership Seminar website to view the preliminary program and register. Since participation is limited to approximately 30-35 people, spaces will fill up quickly.

---
AS&E compiles resources to help with grant proposals
Click here for a "Good stuff for PI's" document that will help you prepare successful grant proposals, especially with the broadening participation/broader impact criterion built into many requests for proposals. While these documents cover a range of grant-related topics, they are not meant to be comprehensive.

---
CTSI seminar series focuses on women's health
The CTSI Seminar Series resumes on Sept. 9 with topics related to women's health. Todd Jusko, Assistant Professor of Public Health Sciences, will kick off the series with "Environmental Exposures and Antinuclear Antibodies (ANA) in US Women."

The CTSI Seminar Series is held Tuesdays at noon in the Helen Wood Hall Auditorium (1w-304).

Click here to view the full schedule.

---
Engineering faculty can learn about best-practice teaching strategies
Engineering faculty are encouraged to take part in a webinar and discussion with Susan Ambrose, co-author of How Learning Works: 7 Research-Based Principles for Smart Teaching. Participants will learn how to apply research-based, best-practice teaching strategies in the classroom. They will view a pre-recorded webinar by Ambrose discussing the key ideas in the book. They will then join colleagues from the College in a discussion with Ambrose about how to apply those ideas. This discussion will be facilitated by various teaching faculty in the College.

To ensure as many people as possible are able to access this discussion, two different dates and times will be available (participants only need to attend one): 2:30 p.m. Wednesday, Sept. 10, and at 10:30 a.m. Wednesday Sept. 17, both in Schlegel 309.

RSVP to jennifer.hadingham@rochester.edu. Read more. . .

---
Introducing a new faculty member
Ji Liu has joined the Department of Computer Science as an assistant professor. His research interests include Optimization (asynchronous parallel methods for big data applications, large scale problems, first order algorithms, stochastic algorithms); Machine Learning (compressed sensing theorytensor completion, tensor decomposition, multi-tasks learning, reinforcement learning), and Computer Vision (spectral clustering, abnormal event detection, online metric learning, dictionary learning, image segmentation, image inpainting). His projects have included designing efficient parallel optimization algorithms to solve Big Data learning and analysis problems, and extracting the key patterns from a large volume of Drosophila images with an efficient CCD algorithm. He is a 2014 Ph.D. graduate in computer science from the University of Wisconsin-Madison, where he was supervised by Prof. Stephen J. Wright.

---
Congratulations to . . .
Robert Boyd, Professor of Optics and of Physics, who is recipient of the 2014 IEEE Photonics Society Quantum Electronics Award "for contributions to nonlinear optics, including room temperature slow light and the nonlinear optics of composite materials." IEEE is the Institute of Electrical and Electronics Engineers. Boyd will receive the award at the IEEE Photonics Conference in San Diego next month.

---
UR research in the news
A vest with a wearable cardioverter defibrillator that continuously monitors heart rhythms is safe, useful, and helps some patients avoid having a defibrillator device implanted in their chest when it might not be necessary, a new study shows. Valentina Kutyifa, Research Assistant Professor of Cardiology, and Arthur J. Moss, the Bradford C. Berk MD, PhD Professor of Medicine, who work at the UR's Heart Research Follow-up Program, led a study of nearly 2,000 patients. Data from the team's study was presented at the European Society of Cardiology meeting in Barcelona. The specially designed LifeVest contains an external defibrillator that delivers a shock to restore an orderly heartbeat. Wearing the vest gives a patient's physician time to assess long-term arrhythmic risk and make appropriate plans, which helps some people avoid having an implantable defibrillator device. Read more at the Research@URMC blog . . .

A pilot project, the results of which were published recently in the journal Heart Rhythm, demonstrates how, with the assistance of a web camera and software algorithms, subtle changes in skin color can be used to detect the uneven blood flow caused by atrial fibrillation. The technology was developed in a partnership between the University's School of Medicine and Dentistry and Xerox. "This technology holds the potential to identify and diagnosis cardiac disease using contactless video monitoring," said Jean-Philippe Couderc, Associate Professor with the University's Heart Research Follow-up Program. "This is a very simple concept, but one that could enable more people with atrial fibrillation to get the care they need." Read more . . .

---
Mark your calendar
Today: Fellowships Workshop, 10 a.m. to noon, Computer Studies Building Room 209. Resources the University offers students as they search for and apply for external fellowships. A panel of students who have received fellowships will offer their thoughts and advice. Read more . . .

Sept. 11: NSF Fellowships Workshop, 4 to 5:30 p.m., Dewey Hall, Room 1-101. To inform students about the merit review criteria (Intellectual Merit and Broader Impact) for the National Science Foundation Graduate Research Fellowship Program (GRFP), with a panel of faculty who have reviewed applications for the GRFP as well as students who have been recipients. Read more . . .

Sept 15: Electronic Lab Notebook Interest Group, 2 p.m., Carlson Library Room 313. Are you using an electronic lab notebook (ELN), either in your research or your teaching? Are you interested in trying one out? Join the River Campus Libraries for a roundtable discussion about ELNs. Please RSVP to kfear@library.rochester.edu. Light refreshments will be served.

Sept. 15: Deadline for initial abstracts for CTSI Novel Biostatistical and Epidemiologic Methods pilot projects. Click here to learn more.

Sept. 26: Deadline for letters of intent for CTSI KL2 Mentored Career Development program proposals, which provide two years of support for new investigators interested in a career in clinical or translational research. Click here for more information.

---
Please send suggestions and comments to Bob Marcotte. To see back issues, click here.