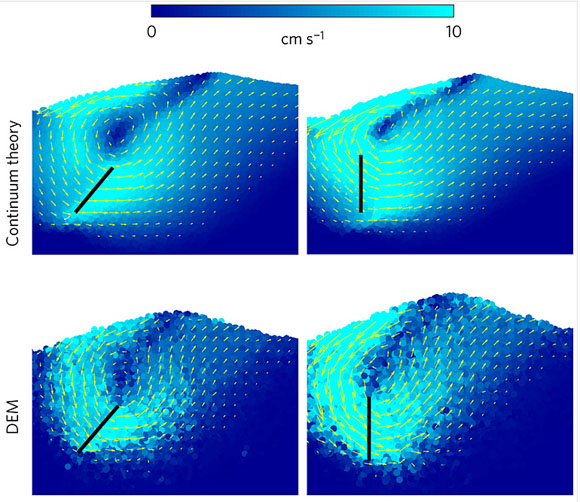 Using only density and a friction coefficient, Hesam Askari, assistant professor of mechanical engineering, and his mentor, Ken Kamrin, are able to simulate the mechanics of an object moving through granular materials, as shown in the top figures, with the same precision — and in a fraction of the computational time — compared to using more complicated discrete element analysis (bottom figures).
Model makes it easier to predict force needed
to push objects through sand and other materials
For years, engineers have used a set of equations formally known as
resistive force theory (RFT) to calculate how much force is required to move an object through fluids or granular material
— such as propelling an unmanned rover through the depths of the ocean or pushing a shovel through sand.
But they didn't know why the theory works so well
, particularly with granular materials.
Now,
Hesam Askari
, an assistant professor of mechanical engineering, and his mentor at MIT have provided the answer with a
"simple and elegant" theoretical model
published in
Nature Materials
.
The model will
enable researchers to quickly calculate the force required to move objects over or through whole classes of previously untested granular materials
in a variety of settings. Applications could range from
designing vehicles to traverse granular terrains on distant planets
, for example, to
understanding how lizards "swim" through sand
here on earth — even to
targeting the delivery of drugs through particle-filled tissues
in the human body.
For two years, Askari, then a postdoc,
worked with his mentor, Ken Kamrin, associate professor of mechanical engineering at MIT
, on solving the mystery of RFT. They identified two main properties of granular materials that allowed them to come up with a simple, predictive model that consistently replicated the empirical findings of previous RFT experiments — without having to actually do all those experiments. The properties are a
friction coefficient
that determines whether a granular material will flow, and a
separation rule
to account for the temporary "hole" that forms behind the object as it moves, before the separated granules fill in behind it.
The novelty of the modeling approach is that it can simulate millions of particles as a continuum of matter. This will
greatly simplify complicated modeling of discrete particles to a continuum simulation
, with researchers working a few hours at their laptops, instead of having to wait two days for 24 Blue Hive processors to do the calculations.
Askari hopes the model will enable novel teaching and research opportunities across multiple disciplines at Rochester and at other universities.
"For instance, we are currently working with researchers in the Department of Physics and Astronomy on an application to a vibrational swimmer. I really see this as an exciting opportunity for our department and others at the University, such as physics and biomedical engineering, to be more involved in this kind of research," Askari says.
"It is a community that I would love to see formed with a research narrative revolving around mechanics and rheology (flow) of particulate systems."
"I also see interest in this amongst our undergraduates," he adds. "They do not often encounter granular materials in their coursework, so it is new for them and interesting. Read more
here
.
Do you have an interesting photo or other image that helps illustrate your research? We would like to showcase it. Send a high resolution jpg or other version, along with a description of what it shows, to Bob Marcotte .
---
Study sheds new light on how psychosocial factors lead to physical frailty in old age
A new study, conducted as part of
Christopher Mooney's
dissertation research at the Warner School, provides new insights into how psychosocial factors, including
chronic stress, socioeconomic status, and perceived control
, may lead to physical frailty in old age.
Estimated to affect approximately one in 10 adults aged 65 and older, physical frailty is an important risk factor for multiple geriatric outcomes, including institutionalization, morbidity, and mortality.
Chronic stress and poverty, which are associated with physical frailty in old age, become problematic when these factors result in lower perceptions of control
, Mooney '16 (PhD) reports in a study recently published in the
Journals of Gerontology
.
According to Mooney, prior research has recognized that psychosocial factors, including chronic stress and perceived control, influence geriatric health outcomes. However, the contribution of these specific factors in the development and progression of physical frailty has been severely limited.
Using population-based samples of older adults, Mooney and his co-authors and colleagues, including Warner Associate Professors
Kathryn Douthit
and
Andre Marquis
, Warner alumnus
Ari Elliot
'09W (MS), '15W (PhD), and Associate Professor
Christopher Seplaki
in the Department of Public Health Sciences at the Medical Center, found that
perceived control mediated the effects of chronic stress on baseline and change in physical frailty status
.
"The findings have important implications in regard to interventions aimed at promoting frailty resilience and improving health trajectories for individuals who are at risk, and underscore the importance of psychosocial constructs to the development and progression of frailty in older adults," Mooney said. Read more
here
.
---
Discovery of flu-thwarting mutation like 'finding needle in a haystack'
University researchers have discovered
a rare and improbable mutation
in a protein encoded by an influenza virus, which
renders the virus defenseless
against the body's immune system. The discovery could provide a new strategy for live influenza vaccines in the future.
"There is a need to understand what's happening with the existing live vaccine and potentially a need to develop a new one," said
David Topham
, Marie Curran Wilson and Joseph Chamberlain Wilson Professor of Microbiology and Immunology and author of the study. "We proposed that the mutation we found could be used to create a live vaccine."
The mutation weakens the flu virus by making the flu-encoded protein, called Non-Structural 1 (NS1), defunct. Flu virus needs NS1 to prevent interferon, the immune system's front line against viruses, from alerting the host cell that it has been infected. Inhibiting interferon affords the virus time to multiply and spread before the immune system can mount an attack.
Most people have healthy interferon responses and
would quickly fend off the strain of flu in which the mutation was found
, but, "this virus somehow
managed to find the one person that had an interferon defect that allowed it to replicate
," said Topham.
So low is the probability of this virus surviving and infecting a human that it is as if Topham and lead study author,
Marta Lopez de Diego
, research assistant professor of microbiology and immunology, found a needle in a haystack. Read more
here
.
---
Protein moves to cell nuclei in more aggressive neuroblastoma
Identification of a protein
found in the cell nuclei of aggressive neuroblastomas, but not in the nuclei of more benign forms of the cancer
, could lead to new forms of targeted therapy.
University researchers discovered that EYA1, a protein that contributes to ear development, is present in the cytoplasm of many neuroblastoma tumors, but migrates to the nucleus in the cells of more aggressive forms of the disease. Researchers at the Medical Center and elsewhere have
already begun testing targeted drugs to prevent the neuroblastoma from reaching this more aggressive stage
.
"Neuroblastoma is one of the most common and deadly forms of childhood cancer, and this discovery allows us to identify drugs that prevent the change in EYA1 structure and potentially minimize the danger to a child who has this disease," says
Nina Schor
, the William H. Eilinger Chair of Pediatrics.
The EYA1 protein enters the cancer cell's nucleus due to the presence of an enzyme called PRMT1. The presence of this enzyme also results in the increased hardiness of a second protein, N-MYC, which has long been known to increase the aggressiveness of neuroblastoma when it is present in higher-than-normal amounts.
So
by limiting the effectiveness of the PRMT1 enzyme, researchers believe they can decrease the damage done by both proteins at once
. Read more
here
.
---
PI oversight: Plan plenty of time for IRB review
(This is part of a monthly series to help principal investigators understand their role in ensuring that human subject protection requirements are met in their studies.)
A common frustration among study teams is
the length of time it takes an Institutional Review Board (IRB) to provide approvals to conduct research
. The University's Research Subjects Review Board (RSRB) works continuously on improvement, and compared to national median turnaround times, the RSRB is generally on par or faster than other organizations.
A key factor in how quickly an investigator receives RSRB approval is the quality of the submission. RSRB submissions that are
well thought out and complete, and that adequately address regulatory-defined approval criteria
will move through the review process more easily. It's also important, however, to understand
several other variables that can affect IRB turnaround times
:
1. The RSRB works on a
first-come, first-served basis
. The time it takes for an initial review of an item will depend on current workload, which ebbs and flows throughout the year.
2. The RSRB comprises five internal review boards,
each meeting on varying schedules
. Each biomedical board (boards 01, 03 and 05) meets every other week. Board 4, which reviews HIV/AIDS and oncology research, meets weekly and Board 2 (social-behavioral) meets monthly.
Agendas for the two-hour meetings are finalized about one week prior to each meeting
— and the first-come, first-served basis still applies. So even though a review item may be submitted well in advance of a scheduled meeting, review may need to wait until a subsequent board meeting.
3. All affiliated board members and chairs have clinical, academic and/or leadership responsibilities at the University; their availability can affect the timing of reviews (regardless of whether they are exempt, expedited or full board reviews).
Given the variables noted above, the
RSRB cannot always promise a quick turnaround
. Study teams must
plan for plenty of time for review
when submitting new studies, amendments, and continuing reviews. This is particularly true for continuing reviews because, without timely submission of the progress report, the RSRB cannot guarantee re-approval prior to study expiration.
While the RSRB will work with boards and investigators to provide timely responses to urgent matters, they cannot do so with every review item, and not every item can be urgent. Questions regarding board meeting schedules and/or timing of reviews can be directed to your
RSRB Specialist
.
---
Congratulations to . . .
LaRon E. Nelson
, assistant professor of nursing, who has been
selected by The Ontario HIV Treatment Network (OHTN) in Canada to be its inaugural OHTN Research Chair in HIV Program Science for African, Caribbean and Black (ACB) Communities
. Nelson, who is also the associate director of international research for the Center for AIDS Research at Rochester, will be appointed as a scientist with the Centre for Urban Health Solutions in the Li Ka Shing Knowledge Institute at St. Michael's Hospital in Toronto. He will
build on his previous successful implementation in three cities of a self-determination-theory-based public health strategy
to support HIV pre-exposure prophylaxis uptake and adherence among Black men who have sex with men. In Ontario, Nelson will lead research focused on reducing HIV disparities in ACB communities across the HIV continuum of care, from prevention to care outcomes. Read more
here
.
Jessica Cantlon
, associate professor of brain and cognitive sciences, who was
selected by Science News as one of their 10 early- to mid-career scientists to watch
. Cantlon's work centers on how human and nonhuman primates distinguish between quantities. Understanding how the brain makes sense of concepts such as estimating quantities and counting might lead to better ways of teaching numerical concepts to children. Read more
here.
---
Introducing a new faculty member
Kathryn Knowles
joins the Department of Chemistry as an assistant professor after completing work at the University of Washington as an Energy Efficiency and Renewable Energy Postdoctoral Research Fellow. In that appointment, she studied luminescent semiconductor nanocrystals and their application to solar energy. Knowles plans to establish an interdisciplinary research program focused on
investigating the fundamental properties of nanoscale materials and their interactions with light
. Initial projects will involve the
synthesis and development of mixed-metal oxide semiconductor nanomaterials, a diverse class of materials with optical, electronic, and magnetic properties
that vary widely depending on their composition. In addition to exploring the rich chemistry and physics of such materials, Knowles aims to
exploit their potential as cheap and efficient alternatives to expensive and precious metal catalysts
for photocatalytic applications and especially those relevant to solar fuels production. She received her PhD at Northwestern University.
---
Technology Development Fund awards are available
The fall 2016 round of the University's Technology Development Fund Awards is open.
Awards are up to $100,000
for winning projects, and the opportunity is
open to all faculty, staff, and students
.
The
deadline for pre-proposals is October 17
. Send submissions to
Omar Bakht
.
Eligible projects propose development of technology to a commercial endpoint, and
a requirement for the award is that an invention disclosure be filed with
UR Ventures
. Non-inventor developers can propose to develop technology that they did not invent. Click
here
for details.
---
Lemelson-MIT Prize seeks applicants
The
Lemelson-MIT Student Prize
honors promising collegiate inventors around the country
. The student prize is open to teams of undergraduate students and individual graduate students who have
inventions in categories that represent significant sectors of the economy, including health care, transportation, food and agriculture, or consumer devices
.
Initial application deadline is
today, September 30,
at 5 p.m.; the category application deadline is October 21 at 5 p.m.
Winners receive:
1. $15,000 to the winning graduate student in each of the prize categories
2. $10,000 to the winning undergraduate team in each of the prize categories
3. National media exposure and exposure to investment and business communities
4. A trip to MIT for an award celebration in June 2017
---
Seminar helps with applying for F30, 31, and 32 grants
Will you be applying for F30, F31, or F32 grants from the NIH this fall? To
learn the secrets to success when applying for these or other grants
, sign up for the 2.5-hour evening seminar, "NY Academy of Sciences presents: Grantsmanship for Students and Postdocs" to be held from
6 to 8:30 p.m., Nov. 2
.
Register
here
to attend in person or to access the webinar.
The seminar will offer best practices for effective grant writing, specifically
geared towards individual predoctoral and postdoctoral fellowship applications in the biomedical fields
. Topics will include:
1. The types of fellowships available
2. Strategic approaches for competitive applications
3. Common mistakes made by new investigators
4. Tips to increase your chances for success
The seminar will be immediately followed by a
panel of grad students and postdocs who have won fellowships
.
---
PhD dissertation defense
Kyle Biegasiewicz
, Chemistry, "Part I. Mechanistic Studies, Optimization, and Further Applications of the Organocatalytic α -Hydroxymethylation of Aldehydes Part II. Studies Toward the Total Synthesis of FK-506." 3:30 p.m., Oct. 5, 2016. Lander Auditorium, Hutchison Hall. Advisor: Robert Boeckman Jr.
---
Mark your calendar
Today:
"Community and Research Partnering to End the Epidemic," the 2016 Center for AIDS Research Scientific Symposium, 8 a.m. to noon, Class of '62 Auditorium. Click
here
for more information.
Today:
AS&E workshop: Helping graduate students apply for fellowships. 4-6 p.m., Sloan Auditorium, Georgen Hall.
Oct. 10:
5 p.m. deadline to indicate intent to apply for the CTSI Career Development Program (KL2 Scholars Program). Email
Katie Libby
. Click
here
for the full RFA. Full applications are due Nov. 11.
Oct. 11-13:
"Symposium on Maladaptive Behaviors: Why We Make Bad Choices." Memorial Art Gallery. Keynote speaker: Trevor Robbins, head of psychology at Cambridge University. More than two dozen distinguished U.S. and international experts. Sponsored by the School of Medicine, the Ernest J. Del Monte Institute for Neuroscience, and the Silvio O. Conte Center. Click
here
to learn more.
Oct. 13:
Phelps Colloquium: Stephen Uebbing, profesor of educational leadership at the Warner School presents "East Rising: An Intervention in a Struggling Urban School." 4 p.m., Eisenberg Rotunda. For more information or to RSVP, contact Adele Coelho at 273-2571 or at
adele.coelho@rochester.edu
. Register online
here
.
Oct. 17:
Preproposals due for Technology Development Fund awards. Click
here
for details.
Oct. 21:
5 p.m. deadline to apply for Program of Excellence Awards of up to $50,000 each from the Center for AIDS Research, for collaborative projects involving co-PIs from the School of Nursing and from the School of Medicine and Dentistry. Click here for the
full pilot announcement
.
Oct. 31:
Applications due for awards from Health Sciences Center for Computational Innovation. Awards are for short-term, early-phase work by lab staff to allow investigators to translate their ideas into computer code or models, and to get new biocomputational/health­related scientific projects up and running. Click
here
to view the full RFA.
Nov. 1:
Deadline to apply for a CTSI Population Health Research Postdoctoral Fellowship. Click
here
for more information and application instructions.
Nov. 3:
Phelps Colloquium: Alexander Pena, instructor with Eastman Community Music School and director of ROCmusic presents "Transforming our At-Risk Community through the Power of Music." 4 p.m., Max of Eastman Place. For more information or to RSVP, contact Adele Coelho at 273-2571 or at
adele.coelho@rochester.edu
.
Please send suggestions and comments to Bob Marcotte. You can see back issues of Research Connections, an index of people and departments linked to those issues, and a chronological listing of PhD dissertation defenses since April 2014, by discipline.