Sustainability @
the University of Rochester
April 1, 2015
Upcoming talks on climate change in April
"Reducing Carbon Emissions Will Be Easier Than Many People Think" will be presented by Robert Frank, Johnson School of Man​agement, Cornell University, on Apr. 7, 5 -6 p.m. in Morey 321.
"Ice Melt, Sea Level Rise and Superstorms: Evidence from Paleoclimate Data, Climate Modeling, and Modern Observations that 2°C Global Warming is Dangerous" will be presented by James Hansen, Earth Institute at Columbia University on April 20, 4 - 5 p.m. in Lander Auditorium, Hutchison Hall.

March 23, 2015
Reducing our environmental footprint – how you and NYSP2I can help
Dr. Anahita Williamson, director of the New York State Pollution Prevention Institute (NYSP2I) at RIT, will discuss the work NYDP2I is doing with academia, industries, and communities to develop and implement innovative solutions. The discussion will be held on Wednesday, March 25 in the History of Medicine Room at Miner Library at the medical center.
March 13, 2015
University named Tree Campus USA for fifth straight year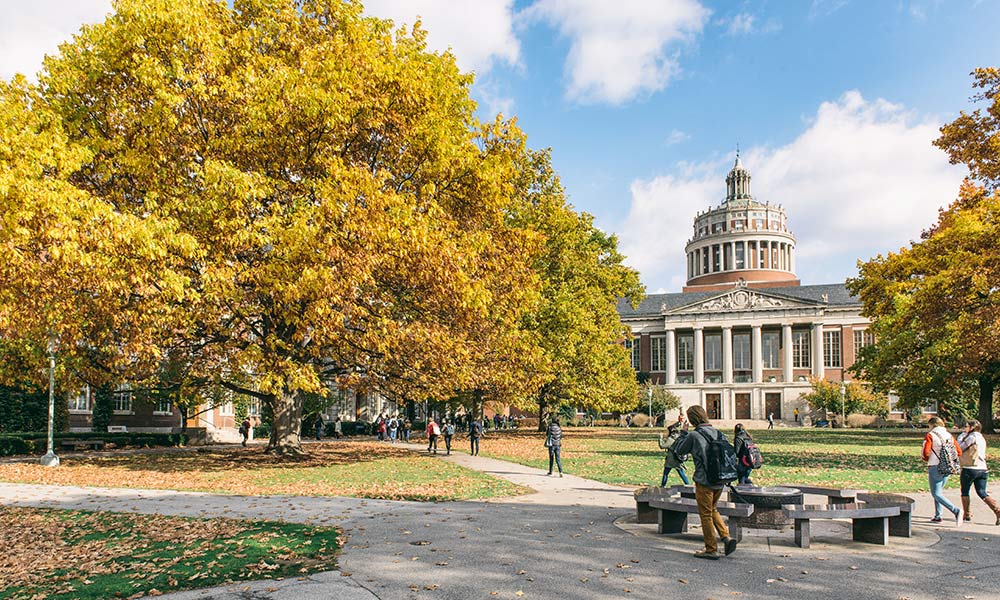 With its more than 1,400 trees of 116 different species, the University has again been named a Tree Campus USA institution for the fifth straight year, the Arbor Day Foundation has announced.
February 19, 2015
Author lecture: The Fate of the Species: Why the Human Race May Cause Its Own Extinction and How We Can Stop It
Fred Guterl, executive editor of Scientific American, will speak about his book as speaker at the River Campus Libraries' Neilly Series lecture on Wednesday, February 25. Adam Frank, professor in the Department of Physics and Astronomy, will introduce Mr. Guterl; the event will be held at 7 p.m. in the Hawkins-Carlson room of Rush Rhees Library.
February 19, 2015
"Changing Behavior in Your Community–Can it be Done?"
Rachel Madan '99, program officer for International Finance Corporation's Footprint Program, will discuss "Changing Behavior in Your Community–Can it be Done?" from 1:30 to 3 p.m. Friday, Feb. 20, in LeChase Hall, Room 121. Madan's case study will highlight the Waste Challenge, an effort to reduce the corporation's global waste footprint. RSVP to Karen Berger at karen.berger@rochester.edu or 275-7611.
February 5, 2015
EPA recognizes University for waste-reducing efforts
The WasteWise program helps organizations and businesses apply sustainable materials management practices to reduce municipal and industrial wastes.
January 20, 2015
"Partnerships for Change: Pursuing a Renewed Vision for Protecting Children's Environmental Health"
Nsedu Obot Witherspoon, Executive Director of the Children's Environmental Health Network will present: "Partnerships for Change: Pursuing a Renewed Vision for Protecting Children's Environmental Health" Thursday, February 12 at University of Rochester Medical Center's Helen Wood Hall Auditorium (1-304).
January 20, 2015
Summer 2015 internships announced
Undergraduate students interesting in working on research, policy development, communications, and other aspects of environmental sustainability are welcome to apply to one of six internship positions being offered at the University this summer. The application deadline is February 24.
January 17, 2015
Is a climate disaster inevitable?
In a New York Times op-ed, astronomy professor Adam Frank explains that "from the vantage point of this relatively new field, astrobiology, our current sustainability crisis may be neither politically contingent nor unique, but a natural consequence of laws governing how planets and life of any kind, anywhere, must interact."