EVENT: 'Staff Infection 2,' an exhibit by University of Rochester library staff
TIME, DATE, PLACE: Now through Wednesday, Aug. 30, from 9 a.m. to 5 p.m. Monday, Thursday and Friday; 9 a.m. to 7:30 p.m. Tuesday and Wednesday; closed Saturday and Sunday, located in the Gallery of the Art & Music Library on the ground floor of Rush Rhees Library on the University of Rochester's River Campus.
ADMISSION: Free and open to the public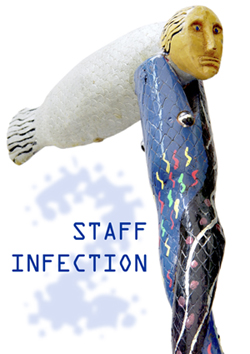 ARTIST'S RECEPTION: 4 to 7 p.m. Tuesday, Aug. 8, in the gallery
For the second year in a row, the Gallery at the Art & Music Library is displaying the artistic work of staff from University libraries: River Campus Libraries; Sibley Music Library at the Eastman School of Music; Charlotte Whitney Allen Library at the Memorial Art Gallery; and Edward G. Miner Library at the University of Rochester Medical Center. Selections from 13 artists were chosen by judges Allen C. Topolski, associate professor of art, and Heather Layton, studio art coordinator and lecturer.
The range of work is striking and imaginative—from a recycled card catalog-turned- jewelry-box to digital infrared prints, embroidery, and carved wood. The artists are: Susan Andersen, Marc Bollmann, Tom Clifford, Wendy Fleig, Stephanie Frontz, Kenn Harper, Donna Iannapollo, Kim Kopatz, Amy Lunn, Sue Nurse, Gerry Szymanski, Gabriela Ponce, and Stanley Wilder.
FOR MORE INFORMATION: Contact the gallery at (585) 275-4476.
# # #
Note to editors: A color jpeg of a hand-carved walking stick can be e-mailed to you. Please call (585) 275-4128 or send your request to sdickman@rochester.edu.