Scientist Honored with American Chemical Society Medal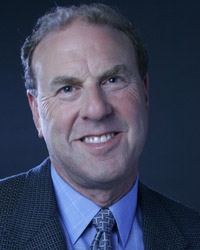 Richard Eisenberg, the Tracy Harris Professor of Chemistry at the University of Rochester, has received the 2007 Morley Medal from the Cleveland Section of the American Chemical Society (ACS) in recognition of his outstanding contributions to chemistry through his achievements in research, teaching, engineering, research administration, and public service.
The Cleveland Section selected Eisenberg for his extensive research in chemistry, which spans 40 years and more than 210 publications. As part of his honor, Eisenberg will present the Edward W. Morley lecture at the Cleveland Section ACS meeting at John Carroll University in Cleveland, Ohio, on May 30.
"I am extremely pleased to learn that Rich Eisenberg has been awarded the Morley Medal of the Cleveland Section of the ACS," says Robert K. Boeckman Jr., chair of the Department of Chemistry. "Rich has been a tireless contributor and innovator in research, teaching and the promotion of inorganic chemistry as a discipline. This honor is another recognition of his lifelong achievements and contributions to inorganic chemistry and is richly deserved."
Eisenberg has contributed to the education of hundreds of chemists through his efforts at the University, and has served the community as chairman of the Gordon Research Conference on Organometallic Chemistry, as chair of the American Chemical Society Inorganic Chemistry Division, and as Editor-in-Chief of the American Chemical Society journal Inorganic Chemistry.
Some of Eisenberg's work that has earned him this honor involves inorganic photochemistry, chemistry that underlies light-to-chemical energy conversion, and organometallic chemistry related to catalytic reactions done by the chemical industry.
Eisenberg earned his doctoral degree in chemistry from Columbia University in 1967. He joined the University in 1973 and served as chair of the chemistry department from 1991 to 1994.