Rochester Alumnus is Recipient of Fraternity Scholarship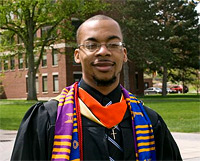 Omega Psi Phi Fraternity Bestows Grand Basileus Award for Academic Achievement
Brandon Zimmerman, a recent graduate of the University of Rochester, was given the 2009 Grand Basileus Award from Omega Psi Phi Fraternity, Inc. Zimmerman, who graduated this May with a bachelor of science degree in optics, is the first University of Rochester student to receive this award. He was chosen from an international pool of applicants from 12 districts across the United States and among countries including Japan, Liberia, and Germany.
"..As I continue my education, I represent not only myself, but my fraternity and its values
—Brandon Zimmerman"
Established to provide financial assistance to a senior who is seeking a post graduate degree, the Grand Basileus Award honors students who demonstrate excellence in the classroom as well as in extra curricular activities. Zimmerman will use his scholarship to continue his studies at the University of Rochester's Institute of Optics, working toward a doctoral degree in optics this fall.
"Omega Psi Phi was founded on the principle of scholarship and this award is a reminder that, as I continue my education, I represent not only myself, but my fraternity and its values," said Zimmerman.
During his career at Rochester, Zimmerman, a native of Thomasville, Ga., was an active member of Omega Psi Phi, president of the National Society of Black Engineers, and worked as a tutor and mentor in the University's Project Care program. He was accepted into the Optics Undergraduate Honors Program and has earned first place accolades for several presentations at conferences and research competitions. Zimmerman also was a member of Rochester's Ronald E. McNair Baccalaureate Achievement Program, which encourages minority and first-generation college students to pursue doctoral degrees.
"As the University's first recipient of the Grand Basileus award, Brandon should be very proud," said Monica Miranda Smalls, director of Fraternity and Sorority Affairs at the University. "The Office of Fraternity and Sorority Affairs congratulates him on his success."
Omega Psi Phi was founded in 1911 on the principles of manhood, scholarship, perseverance, and uplift. The Charles R. Drew Memorial Scholarship Commission was formed by Omega Psi Phi to give national recognition to students who uphold those principles and to foster scholastic achievement among its members.