Polish Poet and Nobel Laureate Czesław Miłosz Remembered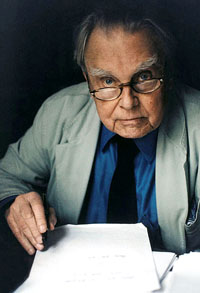 DATE, TIME, AND PLACE: Tuesday, April 26, 7:30 p.m. in Hoyt Hall on the University of Rochester's River Campus.
WHAT: In honor of the 100th anniversary of the birth of Czesław Miłosz (1911-2004), cities around world are celebrating the life of the Polish poet, intellectual, author, and translator.
In Rochester, David Weiss, professor of English at Hobart and William Smith Colleges, will discuss Miłosz's work in the talk From Above And From Below: The Double Vision of Czesław Miłosz.
Miłosz, who won the Nobel Prize in Literature, was, in the words of the Economist:
"a poet who spanned his century. Born in a Lithuanian-Polish province of tsarist Russia, Czesław Miłosz died having seen the Nazi and Soviet totalitarian empires rise and fall, while his two native lands finally escaped their miserable history to end up safe and free. He wrote about it all, mostly in exile in America, in essays, novels and volumes of poems. These lines of his are inscribed on a monument at the Gdansk shipyard, honouring Polish workers shot for striking against the dictatorship of the proletariat:
Do not feel safe. The poet remembers.
You can kill one, but another is born.
The words are written down, the deed, the date."
The talk is sponsored by the Skalny Center for Polish and Central European Studies.
Weiss is the author of two collections of poems, The Fourth Part of the World and Gnomon, and a novel, The Mensch. He is the editor of the literary magazine, Seneca Review.
ADMISSION: Free and open to the public. A reception will follow the talk.
FOR MORE INFORMATION: Bozenna Sobolewska at 585.275.9898 or bozenna.sobolewska@rochester.edu.