Rochester A Cappella Group to Perform at White House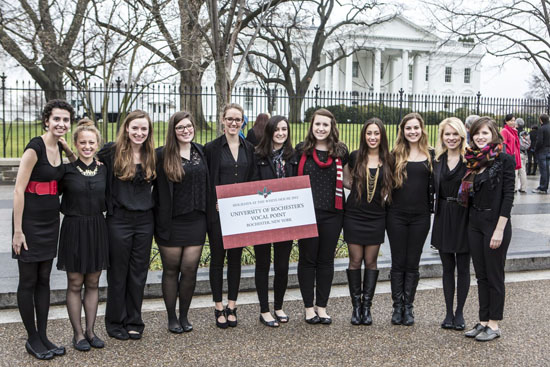 Eleven undergraduate members of the University of Rochester's all-female a cappella group Vocal Point have been invited to the White House to perform classic and contemporary holiday songs on the morning of Saturday, Dec. 8.
While the group was told the President and First Lady are not expected to make an appearance during their performance, they are honored and excited to be singing at 1600 Pennsylvania Avenue, says Lindsay Forbes '13, the group's business manager.
"We're hoping our high notes might attract Bo," says Forbes. "It would be fun to at least meet the first dog."
During their two-hour performance, Vocal Point will sing a variety of holiday classics, including traditional Christmas carols and Hanukkah songs. They'll showcase their versatility by performing in both contemporary and choral styles. They'll be situated in the White House and will perform for guests and visitors taking the annual Holiday Tour.
Forbes applied for the opportunity after hearing about it through a recent Rochester graduate who holds an internship in the White House. The application was a three-step process that included sending information about the group's repertoire along with video of them performing. The final step included a formal invitation from the White House.
Members of Vocal Point heading to Washington are: Lindsay Forbes '13, Claire Crowther '13, Amanda Page '13, Bailey Gripshover '13, Corey Robinson '14, Allison Eberhardt '15, Sophie Fishbein '15, Eliza Barnes '15, Elizabeth Prezioso '16, Olivia Krupski '16, and Diana Barlaam '16. Members Jamie Wilson '13 and Isabelle Marcelin '16 are unable to make the trip.