Michelle Thompson-Taylor to Direct Intercultural Center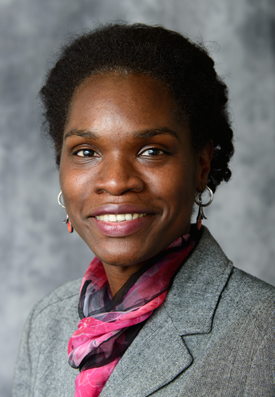 The University of Rochester has appointed Michelle Thompson-Taylor as the director of the new Intercultural Center. In this role, Thompson-Taylor will promote engagement and collaboration among students, faculty, and staff in Arts, Sciences and Engineering (AS&E). She will assume the position on Jan. 16.
A familiar face around campus, Thompson-Taylor joined the University's Office of Admissions and Financial Aid in 2004. There she served as an admissions counselor, recruiting students from the United States and Jamaica. Thompson-Taylor also led many of the office's community relations efforts, including the National Hispanic Institute's (NHI) Lorenzo de Zavala Youth Legislative Session, which annually brings about 150 high school students from across the United States and Mexico to campus to participate in a mock legislative session. She also coordinated the University's involvement in the College Horizons program, which provides current sophomores and juniors who are American Indian, Alaska Native, and Native Hawaiian with the opportunity to interact and build relationships with admissions counselors. Locally, Thompson-Taylor worked with the Rochester Urban League, where she helped facilitate the University's Jesse Moore Urban League Scholarship.
"Michelle has tremendous energy and enthusiasm for this work," said Richard Feldman, dean of the College. "Through her experiences in admissions, she is in a good position to collaborate with students from all backgrounds and help them build connections."
Thompson-Taylor will report to both Beth Olivares, associate dean for diversity initiatives, and Matt Burns, dean of students. Because the center is in the early stages of formation, Thompson-Taylor will spend several months on a listening tour, engaging students, faculty, and staff in conversations about the current cultural climate and issues and needs that the center can address. It also is a chance for Thompson-Taylor to identify ways the center can celebrate and take advantage of the many opportunities provided by the rich array of groups and activities on campus."The listening tour will allow Michelle to create a center that is responsive to the needs of the campus right now," said Olivares.
As the Intercultural Center's director, Thompson-Taylor will catalog diversity and culture-related efforts across the University, with a specific focus on Arts, Sciences and Engineering, develop co-curricular activities focused on multiculturalism, and partner with departments on intercultural events that supplement the classroom experience. As the undergraduate population continues to grow and change, identifying students whose needs aren't yet being met and developing resources to address those needs will be of particular importance, Burns said.
Thompson-Taylor also will help to reorganize the College Diversity Roundtable, serve as a member of the Diversity and Inclusion Committee, and help to manage AS&E's Augustus Thompson Series, which will feature lectures on topics related to race, ethnicity, gender, and other cultural markers.
"I'm excited to be able to lead a center that can help address the needs and concerns of our students, but can also convey the cultural identity of campus," Thompson-Taylor said. "It's my hope that this will be a long-term collaborative space where students, staff, and faculty who have an interest in intercultural affairs can share resources and create opportunities for a better understanding of the campus culture and its needs."
A native of Kingston, Jamaica, Thompson-Taylor received a bachelor's degree from the University of West Indies, Jamaica, and a master's in strategic leadership from Roberts Wesleyan College.