2013 Susan B. Anthony Legacy Dinner Honors Sue Stewart with Lifetime Achievement Award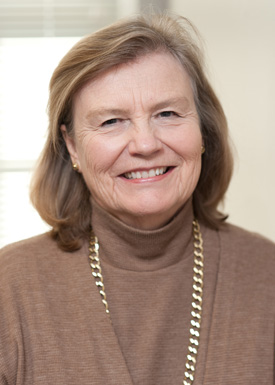 Sue S. Stewart, former senior vice president and general counsel at the University of Rochester, will be awarded this year's Susan B. Anthony Lifetime Achievement Award for her dedication to women's issues and commitment to the local community.
"Her ability to excel among woman in the legal profession, and her numerous 'firsts' as a female attorney in Rochester, makes her the ideal candidate for this year's award," said Catherine Cerulli, director of the Susan B. Anthony Center for Women's Leadership.
The award will be given on Friday, Feb. 1, at the annual Legacy Dinner, a long-standing University tradition that celebrates Anthony's campaign for equal rights and to win women admission in the University in 1900.
Stewart took on the role as the University's chief lawyer in 2003 after retiring from a 33-year career at Nixon Peabody LLP. She was one of the first women hired by the firm in 1968 and was the first woman to be made Managing Partner of the Rochester office in 1975. She later became the first female practice group leader and the first female member of the firm's managing committee. In 1998 she was named the firm's first female managing partner.
A graduate of Wellesley College and Georgetown Law School, Stewart's many awards include the 1999 Athena Award from the Greater Rochester Metro Chamber of Commerce and the 2001 Distinguished Volunteer Service Award from the United Neighborhood Centers of Greater Rochester. She also has served on a number of community organization boards, including the United Way of Greater Rochester, International Museum of Photography at George Eastman House, Center for Governmental Research, and Genesee Country Village & Museum. Stewart is the 12th woman to receive the Susan B. Anthony Lifetime Achievement Award. Prior recipients include Nora Bredes, former New York legislator and past director of the Susan B. Anthony Center for Women's Leadership, and Esther Conwell '45, winner of the 2010 National Medal of Science.
In recognition of Stewart's many achievements, the University created the Sue S. Stewart Leadership and Community Service Award. The award will be given annually to a female undergraduate student who is involved in the community, has a record of high academic achievement, and has expressed interest in professional careers of service to others, including the legal profession. This year's award will be given to Kelly Scull of New Hope, Pa., a junior majoring in business and political science. Scull created a program for incarcerated women at a local jail in Monroe County
Seven additional undergraduate students will receive awards and scholarships at this year's event. The Dean Ruth A. Merrill Award will be given to Amber-Danielle Baldie of Rochester, N.Y., a sophomore majoring in neuroscience. The award was created last year by a group of female students from the Class of 1960 who grew up in the City of Rochester to commemorate their 50th class reunion. The award is in memory of Ruth A. Merrill, former dean of the then College of Arts and Science, whose leadership and support impacted the lives of many female students.
This year's Susan B. Anthony Scholarships will be awarded to Shilpa Topudurti of Champaign, Ill., a junior majoring in molecular genetics, and Chantel Gaudet of Bedford, N.H., a junior majoring in chemical engineering and applied mathematics.
The Susan B. Anthony Prize will be awarded to Kelly Rickert of Little Valley, N.Y., a senior majoring in anthropology and religion. The Jane R. Plitt award will be given to Sara Lewis of Orange, Ohio, a sophomore majoring in women's studies and health, behavior, and society. Receiving Fannie Bigelow Prizes are Makia Green of New York, N.Y., a junior studying psychology, and Erika Howard of Wellsville, N.Y., a senior studying English. The prizes and scholarships are given each year by the University of Rochester Women's Club.
The annual Legacy Dinner will be held on Friday, Feb. 1, at 6 p.m. in the Meliora Ballroom in the Frederick Douglass Building. Tickets for the dinner are $45 for the general public and $25 for University students. Seating is limited and tickets must be purchased in advance. For more information on seating and reservations, call (585) 275-8799 or visit www.rochester.edu/SBA/.