University of Rochester Seeks Proposals for Campus Gateway Sculpture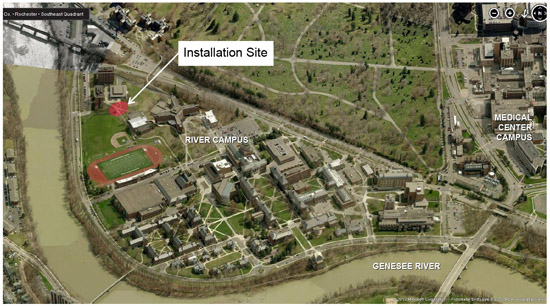 The University of Rochester is seeking proposals for a permanent outdoor art installation for the northern gateway to its River Campus. The sculpture will reflect the University's mission to "Learn, Discover, Heal, Create – and Make the World Ever Better" and serve as a focal point for the intersection of several walkways adjacent to Sage Art Center and the newly created Jackson Court outdoor gathering space.
"We'd love to see a wide array of creative proposals," says Allen Topolski, an associate professor of art who is leading the national search. "Artists could propose a sculpture with one or more pieces, they could offer an interactive or kinetic design, or even suggest a project that creatively alters the landscape."
The request for proposals is directed primarily at experienced artists who make site-specific art and the final design will be selected through a phased application process that will include community input in its final stages. The tentative deadline for preliminary sketches is August 19. A committee of faculty, administrators, students, and a guest juror will select three or four finalists. Their detailed plans, including a model of their concept, will be exhibited in the Art and Music Library Gallery in Rush Rhees Library during Meliora Weekend, Oct. 10 to 13. The winning artist will receive up to $60,000 for fabrication and delivery of the final piece.
The artwork is the final step in the completion of Jackson Court and O'Brien Hall, the University's newly constructed residential housing. Depending on the scale of the selected work, it potentially could be seen from the stadium or even the trail along the Genesee River.
The north end of River Campus is a pedestrian and commuter gateway for the Rochester community and a center for the arts and undergraduate housing. The area is home to the studio arts program, located in Sage Art Center, and the dance and movement program, which has rehearsal and performance spaces in Spurrier Gym and O'Brien Hall. Circled by three dormitories, Jackson Court provides a community space with tables, benches, and a fireplace. A detailed description of the site and a link to the application can be found at http://www.rochester.edu/arts/commission/. For questions, contact Allen Topolski at allen.topolski@rochester.edu.