EVENT: Untraditional 'Cinderella' Premieres at Todd Theatre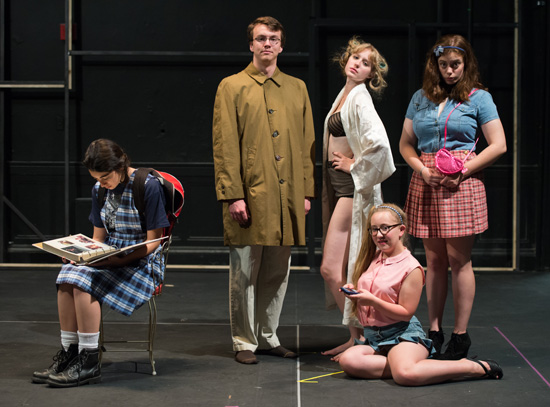 A contemporary re-imagining of Cinderella, written by acclaimed French playwright and director Joël Pommerat and translated by Emma Laurent, will premiere at the University of Rochester International Theatre Program's Todd Theatre on Oct. 10.
"Both funny and heartbreaking, Pommerat's Cinderella gets to the heart of the fable's underlying power," said Nigel Maister, artistic director of the International Theatre Program. "It asks us to examine the stories we tell ourselves in order to survive heartbreak and disillusion, and how, in letting go of the past, we can open up our future to dreams we can scarcely imagine."
In Pommerat's version of the tale, Cinderella emerges as a feisty, grief-stricken young girl named Ashley who struggles to honor the memory of her recently-deceased mother. Through encounters with a wise, but jaded, fairy godmother and a naïve young prince, Ashley is able to release herself from the cycle of grief and recrimination in which she has placed herself. Maister describes Pommerat's Cinderella (in French, Cendrillon) as a story that investigates the psychology of loss and abandonment without losing its sense of generous humor and outrageous comedy.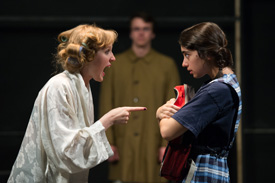 A multi-award-winning theatre artist, Pommerat is considered France's pre-eminent contemporary playwright-director. He runs his own theatre company, La companie Louis Brouillard, and is an associate artist at the Odeon Theater of Europe and the National Theater of Belgium. Pommerat has received awards for his writing and direction, including the Avignon Festival's Grand Prix for Dramatic Literature and three Molière Awards (the French equivalent of a Tony). He is the author of over two dozen plays, including adaptations of Cinderella, Little Red Riding Hood, and Pinocchio. First produced in France at the National Theater of Belgium and the Odeon Theater of Europe, Pommerat's Cinderella will make its off-Broadway debut at the acclaimed New York Theatre Workshop in spring 2014.
Set design and direction are by Nigel Maister, who has been the Artistic Director of the University of Rochester International Theatre Program since 2002. Maister has numerous theatrical credits, and as staging director of the new music ensemble, Alarm Will Sound, has staged concerts at various venues including the Lincoln Center Festival, Carnegie Hall, New York's River to River Festival, and the Holland Festival. He has a new work premiering at the Metropolitan Museum of Art in summer 2014.
Costume design is by visiting European designer Tilly Grimes, whose recent work for the International Theater Program includes last season's The Rochester Plays. In addition to her international work, Grimes has worked with the Oregon Shakespeare Festival, Trinity Repertory Company, New World Stages, and La Mama in the United States. Lighting design is by Solomon Weisbard, a recent graduate of the Yale School of Drama, whose credits include Yale Rep, Berkshire Theatre Group, Keen Company, La Mama, and Tri-Cities Opera. Sound design and original music are by Obadiah Eaves, whose work has been seen on- and off-Broadway in works by David Mamet, Woody Allen, Eric Bogosian, Ethan Coen, and Suzan-Lori Parks. Video design is by C. Andrew Bauer, who designed Todd Theatre's spring 2012 production, Adding Machine: A Musical. Bauer is also currently working with designer Peter Nigrini on Fetch Clay, Make Man at the New York Theater Workshop.
Cinderella opens Thursday, Oct. 10 at 8 p.m., and runs through Saturday, Oct. 19, with 3 p.m. matinées on Saturday, Oct. 12 and Sunday, Oct. 13. Tickets are $7 for UR students; $10 for UR alumni, faculty and staff, and for seniors (55 and over); and $13 for the general public. Tickets may be purchased online at www.rochester.edu/theatre or up to an hour before each performance at the box office. Tickets may also be reserved by calling the Box Office at 585.275.4088. All performances are held in Todd Theater, located in the Todd Union building on the River Campus. The show features some strong language and may not be suitable for children.