EVENT: Intercultural Center Launch Celebrates Past and Present Global Campus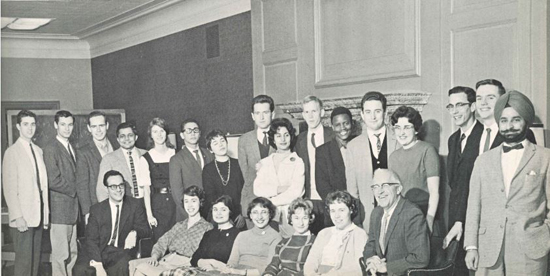 On Saturday, Oct. 12, the University of Rochester will celebrate the launch of a new Intercultural Center dedicated to the promotion of intercultural engagement and collaboration among students, faculty, and staff in the College of Arts, Sciences, and Engineering.
"The history of international students at the University goes back several decades," said Intercultural Center director Michelle Thompson-Taylor. "The center will build on that history by encouraging domestic and international students to learn from each other and build a stronger sense of cultural awareness."
The opening event, held in the Genrich-Rusling Room of LeChase Hall from 4:30 to 6 p.m, will feature a panel discussion with three alumni who helped found the International Club on campus in the early 1960s. Dorothea E. de Zafra Atwell '63, Brian Fleming '63, and Payne Masuku '65, '66 (M.A.) will examine Rochester's global campus of 50 years ago, detail their personal experiences as members of the International Club, and share how the experience shaped the direction of their lives after leaving college. This year, Zafra and Fleming will celebrate their 50th college reunion, and Masuku, who is from Zimbabwe, will return to Rochester for the first time in almost 50 years.
Following the panel discussion, Thompson-Taylor will share findings from a campus listening tour she conducted in the spring, which allowed her to get a better sense of the University's cultural climate. She will also discuss the purpose of the center and highlight upcoming events.
On her listening tour, Thompson-Taylor found that students and staff alike identified the need for a safe space dedicated to focused, informal conversations about cultural identity and engagement. She explained that the Intercultural Center will support this type of engagement and encourage the campus community to capitalize on a diverse mix of people for mutual benefit and deeper campus connections.
The aims of the Intercultural Center are not unlike those of the International Club, which supported international, as well as personal, understanding among students 50 years ago. However, unlike the Rochester campus of 1963, today's Intercultural Center will engage a College student body that is nearly one-fifth international, with over 900 undergraduates from more than 100 countries, according to the University's Office of Institutional Research.
This year, the Intercultural Center will offer a variety of workshops and events, such as a conversation series dedicated to generating dialogue about diversity, identity development, and cultural stereotypes, among other topics. The center will also host an international film series beginning this month, incorporating faculty into film discussions highlighting politics, gender, and history. As an additional component of her efforts at the center, Thompson-Taylor will work with an advisory team to reorganize the College Diversity Roundtable, a student forum dedicated to addressing diversity-related issues on campus.
The Intercultural Center, located on the fifth floor of Wilson Commons, is affiliated with the Office of the Dean of Students and the David T. Kearns Center.