Nora Dimmock Earns 2013 Messinger Award For Leadership in Digital Humanities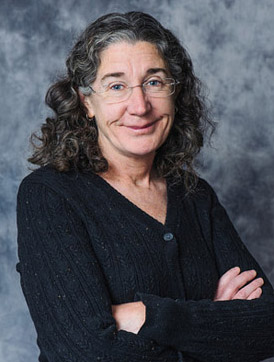 By Rachel Goldstein
With the rise of digital technology, libraries are beginning to reinvent themselves, re-imaging the role of technology in teaching and learning. As the director of the Digital Humanities Center and Film & Media Studies Librarian, Nora Dimmock is front and center in that transformation at the University of Rochester. Her dedication and leadership in digital technology for interdisciplinary studies has earned her the 2013 Messinger Libraries Recognition Award. The annual award, created and funded by life trustee Martin Messinger '49, includes a $5,000 prize.
Dimmock helped design the Libraries' Strategic Plan, which created a five-year roadmap for the River Campus Libraries. "We had a chance to look at all of the big trends in higher education and academic librarianship," Dimmock explains. "We put together a plan for transforming our spaces, our collections, and our skill-sets to meet the needs of the 21st century library, and I think that's really exciting."
Dimmock arrived at the University in 2001 as a programmer/analyst and was appointed director of the Digital Humanities Center when it was established in 2010. The center's mission is to facilitate digital access to library materials, provide support for web-based initiatives, and promote digital humanities by serving as a partner for University groups engaged in interdisciplinary scholarship.
Early in her career as a librarian in digital media studies at the University, Dimmock noticed a gray area in supportive services.
"We fit a niche that is in between IT support and subject librarian expertise," says Dimmock. "Faculty would come to me and say, 'I'm kind of interested in this humanities project. It involves technology. What do you think we can do? Do you think we could try this?' I would say, 'sure, we can do that.'
"We started with some early projectsóbuilding websites, looking at how things get from physical to digital or representations of digital in material cultures. I think it was just that I didn't say no to anyone."
As the go-to person for faculty with digital projects or grant proposals in mind, Dimmock has supported the University community in areas of research, grant-writing, and curriculum and program development. She has actively contributed to at least four major grant proposals during the past year. More extensive projects include the new Digital Media Studies program, Rettner Hall, and the Seward Family Project.
"Nora has been right at the center of so much of the work we're doing in the digital humanities," says Thomas DiPiero, dean of humanities and interdisciplinary studies at the University. "She's not only highly knowledgeable; she's an unusually creative thinker, and she's lent her considerable talents to both research and curricular projects. She's helped a lot of people think through some very complex undertakings."
Beyond campus, Dimmock is frequently invited to speak at conferences and symposia in the area of digital scholarship. She is leading the transition of the Multimedia Center to a Center for Digital Scholarship, building a team of digital technologists.
"Nora has an outstanding record of accomplishments towards the development of a digital scholarship program for the River Campus Libraries and for the River Campus writ large," says Mary Ann Mavrinac, vice provost and Andrew H. and Janet Dayton Neilly Dean of River Campus Libraries. "She cares deeply about the teams with whom she leads and works, and about the library."
Dimmock holds a Master of Library Science and a bachelor's in ceramic engineering. She is currently working on a doctorate at the Warner School of Education.
The annual Messinger Award honors contributions that advance the educational mission of the library or the library profession. Previous Messinger awardees include Nancy Fried Foster, director of anthropological research for River Campus Libraries (2012); Judi Briden, digital librarian for public services (2011); and Cynthia Carlton, department head for River Campus Libraries Applications Group (2010).
A longtime supporter of the libraries, Messinger funded the 1998 restoration of the Periodical Reading Room and the creation of two graduate student study rooms in 2010. The Messinger family also is a generous supporter of the Center for Jewish Studies, the Debate Union, and the Eastman School of Music. Messinger and his wife Joan funded the building that houses the Eastman Community Music School, which is dedicated in the memory of Anne Waltuck Messinger.