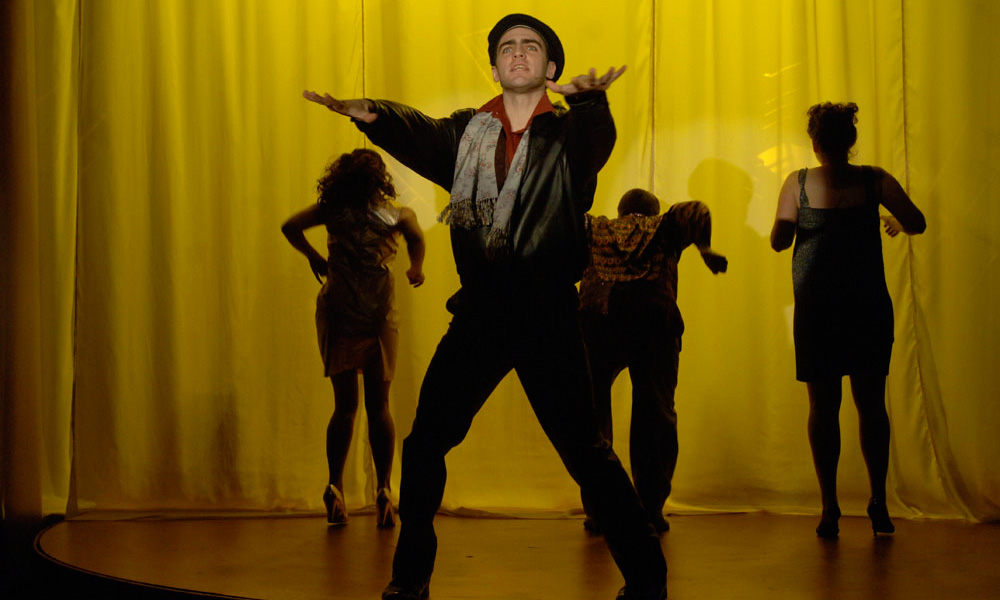 The 70th Tony Awards will broadcast live on Sunday, June 12. Over the years, Rochester and Eastman School of Music alumni have taken home Broadway's top honors, and University students have had the opportunity to work with Tony Award winners on stage and behind the scenes. Here are a few of Rochester's connections to the Tony Awards.
1. BYE BYE BIRDIE
One of America's most successful musical theater composers and three-time Tony Award winner is Eastman alumnus Charles Strouse '47E. With a repertoire of more than 30 written scores, his most popular compositions come from the musicals Annie and Bye Bye Birdie.
2. MR. BROADWAY
George Abbott, Class of 1911, was known as "Mr. Broadway." As a writer, director, or producer he was involved in productions that earned 40 Tony Awards. He won the award for Best Musical for The Pajama Game (1955), Damn Yankees (1956), and Fiorello! (1960), which also earned him a Tony for Best Director (and a Pulitzer Prize). He also won for Best Direction in 1963 for A Funny Thing Happened on the Way to the Forum. In 1976, he received a Special Tony Award, The Lawrence Langer Award, and in 1987, he received a second Special Tony Award in celebration of his 100th birthday.
3. TONY AWARDS HAT TRICK
Douglas Besterman '85, a recipient of three Tony Awards for Best Orchestrations, has worked with some of the most recognizable names in Hollywood, including Mel Brooks whose Broadway hit show The Producers gave Besterman his second Tony win in 2001.
4. and 5. LEADING LIGHTS
Justin Townsend, who is nominated for this year's Best Lighting Design of Play for The Humans and Best Lighting Design of a Musical for American Psycho, designed the lights for the International Theatre Program's production Major Barbara by George Bernard Shaw in 2005, and created the scenic and lighting design for the program's first musical Hello Again by Michael John La Chiusa, in 2008.
Ben Stanton, who is nominated for this year's Best Lighting Design of a Musical for Spring Awakening, designed the lights for the International Theatre Program's Eurydice by Sarah Ruhl in 2006.
6. THE LIGHT IN THE PIAZZA
James Lowe '89E was a conductor for the first national tour of the Tony Award-winning show, The Light in the Piazza.
7. PROLIFIC PRODUCER
An American in Paris, which won four Tony Awards in 2015, was produced by Jane Dubin '79 (MS), president of Double Play Connections, whose other Tony Award-winning productions include Ann and Peter the Starcatcher.
8. A MUSICAL MADISON COUNTY
Jason Robert Brown '91E, who won a Tony Award in 1999 for the musical Parade, also won Tony Awards for Best Original Score and Best Orchestrations for the musical adaptation of the best-selling novel, The Bridges of Madison County.
9. LOTTE LENYA CONNECTIONS
Kim Kowalke, professor of musicology at the Eastman School of Music and professor of music in the College's Department of Music, is the CEO and president of the Kurt Weill Foundation, which brings Tony Award nominees and winners to Rochester annually to participate in the Lotte Lenya Competition. Past winners include Lauren Worsham, who received a Tony nomination in 2014.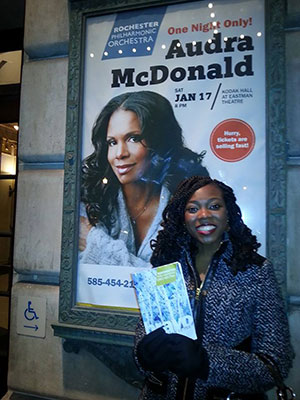 10. WORKSHOPPING WITH THEATER ROYALTY
Elizana-Marie Joseph '17, a student in the River Campus Music Department's Musical Theater Workshop, had the opportunity to meet six-time Tony Award-winning actress Audra McDonald when she performed in Rochester with the Rochester Philharmonic Orchestra.
Category: The Arts