As the University photographer, Adam Fenster sees—and subsequently documents—more than the average person at Rochester. And as in years past, he picks some of his favorite photos and gives us a behind-the-scenes look at what makes each one special.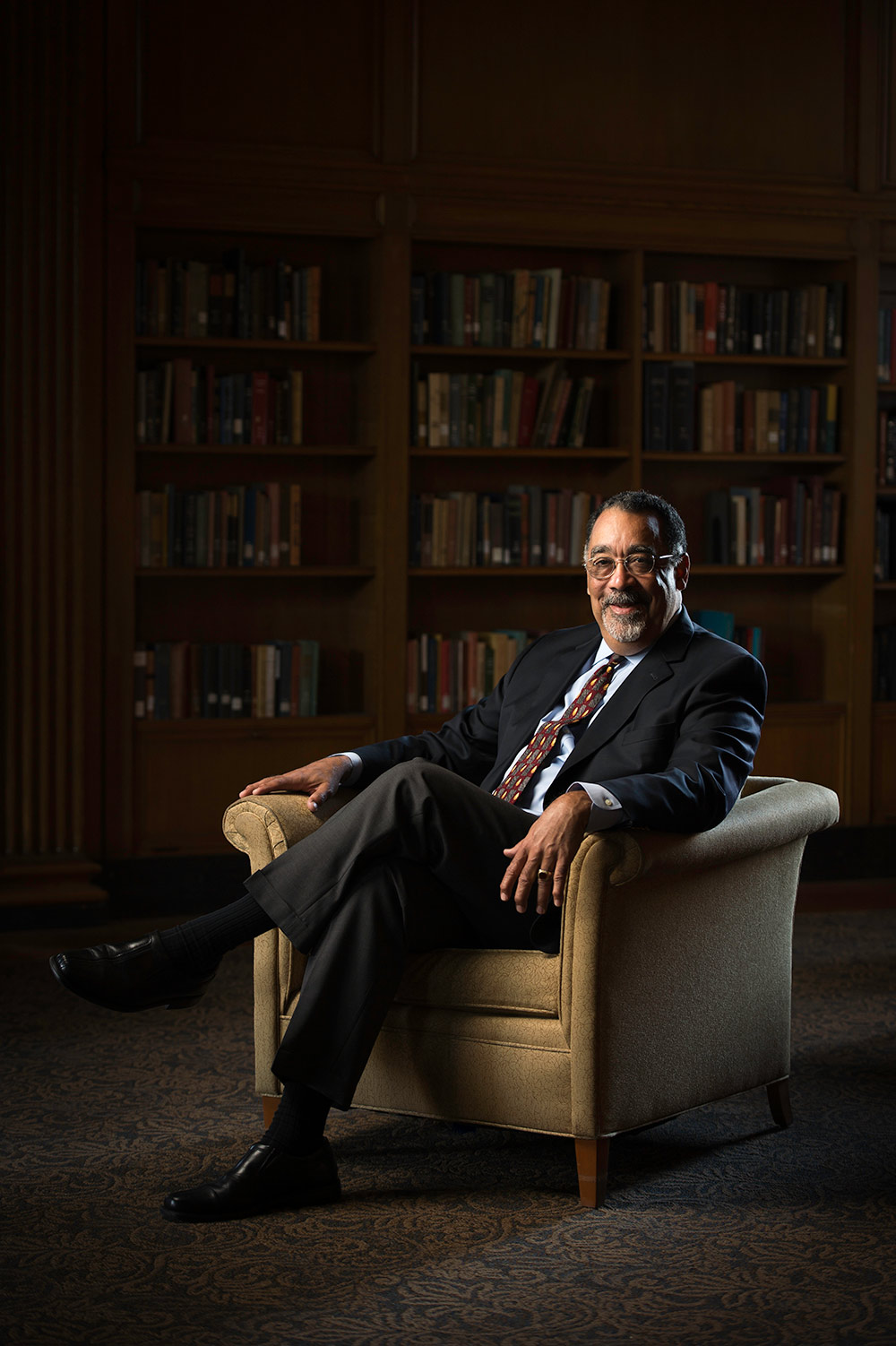 Remembering Dean Burgett
Paul Burgett—musician, scholar, teacher, and University leader for over half a century—died this year at the age of 72. Although this portrait was taken in 2014 for a profile in Rochester Review, Fenster chose to include it among this year's photos as a tribute to the larger-than-life person many of us knew simply as Dean Burgett.
"It was during this profile—covering his classes and 'The Fiery Furnace' speech, making his portrait—that I began to get a sense of who Paul was as a person and educator," Fenster recalls. "There really is no one else like him. He touched a lot of lives."
For his portrait, Burgett chose the Welles-Brown Room. Fenster lit him with a soft box while allowing a window just outside the frame to provide subtle illumination on the bookshelves and the right side of Burgett's face. "The result is a dark, contrasty image that allows Paul's warmth to shine through." This portrait was used on the memorial service program and website.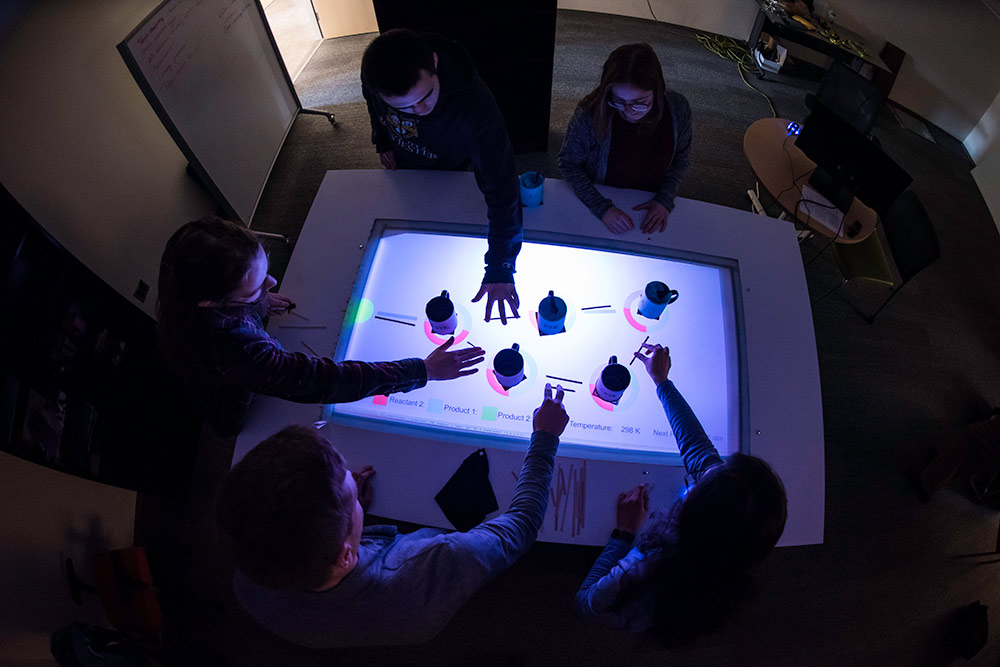 Grounded in (augmented) reality
In this photo, chemical engineering students congregate around a table that uses an interactive augmented reality platform to let students simulate the reactions in a chemical plant.
Fenster heard about the table and went to scout it out. "As soon as I saw it, I realized this definitely calls for an overhead photo. So, I took my monopod, stuck my camera on it, and got the shot."
The only light is from the table itself and the doorway. Fenster had to wait for the opportune moment when the students were interacting with the technology and each other. "Otherwise, it just looks like coffee mugs on a glowing table. The human element is what helps to fully illustrate this new and different technology."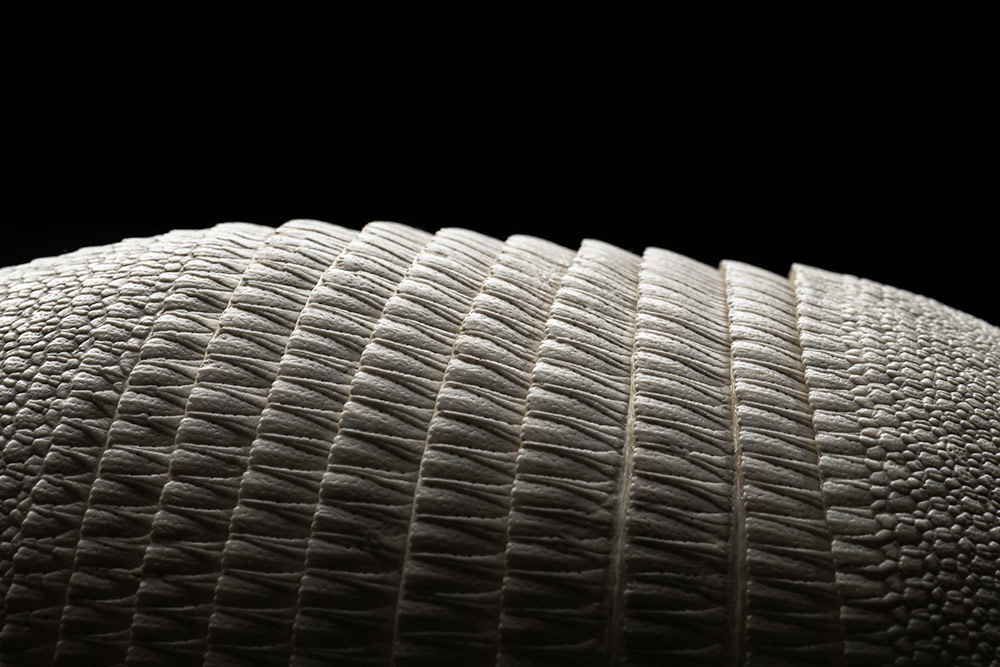 Telling shells
Fenster photographed items from the University's former natural history museum to promote the Ward Project, a new initiative that enables scientists, historians, and archivists to recreate the inventory of Henry Augustus Ward, a faculty member at the University from 1862 to 1875.
Pictured here is an item from Ward's inventory: the skeletal shell of Dasypus novemcinctus, also known as the nine-banded armadillo. "I like this photo because it's all about texture, lighting, and repetition. You've got a color photo that looks black and white. It checks a lot of boxes aesthetically for me."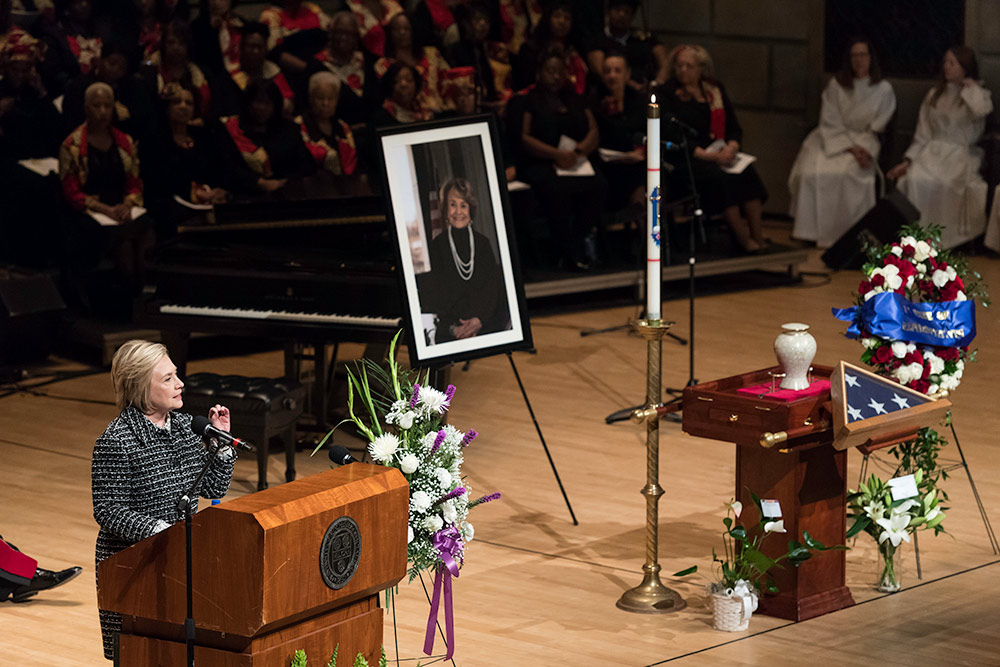 I'm with her
Louise Slaughter, who died in March, represented the Rochester region in Congress for more than 30 years. During that time, she worked tirelessly to fund and support research initiatives at the University.
More than 2,000 guests—including family, friends, and government officials—gathered to celebrate her life during a memorial service held in Kodak Hall at Eastman Theatre. Among the speakers was former first lady and secretary of state Hillary Clinton.
"For something like this," notes Fenster, "you don't want it to be all about Hillary—it's about Louise, after all—but Hillary's still a part of it. You want a photo that shows the whole scene, so that means shooting the same scene but in different ways, with a different focus, using different exposures."
Fenster has shot in Kodak Hall countless times and credits his experience as a photojournalist for teaching him to cover his bases. He says, "Editors drill it into you: move around, get to different locations if you can, give the client multiple options."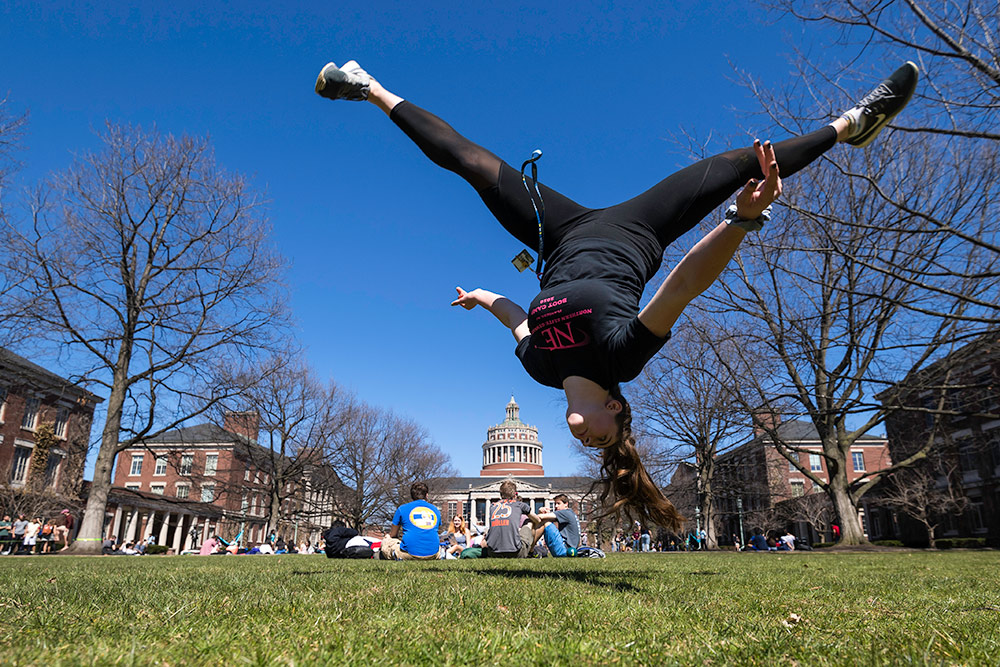 Cartwheels on the quad
Sarah Cawley '21, a former gymnast and current club volleyball player, performs an aerial cartwheel on the Eastman Quad in April.
"When the weather's nice and I'm on my way to and fro, I'll see a lot of activity on the quad, those 'slice of life' moments on campus," Fenster says.
When he noticed Cawley, he recognized the potential for a different take on an otherwise typical "kids on the quad with Rush Rhees Library in the background" shot. So, he asked for her permission and then got in low with a wide lens and a high shutter-speed (1/1600th of a second, in this case). "When you freeze the action like that, it almost looks like she's levitating." For Fenster, that unexpected element is what elevates (pun intended) this photo to year-in-pictures status.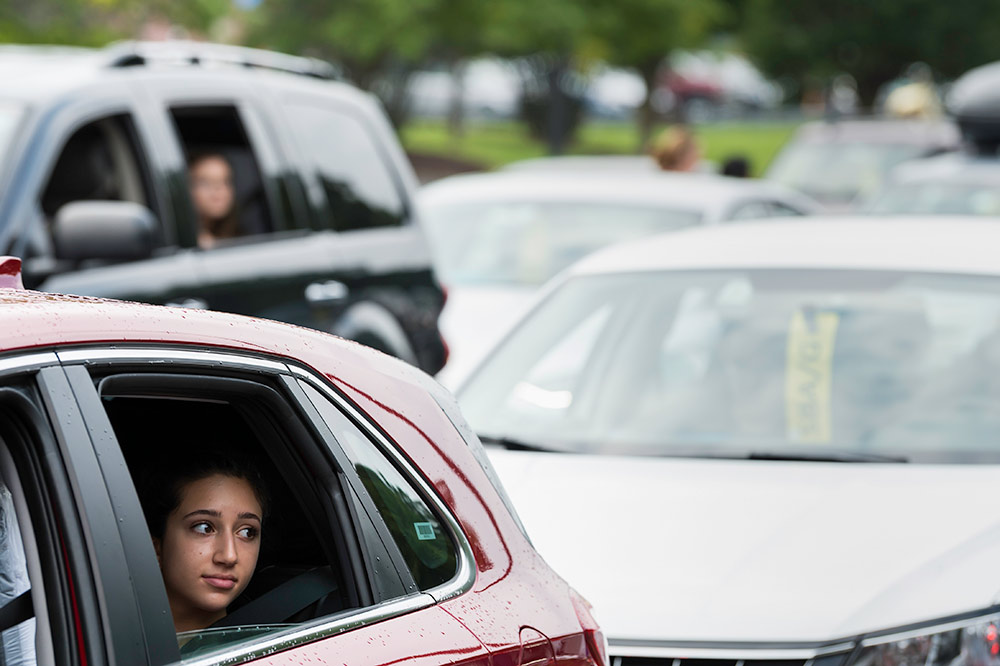 Pensive visage
Finding those unexpected elements can be challenging with recurring or annual events, such as first-year student Move-In Day. "You can show all the cars lining up—which they do every year—and that tells you what they experienced. But I also look for moments that try to convey what they felt."
Here, Callista Zaronias '22 of Broomfield, Colorado, is captured peering out from the backseat of a car waiting in the parking lot. In the background, another incoming student's blurred face acts as a visual echo of Zaronias and the hundreds of other new students who descend upon the River Campus at the beginning of each academic year.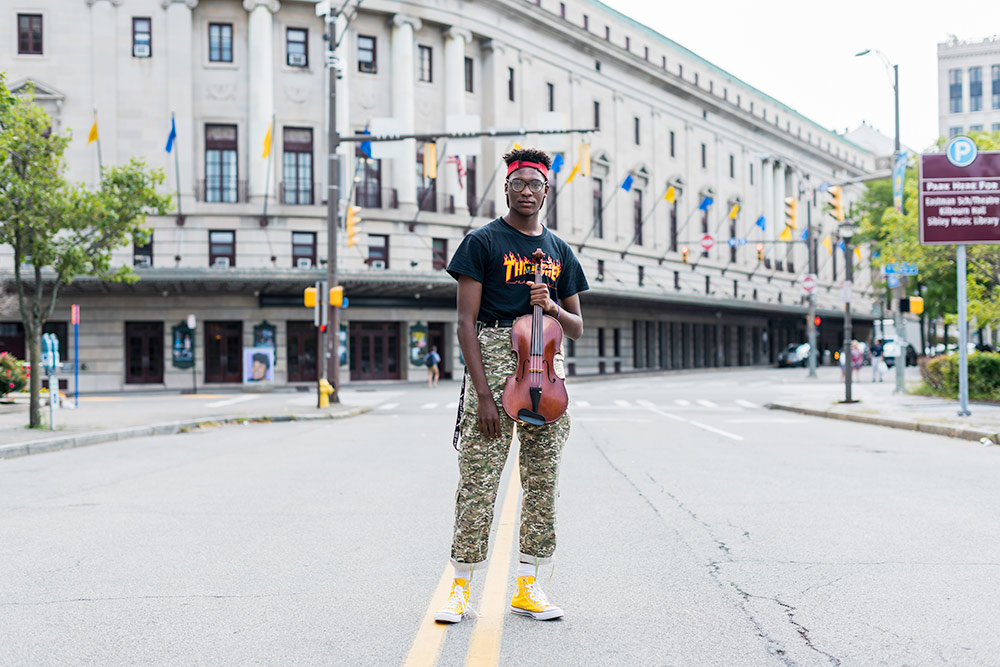 Meet the music man
Adrian Jackson, a first-year viola student from Austin, Texas, stands outside the Eastman School of Music for a portrait.
The first notable aspect of the photo is the location. "It's hard to photograph someone in front of Kodak Hall unless you get really far away," says Fenster. Fortunately, Jackson was game, the traffic was minimal, and the bright but slightly overcast sky created good lighting.
"The other interesting thing here is Adrian himself. If you had asked me to art direct someone's outfit, I wouldn't have been able to come up with this look. The contrast of the yellow chucks with the classical instrument—it makes you want to stop and read the caption to find out who this guy is and what he's about."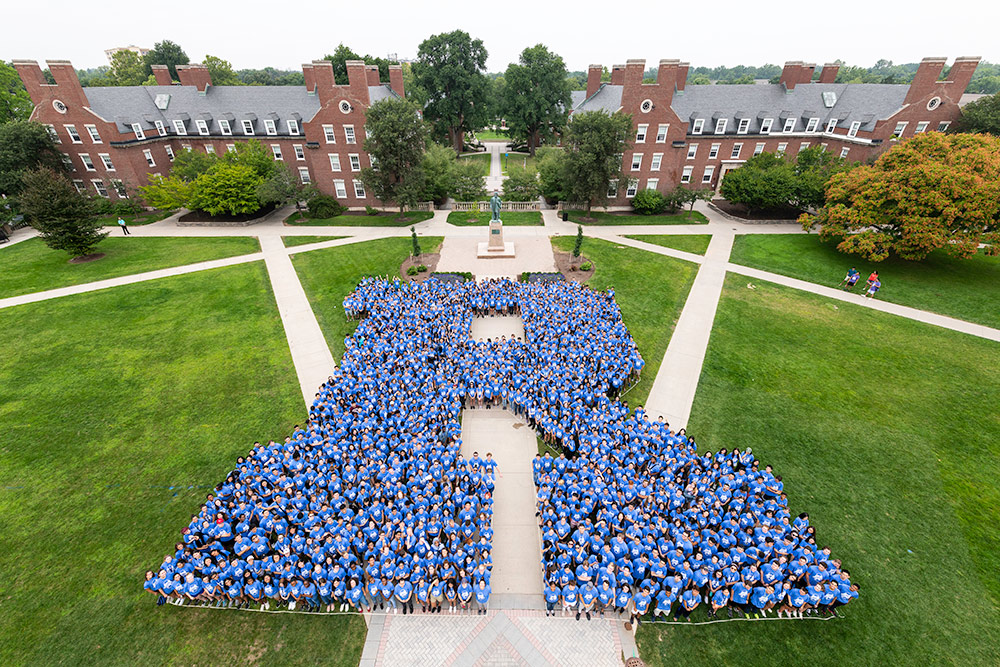 Let's get in formation
The Class of 2022 forms the University's spirit "R" logo on the Wilson Quad to kick off Wilson Day, the annual day of community engagement for new undergraduate students.
For years, Fenster has been advocating to get each incoming class to take a portrait together during the early days of their time at the University. "Credit to Eleanor Oi and the orientation staff because this is the year we finally got it right," he says. String outlining a giant "R", hundreds of students in matching shirts, and a bucket truck operated by the facilities team helped make this single still photo possible.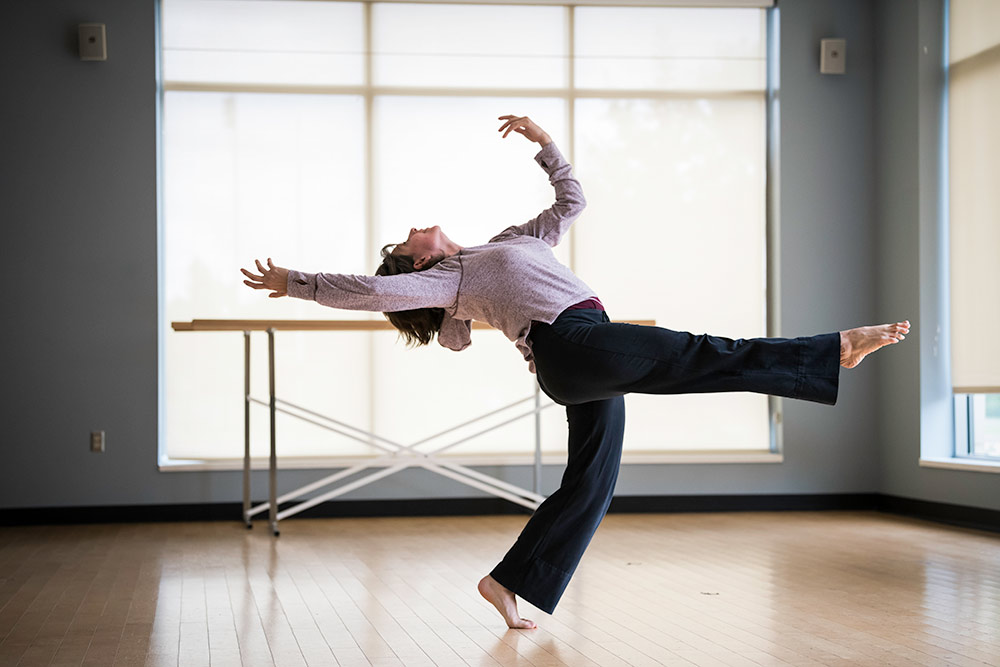 In full swing
Missy Pfohl Smith, director of the Program of Movement and Dance, was appointed this year to lead the Institute for the Performing Arts for a three-year term.
Pfohl Smith is a dancer, so the O'Brien Hall dance studio was a logical choice for the location. Fenster took a series of more traditional portraits in the setting but prefers this shot because it's "in the moment. She doesn't even seem to be aware that the camera is there."
He adds, "You can see how she's framed by this rectangle in the background, yet her feet and legs are breaking out of that grid. It's peak action."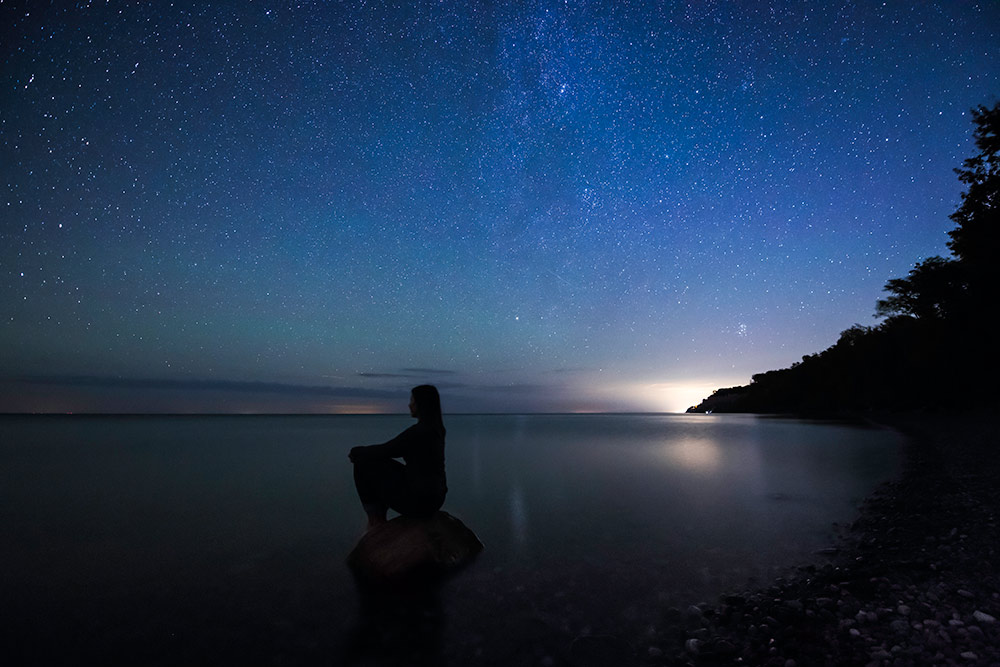 Star quality
Stars and the Milky Way Galaxy light the evening sky over Lake Ontario, as viewed from the shore at Chimney Bluffs State Park. Fenster was asked to photograph the scene to help illustrate the University's "Rochester Effect" campaign.
"If you want to show a person with the stars, you need a low angle, a lot of space, and a dark area," Fenster says. "Cameras nowadays with their high ISOs [light sensitivity], it's almost like they can see in the dark. It didn't look that way in person, but if you expose it right, the sensor takes in all the light and allows you to see the galaxy."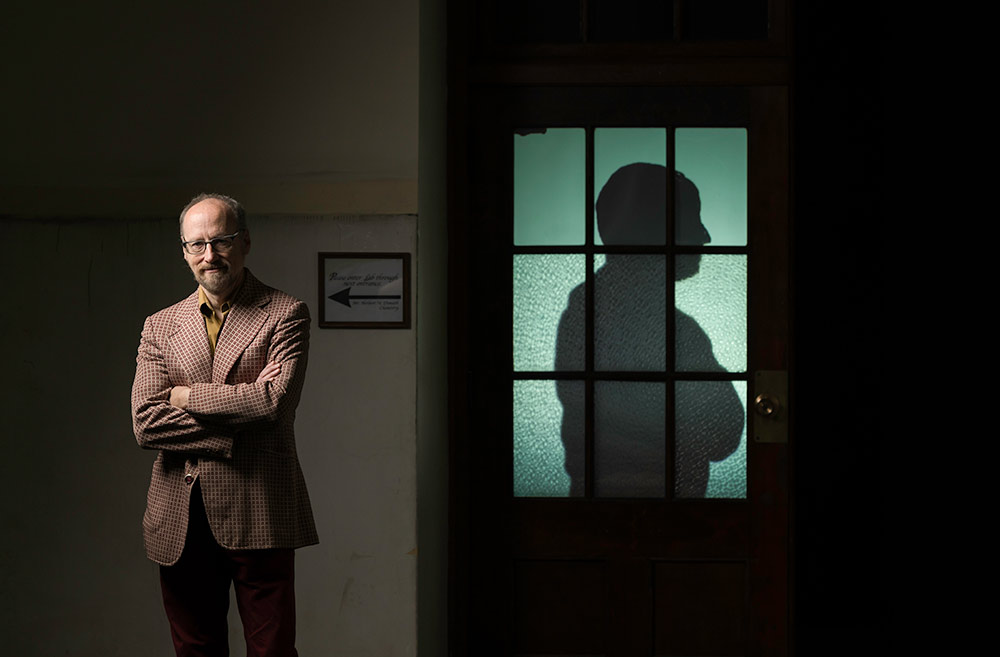 How Hitchcockian
Allen Topolski, associate professor of art and art history, is pictured with his installation, "A Common Inculcation," at PLAY/ GROUND, an immersive art exhibition featuring 29 artists at the former high school in Medina, New York.
Fenster brought a single light with him for this outing. The silhouette next to Topolski was continually changing and at one point crossed its arms. "So, I asked Allen to cross his arms, too. He's a nice guy and was willing to work with me to realize my vision." And the final result features what looks to be a shadow or cutout of Topolski.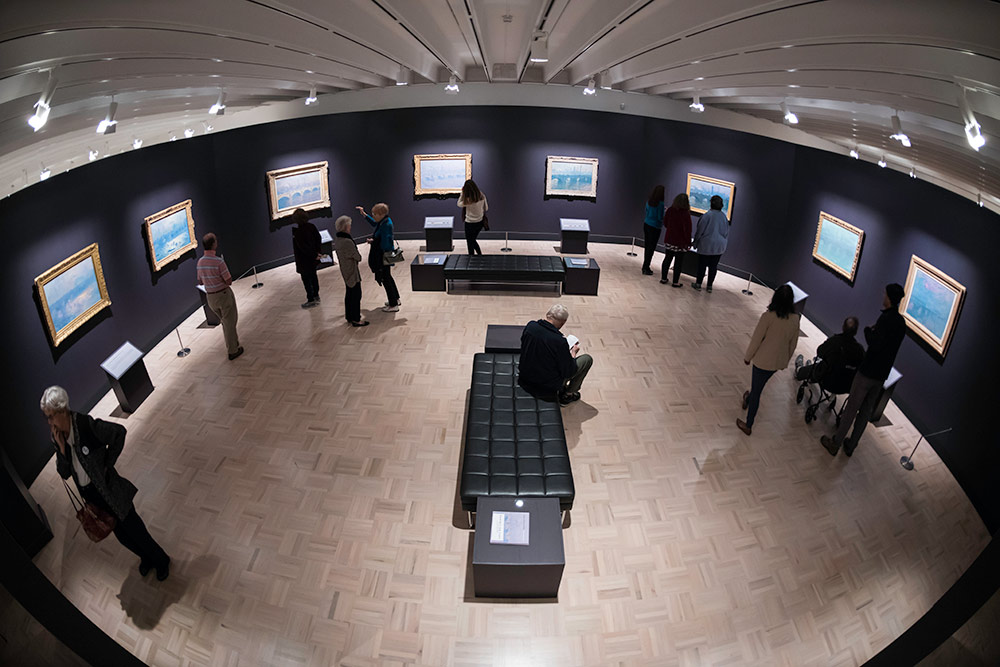 Monet at the MAG
Using a fish-eye lens and monopod, Fenster documented visitors to the Memorial Art Gallery's exclusive exhibition: Monet's Waterloo Bridge: Vision and Process.
Instead of a close-up of a single Monet painting, Fenster wanted his photograph to tell the story of the whole exhibition: that is, you can take your time to compare, contrast, and contemplate eight versions of the same London scene side by side.
Notice how in the photo the paintings themselves radiate with an opalescent quality. "The team at the MAG did a great job with the lighting and layout of the exhibition," says Fenster.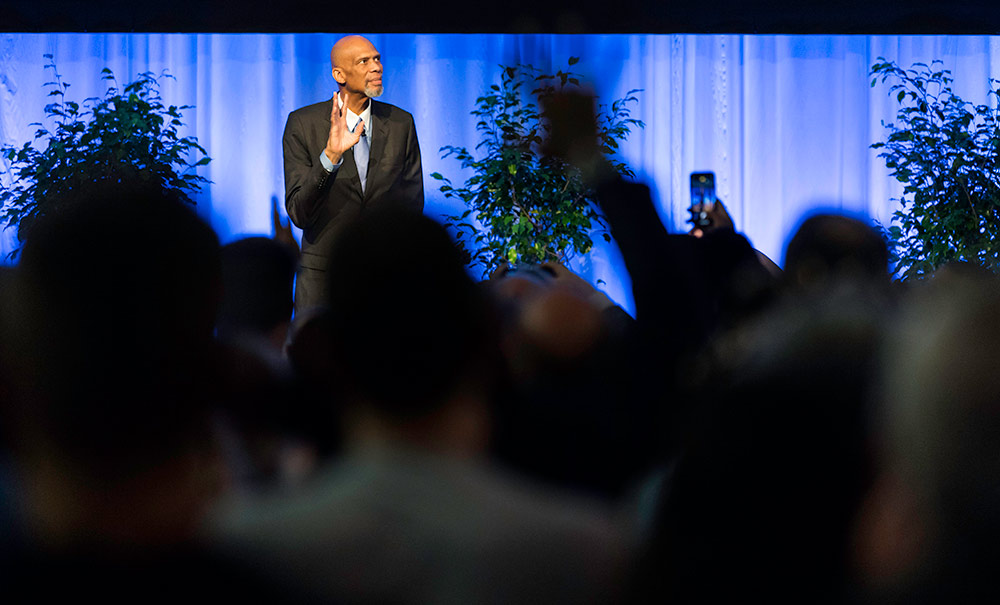 Home court advantage
Basketball icon and activist Kareem Abdul-Jabbar visited Rochester in November to meet with students and discuss his perspective on some of the issues dividing the United States, including racism, economic inequality, and social injustice.
The event itself, held in the Palestra, was at maximum capacity. Fenster snapped this shot as Abdul-Jabbar received a standing ovation from the crowd. "He's a legend, he came to our campus to speak, and we got to hear his insights firsthand," Fenster says. "I even got my photo taken with him."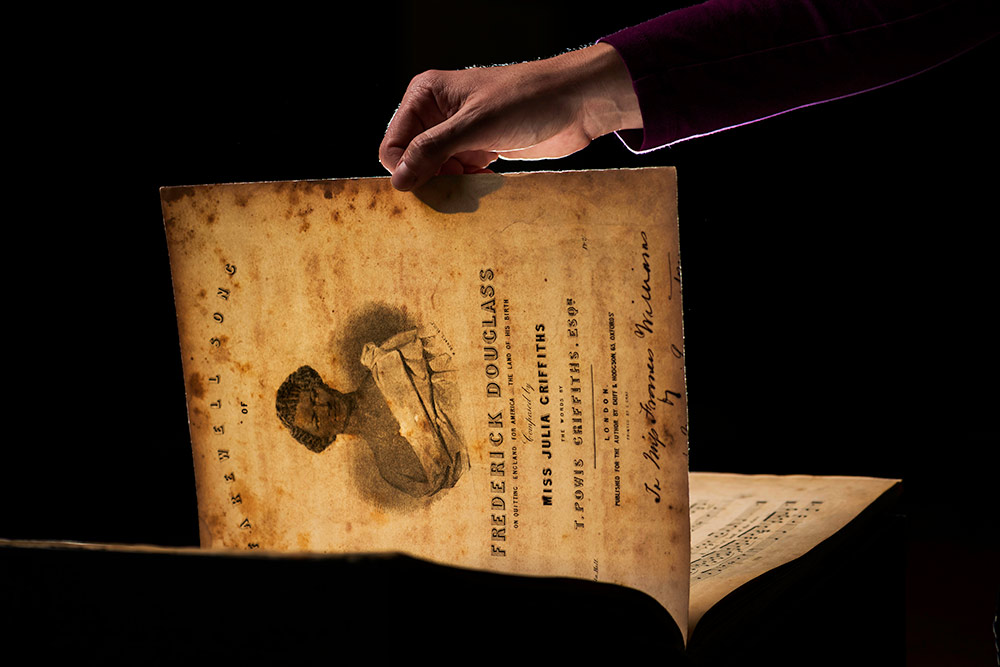 New look at an old song book
In this photo, librarian and archivist Autumn Haag holds the title page of "Farewell Song of Frederick Douglass." The piece—one of only two copies known to exist—is contained within a volume of sheet music recently acquired by the University's Rare Books, Special Collections, and Preservation.
Fenster photographs his fair share of books, documents, and other items from the library's special collections. When it makes sense, he tries to incorporate an element of humanity in these photographs of inanimate objects. As Haag held up one page from the fragile volume,
Fenster used a front light. But it was the backlight that proved crucial. One tiny flash from behind illuminated the all-important cover page (featuring Frederick Douglass's name) while also casting light on the sheet music that follows.
"That backlighting is really where the magic comes from in this photo."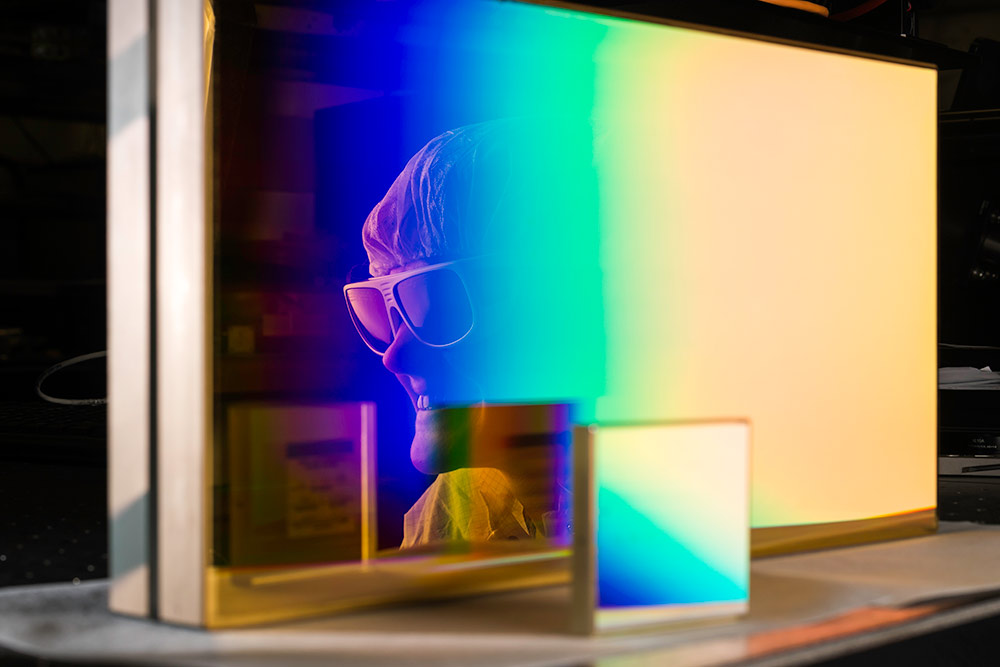 Next-Gen Nobel?
Sara Bucht, a graduate student in the Plasma and Ultrafast Physics Group, is reflected in a grating used in her lab at the Laboratory for Laser Energetics. The smaller grating in the foreground is the one used in the 1980s by Donna Strickland '89 (PhD) in the work for which she received a Nobel Prize in Physics this year.
"We wanted to show the contrast between Donna's original small [grating] and this big new one, and how these researchers are carrying on her work today," says Fenster. Aptly enough, at least to this writer's mind, the image successfully blends the classic 1980s aesthetic with a futuristic vibe. The end result is a photograph that is distinctly Rochester.
---
Category: In Photos