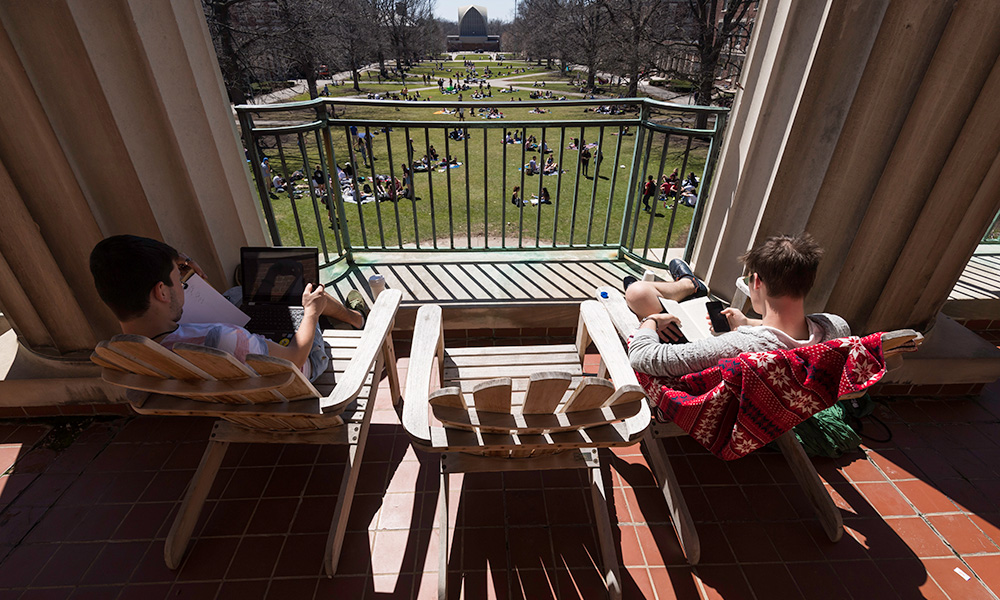 Commencement 2018: This is one in a series of stories marking the 168th Commencement Ceremonies of the University of Rochester.
Joshua Hill '18, a political science and English dual major from Penfield, New York, is a student intern with University Communications. Here, he shares some of the knowledge he's gathered as a student at Rochester.

In four years at the University of Rochester, I've joined different clubs, worked on group projects, fallen in and out of love, written countless pages of research and essays, eaten at some amazing restaurants, explored new communities, and made a diverse group of friends.
I've also picked up a few things that aren't taught or learned in the classroom:
1. Professors are people, too
It's easy to fall into the myth that professors are intimidating and inaccessible; their wealth of knowledge and stature may create the facade that it's difficult to talk and relate to them. However, meet in their office or stay an extra five minutes after class to chat with your professor, and you'll realize just how interesting and personable they are. I've gone to professors to talk about an issue I was facing with friends, current politics, or even just to let them know of a really awesome restaurant I just tried. Professors are there as a resource for you inside the classroom, but in many cases, they're also one of your biggest supporters.
2. There isn't a typical 'Rochester student'
As a Meridian in Admissions, I've been asked dozens of times by prospective families, "What's a typical Rochester student like?" I never know what to say because everyone's interests are so wide and vast. The student body is supportive and accepting of individuals of all backgrounds; we're a group of passionate, genuine, and quirky people who come here for the love of learning and connecting with others.
3. The Rochester Curriculum rocks
The curriculum was the most confusing aspect to me when I enrolled. I didn't understand what was meant by "open curriculum" or "cluster system." After doing some research and meeting with an academic advisor, I came to realize that everything that had ever interested me academically was possible here. I could set my path.
4. Rochester's restaurant and coffee shop scene is amazing
Stop ten students on the sidewalk and ask what their favorite local coffee shop is, and you'll probably get many different answers. The shops around Rochester are great if you're in a rush or want to hang out and do some work or catch-up with friends. For some students, an off-campus coffee shop is their go-to study spot on the weekends. They're warm and welcoming. The restaurants are great, too. Cuisine from all over the globe, catering to all types of audiences and price ranges, take root here. Whether it's a night out with friends, a quick bite to eat while running errands, or a group brunch session, the community has you covered.
5. Rochester is a welcoming city

One of the most interesting things I learned at Rochester was how big our deaf population is. Deaf culture in Rochester is something that flourishes and continues to grow in influence. Rochester has one of the largest deaf populations in the United States. In addition, the refugee population in Rochester has grown significantly in recent years. Refugees from all over the world have come to Rochester to find a new home and support services for them have increased significantly. Whether it's health services, educational resources, or career preparation, Rochester is a welcoming city for all.
6. Pride comes in all forms
My definition of what pride is and how it lives out has changed since coming to college. Students take pride in their University, the City of Rochester, and its surrounding communities. To many students, a "win" for the city is a win for them. Seeing the community improve itself is a vital point students take pride in. Seeing one of my friends ace a test or win a sporting event makes me proud. And knowing that my friends and classmates are succeeding makes me feel more connected and proud of the network that helped them get there.
7. It's nothing like you'd expect
Coming to the University, my expectations weren't high. I grew up 20 minutes from campus and thought Rochester was just another local college. I was wrong. I never thought the community, really a separate world, like this would exist. Rochester is a place where people from all over the world offer new ideas, methods, and activities. I'm proud to be able to call the University of Rochester my home and even more excited to see the places it'll go in the future.
Meliora.
Category: Campus Life