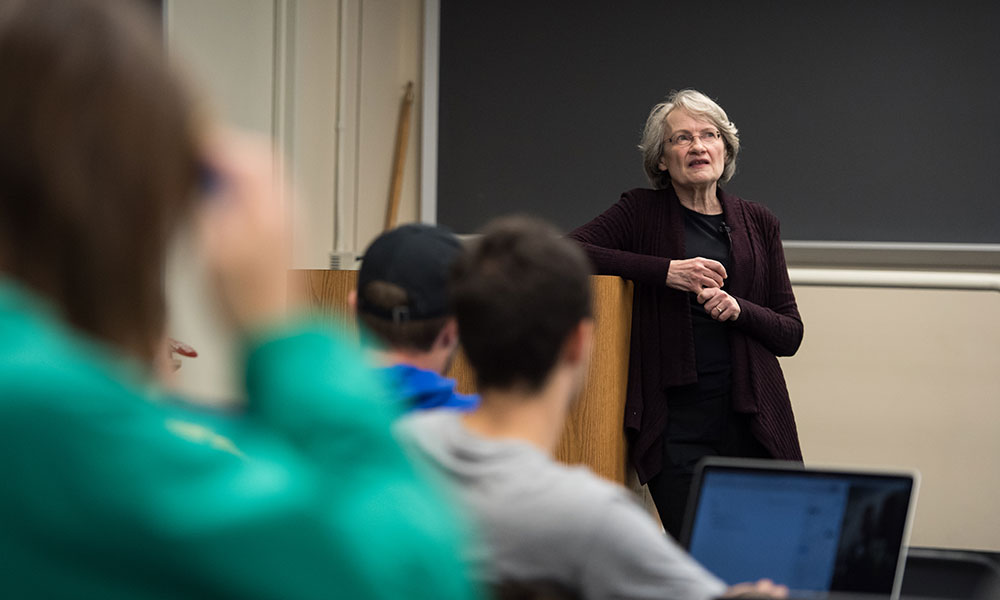 As a freshman, Skylar Cerbone '20 normally wouldn't take Lynda Powell's intermediate undergraduate course, American Elections, this fall. But Cerbone didn't want to wait.
"It's a presidential election year," the political science major from Buffalo says. "I had to take this class now. It's too important not to."
Cerbone received permission from Powell, professor of political science, to take the course, and is one of 50 students who meet Tuesdays and Thursdays in Hutchison Hall to learn about the election process at the state, congressional, and presidential levels, and how election rules affect the choices candidates make.
"I want my students to apply the theoretical material from the course to gain a better understanding of this year's elections and future elections," Powell says. "While a few will go on to graduate school in political science and teach at the college level, and a small number will work in politics, I hope all of them will be engaged in the political process as voters."
Powell has taught at the University since 1982. Her most recent book, The Influence of Campaign Contributions on State Legislatures (University of Michigan Press), was awarded the American Political Science Association's 2013 Richard F. Fenno, Jr. Prize for the best book on legislative politics, and the 2014 Virginia Gray Prize for the best book on state politics and policy.
"She's a distinguished professor," says Jose Fernandez '19, a double major in political science and history. "I took the class in large part because I wanted to get her take on this election."
Fernandez is a self-described "political junkie". He attended a Long Island high school that was 90 percent Hispanic and says, "Republicans shouldn't even entertain the idea of getting the Hispanic vote unless they address immigration reform."
Students in Powell's class read scholarly articles, as well as print and online news, and apply insights from the reading, as well as their own, to the 2016 elections.
On a Thursday in October, the topic turns to the Electoral College. Students learn about swing states, pivotal states, and the magic number 270, the minimum number of electoral votes required to clinch the election.
They're also taught about "faithless electors," members of the Electoral College who don't vote as they are pledged to vote.
"There have been 157 faithless electors in America's history," Powell tells the class, "but none have altered the outcome of an election."
Andrew Mekhail '20 will be voting for the first time and is eager to help decide who will become the nation's 45th president.
"This class gives me an understanding of the framework of an election," the political science major from Los Angeles says.  "It's a consequential election that will say a lot about our country's values and where we stand. It's beyond politics."
Cerbone believes students on the River Campus have grown increasingly interested in the political process as the election draws near.
"We're the generation that's going to be affected the most," she says. "College students care about college debt and the way women and minorities are treated in this country."
Logan Williamson '17 says he's most interested to see what "the Sanders effect" will be.
"I'm very interested to see how high of a turnout rate there is for Hillary [Clinton] among millennials," the chemical engineering major from Horseheads, New York, says. "I think there's going to be a huge dropoff from President Obama [in 2008 and 2012]."
Powell hopes her class inspires students to vote.
"As Thomas Jefferson said, 'An educated citizenry is a vital requisite for our survival as a free people,'" she says. "The differences between the candidates are so great that the stakes for the country are correspondingly great as well."
Category: Student Life