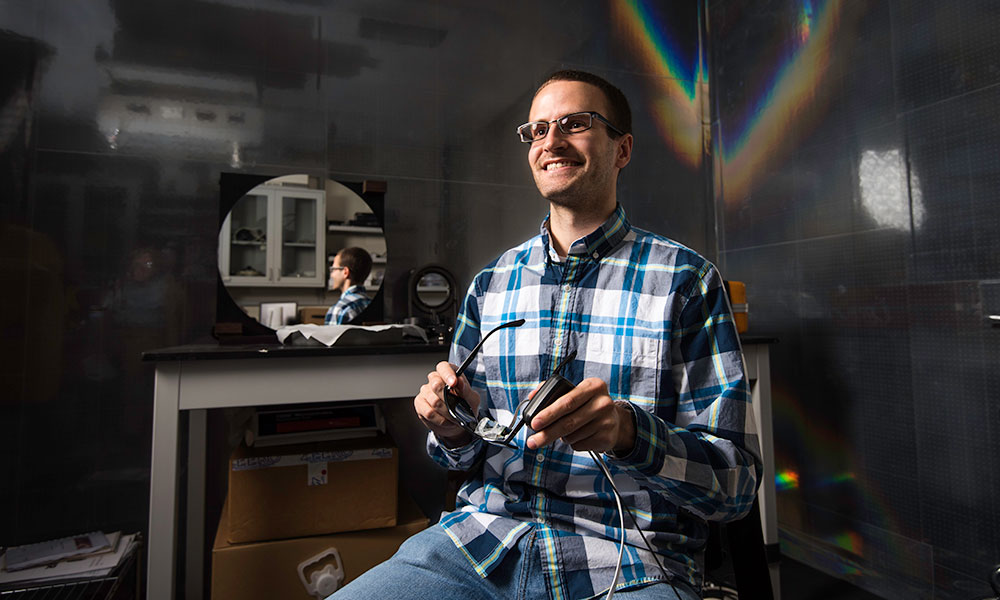 By creating lenses and mirrors in a range of shapes—not just spheres or rotationally symmetric aspheres—freeform optics promises to deliver increasingly compact, lightweight, and easily targetable LED lighting, space sensing instruments, mobile displays, and a host of other applications.
By showing how to make freeform optical components, the Center for Freeform Optics is bringing new industry partners to the University of Rochester. This, in turn, provides Institute of Optics students not only research opportunities but valuable experience working with outside companies.
For example, Di Xu, a PhD student, began working with CeFO in January on a project that uses optical coherence tomography to measure freeform optical surfaces. Aaron Bauer, who finished his PhD in June, demonstrated the feasibility of using freeform optics to create compact head-worn displays and related technologies. He will stay on at least another year as a research engineer developing prototypes for projects spawned by CeFO.
"I had been doing freeform optics even before the Center for Freeform Optics started, so it gave me some validation that what I had been working on was important and useful," says Bauer.

Since its 2013 launch under an award from the National Science Foundation, CeFO has been shaping the future of optical instrumentation on a global scale. The center started with seven pioneer members—Air Force Research Laboratory (AFRL), Ball Aerospace and Technologies Corp., OptiPro Systems, PolymerPlus LLC, Rochester Precision Optics, SCHOTT North America Inc., and Zygo Corporation.
It has more than doubled that number during the past year with the addition of Aperture Optical Sciences Inc., Corning, Eminess Technologies, Jet Propulsion Laboratory, L-3 Communications, Microsoft, Nikon Research Corporation of America, Oculus, and global partners ARRI, PerkinElmer Health Sciences, and Zeiss.
Funding for the center recently expanded to reach more than $1 million in cash flow in 2016 alone.
"PerkinElmer sees great opportunities in working together with faculty and students to advance related research," says Dennis Yates, a senior research scientist with the company. "Collectively, we are all able to better understand the role that freeform optics can have in optical spectroscopy instrumentation and in innovative technologies of the future."
The joint venture of the University of Rochester and the University of North Carolina Charlotte brings the universities and companies together at the precompetitive stage of a promising new technology. The projects they share are at the interface between fundamental and applied research and are driven by applications that companies could eventually market.
"These are companies that strive to be on the competitive edge; they are leading the innovation in freeform optics for the future," says Jannick Rolland, the center director and Brian J. Thompson Professor of Optical Engineering. "They want to be educated in the science and engineering of freeform optics now, from design to manufacture, so they can be in front of the competition."
The Rochester and Charlotte partnership, she explains, resulted from the unique strengths each institution can bring to this field. "We lead in design, while UNC Charlotte is strong in manufacturing optics. We both are leaders in metrology of freeform optics."
The Rochester team, Rolland adds, represents a "good synergy" between the Department of Mechanical Engineering and the Institute of Optics. John Lambropoulos, chair of mechanical engineering, serves as CeFO's associate director. Miguel Alonso, James Fienup, and Nick Vamivakas of optics, and Stephen Burns, Jonathan Ellis, and Paul Funkenbusch of mechanical engineering are the other faculty members involved in supervising a total of 11 current projects.
Affiliates' membership dues are an important source of funding, giving the companies a major say as to which projects to pursue next. "Faculty generate many of the ideas, which the companies work with us to refine and then endorse as a high priority," Rolland says. "Many of our industry members are interested in large-volume manufacturing of freeform optics. We collaborate closely on getting there."
The funding and intellectual property are jointly shared by affiliates. In addition, companies can simultaneously pursue private projects with CeFO faculty. Members have engaged in partnerships among themselves as a result of relationships developed under CeFO. There are also pathways as a member to obtain first rights to an exclusive license, Rolland says.
"The program is also an opportunity for students and companies to 'size each other up' for potential longer-term relationships—including employment after graduation," Rolland adds.
Graduate students, working on projects in teams of two or three, update their industrial clients with monthly slide presentations. "They learn to meet deadlines," Rolland says. "They have to show they've done something every month. This is also a fantastic way for students to develop their presentation skills in addition to doing research and learning to publish papers."
Xu acknowledges that preparing the slides can be time consuming. However, she adds, "It's great to interact with people in industry. Their feedback is really helpful."
Working with CeFO "is sort of in between an internship and purely academic studies," Bauer adds. "It gives you a glimpse into the industry environment. You see what they would expect of an employee if you worked for one of these companies."
Category: Campus Life