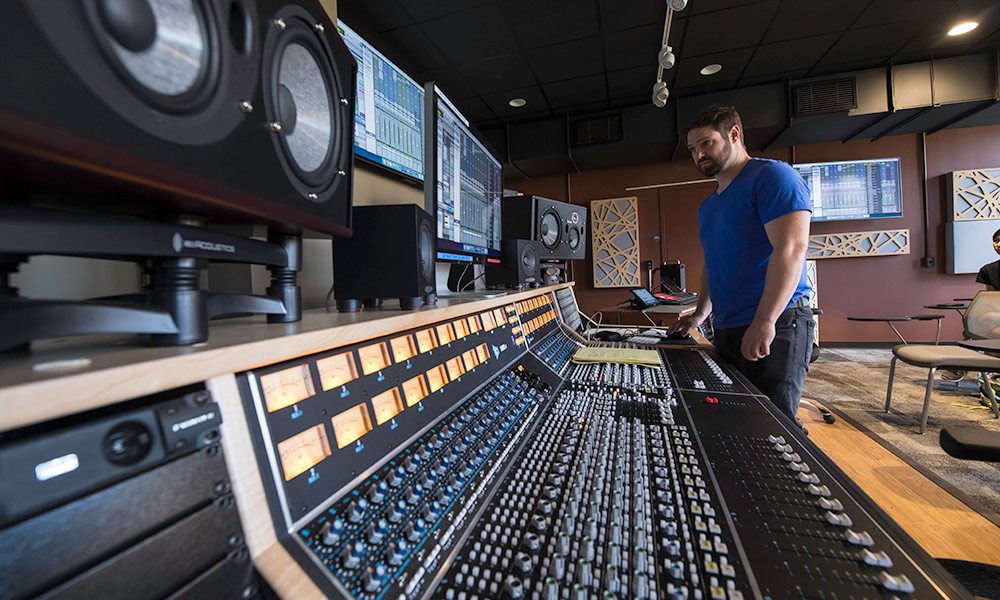 For a half hour Stephen Roessner shares with students the practical lessons he's learned about how to properly arrange microphones—in this case, in and around the Steinway baby grand piano in a brand-new recording studio at the University of Rochester.
The Grammy Award-winning recording engineer explains why the center rod of a microphone stand shouldn't touch the floor. (It will pick up vibrations from the piano.) How microphones inside the piano can be placed farther from where the hammers hit the strings. (It creates a warmer tone.) How to set up microphones away from the piano and aim them. (So they capture just the right amount of "room sound.")
And now he gives his audio and music engineering students some of the most important advice of all for recording a solo piano performance.
"Honestly, if you put your time into placing the microphones in the right spots, you really won't have to do that much [adjusting] during the mixing," Roessner says. On the other hand, if you don't put that effort into the recording part, he says, "don't think you can fix it later in the mix."
A rapidly changing field
The University's $3 million investment in a new state-of-the-art recording studio, control room, mixing rooms, and sound design lab is a major milestone for Rochester's audio and music engineering (AME) program, which is thriving in part because of the expertise that Roessner and other faculty members pass on to their students.
Launched six years ago, the program gives students the skills they need to enter—and keep up with—the rapidly changing field of audio and sound engineering. Those skills are needed not only in the recording, film, podcasting, and broadcast industries, but by any company that incorporates music and sound effects in its product line—for example, producers of consumer electronics (e.g. cell phones and smart speakers), home entertainment, and video games; manufacturers of professional audio equipment and musical instruments; and computer and Internet companies like Apple, Amazon, Facebook, Google, and Microsoft.
"The program has grown more than we ever anticipated," says Mark Bocko, chair of the Department of Electrical and Computer Engineering.
Eighty-three undergraduates are currently pursuing audio and music engineering as a major, with 22 expected to receive diplomas next spring. (Audio engineering concentrations are also pursued by master's and PhD students in electrical and computer engineering.)
Another 43 undergraduates, from a range of majors including computer science, economics and business, mechanical engineering, music, and linguistics, have chosen audio and music engineering as a minor. And students from multiple disciplines pursue it as a cluster.
Why the success?
The program offers students a major that allows them to pursue their passion for music and become engineers at the same time. Sanaa Finley '23 was so excited at the prospect, she "couldn't wait to call my mom and tell her" that she was changing her major to AME. Courses blend the "fun stuff"—recording and sound design—with "highly technical and rigorous" training in acoustics, electronics, digital signal processing, and software design: a combination that companies are looking for, Bocko says. Many of the program's 44 alumni are working at  companies like Apple, Bose, Dolby Laboratories, Harman and Microsoft, but also at startups like Magic Leap. The curriculum also puts an emphasis on hands-on projects that students can show to employers. Recent senior design projects, for example, have included a "novel electronic musical interface", a software program that digitally recreates the distortions of four-track cassette tape recorders for use as special effects, and a room that creates immersive sound with a 27-speaker array.
What graduates are saying
"The Audio and Music Engineering program was one of the best career decisions I made in my life. Not only does the program provide a well-rounded mix of creative and technical audio education, but each class provided me with the opportunity to apply the knowledge in an industry relevant project. This was a rocket launchpad for my career and I strongly recommend this program to any student interested in creating the future of sound."
—Kedar Shashidhar '16 (BS), audio applications software engineer at Magic Leap
"The AME program at University of Rochester equipped me with the necessary skills and hands-on experience I needed to achieve my goals and grow as an audio engineer.  The program is quite flexible and offers diverse courses so I was able to better understand which audio career path would be best for me. The AME faculty go above and beyond to ensure every student's success. I highly recommend it to every aspiring audio engineer."
—Arani Sahana '16 (MS), acoustic test engineer at Amazon
"I didn't realize how well the AME program had prepared me until I started actually working in the audio industry. I felt at the top of my game from the first day. This program helped me turn my passion into a career, and I had a massive amount of fun along the way. AME is not just a class, but a family of people who love audio and the science behind it. I couldn't be prouder to be a graduate."
—Daniel Kannen '17 (BS), broadcast engineer at Dolby Laboratories
The theory and the practice
The seven faculty members who work most closely with the students are well equipped to give them both a theoretical foundation and practical skills.
Bocko and assistant professor Zhiyao Duan are the research faculty. Bocko, who plays bass on the side, studies spatial audio, alternative loudspeaker technologies, and musical acoustics. Duan, who sings tenor, received a prestigious NSF CAREER award earlier this year. He is an expert in computer audition, music information retrieval, multimedia, and AR/VR. Duan is teaching a course on computer audition this fall.
Ming-Lun Lee, an assistant professor (instructional track), has been with the program since it started. He has degrees in both electrical engineering and musicology/music theory, and is an expert in audio programming and spatial audio recording. Lee has recorded more than 40 concerts with 3D audio microphones and 3D/360 VR cameras at the Eastman School of Music. He is also a choral director and baritone. This fall he's teaching courses on the evolution of sound recording and on audio software design.
Michael Heilemann and Sarah Rose Smith, who were both recently appointed assistant professors (instructional track), received their PhDs at Rochester. Heilemann, an expert in audio acoustics and signal processing, is teaching an audio digital signal processing portfolio class and a senior design class this fall. Smith, whose research explores the reverberation of audio signals as they are reflected and absorbed within spaces, is teaching an introduction to audio and music engineering course and an acoustics portfolio class.
The two senior lecturers—Roessner, who is completing his PhD, and Rob LaVaque, a two-time NY Emmy award winning musician and audio engineer—bring a wealth of professional experience to the classes they teach on recording and audio production, and on sound design, audio for gaming, and audio for visual media, respectively.
Roessner has operated his own recording studio for nearly 20 years. He received his Grammy in 2010 as the recording engineer/mixer on Messiaen: Livre Du Saint-Sacrement. LaVaque, who runs his own company, Gravity Pool, created the audio and music for well-received University of Rochester Medical Center Super Bowl ads. Roessner and LaVaque are both accomplished musicians who have toured professionally.
In their classes they stress that sound design and recording are as much art as science. And they emphasize the best practices they've learned as professionals—be it placement of a microphone or time management —that will serve their students well in the workplace.
"If you've ever worked in audio before, you know exactly what he [Roessner] is saying, and then you can start relating to him, and at that point you really learn from him because you know you are on the same page with him," explained Alin Kenworthy '18 while taking Roessner's class on the art and technology of recording.
"He constantly gives anecdotes about how all of this is applied in a real studio."
Kenworthy is now an associate audio systems engineer at Magic Leap.
Other AME students go on to graduate school. Wells Award winner Yiting Zhang '19 says the AME major was a "perfect fit" for her because of her interests in both engineering and music. She's played piano since age 7 and enjoys singing.
In addition to her classwork, she spent a summer as a research fellow in Duan's lab, working on a system that retrieves sounds in a sound library by using vocal imitation. She continued working on the project into her senior year.
She's now pursuing a master's of music technology degree at the Georgia Institute of Technology.
A 'signature' program
This all began because Bocko wanted to create a "signature program" that would leverage Rochester's strengths in music and engineering. In 1995, he participated in the University's Bridging Fellowship program, which allows faculty members to spend a semester as a student in a different part of the University. Bocko chose the renowned Eastman School of Music, where he studied music theory with Professor Dave Headlam.
Over the years, the two became excited about the possibilities of offering digital audio and music engineering as that "signature program."
"The beautiful thing about audio and music engineering is that the students who show up to study it are passionate about the subject matter," Bocko says.  "I've been teaching electrical engineering for 35 years, and I've never seen an electrical engineering student get as excited about an oscilloscope as an audio student does about a state-of-the-art mixing console."
Category: Campus Life