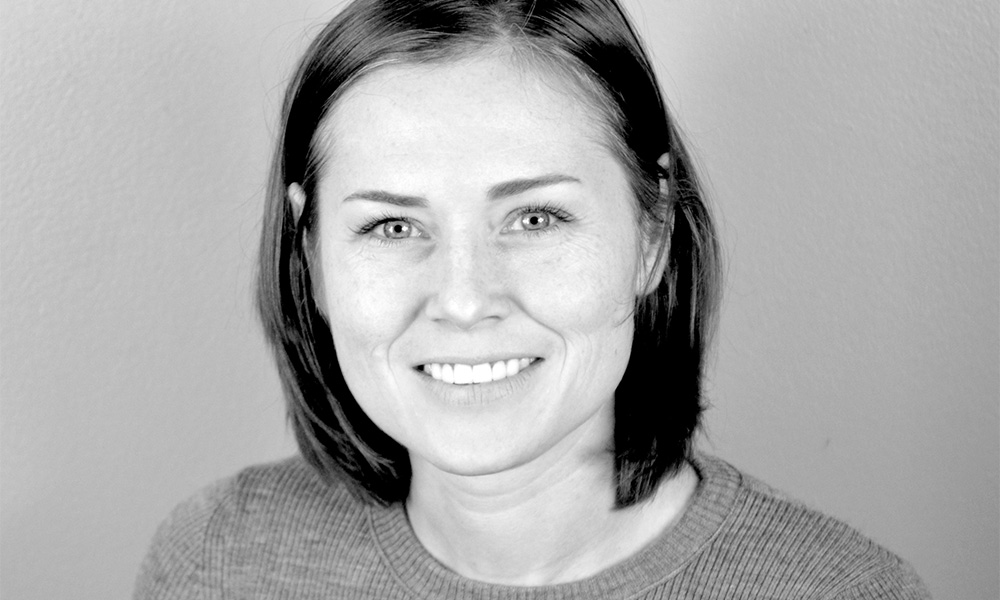 Marian Crotty has been publishing short fiction—and winning several awards in the process—for more than a decade. An assistant professor of writing at Loyola University Maryland and an assistant editor at the literary magazine The Common, Crotty has now released her first book.
Full of heartache and hope, the collection of short stories touches on themes of class, sexuality, and gender, while highlighting the universal need for human connection.
Crotty is the winner of the University of Rochester's 2018 Janet Heidinger Kafka Prize for her work What Counts as Love (University of Iowa Press, 2017).
"It's an amazing bookshelf of authors who've won, like Ann Patchett, Jessamyn West, Toni Morrison, and Mia Alvar," says Crotty. "I was very surprised and very happy."
Janet Heidinger Kafka Prize
The award ceremony and author reading will take place on Thursday, March 28, at 6 p.m. in the Welles-Brown Room in Rush Rhees Library. The event will be followed by an hors d'oeuvres reception and book signing, with copies of What Counts as Love available for purchase.
Awarded annually by the University of Rochester's Susan B. Anthony Institute for Gender, Sexuality, and Women's Studies, and the Department of English, the prize recognizes American women who are launching promising writing careers. It was created in 1976 to honor its namesake, a young editor who was killed in a car accident just as her career was blossoming.
What Counts as Love—also the winner of the 2017 John Simmons Short Fiction Award and a semi-finalist for the 2018 PEN America Literary Awards—carries nine unique tales centered on mostly young women. In the title story, a young woman begins a job on a construction site after leaving an abusive marriage. Two 11-year-old girls spy on a neighbor's sex life in "Crazy for You," as they both explore their own sexuality. In "A New Life," a mother's grief after her infant's death leads her to reconsider her marriage and understand her husband in a new light.
Crotty's book was selected by the prize committee, made up of University of Rochester faculty members Paloma Barhaugh-Bordas, an assistant professor of art, and Katherine Mannheimer, an associate professor of English, as well as English teacher Evelina "Evvy" Fanning from Pittsford Sutherland High School. Mannheimer says Crotty places women's narratives in the foreground in a complicated and interesting way.
"You get the sense that these characters are living in a world that is less visible, either because they come from disadvantaged backgrounds or they're not living in major cities," says Mannheimer. "They're dealing with different sets of hardships that are keeping them back in some way, whether it's abuse or drug addiction or an eating disorder. It sheds a light on other perspectives you may not otherwise hear."
Crotty has published several short essays, such as "Love at a Distance" and "It's New Year's Eve, and This is Dubai." A recipient of a Fulbright research grant, she lives in Baltimore, Maryland, and is currently working on a novel.
Eight out of nine of the stories in this collection are focused on female characters. What inspired you to make this choice?
I was really just writing about what was going on with people I knew. The only feminist choice I made was to revisit the pressure to write about men. I think men don't really have the pressure to write about women, but women are pressured to believe that male stories are more interesting or more important. I was trying to resist that.
In this collection, you touch on many topics that concern gender, from sexual assault to eating disorders. Were you hoping to reach young women with these stories?
Of course. If people see themselves represented in the book and want to read it, that's great. But I hope men are curious about the inner lives of women. Women's lives are just as complicated as men's, but I think women are often taught from a young age to censor themselves and to think of how they're perceived by other people, and because of that there's often a lot going on in women's inner worlds that's often not acted upon, or said out loud. I wanted to try to show some of that in fiction, and I was trying to show that these people's lives and these people's stories were worth telling.
The one male narrator of  "The House Always Wins" is very different from the other eight, in that he is outwardly polite while dealing with aggressive thoughts. How did you come to create this complex character?
Most of these stories start with a story or situation, and that one started with the news of these fires that destroyed several mansions. It was devastating in part because the houses were so big. I was trying to write about that area, and I was trying to imagine someone who would have felt out of place even before these weird things started happening. The character is someone surrounded by what he sees as greed and entitlement, but then also sees that same entitlement in himself and his sexuality, and he's disturbed by it. I see people's love of money and need to get money sometimes as the same type of entitlement and aggression that people have in their relationships. He was scared of what he was capable of.
Many of the protagonists come from a low socioeconomic background. Why the focus on class?
I often think about class and money because it dictates, for many people, either what is possible or what seems possible—or what they feel obligated to do, what they feel entitled to do. I also think class is complicated, and it doesn't coincide just with what you have. It also coincides with education, possibility, and knowledge you've inherited from your family, so I think it's complicated. But each of these stories came out of situations, or people, or circumstances that were interesting to me.
You have a long history of writing essays and short stories, several of which focus on young women and stressors in their relationships. What was your creative process in putting these many pieces together for this collection?
The advice that I've gotten from other people is to look for both the differences and commonalities. I think the commonality piece is actually a lot easier than making sure they're different enough. All the stories come from you and your subconscious, and the ideas and experiences and imagination that's available to you. So I think it's highly unusual that someone would write twelve stories and nine of them aren't clearly connected in some way. That part was easier for me. The harder part was making sure that the stories felt different and weren't covering the same ground.
 Are you already working on something else? What's next?
I'm working on one new story I want to write, and one story that I'm mostly done with, and then some essays. Once I do that, I'm going to go back to a novel that I'm working on. It's been exciting to work on a longer project, so we'll see what happens.
Category: The Arts