Matthew Mann
Matthew Mann's Latest Posts
Members of the University of Rochester community lend their voices to the words of Dr. Martin Luther King Jr., reflecting the power of his message more than fifty years after his death.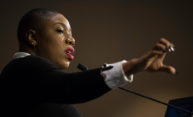 During this year's Martin Luther King Jr. Day Commemorative Address, political commentator Symone Sanders focused on Dr. King's work after the civil rights movement of 1965, and emphasized his lifelong mission of challenging the status quo. "For young people particularly on college campuses," she said, "I like to remind them that you are some of the most powerful people in the world."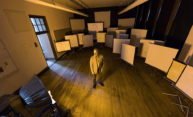 It has not been used as a high school for years, but the empty, Victorian-era building in Medina, New York, recently hosted a collaborative art project inspired by the fleetingness and permanence of memory.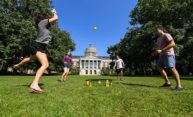 From left, Amanda Cabal '18 (T5), Suzie Ziegler '19, Brian Schonfeld '19 and Sam Rusoff '19 take a break on a warm fall day to enjoy a game of spikeball on Eastman quadrangle. (University of Rochester photo / J. Adam Fenster)
WATCH: What is Spikeball?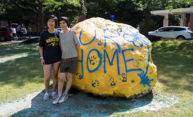 Christina Kersten '21, left, and her mother, Jie, pose for a photo at the painted rock at Susan B. Anthony Hall. Students from the incoming Class of 2021 arrived on both River Campus and the Eastman School of Music. "It's new and exciting, and fresh," orientation director Eleanor Oi said of Move-In Day. "It's a new beginning for everyone."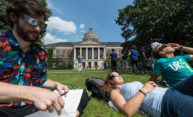 From Eastman Quad to the Engineering Quad, River Campus was filled with people, eclipse glasses in hand, to view the moon passing across the face of the sun, offering views of a partial eclipse. Despite some passing clouds, the show didn't disappoint.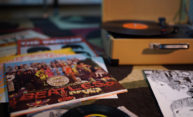 "Ironically, an album that might not strictly speaking have been a concept album ended up being the most influential concept album in the history of rock music," says John Covach, professor of music and director of the University's Institute for Popular Music.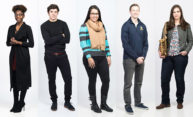 Meet five members of the graduating class who are ready to make their communities—and our world—ever better.
From viral buzzer beaters to student musicians performing on mountaintops, from 90-million-year-old bird fossils to 150-year-old archival collections coming to life. Rochester cameras captured it all in 2016.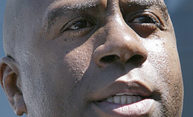 LaRon Nelson, assistant professor of nursing and associate director of international research at the University's Center for AIDS Research, discusses how Johnson's announcement changed public perceptions and how far have we come since then in addressing the HIV/AIDS public health crisis.