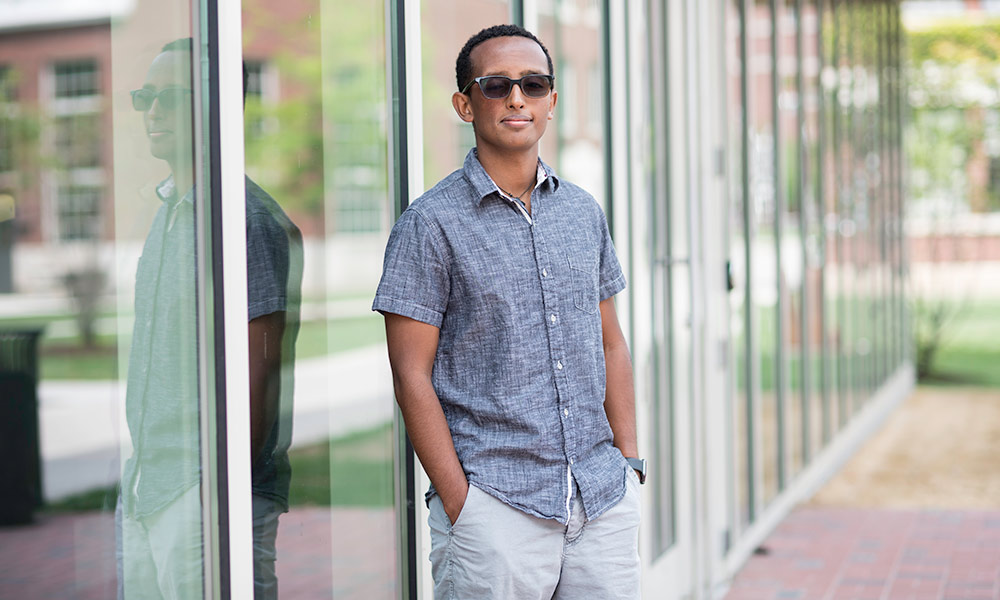 Befikadu Mekonnen '22 is 7,000 miles from home and hasn't seen his family in two years. But the Ethiopia native feels at peace at the University of Rochester, where he'll begin classes next week as a biomedical engineering major.
"I believe fate brought me here," he says. "This is literally the place that saved my life."
---
Befikadu Mekonnen was in his first year of high school in 2013 when he began experiencing constant headaches, throbbing in his right eye, and swelling in his face.
"Eventually, I couldn't breathe through my right nostril," he says. "I couldn't sleep."
His anxious parents took him to five hospitals in Ethiopia, but doctors couldn't diagnose the problem. One doctor told him " 'We'll take out your eye and do some tests'," Mekonnen recalls. "My dad was like 'No, you're not going to do that.'''
Then they were referred to Rick Hodes '82M (MD), an American doctor who serves as medical director of the American Jewish Joint Distribution Committee. Hodes first visited Ethiopia as a relief worker during the 1984 famine, returned on a Fulbright Fellowship to teach internal medicine, and in 1990 was hired by the Joint Distribution Committee as medical adviser for the country. He's been there ever since.
"Here's this man who has saved thousands of lives in Ethiopia," Mekonnen says, "and he looks at me and says, 'We will find out what's wrong with you.'''
Hodes discovered a mass behind Mekonnen's right eye and was concerned he had a fatal disease. He sent a biopsy to the University of Rochester Medical Center, where years before he had forged an altruistic relationship with Daniel Ryan, the chair of the Department of Pathology & Laboratory Medicine.
"I introduced myself and explained that I needed free analysis of path specimens from some of the poorest people on the planet," Hodes says. "He agreed, and since then, I've sent over 100 specimens." The work has saved lives.
Medical Center pathologists diagnosed Mekonnen with an aggressive form of cancer called embryonal rhabdomyosarcoma of the orbit. He underwent chemotherapy in Ethiopia, then moved to Michigan for several months of radiation therapy, staying with a host family until his treatment was completed. He lost vision in his right eye, but his cancer went into remission.
Mekonnen returned to Ethiopia and was living with his aunt, 60 miles from home, to complete his chemotherapy treatments. One day, his aunt asked him to leave immediately because she was getting married.
Hodes, who has adopted five former Ethiopian patients, asked Mekonnen to live with him, and the teenager began doing volunteer work for the doctor. He traveled with a heart patient to India, and two years ago he accompanied another one of Hodes's cancer patients to Camp Good Days and Special Times, a residential summer camp in Rochester for children, adults, and families whose lives have been touched by cancer. Mekonnen's host mother was Lynn Farash, a Rochester woman whose family has funded Hodes's work in Ethiopia through the Farash Foundation. She first met Mekonnen while visiting Ethiopia and says, "Something stuck out about him immediately. He's a terrific person. I'm in awe of him, really."
Mekonnen told Farash about his desire to study in the United States, and she offered to take him in and enroll him at the Harley School, a college preparatory school in Rochester.
During his two years there, he twice interned at the Medical Center's Department of Pathology & Laboratory Medicine, the place where his cancer was diagnosed.
"That experience made me feel very connected to the University," he says. "If it weren't for that lab, nobody would have known I even had cancer. I knew I wanted to go here for school."
Hodes says Mekonnen exemplifies courage and resilience.
"Not many kids have survived a potentially deadly cancer, traveled thousands of miles for treatment, survived, and actually used the experience to grow from," he says. "Bef has a really positive attitude and never complains. He just rolls with the punches and keeps going."
Mekonnen plans to join the University's club soccer team and student organizations focused on volunteer work. He enjoys listening to music, reading, and trying "great food from all over the world" at local restaurants. Because of a poor internet connection in his family's home, he doesn't get a chance to communicate much with his parents and three siblings and misses them greatly.
But he feels blessed, despite the obstacles life has thrown him. He's a volunteer counselor at Camp Good Days and Special Times and remains passionate about helping others.
"Although I lost vision in my eye, I've seen a lot through my journey over the past five years," he says. "I was lucky to find Dr. Hodes, and my life was saved because a lot of generous people worked to help me. A lot of kids don't get that chance."
Mekonnen plans to enroll in medical school after college and hopes to one day return to Ethiopia to help improve medical care there.
"There are many doctors in the US, but not so many in Ethiopia," he says. "And there are more people who actually need help there than in America. I want to help others like I was helped. I want to be like Dr. Hodes."
Hodes would like nothing better.
"I hope he does great in college, goes on to medical school, and comes back to Ethiopia to take my place," he says.
Category: Campus Life