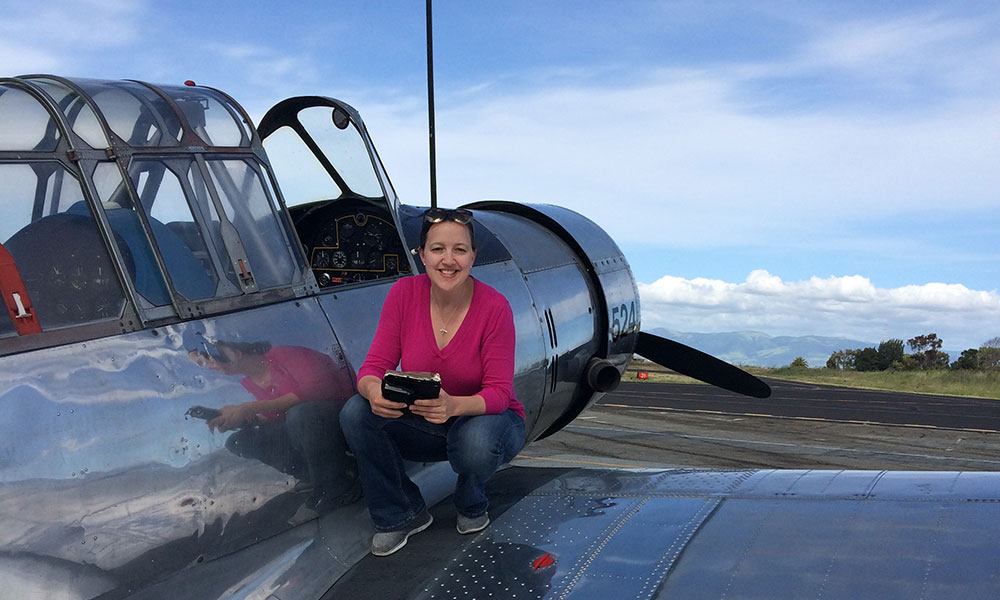 by Robin L. Flanigan
Tiffany Miller '00 knows what her late grandmother, the matriarch of the family, wanted done with her ashes. Elaine Danforth Harmon had clearly spelled out her wishes on a handwritten note found in a fireproof box after her death in April 2015: she wanted them placed at Arlington National Cemetery.
A year later, Miller and her family continue to fight to have that request granted for her maternal grandmother, who'd been a member of the WASPs (Women Airforce Service Pilots) during World War II. At the time of Harmon's death, Miller's family was unaware that only a month before, the Army, which has jurisdiction over the cemetery, had ruled WASPs ineligible for inurnment at Arlington.
To Miller, it was the latest in a history of slights against the 1,074 women pilots who transported military planes, towed targets for live ammunition training, and trained male pilots to fly.
"My grandmother used to say that the WASPs were forgotten about for 30 years, and that has stuck with me," says Miller.
During and after the war, WASPs were considered civilians. In 1977, President Jimmy Carter signed a law granting WASPs military veteran status in the first public recognition of the pilots since the end of World War II. In 2002, a military directive made WASPs eligible for inurnment at Arlington with military honors.
But Miller's efforts are paying off, with political support and public opinion overwhelmingly on the side of the WASPs. On March 22, the U.S. House of Representatives passed the Women Airforce Service Pilot Arlington Inurnment Restoration Act, which directs the Army to ensure that the cremated remains of WASPs are eligible for inurnment in Arlington National Cemetery with full military honors. It passed 385-0.
"It's just totally incredible and unexpected," says Miller, who lives in the San Francisco Bay area and has been working toward such a result with her older sister, Erin, a lawyer, and younger sister, Whitney, a former lobbyist.
A similar bill moved quickly through the Senate, and on May 20, President Barack Obama signed the bill into law.
For Miller, the battle to move her grandmother's ashes from her mother's bedroom closet to the nation's most hallowed ground is meaningful on multiple levels. A women's studies major at Rochester, she was also president of the Women's Caucus (now called College Feminists). During her tenure, she organized a panel discussion about women and war, in which her grandmother—and her mother, who worked for the American Red Cross in Vietnam—participated. She says WASPs are still all but unknown. "People know about the Tuskegee Airmen because of Steven Spielberg, but not many people know about the WASPs," she says. "When I tell people about them, they say, 'Really? Women flew in the war?' "
Learn more about services of veteran students and employees at the University >>
To change that, Miller, with a background in project management, gives media interviews, attends press conferences, checks comments posted on her petition, and scours the Internet every day for the latest news stories about the legislation, introduced by Rep. Martha McSally of Arizona, the Air Force's first female fighter pilot to fly in combat.
Miller's sister, Erin Miller, says Tiffany has always been "very tenacious."
"She's always been the kind of person who sees something that's wrong and then immediately wants to do anything she can to make it right."
Tiffany Miller is as firmly dedicated to women's equality as she was in college. "She's always sending [Whitney and me] New York Times articles about the injustices in the world, especially when it comes to women's issues," Erin adds. "That's always something that's at the front of her mind."
Tiffany is especially proud of the Congressional Gold Medal that Harmon received from President Barack Obama in 2009. Shortly after returning from the White House, Harmon donated the medal to the College Park Aviation Museum in Maryland, where she lived.
"It wasn't about her," Miller says. "She wanted people to know who the WASPs were, that they did something for this country."
Even more reason to get closure for herself, her family, and her grandmother, who died at 95 and was inducted into the Maryland Women's Hall of Fame on April 7.
"There's just no way it would be satisfying for anybody in my family to have a funeral somewhere else," she says. "We'd feel as if we let her down, that we'd let the WASPs down. Knowing my grandmother, she wouldn't have taken no for an answer. We have to make this happen."
Category: Society & Culture