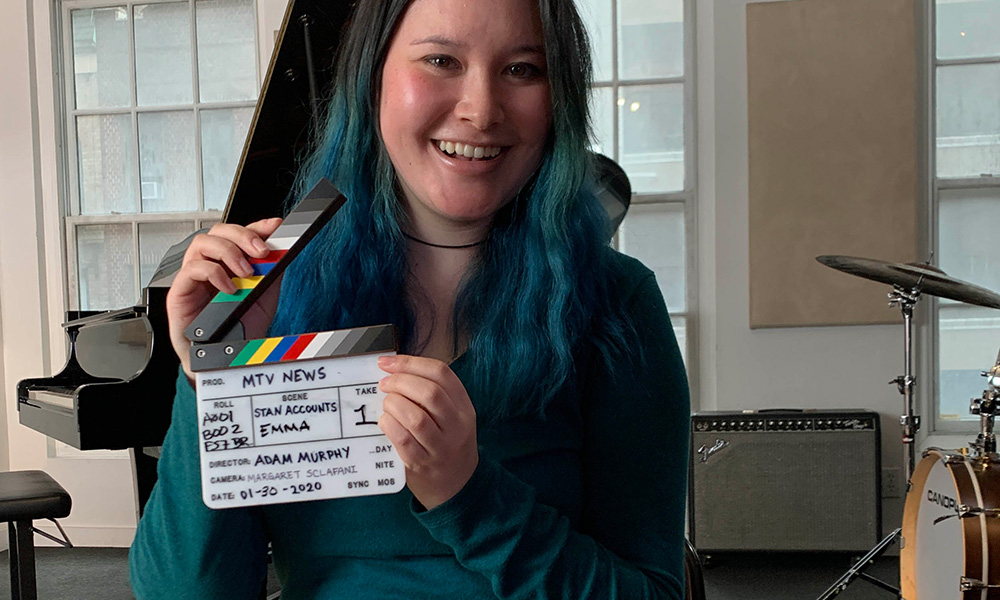 A classically trained Rochester graduate becomes an internet sensation by sharing her musical expertise and interest with fans of the worldwide pop music genre.
Emma Chang '20 is a YouTube star.
The channel she created—ReacttotheK, named for the way classical musicians react to the music of K-pop—has grown to more than half a million subscribers and more than 250 million views since she launched it in 2016.
A native of Southern California, Chang enrolled at the University of Rochester to major in French horn performance at the Eastman School of Music, but as her YouTube channel grew, she switched majors to digital media studies at the School of Arts & Sciences.
She got the attention of viewers who were captivated by the reactions of classical music students as they listened to K-pop songs—presumably for the first time. K-pop, a propulsive genre of music that's swirled with choreography, fashion, and multilingual lyrics, started in South Korea but draws on influences from music around the world.
Entertainment news giant MTV approached Emma to highlight ReacttotheK in a premiere episode of the Facebook live show "Stan Accounts," where the music channel documents the world of fandom. Chang's episode was release on MTV's Facebook account in October 2020, but was produced early in the year, before the COVID-19 pandemic triggered safety and distance protocols across the country.
For those who are first time K-pop listeners, have you ever made a list of top songs or groups they should start with?
It always varies person-to-person. I don't think just showing, "Here are 10 songs you need to listen to, if you don't know K-pop," because those 10 songs may not be your cup of tea. There are probably 100 others that I didn't put on the list that you would love.  If someone is just getting into K-pop and they come to me, and ask for suggestions, I ask them, "What music do you usually listen to, what are your music pet peeves, and what do you stereotype K-pop as?"
I know one of the more popular stereotypes towards K-pop is that they are all skinny idols who all look and sound the same. If they're saying that about "cutesy girl groups," I'd send them music from the girl group, MAMAMOO. They are four unique and distinct women, who release very badass and confident music. They are strong vocalists, who are on par with someone on the west coast like Beyoncé. I like to gear sending artists to people depending on what their tastes are.
You motivate nonmusicians to pick up instruments for the first time or learn music theory. How do you inspire classical musicians?
It helps them with active listening and active analysis. Instead of spending free time watching a television show, I have them practicing and commenting on my channel. Students at Eastman who were learning about pop music and pop music theory would ace the exams. Even just last weekend, I showed a newer react pair, who are sophomores at Eastman, the song "Daisy" by Pentagon. It has an example of what we call modal mixture and they were just learning about modal mixture in music theory. It can be difficult to hear modal mixture in classical music, because the textures are so thick and there are so many lines going on at the same time, but since pop music is a thinner and a little bit more in your face, they recognized the modal mixture immediately and ran over to the piano and started playing examples.
Not only am I inspiring the classical musicians on my channel to practice music theory outside of their usual study periods, but I believe I am widening their minds to the world of pop as well. There are many classical musicians who look down on the pop world with thoughts of it being "boring", "predictable" and "simple." So to those who aren't part of my channel already, I hope to expand their musical horizons through showing them a wider variety of songs that display more depth and unique musical choices.
Are you still performing as a French horn player?
Yes, I'm still keeping my chops up and that is another back up. I don't necessarily see it being my main job, since being a YouTuber and being able to spread music in this way to thousands of people so immediately has become my new goal and my new love. I spent so much of my life working on mastering the French horn, it will definitely be casual playing, or gigs every once in a while. It's switched around and sort of become my hobby.
You're Internet famous, but are there things people might not know about you?
It's so interesting about being a Youtuber because you try to put so much of yourself on the internet, so people don't jump to assumptions. I try to reveal information about myself that's important, that the audience knows—that I work maybe about 12 hours every single day on this content and that I'm very, very committed to making as much of a perfect video that I can for them. I guess something that I haven't revealed to them is how much of a perfectionist I am. I don't want to let people down. I learned through this channel how much of a people pleaser I am and that I really want to try to live up to the expectations of our viewers. But while I'm trying to please all of them, I realize I can't.
I would like fans to know that I really am trying to put out content they will enjoy, but I'm learning that this is my content, my art, but I'm releasing stuff that I feel proud of and I enjoy making.
Category: Campus Life