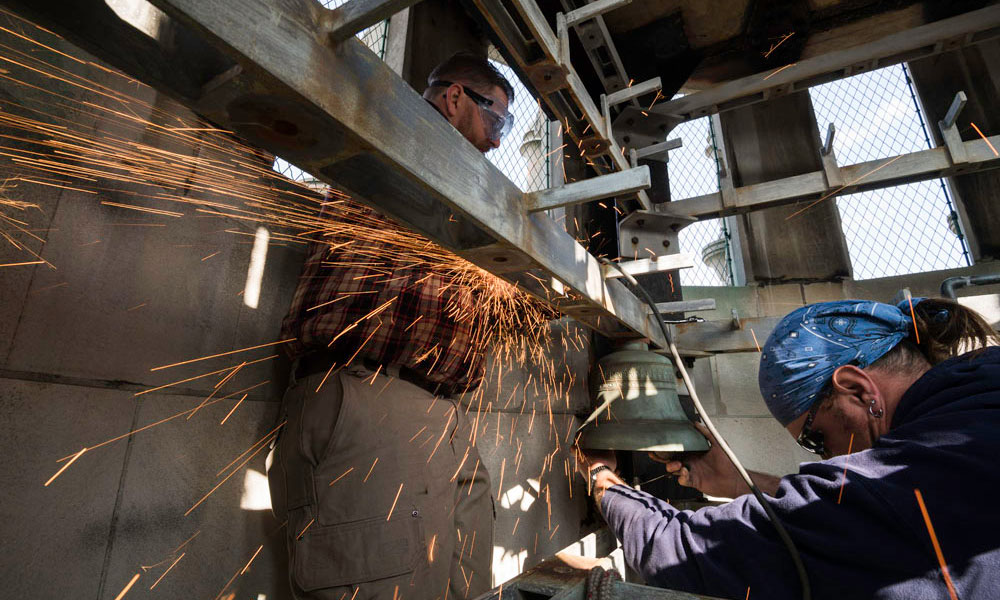 The bells in tower of Rush Rhees Library will be silent for the next few weeks, while parts of the Hopeman Memorial Carillon are under restoration. "The restoration will improve the sound and play of the instrument, extending its life and use for years to come," says Jimmy Warlick, who coordinated the project with Ohio-based foundry Meeks, Watson & Co. The company worked on 18 of the largest bells onsite while thirty-two of the carillon's smallest bells were removed and transported off site to the foundry's workshop for restorations.

Listen to The Genesee played on the carillon bells.
The 50-bell carillon was cast in Europe, at the Royal Eijsbouts bell foundry in the Netherlands. They were installed and dedicated in November 1973. The instrument is one of only seven carillons in New York State and it's played regularly by students of the Carillon Society. Throughout the year, the sounds of the carillon can be heard on campus as the traditional melody known as "Westminster Quarters" marks every quarter hour. Student performers also perform classic and modern compositions for campus events, holidays, and special impromptu concerts. In addition, the University hosts an annual summer carillon series that brings internationally acclaimed performers to Rochester.
Honey Meconi, chair of the Department of Music, says the carillon program is booming thanks to Doris Aman, director of carillon activities. "Although we are sad that the carillon is silent for now, we're very pleased that the bells are being restored," says Meconi. "Rochester weather is tough on the carillon, and a refurbished instrument is a must for safety purposes." Recently, the Hopeman Carillon Fund was established to cover the cost of maintenance and renovation to the carillon. "We have many student performers and loyal alumni and alumnae who are eager for the return of the bells," Meconi says.
The bells should back in time for planned concerts during Meliora Weekend. "Our carillon team is already preparing" says Aman. "We will begin weekly informal rings as soon as the bells are functional."
In Photos
(University photos/J. Adam Fenster)
Category: The Arts