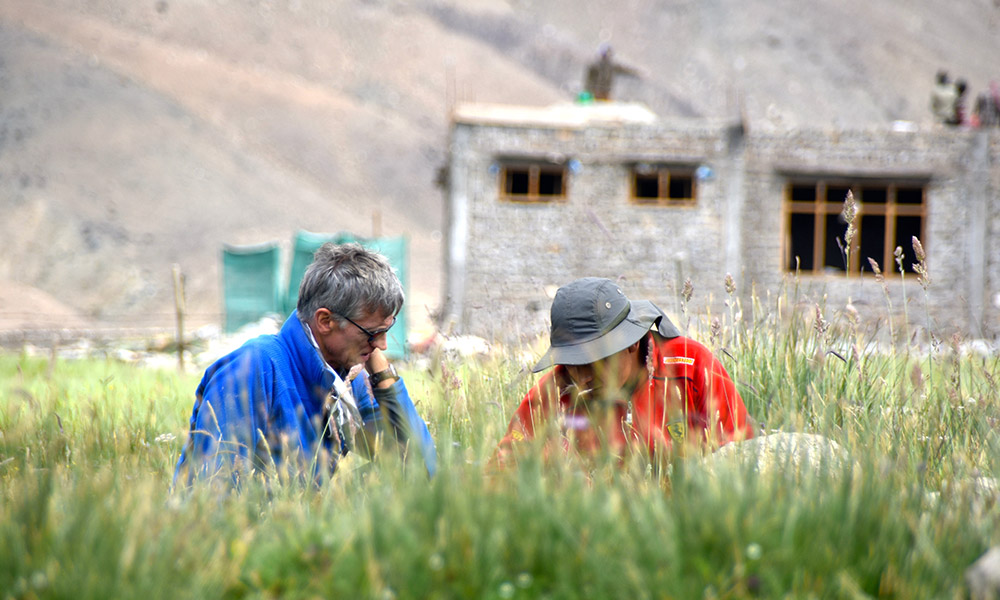 "On August 5, 2010, a violent cloudburst dumped fourteen inches of rain on Ladakh, a mountain region in the far north of India accustomed to getting just three inches of rain in a year. In the principal town of Leh especially, the results were catastrophic: 255 people killed, over 800 injured, and thousands left homeless.

Five years later, flooding recurred on a wider scale, destroying buildings, roads, fields, and orchards all over Ladakh and provoking a wide-ranging discussion among locals about changing weather patterns and the causes of climate catastrophe.

For even as it suffers from too much water, Ladakh also suffers from too little. Declining snow fall and glacial recession have diminished its water reserves and created unprecedented conditions of agricultural scarcity."
So writes Stewart Weaver, a professor of history at the University of Rochester, describing the devastation of an Indian mountain region that he and a team have observed for the past two summers. Now, Weaver has been selected as a 2019 Andrew Carnegie Fellow to continue work on the project "Climate Witness: Voices from Ladakh"—an effort to preserve the rich culture and history of the locale and its people before it's too late.
More about "Climate Witness: Voices from Ladakh"
The Carnegie Fellowship, among the most prestigious awards in the social sciences and humanities, provides up to $200,000 in support for research toward "the publication of a book or major study that offers a fresh perspective on a pressing challenge of our time," according to the Carnegie Corporation's website. Weaver's was one of 32 successful nominations out of nearly 300.
Laura Smoller, a professor of history and chair of the department at Rochester, says Weaver has long excelled in fostering "informed engagement with the pressing issues of the day, whether they be labor reform and the problems of industrialization in 19th- and early 20th-century Britain, or the challenges of climate change in our own era. The Carnegie Fellowship is a fitting next step and a recognition of the true distinction he has achieved as a historian."
Gloria Culver, dean of the School of Arts & Sciences, describes Weaver's project and work as "broad sweeping, incredibly timely, and relevant. The Carnegie Fellowship recognition is a strong indication of the project's significance with potential findings that could provide support for a region under duress."
Mountain environments are particularly susceptible to climate change, placing Ladakh—which translates roughly to "land of high passes"—on the front lines of global warming. "Looking closely at Ladakh," Weaver says, "allows us to draw larger conclusions about the challenges of climate change at high altitude, and the ways in which mountain communities are both struggling with and successfully adapting to them."
An ongoing research collaboration between the University of Rochester, the Himalayan Cultural Heritage Foundation, and the Central Institute for Buddhist Studies in Leh, the Climate Witness project has taken several Rochester students to the region, along with Weaver and his wife and project partner Tatyana Bakhmetyeva, an associate professor of history and gender, sexuality, and women's studies at Rochester, and anthropologist Nancy Chin, an associate professor of public health sciences who has been conducting field research in Ladakh for many years. Over the course of two summers, the team has collected and recorded a wide array of Ladakhi testimonies about the struggle and resilience in this high trans-Himalayan land.
Their challenges are urgent. As Weaver writes, "The Himalaya is the Water Tower of Asia. The snow fields and glaciers on which 700 million people depend for their water are melting fast and calling the sustainability of life in the entire Himalayan watershed into very real question. Out-migration is imminent, and in Ladakh it has begun."
In Ladakh, many local men, unable to support their families in the villages any longer, have already begun migrating to Leh to work in the bourgeoning tourist and service industries. In many ways, Weaver notes, the region is an example of global trends in the age of climate change: weather disturbances, water scarcity, out-migration from rural communities, and the consequent erosion of traditional village life. But it is all happening much faster there, warns Weaver, rendering the collection of oral histories so urgent.
Hearing from local voices may be especially important in the context of climate change. Weaver argues that too many Western scholars still indulge "the romantic tendency to see the trans-Himalaya as an isolated realm away, apart, and above the world at large."
But while today's pace of global warming is unprecedented, Ladakhis have always had to meet the challenges of a harsh environment and develop strategies of resilience and adaptation, he notes. Now Weaver is hoping to be able to "recover some of these adaptive strategies and bring local knowledge to bear on the greatest global challenge of our time."
Category: Science & Technology