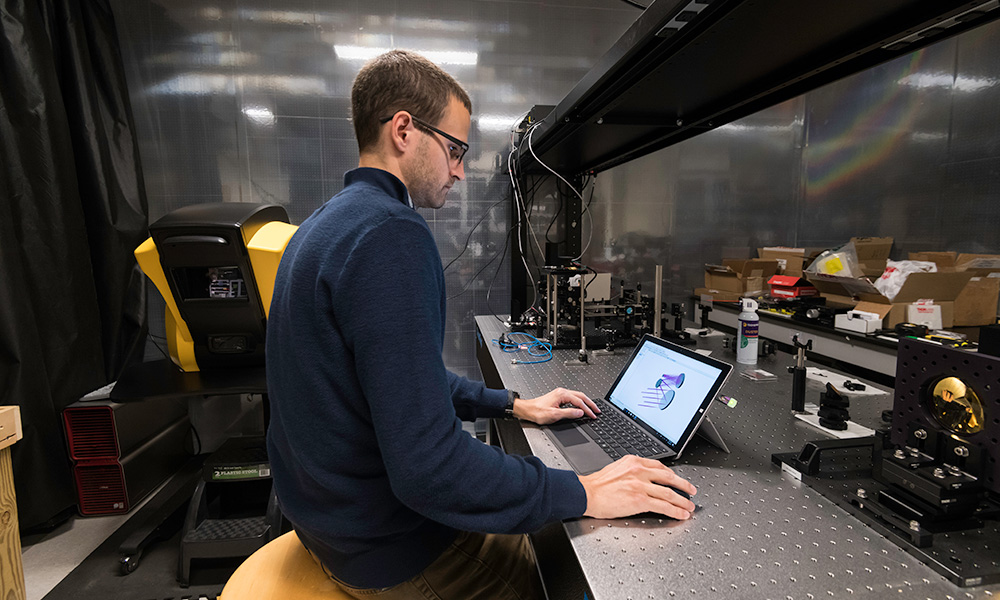 Eventually Aaron Bauer '16 (PhD) would like to strike out on his own as a design consultant to optical companies.
But for now, the University of Rochester senior research engineer is exactly where he wants to be: With the Center for Freeform Optics (CeFO).
CeFO, which was recently awarded a second five years of funding from the National Science Foundation, is a collaboration between Rochester, the University of North Carolina at Charlotte, and 17 companies and research institutes. The goal is to advance the use of lenses and mirrors with freeform surfaces to create optical devices that are lighter, more compact, and more effective than ever before. Applications include 3-D imaging and visualization, augmented and virtual reality, infrared and military optical systems, efficient automotive and LED lighting, energy research, remote sensing, semiconductor manufacturing and inspection, and medical and assistive technologies.
This is a newly emerging technology, and Bauer is grateful to be in on the ground floor.
Bauer is principal designer of a compact telescope that CeFO is creating using three freeform mirrors that are up to 260 mm in diameter. For the last two years he's worked closely with Nick Horvath, a PhD student in mechanical engineering at UNC Charlotte, who is developing the opto-mechanical design and researching methods that will be used to create a prototype of the freeform telescope.
Getting the mechanical and optical features just right has involved some tradeoffs. "I think initially the system we designed for them was too sensitive in terms of what is feasible at their end," Bauer says. So, the design team made some adjustments to the optical elements, but also "worked with (UNC Charlotte) to think of a different route in terms of assembly."
Horvath and Bauer have worked closely to understand the tradeoffs between the performance of the system, the accuracy of the mirrors and the telescope assembly, and the costs to fabricate and test the system. Horvath is developing methods for fabrication of the complex mirror shapes and has also worked closely with Bauer to develop a novel telescope assembly system.  The goal of the system is a repeatable assembly procedure that minimizes the amount of costly fine-tuning that must be done to realize the desired performance goals.
The Center for Freeform Optics is a collaboration between Rochester, the University of North Carolina at Charlotte, and 17 companies and research institutes:
Air Force Research Laboratory
Aperture Optical Sciences
Ball Aerospace and Technologies
Corning
Google
LightPath
Nikon
Facebook Reality Labs
OptiPro
Opto-Alignment Technology
PerkinElmer
PocoGraphite
PolymerPlus
Synopsys
Thales
UTC Aerospace Systems
Zeiss
The exchange illustrates:
how close collaboration between mechanical and optical designers enables truly novel research within the CeFO
the respective strengths that the two universities bring to the collaboration: Rochester is strong in design and theory, UNC Charlotte is strong in manufacturing and precision mechanical design, and both take pride in their metrology skills.
what CeFO director Jannick Rolland considers to be one of the key achievements of the center's first five years: a full adoption and expansion of "concurrent engineering" required for projects like this.
In other words, making sure designers in Rochester are working hand-in-hand with the mechanical engineers at Charlotte "from the beginning, so that you don't spend a lot of time designing something that isn't going to work."
"We've evolved a very good back and forth between design, manufacture, and measurement," says Thomas Suleski, professor of physics and optical science at UNC Charlotte and new director of the CeFO team there.
Achievements and goals
Rolland, the Brian J. Thompson Professor of Optical Engineering, cites these other accomplishments:
A new methodology for designing freeform optics that removes much of the guesswork was published earlier this year in Nature Communications, with Bauer as the lead author. "I really feel we've nailed key components of the design space," Rolland says.
Two hardware prototypes have been completed – a compact freeform spectrometer and a down-scaled version of the freeform telescope.
Seven patents have been awarded.
Total annual revenues are now in excess of $1 million.
About 30 percent of the students and faculty involved with CeFO are women.
There has been a significant increase in participating companies and institutes from an initial 8 to 17. "The interest is clearly picking up; it is a very exciting time in the discovery of what freeform optics can do and the understanding of the science that underlies the emerging results" Rolland says. Members and faculty determine the center's 14 ongoing projects; membership fees and supplements fund the projects.
"Freeform optics is poised to permeate all precision technologies of the future, and perhaps a lot sooner than we ever anticipated," Rolland says.
In addition, one of the longest-lasting effects of CeFO is the "development of a new generation of young scientists who are trained at UNC Charlotte and Rochester," says John Lambropoulos, professor and chair of mechanical engineering and CeFO's associate director. "The students, ranging from undergraduates to masters students to PhDs to post docs, represent a broad spectrum of backgrounds."
And the constant contact with industry as well as CeFO faculty "represents a new way of learning and teaching, where industry itself is the third partner in the student/teacher intellectual relationship," Lambropoulos says.
"LightPath's involvement in CeFO has pushed us to become an expert in molded freeform optics that would not have been otherwise possible," says Alan Symmons, the company's executive vice president of pperations. "By working with world class companies and Universities we have developed our manufacturing and metrology processes to a level we would not have been able to achieve on our own. CeFO has provided our team with access to equipment, facilities and most importantly talented individuals, allowing us to leapfrog our competition and become a frontrunner in the development and application of glass molded freeform optics."
CeFO's goals for the next five years include advancing the metrology (measuring of freeform surfaces) to ensure quality, and finding ways to mass produce freeform optics quickly, using a variety of materials, for large consumer markets. One intriguing possibility: Molding transparent ultraviolet-cured polymer materials so they can be applied, almost like contact lenses, to traditional glass lenses and mirrors, giving them a freeform surface.
"There's an evolution in the education process that is still happening, as companies learn more about what freeform optics can really do," says Suleski.  "Many companies are still only thinking of freeforms in terms of tiny changes to existing symmetrical elements….they aren't thinking far enough outside the box."
"Once you start to think away from these classical designs, it should be possible to take multiple optics and with one freeform optic turn them into one," says Matt Davies, a professor of mechanical engineering and engineering science, who served as prior director of the CeFO team at Charlotte. "So that the price of making the device is more than overcome by the reduction in assembly steps, the reduction in the number of optics, and the compactness."
Category: Science & Technology