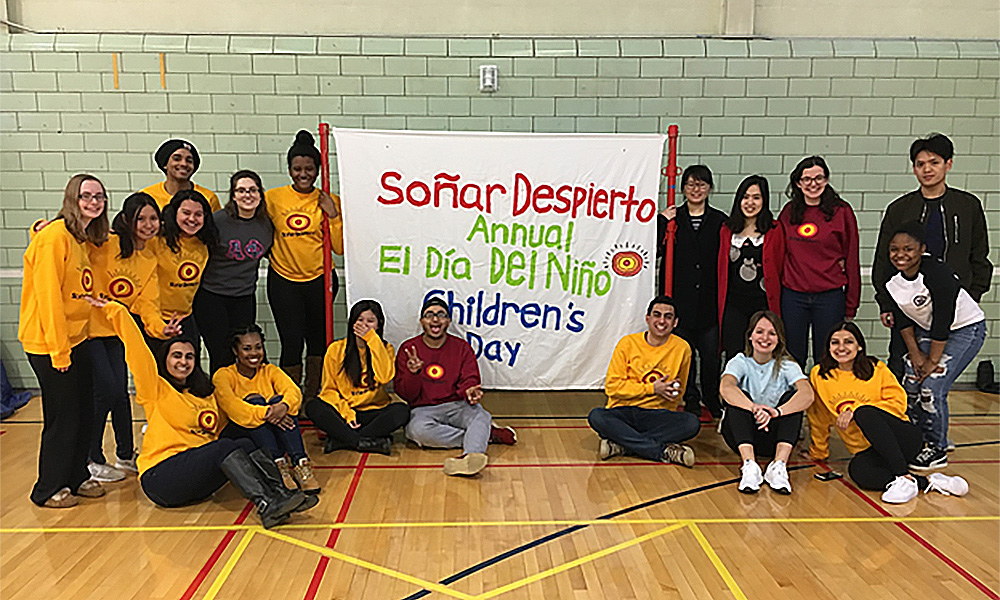 Submissions for the 2019 Community Engagement Challenge are open. The competition, sponsored by the Rochester Center for Community Leadership, challenges student organizations to propose a charitable outreach program that benefits the greater Rochester community. The winning group receives a $500 grant to sponsor its project proposal. Now in its third year, previous winners include UR HEAL (2017), a group dedicated to providing health care information to low-income members of the greater Rochester area, and Soñar Despierto (2018).
Soñar Despierto (The Daydream Foundation) is an international nonprofit organization whose goal is simply to provide moments of happiness and childlike joy to people of all ages through recreational community events. The University chapter used its grant to fund weekly transportation to the Cameron Community Ministries in downtown Rochester where members volunteered at an after-school dinner program called Kids Cafe.
"We were excited and relieved to win the grant," says Shelley Verma '19, who served as president of Soñar Despierto during the 2017-18 academic year. Transportation had been a struggle for the organization in the past, Verma explains, but with the grant they were able to volunteer regularly for the first time. At Kids Cafe, members of Soñar Despierto played games with the children and became familiar faces. "We really felt that we were making a difference in these kids' lives," she says. They also used a portion of the grant to volunteer at the Monroe Community Hospital where they hosted interactive events for patients including dance performances and sing-alongs.
The Community Engagement Challenge is supported by the Class of 2011 Community Service Fund. The fund aims to strengthen the University's relationship with the City of Rochester and highlight students' efforts to give back to the community. Last year's winning project was selected by a team of six panelists consisting of four administrators from the Rochester Center for Community Leadership, one undergraduate student, and one local alumnus.
Applications for the 2018-2019 academic year must be submitted by September 30 and can be found on the Community Engagement Challenge website.
Category: Student Life