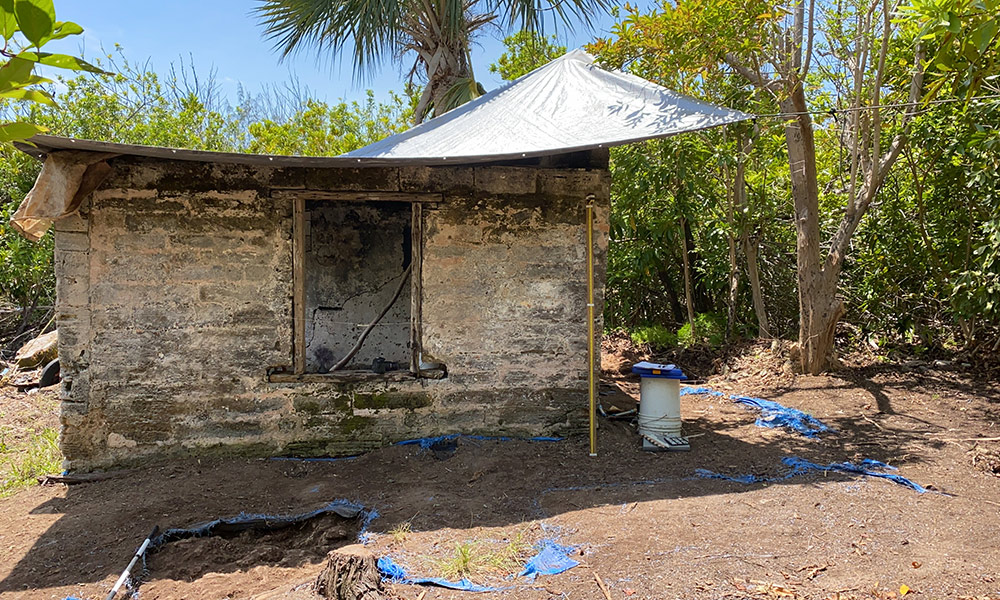 Rochester historian Michael Jarvis traces the history of pandemics and vaccine skeptics on the island.
Michael Jarvis, an expert on the history of the Atlantic world, arrived in Bermuda in early April only to go into COVID-19 lockdown four days later, after an intense spike in cases there.
An associate professor of history at the University of Rochester, Jarvis had traveled to the British island territory in the northwestern Atlantic Ocean for archaeological excavations. Located about 600 miles east of North Carolina, the nearest mainland, Bermuda is made up of a cluster of more than 120 mostly interconnected islands, some of them tiny. Jarvis was heading to just one of those—the barely 7-acre Trunk Island.
Director of the Smiths Island Archeology Project in Bermuda and author of In the Eye of All Trade: Bermuda, Bermudians, and the Maritime Atlantic World, 1680-1783 (University of North Carolina Press, 2010), Jarvis has been conducting archeological digs on the islands for nearly three decades, often with Rochester students in tow. His experience of lockdown was, in some ways, easy: until last week he was the only person on Trunk Island (before heading over to Smith's Island this week with a current population of about a dozen people). When his lonely excavation work on Trunk was interrupted by three days of wind and rain, he dug into his files instead.
Stuck indoors, Jarvis resurfaced Bermuda's previous experiences with imported epidemics and decided to share his knowledge with the public. He found that recent COVID-19 spike comes with plenty of historic precedent. Bermuda suffered its last, "sadly avoidable smallpox epidemic in spring 1830 after a vessel from Halifax introduced it on shore," Jarvis wrote in an op-ed for the Royal Gazette, a daily newspaper in Bermuda.
Most who came down with smallpox nearly 200 years ago didn't believe in the efficacy of the cowpox vaccine, Jarvis argues. Now he's urging visitors and Bermudians alike not to repeat the deadly lessons of history.
For example, of the 225 total smallpox cases, 123 unvaccinated Bermudians caught the full virulent form and a quarter of them died, Jarvis writes. While those Bermudians who had been inoculated with the cowpox vaccination were not completely immune, the few who did catch smallpox developed a mild form of it and none died.
"The Bermuda Government today is not threatening anyone with a year's salary fine or a whipping or involuntarily confining you on a small island for 40 days—at your own expense: it is just asking you to stay at home for a while, not potentially expose others unknowingly to a still highly contagious but less deadly virus, and avail yourself of a free vaccine that protects you and those around you from a truly nasty disease whose long-term effects are still unknown," writes Jarvis—asking readers pointedly if the public really wants to "repeat the dynamics and consequences of Bermuda's deadly past epidemics when we know so much more now than they did then?"
What prompted you to write an op-ed for Bermudians?
What really struck me were the similarities between COVID, yellow fever, smallpox, and a case of 1830s vaccine skeptics that allowed an unnecessary deadly epidemic to occur. That's why, last week, while still in lockdown after a recent intense spike in COVID cases due to the UK variant and many people's reckless behavior over Easter, I dug into my notes and wrote an overview of Bermuda's long history dealing with these various diseases.
Bermuda had quarantine laws relatively early on the books. Why?
Originally, the infrequent arrivals of slow ships made Bermuda a rather healthy place for most of the 17th century. European diseases tended to burn out during those long months of passages before the vessels arrived in Bermuda, either killing those on board or leaving them immune and noncontagious.
That changed when Bermudians shifted to seafaring and trading with closer Caribbean and American ports in the 1680s. Now their voyages multiplied the chance of viruses' hitching a ride and landing here. That's why Bermuda's first quarantine law was passed in 1731, after smallpox was introduced by a sloop from New York and started to move from household to household—spread by reckless people who were visiting homes afflicted by what was then called the "mortal and violent distemper." The law authorized local justices of the peace in each parish to detain the sick and move them to "His Majesty's Islands" in St. George's, or Castle Harbour, or the Great Sound to serve a 40-day quarantine at their own expense. My archaeological work at Smallpox Bay on Smith's Island is investigating one such site.
Are you safe?
I've been here since April 8, so just before the UK variant really took off. I am vaccinated and was digging on a small island, Trunk Island, in the middle of Harrington Sound. In fact, I was the only person on the island. Funny enough, the island was an old quarantine site due to its isolation, so I'm totally safe.
This week, I moved over to another island, Smith's Island, with a population of 14 and started digging in the ruins of an actual quarantine house at Smallpox Bay. I hope to be here in Bermuda until May 16, unless things suddenly get really bad for some reason.
What makes you mad?
It is very frustrating to watch Bermuda's government trying to deal with a major public health crisis and seeing versions of the same US resistance here: vaccine skeptics, government conspiracy fearmongers, and anti-maskers who honestly think health foods and probiotics will save them, mixed with COVID deniers, and reckless people having parties regardless.  The whole current crisis can be traced, so I am told, back to a Bermudian returning from the UK and going that night to a large party before he got his entry test result (positive), wearing his red entry wristband and no mask openly and infecting about 60 people, who then spread it to hundreds of others in the next week not knowing they had it. My history piece is aimed at the hesitants and deniers in the Bermuda public, it is if you will, an activist intervention to try to help the government combat all the misinformation out there.
Category: Voices & Opinion