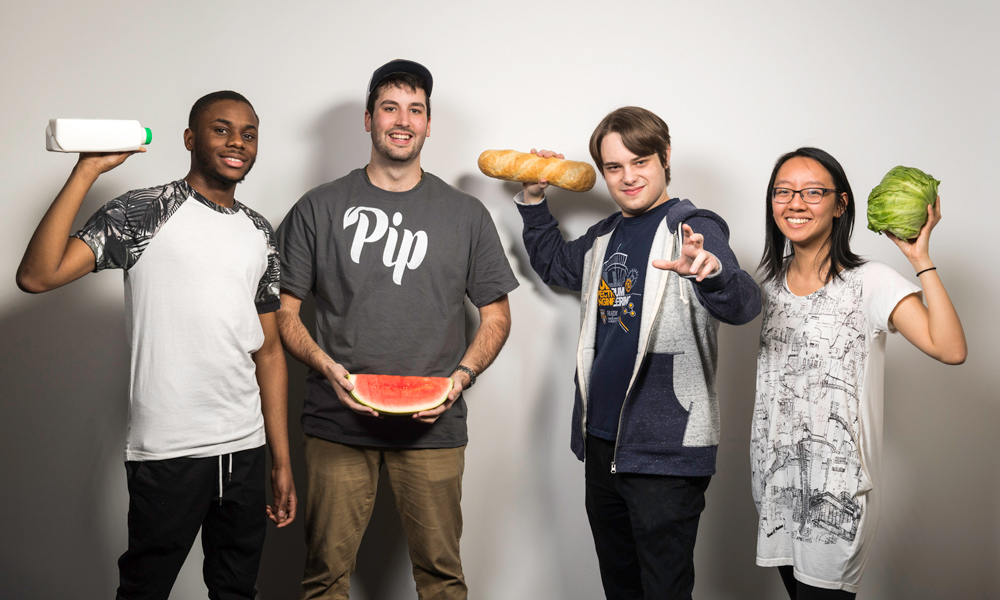 Making their mark: This is one in a series of profiles celebrating members of Rochester's graduating class of 2018.
Vivian Li '18 lives off campus and cooks all of her own food in order to save money. There's one drawback.
"I sometimes leave food in the fridge and—'oh!'—two weeks later, it's fuzzy," she says.
Moldy food is a common problem. But soon, there will be an app for that.
Li is the project lead on a student team who worked together to design Pip, a voice-enabled mobile application that works with smart home assistants like Google Home or Amazon's Alexa to help its users manage their food inventory and balance their grocery budget. The project is a senior capstone for the Digital Media Studies Program, where a total of eight senior projects emerged from the capstone seminar course taught by Michael Jarvis, associate professor of history and the director of Digital Media Studies, and Stephanie Ashenfelder, program manager in studio art in the Department of Art and Art History.
Each member of the Pip team brought different skills to the table. "We're pretty well distributed," says Li, who is also the iOS developer of the application. Teron Russell '18 was in charge of all the UX design [user experience], and was eager to join Li's team.  "Most of the teams were headed toward VR [virtual reality], and I'm not really a huge fan," says Russell. "I liked that Vivian had an app idea, which fortunately turned into a web application idea and the idea behind it was really good. Who wouldn't want to be able to view their inventory on the move?"
Other members of the team include Christopher Smith '18 who created and produced tangible marketing materials while also helping to develop the iOS app for iPhone. Matthew Burg '18 was in charge of all the marketing. Outside the Digital Media Studies program, computer science major Stephen Cohen worked on the app hosting and data storage.
For team leader Li, one of the biggest challenges was keeping on top of every aspect of the project. "I had to know a little bit of everything for each division and what was happening in each of them. I then had to figure out a timeline," says Li.  The group only had one short semester to complete their project and they needed to be efficient with time management. "We've been a little bit behind on our timeline, but I feel with programming you always underestimate on how long it will take," says Li.
From a UX design standpoint, Russell feels like the challenge was not having a broader demographic group to test the application. "On a college campus everyone is between the ages of 18 and 24 and that limits our way of thinking or the people we test," he says. "All the people we test are eating at the dorms or eating fast food." Russell reached out to River Campus staff for help with additional user experience testing.
For now, the team is eager to see what happens when the app launches at the end of the semester and looking to their future after graduation.
"We have about a 95 percent job or career placement rate right now," says Jarvis. "They either wind up working for the IBMs, Googles, and Spotifys out there or marketing firms." The students in each senior capstone team don't usually get back together again, says Jarvis, noting that out of all the capstones projects there have only been one or two that have emerged as full-fledge businesses.
"There's a lot of potential for the app to do more than it already does. But it costs money to support the app, cost that includes things like Apple membership, the server, and the hosting," Li says. "I feel like it would be great if one of those things I could say was, 'hey guys, I launched an app and it got a 100 users!'"
Category: Science & Technology