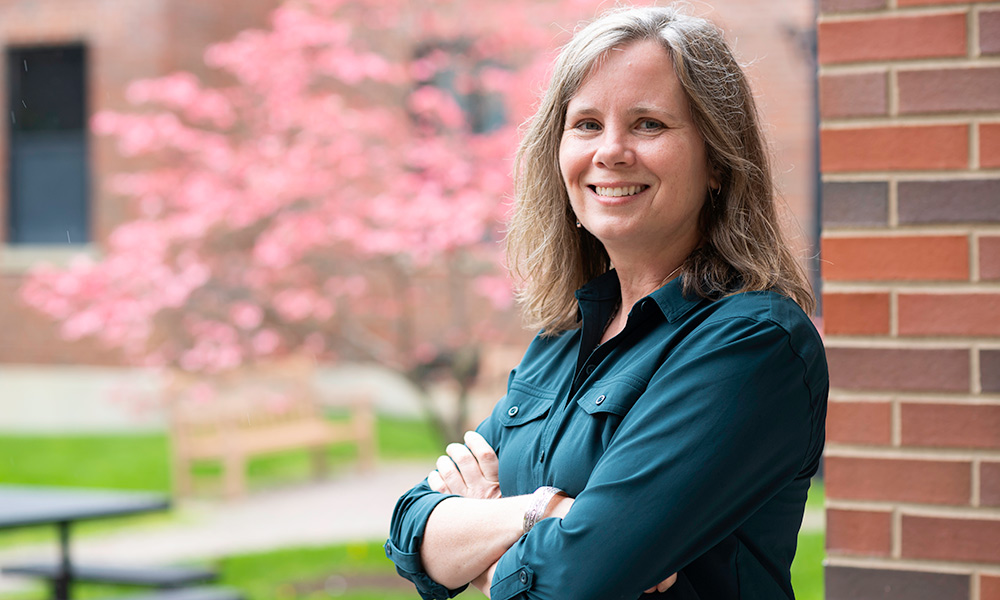 A doctor of nursing practice degree is a capstone to a career of helping kids with special needs get better access and care.
Lynn Cole '98N (MS) '21N (DNP) is a juggler: Career, classroom, kids, canine, COVID-19.
During a zoom interview, Cole munches on popcorn in lieu of lunch. Besides her full-time job in pediatric primary care at the University of Rochester's Medical Center, she's been using evenings and weekends for the past three years to work toward her third degree, a doctor of nursing practice. A mother of four, ranging in age from 11 to 21, the pediatric nurse practitioner most recently added a "COVID puppy" to her list of responsibilities. "Hasn't everyone?" she laughs.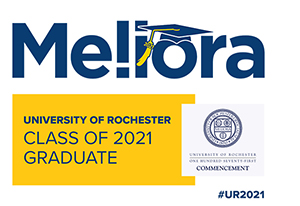 Celebrate the Class of 2021!
Visit the Class of 2021 site for details about this year's Commencement ceremonies and for a downloadable toolkit of materials to share your support on social media.
For her the question is not what comes next after graduation; the journey to the terminal degree was a goal in itself—an academic capstone of sorts for her already impressive professional vita.
After receiving a bachelor of science degree in nursing nearly three decades ago from the Catholic University of America in Washington, DC, and a master's degree from Rochester's School of Nursing in 1998, Cole has worked her way up to associate division chief of the Division of Developmental and Behavioral Pediatrics at the Medical Center. Along the way, she garnered a clinical excellence award from the National Association of Pediatric Nurse Practitioners (NAPNAP) in 2006, an Autism Opportunity Award from Autism Up in 2016, and the George Spencer Terry, Jr. B'49 Endowed Fund in Nursing in 2019, given to a DNP student who is actively engaged in developing solutions to challenges facing nurses and health care providers.
The Pittsford resident specializes in the care of children with complex developmental and behavioral challenges, with a particular focus on autism, intellectual disability, fetal alcohol spectrum disorders, and cerebral palsy. Cole coleads the University's Autism Treatment Network, teaches at the School of Nursing, and is the director of clinical services at the University's Strong Center for Developmental Disabilities.
As part of her doctoral degree, Cole dug into an area that she's passionate about—fetal alcohol spectrum disorders (FASD). Together with University colleagues across several disciplines, including Christie Petrenko, a research associate and assistant professor at the University's Mt. Hope Family Center, Cole is trying to expand access.
"We started a new clinic here for FASD assessment and treatment about six years ago and quickly recognized that our capacity would never be large enough to serve all of the kids who need care," says Cole.
---
VIDEO: Lynn Cole talks about why she chose to return to the classroom for a doctor of nursing practice degree while working full-time as a pediatric nurse practitioner and associate division chief at the Medical Center.
---
The problem is pressing. Children and adults with FASD struggle with lifelong learning and behavioral problems, and without appropriate supports are at high risk for secondary conditions, such as mental health problems, trouble with the law, school disruption, and substance abuse.
"Being diagnosed at an early age and having appropriate services and support has the potential to improve outcomes dramatically," says Cole. "But due to a combination of low FASD awareness and poor access to diagnosis, most children are either not diagnosed or misdiagnosed."
Based on expert estimates that between 2 and 5 percent of American children are affected by FASD, the Rochester team calculated that in upstate New York alone there may be somewhere between 23,000 to 80,000 children outside New York City and the metropolitan areas with FASD. Yet, outside New York City, the Medical Center is the only FASD diagnostic site in the state, with a capacity of just 220 children a year. "Sometimes families are driving five to six hours to come to Rochester for a diagnosis," says Cole.
That's why as part of her doctor of nursing practice scholarly project, Cole created an extension for a program that builds upon Project ECHO, which was started at the University of New Mexico as a model for training community clinicians to provide care for people with chronic and complex health conditions. Cole and her collaborators adapted the existing model for their pilot ECHO FASD project in order to train regional clinicians on how to diagnose the complex disorder.
For the pilot a small team of FASD experts at the Medical Center met weekly for 10 weeks with a group of community clinicians throughout the region via telehealth to discuss specific cases. While the assessment is not yet entirely wrapped up, the team already knows that the project was successful in increasing participants' diagnostic confidence and accuracy.
Now with one fewer thing left to juggle, what is Cole looking forward to? "More time for enjoying my kids, reading a book, doing some gardening." Already her 15-year-old asked right before she defended her DNP project if she planned on keeping up her schedule of working after dinner, every night, forever. "No," she told him. "Thankfully not."
But first the DNP report Assessing Feasibility of ECHO FASD for Increasing Access to Fetal Alcohol Spectrum Disorder Diagnosis needs to be turned into a manuscript for publication by the end of May. "I'm not working as hard but I am still doing schoolwork," says Cole before she waves goodbye and quickly signs off. The pins have to stay in the air.
Category: Campus Life