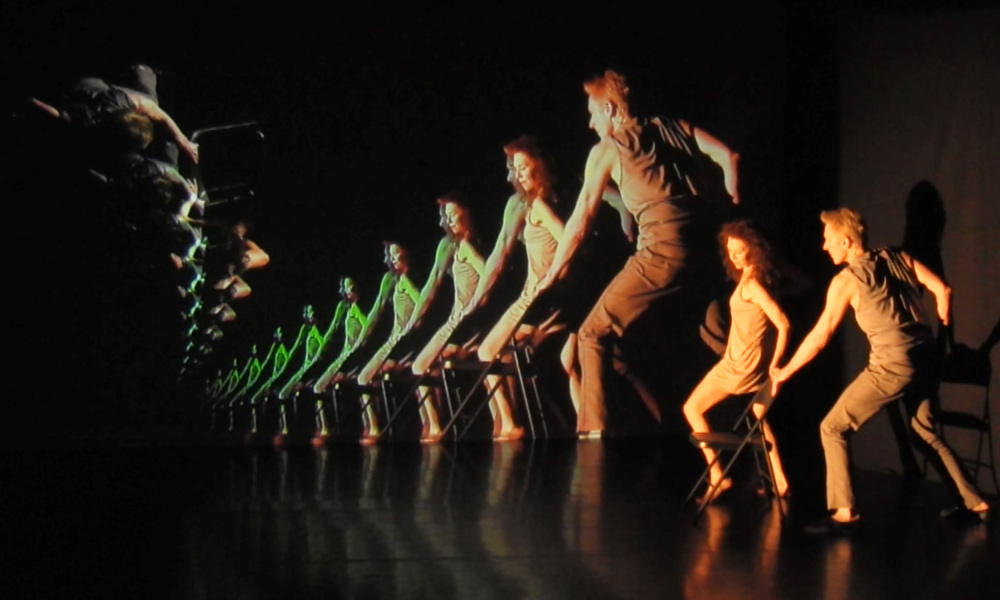 The virtual version of the annual festival welcomes everyone to learn new dance styles from top choreographers and instructors.
inspireDANCE Festival online
February 12–March 7, 2021
The inspireDANCE Festival is free and open to the public, but registration is required.
The University of Rochester's Program of Dance and Movement's eleventh annual inspireDANCE Festival will be a free virtual event over the next few weeks.
Open to everyone, the festival, which begins Friday, February 12, and goes through March 7, features a marquee of masterclasses, including dance pioneers and contemporary artists.
Among the performers are:
Guggenheim fellow and Bessie Awardee Bridgman|Packer Dance
International performer Kristina Berger and musician William Catanzaro
American jazz dancer and choreographer Sue Samuels
Bessie Award–winner Shani Collins
Hip hop break dance influencer Ana (Rokafella) Garcia
In addition, the festival will offer attendees the opportunity to dabble in several styles of dance, including West African, ballet, urban dance, yoga, the street dance krump, and Broadway jazz dance.
Dance and technology
The festival will offer sessions with a focus on video, film, and lens-based work.
"Everyone is shifting to do video and film," says Missy Pfohl Smith, director of Institute for the Performing Arts. "It's why we have this amazing duo of artists Bridgman Packer for inspireDANCE this year."
Art Bridgman and Myrna Packer are coartistic directors who form Bridgeman|Packer Dance. As part of a "behind the scenes" artist talk on March 1, they will discuss their creative process as well as demonstrate the use of green screen technology, live video processing on stage, and multicamera work.
In addition, the festival will host Erin Mayfield, cofounder of the production company Sirens Proof Films, who will present "Story to Screen: A Crash Course in Dance Film Basics," on February 13, during which attendees can learn essential tips and tricks and learn to avoid the faux pas involved in creating filmed works.
Dance as community activism
A major goal of the festival is to connect and unite the Rochester dance community. In that vein, inspireDANCE will host a virtual high school day on March 5, when local high school students can log in from anywhere to learn with dance program faculty.
An "Action Circle" of dance students and the community will open the festival with a campaign to write letters to state and federal representatives in support of reopening arts programs and venues that have been curtailed by the COVID-19 pandemic. Area Rochester artists such as Natalie Rogers-Cropper of Garth Fagan Dance and Seth Reiser, a New York-based lighting designer and adjunct faculty member, will join the action circle and share their experiences related to the pandemic's restrictions and shutdowns.
The festival will also host a discussion and re-enactment workshop for the "Anna Halprin's Blank Placard Dance"—an introduction to the iconic process, which originated in 1967 as a reaction to the Vietnam War and related social unrest of the late 1960s. Workshop participants are welcome to take part in the re-enactment this May. The Program of Dance and Movement was granted rights to restage an outdoor performance. "A very exciting opportunity, coming in May," says Pfohl Smith. Details of the spring restaging will be shared during the workshop.
Festival schedule
About the festival
Created in 2010 as a project for the Experiential 5 (e5) Program (formerly the Kauffman Entrepreneurial Year), inspireDANCE was founded by Arielle Friedlander '10, in collaboration with the Program of Dance and Movement, as a way to unite the dance community, both at the University and in the Greater Rochester area. In 2013, the festival grew to add inspireJAM as a way to share hip-hop culture and break dance competitions.
Read more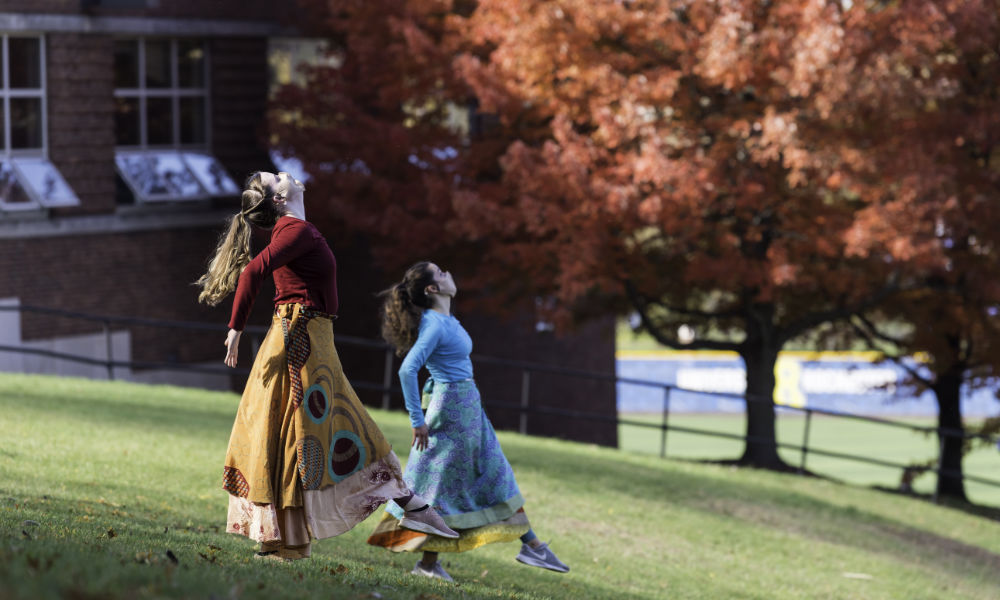 With 'Flight of Sites,' students and faculty set choreography to campus architecture
Flight of Sites: Dances in Innovative Spaces, a two-day concert featuring student and faculty choreography, embraced both an outdoor and online audience experience.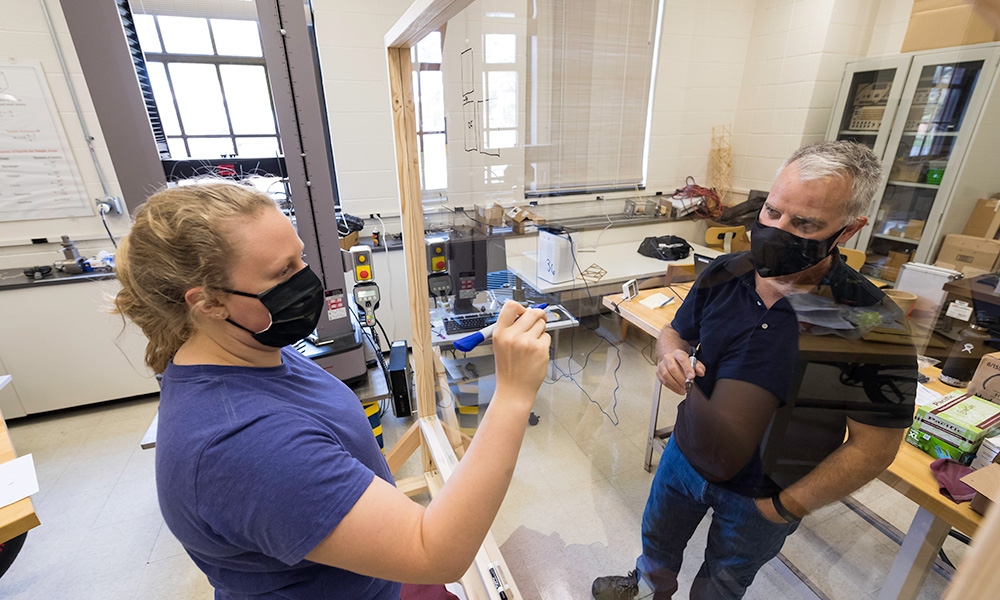 An adapted classroom: Students and faculty find new ways to engage in teaching and learning
In the wake of COVID-19, Rochester students and faculty members have adapted to new—and safety-conscious—ways of interacting as teachers, scholars, and researchers.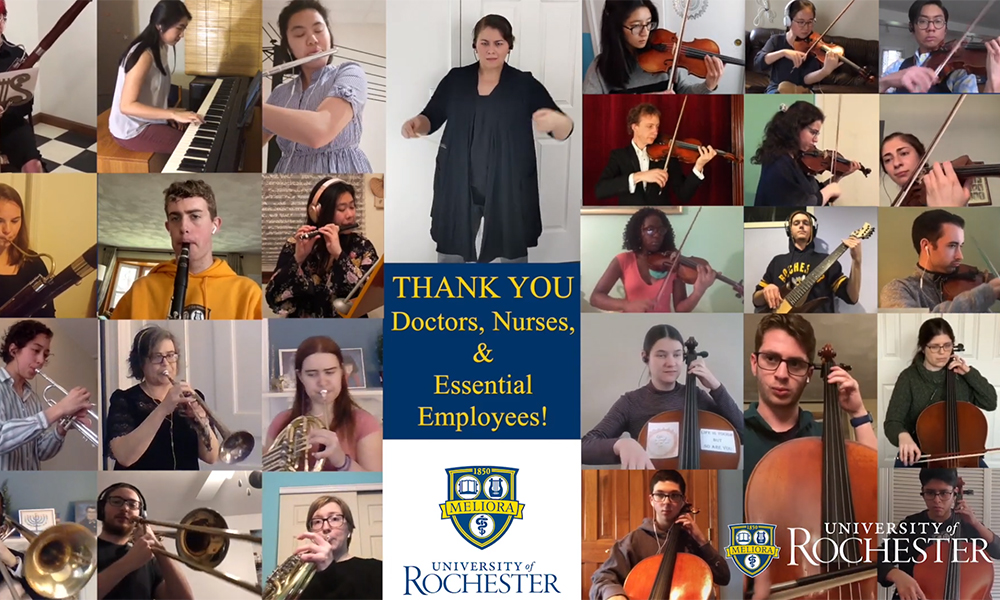 The show must go on(line)
As we continue to social distance and limit the capacity of large spaces, Rochester musicians have found ways to stay connected with their audiences.
Category: The Arts