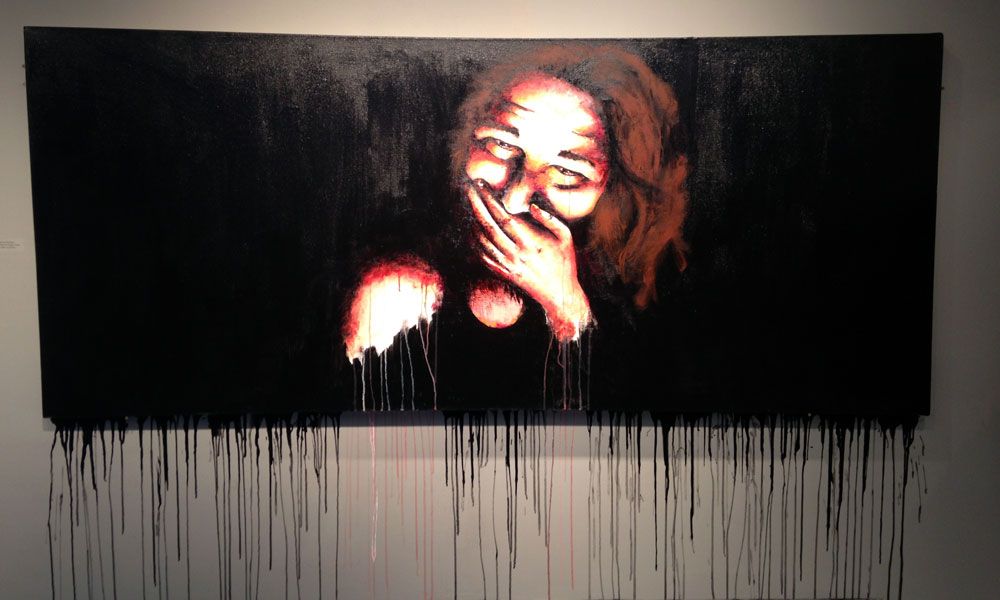 Art is a powerful lens through which to examine notions of gender, identity, and sexuality in society. That's why each fall the Susan B. Anthony Institute for Gender and Women's Studies requests submissions for its annual juried exhibition of art, en(Gendered).
Marty Collier, an administrator in the Department of Art and Art History, organized the first iteration of the competition in 2005. Open to all undergraduate students at the University, it features a different theme from year to year. Past themes include "Words and Works: Dialogues in Intersectionality," "Failure Is Impossible: Feminism's Past, Present, and Future," and "In Labor: Gendering (Re)Production."
"Between Identities and Environments"—the 2015 theme—elicited an array of artwork in a variety of media, from oil-on-canvas paintings and black-and-white photographs, to video productions and umbrella-tree sculptures.
The submissions were on display at (en)Gendered's opening, held in Sage Art Center on January 15. During the event, Rachel Haidu, director of the graduate program in visual and cultural studies and associate professor of art history, delivered a gallery talk.
The theme, says Haidu, presented "a way to think about how we ought to complicate ideas of gender beyond one context. … The submissions broaden the scope of what gender might mean within a range of environments—from the Rochester campus to the virtual realm."
Take, for example, Schrödinger's Forgotten Hobby by Jack Jones '15, one of the honorable mentions. Nobel Prize-winning physicist Erwin Schrödinger, known as the father of quantum mechanics, is remembered for what is now called the Schrödinger's cat thought experiment. However, Schrödinger himself would point out the importance of having hobbies that are distinct from one's primary mode of production. His own interests traversed a variety of disciplines, including botany, philosophy, painting, and pantheism.
To the jurors, Jones' work—an intricate construction of colorful beads, wires, nails, and wood in a pattern resembling a motherboard—highlights the subjective distinction between "high art" (primary production) and craft (secondary production). That distinction mirrors the one constructed between men and women, with art considered masculine while craft is relegated to feminine sphere. The piece also juxtaposes two different communities: one of scientists at work and one of elementary-age children at play.
Schrödinger's Forgotten Hobby is just one of several interesting and thought-provoking creations worth seeing in person. Along with the other honorable mentions and winning selections, it will be featured in a special exhibition in the gallery at the Art and Music Library within Rush Rhees Library. They will be on display from January 23 through February 27.
(en)Gendered Jury 2015
Rachel Haidu, director of the graduate program in visual and cultural studies and associate professor of art history
Lauron Kehrer, PhD student in musicology at the Eastman School of Music
Joan Saab, chair of the department of art and art history, and associate professor of art history and visual and cultural studies
Jurors' Prize Winners
Turning 21
Daniel Hoffman '15—Major: Music; Minor: Dance
I'm on a Diet


MJ Barbeau '15—Major: Studio Arts

Águeda Umbrella Tree


Ciarán Spence '16 —Major: Studio Arts
Honorable Mentions
Unknown Accountability by Yonatan Bisnowaty '16
Technology is Empathy by Sarah Kingsley '17
Dwarfism by Anna Saltman '15
Multiple Sclerosis by Anna Saltman '15
Straight-laced by Rachael O'Neill '15
Impartial Drawings by Sunny Yanyi Jiang '15
Marztian Productions Presents: pARTy by Marz Saffore '15
Hide Me by Bonnie Wu '17
Schrödinger's Forgotten Hobby by Jack Jones '15
Category: The Arts