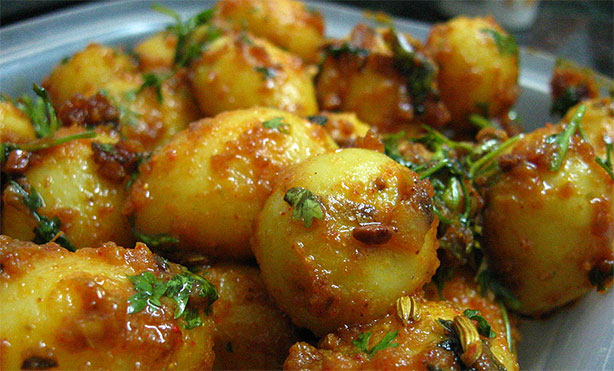 UR Dining Creates International Dishes with Local Products
During Global Local Dinner, students at the University of Rochester will sample Sambusak pitas, Aloo Dum spiced potato stew, and pulled pork tostada, three very different dishes with one main ingredient. Each entrée will be made to showcase food purchased from local farmers and producers. The dinner, which is a capstone event during the University's Local Foods Week, will be from 5 to 7 p.m. on Tuesday, Nov. 12, in Danforth Dining Center.
Now in its eighth year, Local Foods Week spreads awareness of Rochester's initiatives to support local produce and provide sustainable food options. Over the last decade, the University has made a concerted effort to bolster its commitment by expanding its partnerships with vendors and producers. Today, nearly 40 percent of everything sold in the University's dining facilities is sourced, manufactured, or packaged from more than 40 vendors across New York State. University partners range from Upstate Farms Cooperative in West Seneca to the Baker Street Bread Company on Park Avenue.
While Local Foods Week typically spotlights autumn entrées, this year chefs Keith Rosengren and Chris Cameron planned a menu that also celebrates International Education Week, which promotes ways students can internationalize their educational experiences. The result: Chinese chicken lettuce wraps using bibb lettuce from Bolton Farms, French cauliflower au gratin, and Belgium pumpkin waffles with local fruit compote, among other dishes. Two vendors also will be at the Global Local Dinner, including representatives from the Pierogie Guy who will showcase Polish deconstructed Galumpkis stew with cheddar potato pierogies and the owners of Le Petit Poutine food truck will bring their Canadian specialty to the grill. Additionally, 3 Square Kitchen, a local foods distributor, and Buffalo-based Rich's Products will talk with students about their products.
The Global Local dinner will also feature tinikling dancers from the Filipino American Students' Association and a performance by members of the Korean Percussion Group, among other entertainment.
Members of the media are invited to watch chefs prepare dishes during the kitchen's pre-set, scheduled to begin at 4 p.m. To schedule interviews or arrange for b-roll, call on-site media contact Kevin Aubrey at 585-704-9562
Category: Event Listings, Student Life